UPDATE 10/23/2020: Zwift made the Canyon Aeroad 2021 a bit heavier, which means the Tarmac Pro returns to its spot as the top climber on Zwift (although it shares that spot with the Cannondale EVO thanks to the changes described below.)
---
We've been looking at a lot of speed test data this week, thanks to the release of the new Canyon Aeroad 2021 frame on Zwift. And things got even busier when one astute Zwifter ("anderfo") commented that certain test results seemed a bit off on one chart. This made us go back and look at the data and re-run some tests to confirm timings.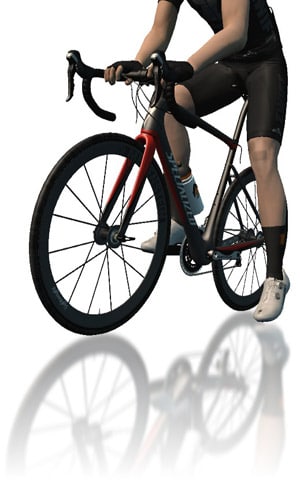 And we've discovered something strange.
The Specialized Tarmac Pro, which tested as the fastest climber up Alpe du Zwift back in March 2019, seems to have somehow put on a little weight between then and August of 2020. 140 grams, to be precise.
We blame 2020. It's been a hard year for everyone. Even virtual bike frames.
Thanks to the friendly community hackers at Zwift Hype, we have access to in-game frame weights. And that's how we know that the Tarmac Pro used to be set at 3.85kg, and is now 3.99kg. (We're just not sure when or why that change happened… and Zwift HQ isn't telling us.)
New Top Rankings
Regardless of the reason or timing of the change, what we do know is the Tarmac Pro frame is no longer the best climber – although it's still a strong contender. This has meant a lot of changes in our speed test charts and rankings. Here are pages which have been revised:
We'll follow up soon with a post detailing the exceptional performance of the new Canyon Aeroad 2021 frame, which is now the fastest climber while being slippery enough to rank #4 on our list of most aero frames in Zwift.
Questions or Comments?
Post below!