Zwift's March update included the second gravel frame from Specialized: the Diverge. This comes hard on the heels of last month's release of the Specialized Crux. What's the difference between the two bikes? In real life, the Crux is a CX race bike that works as a gravel racer, while the Diverge is sort of a do-anything drop bar bike great for more casual gravel riding.
The Diverge modelled in game is the Diverge Pro Carbon. We won't include the full Drop Shop text description here, but you can read it on the bike's homepage at Specialized.com.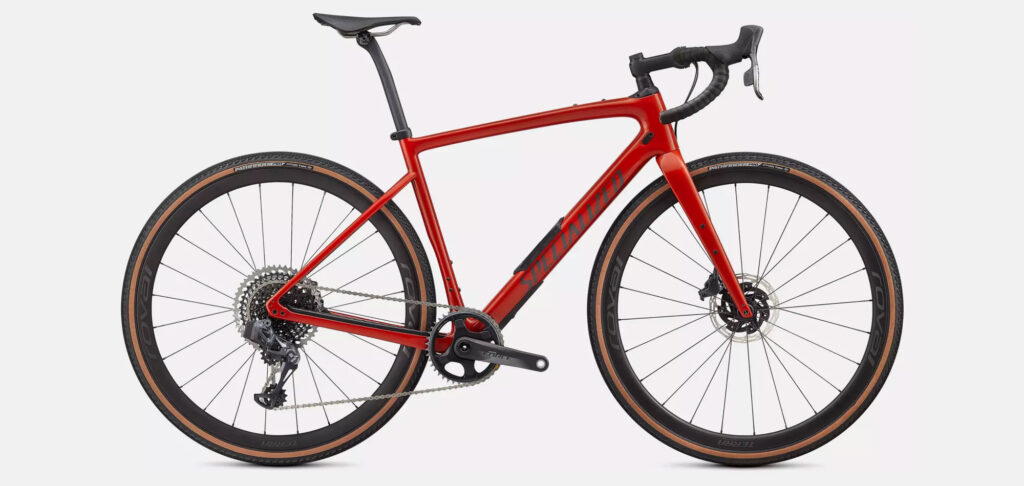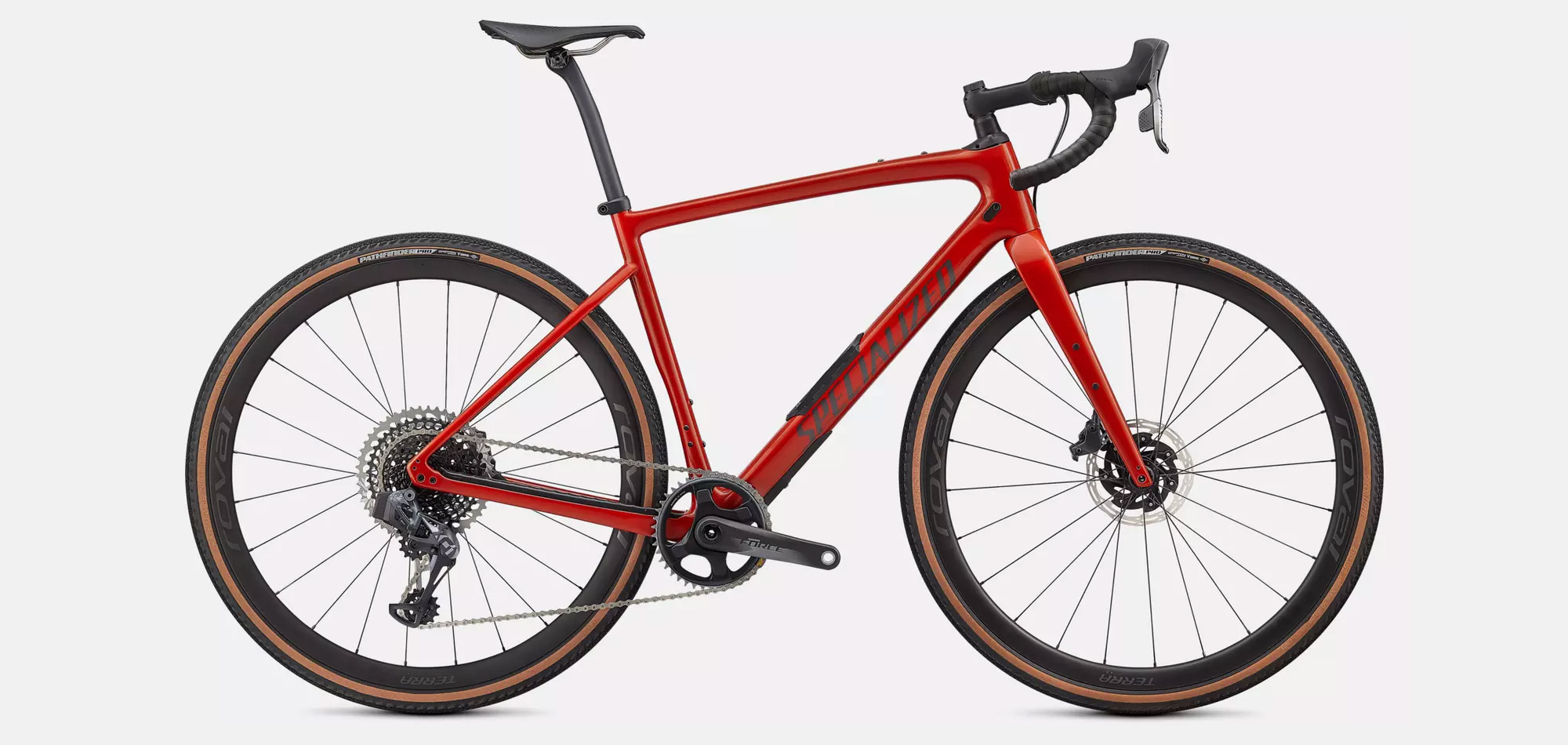 This frame is priced at 532,500 Drops and level-locked at 12. It is rated 2 stars for aero and 2 for weight, which would indicate that it's not going to perform particularly well against other gravel bikes in game, most of which have 3 stars for at least one of the ratings. So we ran the frame through our standard tests to see exactly how it performs.
Here's everything you need to know about the performance of the new Specialized Diverge frame in Zwift.
Aero (Flat/Rolling) Performance


Rated only 2 stars for aero, the Diverge comes in with a flat test time just behind the Canyon Inflite and just ahead of the stock Zwift Gravel frame. This places it in 5th place out of 7 gravel frames currently in game.
Its test time of 53:53.5 is just 0.5 seconds faster than the Zwift Gravel frame. By comparison, the fastest gravel frame (Cervelo Aspero) turns in a time of 53:47 on our test course, which is two laps of Tempus Fugit, totaling 34.6km.
Climb Performance


We didn't expect much in terms of climbing performance, since the Diverge is rated 2 stars for weight. It climbed slower than the Cervelo Aspero, but faster than the Zwift Gravel and a few other frames. This places it in 4th place out of 7 gravel frames currently in game.
The Specialized Diverge turns in an Alpe climb time of 51:51. By comparison, the fastest gravel climber (Specialized Crux) completes the test is 51:18.
Note: all test results above are from a 75kg, 183cm rider holding 300W steady using Zwift's stock 32mm carbon wheelset.
Broken Color Slider
Like the new BMC Teammachine, the color slider on the Diverge isn't currently working. Slide all you want – the color won't change! We're sure Zwift will get it fixed.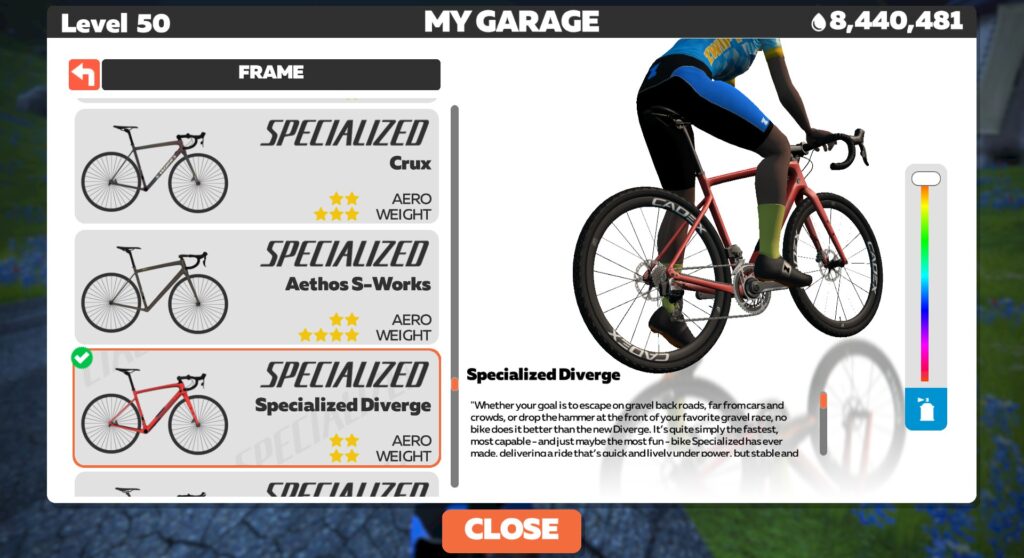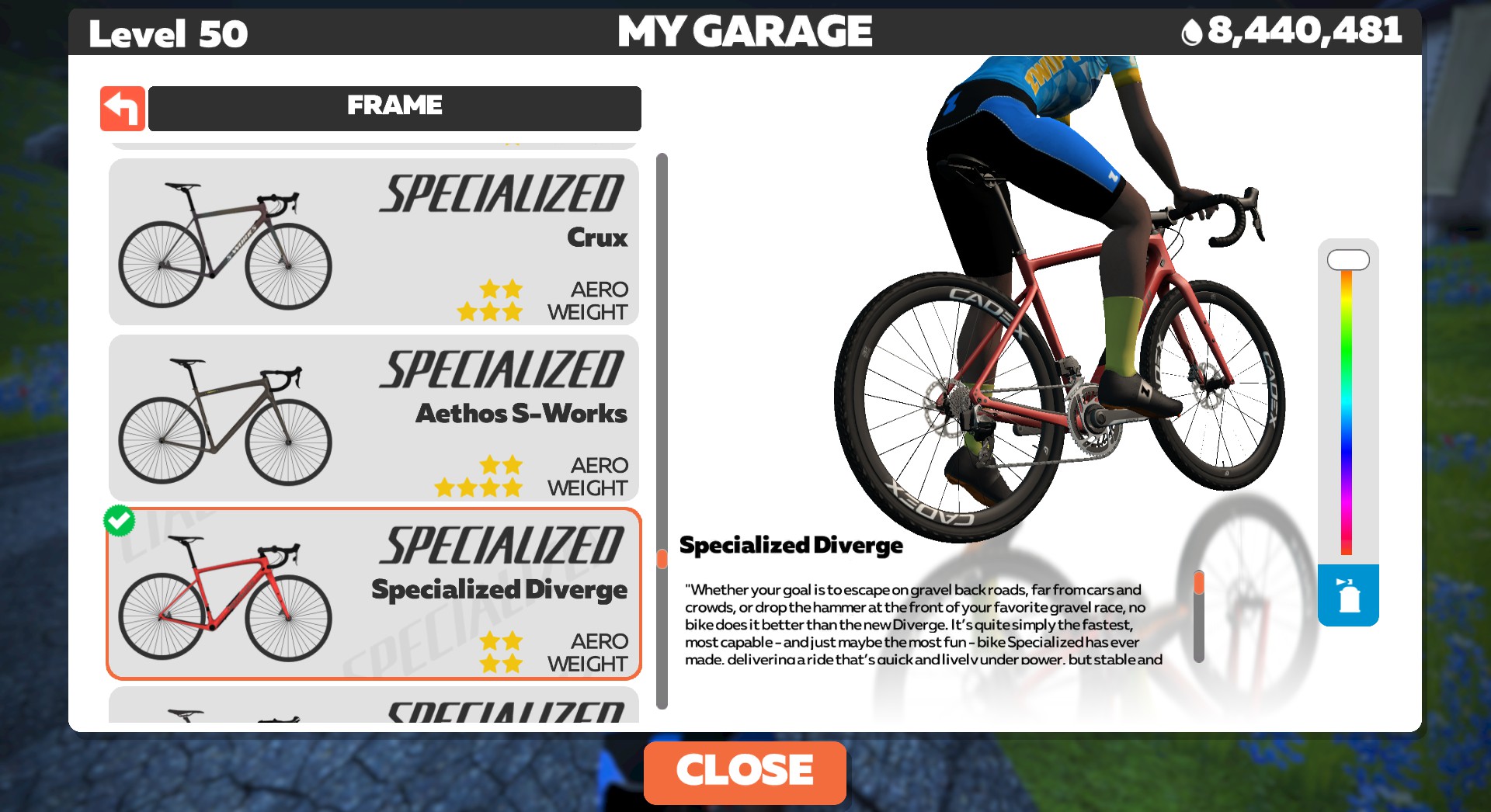 Conclusions
While it makes sense for Specialized to want both of their gravel frames in game, the benefits of the Diverge (mainly comfort and flexibility) don't really apply on Zwift. With the Crux outperforming the Diverge on flats and climbs, there's no reason to choose the Diverge instead, unless you prefer the look of it or want to match your IRL bike.
The Specialized Diverge has been added to the following posts, and it can also be found on our Master Zwift Frames List:
Questions or Comments?
Share below!
Important note: this post contains speed test results for Zwift frames or wheels. These results may change over time, and a bike's performance relative to others may also change. We don't always revise posts when performance rankings change, but we do keep current, master versions of our speed test results which are always available. See the frame charts, wheel charts, and Tron vs Top Performers for current performance data.