Training with Rowe & King continues despite the busy schedule around the holiday season. The plan for this week was to have several longer steady rides to continue building the base, before finishing with several tougher events to build the fatigue, mirroring the early weeks of training but hopefully at a higher level.
Consequently, Monday was started with a very steady ride, Zone 1, a nice 40km which was 1 hour and 15 minutes, which was probably as much as my legs could handle given the important 100km endurance ride the previous day.
Tuesday's 3-in-1
The plan for the week was to build into it, with Tuesday being another steady day which saw me dipping into three different Zwift events, one after the other. Tuesday evening in Europe is a peak time and the first ride I joined was one hosted by Ben Foster, a professional footballer who plays for a team in the English Premier League. The ride is called "The Cycling GK Monthly Ride Along" (GK stands for "Goalkeeper", the position which Ben plays). Ben is very active on social media and has some interesting podcasts. I think he would make for an interesting interview and I think he is the only pro footballer hosting events on Zwift so it would be an interesting conversation. After 30 minutes with Ben, it was into my next ride with Castelli.
Having promoted the "Roll with Castell Epic" I wanted to join in the fun and hear what European Women's Ironman Champion Laura Philipp had to tell us. This was a fascinating ride as Laura had just returned from a training camp where she had been cross-country skiing to build fitness for 2022. This also included gym work, so my takeaway was that I certainly need to build gym work into my programme.
Then it was on to the next ride, 30 minutes with David Millar in his CHPT3 ride. Having promoted this, I was keen to support David and see how he has been getting on as he re-finds his feet with Zwift. This was a nice leisurely ride around London that took in Box Hill. For a moment as David led a small group that formed around him up the climb, I felt like a member of the 2012 British Olympic Cycling Road Race team, which David was part of. Until I got dropped on the descent! It was at that point and 30 minutes into the event, I called "time" on my evening of cycling.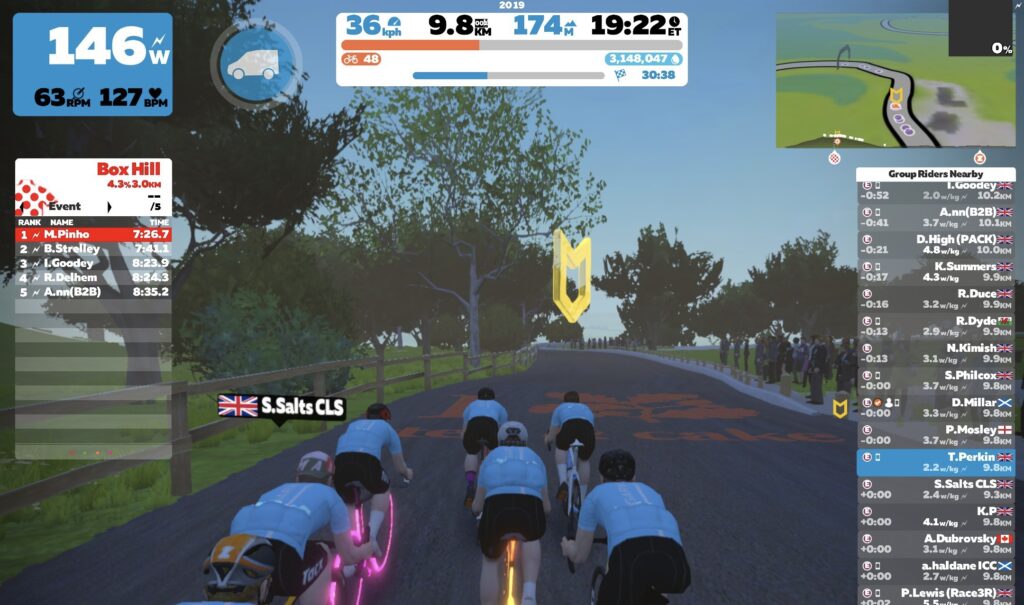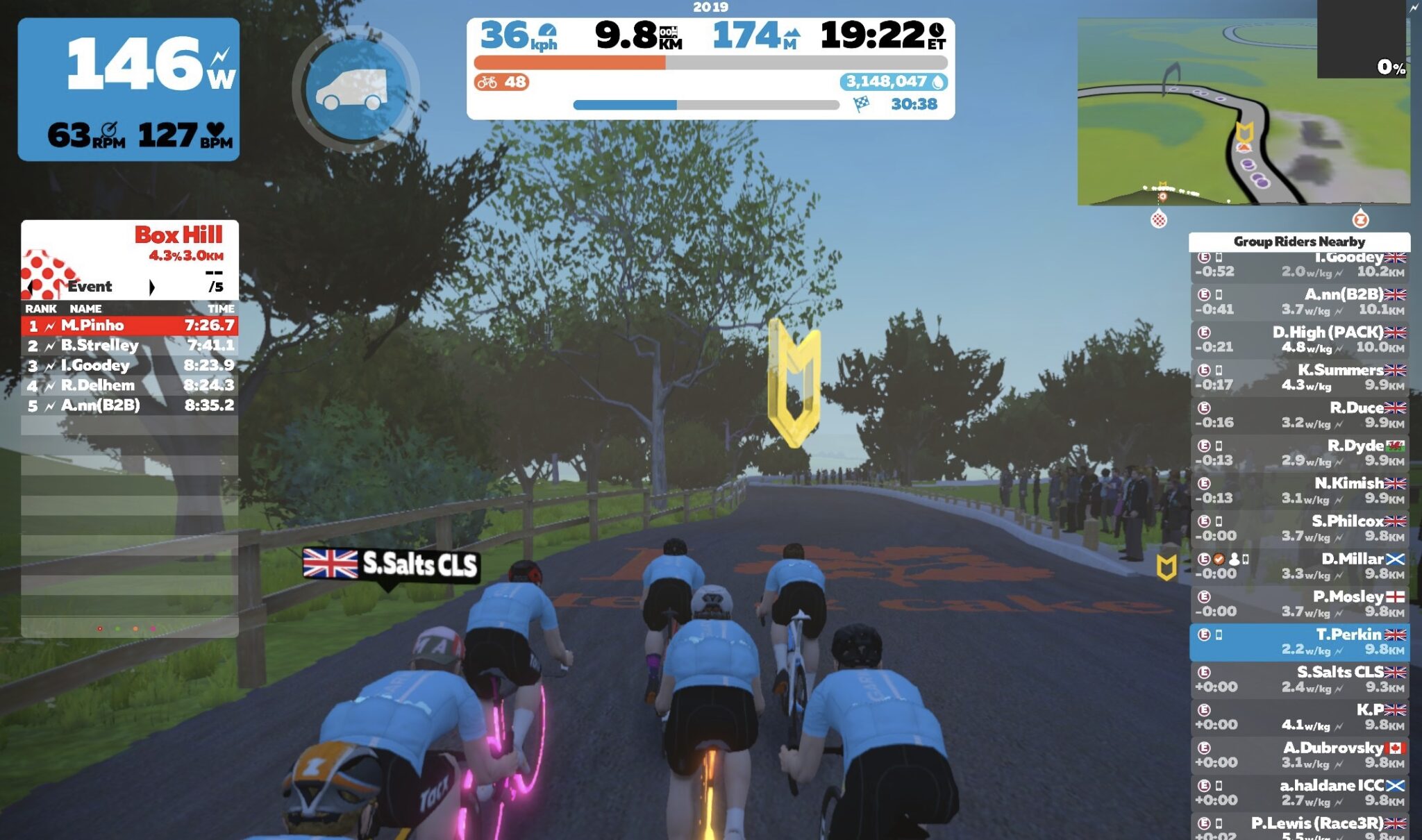 I have never dipped into one event and then abandoned halfway to join another then another, but found it a really nice way to sample all the different rides. This was another roughly 50km accumulated in 90 minutes of steady cycling.
Wednesday Chase Race
The last time I did this event, I really enjoyed it. This time, not so much. You see the objective of this training session was to push myself to an uncomfortable level, simulating being in the pack at race pace. When I signed up, I could see that the E group that I was assigned to had 5 riders. It was going to be difficult to catch up with the other riders. As I waited in the pen, I could see riders setting off at their intervals and those in the pen were getting less and less. It was time for the A's to leave, which then left me alone in the pen. Well, this was absolutely rubbish. The group ahead was already flying and one minute up the road by the time I set off. They encouraged me to chase and try and catch up, but it was futile and I never made any headway and I watched in vain as the distance to the group ahead got larger.
I could have quit, but this was the time allocated to training so I persisted and turned it into a solo TT effort on the R.G.V. course in France. It was at this point I should have stopped and changed my bike to a TT frame, but I didn't want to stop, so I plowed on. I did curse the fact that I hadn't realised I was the solo protagonist in my team as I would have equipped a TT bike from the start, but it was too late for that. I was committed.
I took on the challenge of seeing if I could catch anyone. My task was clear. Ride as hard as I could, for as long as I could, and see who, if anyone, I could catch.
As I pushed on, what I did notice in the early few kilometres is that I was down on power. I was struggling to hold over 300 watts, which was unusual, especially as I had been performing well in the interval sessions where I was forced to hold 320 watts.
It's interesting because this directly ties back to the first few weeks of training where it's as much about managing the fatigue and recovery as it is performing and executing the planned session.
With this ride, I was determined not to finish last on the road. When I saw a single rider on the mini-map, I had a renewed focus. I wasn't able to suddenly produce another 50 watts, but what it did do, was stop me easing off. So I focussed on the single green dot from the B rider up the road.
It took what felt like an eternity to make the catch, which was achieved with 6.5km of the 25km route remaining.
I was determined not to concede the place, so again this gave me renewed focus to continue my steady ride.
With several kilometres remaining, I saw an additional rider that I had the potential to catch. I was determined and this time, I dug deep to muster a few extra watts to close the gap. However, I was running out of road fast! With 0.7km remaining, I glimpsed the rider. Donned in yellow, he was the last D Category rider on the course. It was a valiant effort but I overtook him with 500 meters remaining. I did feel guilty. I wanted to acknowledge their effort but I couldn't find the button on the Companion app. As I overtook them, I dug deep to ensure they didn't get into my slipstream and I finished strong.
My lone effort was good enough for 59th overall with an average of 4.2 w/kg and 289 watts. Certainly not my best performance in terms of power but I stuck at it, like I did in the early weeks where I was struggling with fatigue.
Thursday – Bologna TT
In the early weeks of my training, I used the WTRL Team Time Trial as a means of helping build fitness. This same tactic was utilised this week when I was fortunate enough to pick up a ride with DIRT Steam Engines.
One of the special things about Zwift is that by the very nature of being on the platform, you have this instant connection with people through your shared interest in cycling or running. It was a pleasure to connect with new people and ride with them.
I'll confess, I absolutely suffered during the 32km race on Bologna Time Trial.
There were 3 A+ riders in the team and we were given the task of taking the team to the bottom of the climb. This meant that I did 2 or 3 pulls at the front before we hit the climb. It was interesting because despite being an A+ rider, some of the team members had a far higher power output, so when I was at the front pulling at 5.6 w/kg and more, the other team members were able to sit relatively comfortably in the wheel! I think I went too hard during my pulls because when I hit the climb, which couldn't come fast enough for me, I was struggling.
The last time I rode Bologna I had crushed the climb with a 5.8 w/kg personal best. Here I was struggling to keep 4.8 w/kg. It was at this point I know I was in a bit of trouble.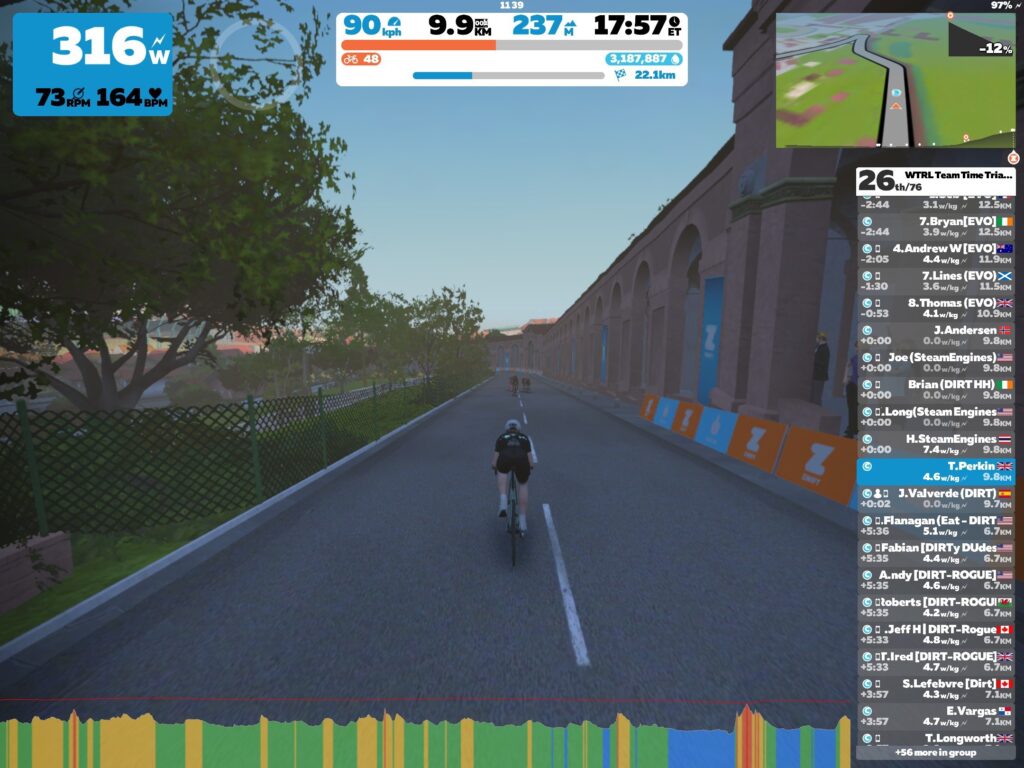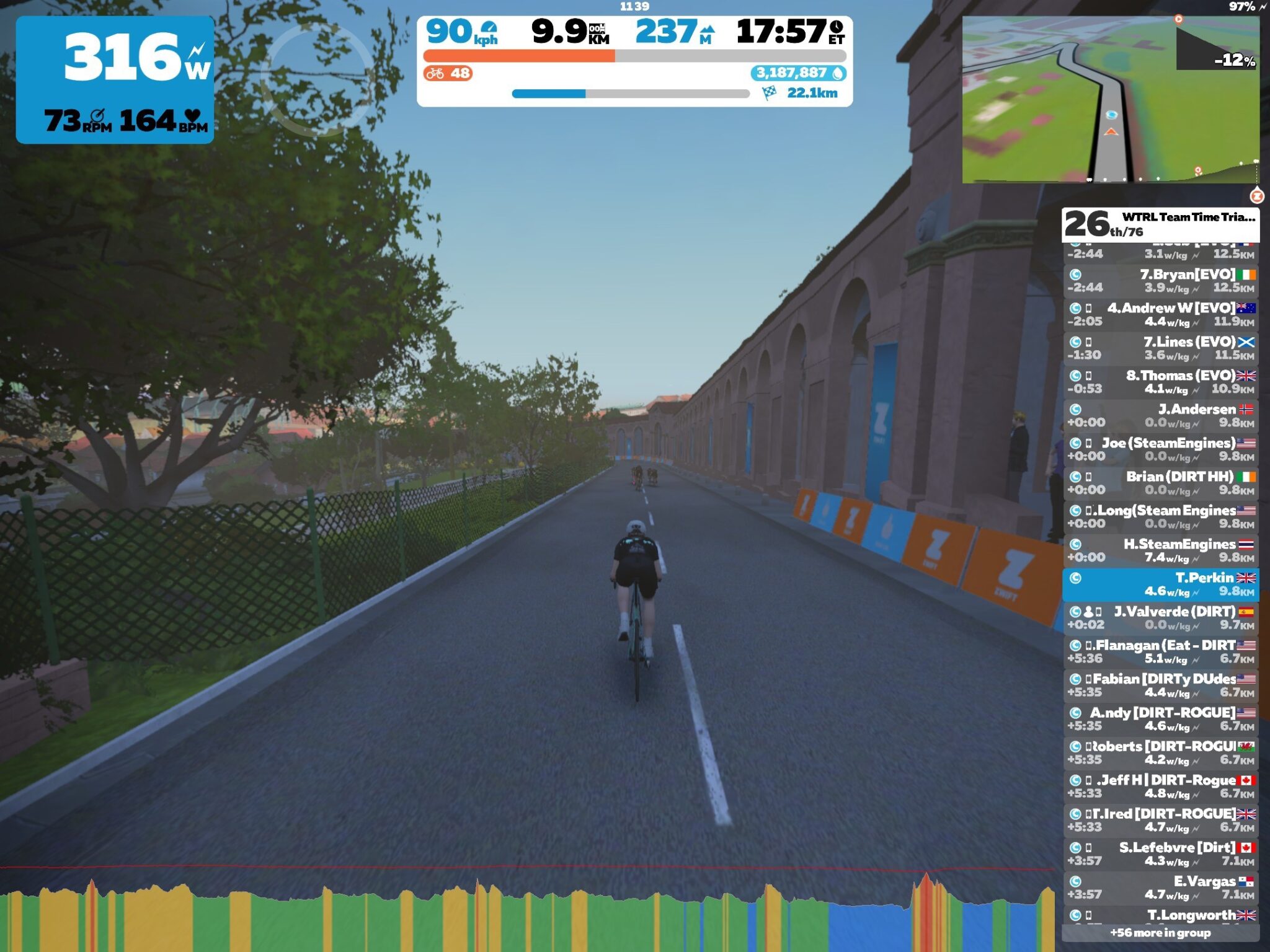 And it got worse. On the descent, as I expected, I slipped from the back of the pack and on the flat I was turning myself inside out to catch up. I asked them to wait, and when I couldn't see the gap closing I started having flashbacks to the day before. My second request involved a curse word to emphasise how badly I was in trouble and it worked. The group slowed and I was able to rejoin. But I was seriously in the "red zone." I couldn't contribute the entire flat section back to the start and it was only at the start of the second lap that I was able to speak again and go to the front to do a few turns.
As we reached the climb for a second time, I expected to pull up to the leading riders in the team. I couldn't. I was empty. I went into survival mode. We have all been there: the mist descends, sweat pouring from your face, you can't get comfortable in the saddle, all rhythm and smoothness goes and moreover, you lose the ability to communicate.
The top of the climb couldn't come soon enough and once again I was distanced on the descent by a few seconds. Fortunately, a rider slowed and allowed me to reconnect with the group. There was, I think, only 4 or 5 remaining and I was hanging on for dear life. I crossed the line and hunched over the handlebars. That was one of the hardest efforts I had done. The power numbers weres not where, but in terms of heart rate, it crept up to levels only previously seen when chasing for the finish line up the Ven-Top.
Despite the suffering, it was a good team experience and solid training. I could not have been made more welcome and this again emphasizes the community aspect that makes Zwift so appealing. What I really loved about undertaking this training is the increased interaction with the wider community. One person in particular I have connected with is Barry Pope.
Barry Pope
I want to tell you about Barry. Barry had read my early articles and my challenges in terms of stagnation in performance and it sounded familiar. He contacted me about my experience with the Rowe & King team. I recommended he speak to them directly. After speaking with Rowe & King, Barry has decided to embark on a similar quest to reach his goals.
I caught up with Barry to find out his story and what he is hoping to achieve as he embarks on his own journey with Rowe & King.
Barry explained that in June and July 2020, he was finding his way on Zwift, including Zwift racing, and was racing several times a day and was achieving results through, as he describes it, "brute force." However, in August 2020, Barry started noticing that he could not hit his previous power of 354 watts for 20 minutes and was struggling to generate 200.
After connecting with Rowe & King, Barry was assigned to Peter, one of the coaches in the Rowe & King team. Peter analysed Barry's training and noted that Barry had done an awful lot of top end racing but did not have a firm base amount of training. Barry is working with Peter to undertake sessions to address these gaps in his riding.
Barry told me, "I am impressed with how Rowe & King are able to interpret the data and create the relevant workouts. The workouts are hard. I am doing them, like a robot and doing what I am told." Barry also explained how he has taken a step back from all the racing he has been doing which resulted in him being overloaded.
I'll keep you updated on how Barry progresses.
Friday – Christmas Eve
Friday was a doubleheader. I joined the Rapha Festive 500 Group ride, which was a huge ride of close to 4000 people. I then followed this up with my Mountain Massif TT race up the Alpe Du Zwift.
Like the Rapha 500 before, it was nice to see a large number of people taking part. It was an absolute battle and no one took it easy.
I was able to hit consistent power numbers, flexing around 5.3 w/kg on the climb, but this certainly wasn't my best effort of the year according to the indicator on the left of the screen. Still, I climbed my way to 3rd position at one point I was in front of former British Hill Climb Champion Ed Laverack until he edged ahead of me after 8.2km. I couldn't hold on to my third position and got overtaken on the final turn and finished 4th. My average for the ride was 4.9 w/kg, which I was satisfied with given the number of hard rides that I had undertaken that week.
Saturday – Christmas Day
Whilst the turkey was in the oven, I allowed myself 45 minutes to have a little ride, allowing me to indulge myself without feeling guilty. So a steady 45 minute ride was undertaken where I earned myself the "Legends and Lava" route badge, a nice little present for my efforts.
Summary of the Week
Although by my normal standards I only accumulated 7 hours of riding, the intensity made it feel like a long and difficult week. It built on my recovery week and I certainly feel the next phase of the training.
Week 11 will be "interesting" as I have a combination of intervals and races, including the new Zwift Fondo and the start of the Flamme Rouge Race series which will continue to build on the foundations that have been laid.
This certainly does feel like the early weeks of training, and with the Flamme Rouge Racing series being used to build fitness, it mirrors the first part of my programme in some ways. Similarly, the key challenge will be recovery between sessions, managing fatigue and getting the balance right and not overtraining.
Because I can see the parallels with the first phase of the training and have seen the performance gains that I have achieved, I am trusting the process and remain committed. Having feedback from the coaching staff at Rowe & King means that you have their support, which after 10 weeks, is needed to help maintain motivation.