It's "Millar Time!" David Millar, retired professional cyclist turned television commentator and joint podcast host (Never Strays Far) has re-joined Zwift, giving us the special opportunity to ride with one of Britain's finest riders and commentators.
About David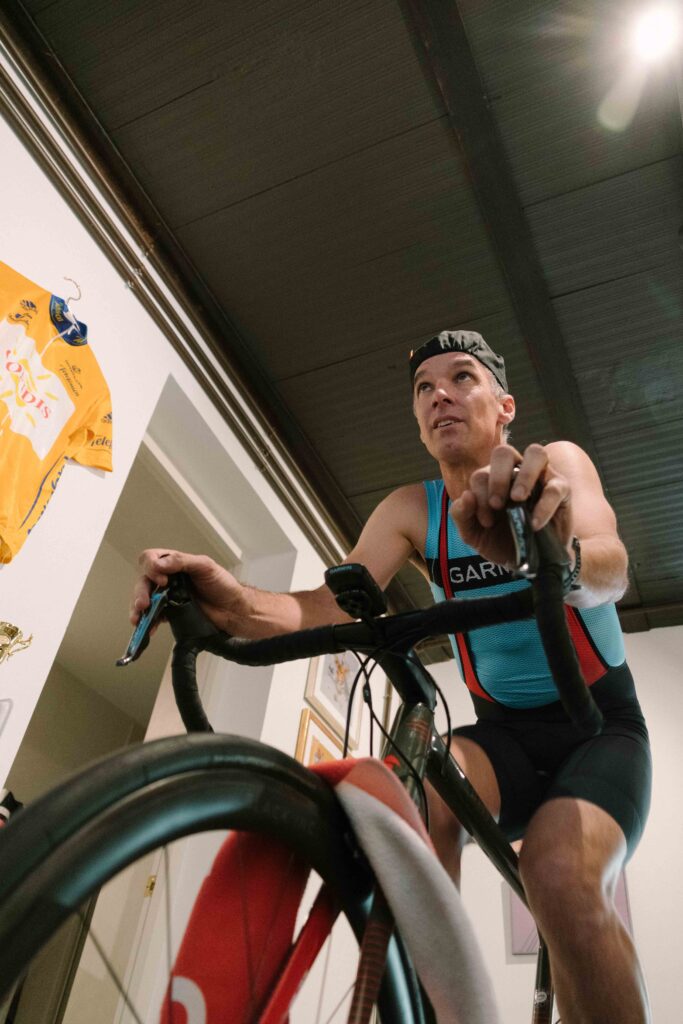 In 2000, David Millar time trialed his way to his first stage win of the Tour de France and with that, took the yellow jersey, cementing his place in British history as only the fourth British rider to wear it. The "Millar Time" phrase was coined along the way due to his superior skills as a Time Trial specialist.
Like many of us, David's passion for cycling dates back to childhood.  Scottish-born, he bought his first road bike aged 15 and when he turned 18 moved to France to race. Two years later, in 1997, he was offered his first professional contract and he was soon winning stages of the Tour de France.  His Grand Tour victories were not limited to the Tour de France, though: he won at all three major Grand Tours. (He is one of only a handful of riders to have worn the leader's jersey in all three Grand Tours.)
In 2004, a young David stumbled into the dark side of cycling for a short period and received a suspension for doping as result.  However, David used that experience for transformative effects and since then, based on his experiences, has become an authoritative voice on anti-doping.
In 2008, he became part-owner and rider for the Garmin Slipstream team who became renowned for their strong anti-doping stance. Since his resurgence as a clean cyclist, David has made his mark as one of Britain's most successful road cyclists, including winning the gold medal in the time trial at the Commonwealth Games in 2010 and the silver medal in the same event at the UCI Road World Championships that same year.
David was instrumental in Mark Cavendish's world title in the road race in 2011 in his role as team captain, and he represented Great Britain at the Olympic Games in London 2012.
He has written two books, Racing Through the Dark and The Racer, and was a consultant on the Stephen Frears film, The Program.
Since his retirement in 2014, David has become a television commentator for ITV and BBC and is working on a number of projects, including a role mentoring Senior Academy riders with British Cycling. 
CHPT3
In 2015, David launched CHPT3, with the objective of making clothing David would wear as a retired racer.  The concept quickly evolved.   
CHPT3 has now become a cycling lifestyle brand.  The essence of CHPT3 (which is short for "Chapter 3") is that every person has three chapters in their life: family, work and play.  The third chapter is often forgotten.  As David states "CHPT3 exists to design and produce the products and share the lifestyle that cycling can inspire in all its forms, out on the road, adventures on dirt, navigating through streets, indoor training – we do it all and we want to inspire you to do the same and find the playfulness in life – your own third chapter."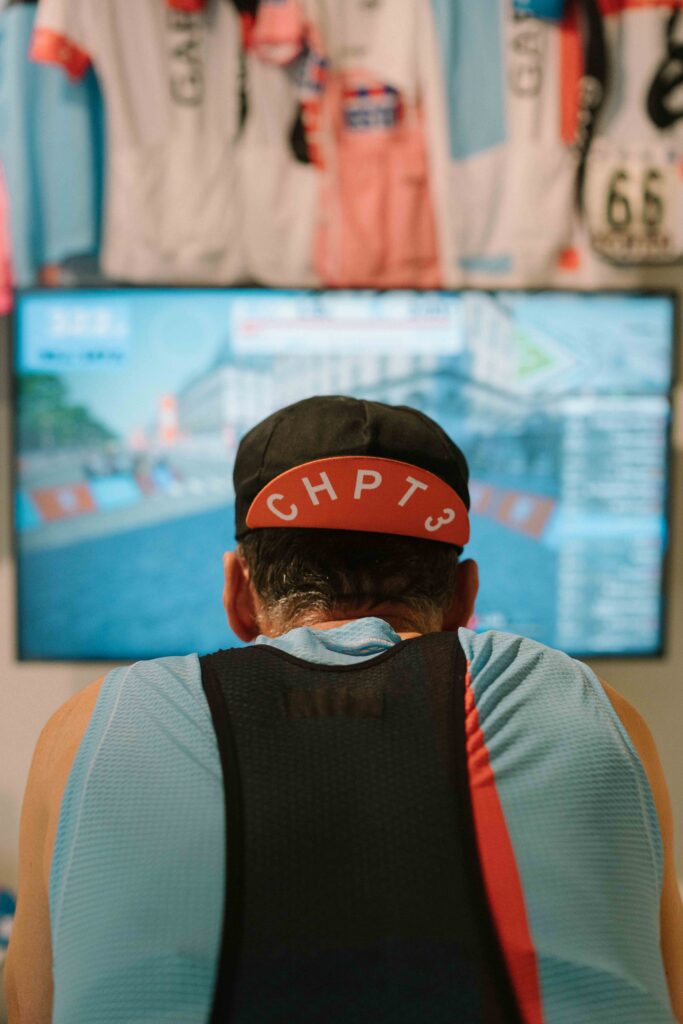 It was originally produced by Castelli, called CHPT3 x Castelli and is what David refers to as his "purest." David explains that the "first collection will always remain the purest, there was nothing else out there like it and it proved to be not only difficult but expensive to manufacture."
CHPT3 has many collaborations, one of which is with Garmin, whose cycling team David raced with for 7 years.  Now, 13 years later, he is the supplier of a Garmin-inspired line of clothing.  The designs pay homage to and are inspired by the Garmin Cycling teams from the past.
Currently, in Zwift, CHPT3 rides are using the standard Garmin jersey. However, David and Zwift are busy creating Garmin's new CHPT3 version which can viewed and purchased here.  This will give people the unique opportunity to have their real world look mirror their virtual… or should that be vice-versa?  
It's important to note that like all CHPT3 mainline designs, the Garmin jerseys and shorts are performance designed using recycled materials, which is a core value of the brand.
"Sustainability" is an important part of CHPT3. As is noted on their website, the designs are aimed to be timeless. "By producing collections that eschew fads that may be out of fashion next week, made from durable yet highly technical performance materials, we have a range that can form the heart of your cycling wardrobe for years to come." Furthermore, CHPT3 have linked up the Clothes Doctor who "want to help extend the life of your cycling kit through considered cleaning, protection and repair services."
CHPT3 Tuesday Chaingang (and more)

To celebrate the third chapter, the "play" aspect that is integral to the company's philosophy, David is hosting a weekly event on Zwift every Tuesday at 8pm CET/7pm GMT/2pm EST/11am PST. His first event attracted 200 people and had that nice feel of a Saturday morning club ride, with many questions being asked about David's experiences as a racer.  
Sign up for next week's event > 
As he re-finds his feet within Zwift, expect more events to follow. He was actually an early adopter of Zwift and has been impressed since returning to the platform with its evolution. With a contact book filled with past and present cycling superstars, I expect this ride to be stocked full of guests. Interestingly, in David's first ride, the one person that everyone asked about was his co-commentator and friend, Ned Boulting. In his recent podcast, David was introducing Zwift to Ned, who certainly sounded interested in dipping a toe into this new world.
At the moment, as David gets to grips with leading the bunch around the virtual world (something I am sure won't take him long, given that he spent 18 years in the professional peloton doing this very thing), the ride is simply a nice group ride.  However, David is keen to listen to what the community wants and adapt the event accordingly.  And with two rides completed, he's well on his way.
One area which CHPT3 is focused on is promoting women in cycling and as such, they are also hosting a weekly "Women's Only" event every Thursday at 7:00PM CEST / 6:00PM.  This event has a special story behind it because originally it was hosted as a closed event, to encourage women into cycling and where CHPT3 would discuss product designs, marketing plans and generally just ride together, however this evolved and now is open for all women on Zwift.
Sign up for next week's CHPT3 Women event >
Summing up
David is reconnecting with Zwift. This includes catching up with Eric (Min), who he knew from when Zwift launched its beta in 2014. In an upcoming Off Bike podcast, David discusses with Eric the origins and vision he has for Zwift. 
On the Zwift platform it's certainly looking like David's Tuesday evening ride is a place where you can ride and be entertained by stories from a lifetime spent on two wheels and the different people David has met along the way.  
Furthermore, given that time trialing was David's speciality, I hope that there are some sessions focussed on that discipline because as we know, it's very popular on Zwift.  And could you imagine a CHPT3 Time Trial Team competing in Thursday's WTRL, led by David? I could and that would be a frightening prospect!