Zwift has released its latest game update, which dropped on iOS and tvOS early Sunday Pacific time, while making its way to desktop versions several hours later.
The biggest news in this update is the addition of new roads, which Zwifters always welcome! The new roads add ~30% more asphalt to London, 3 new pre-planned routes to ride, and lots of climbing for those who are so inclined. Here are some shots of the new roads:
New Routes
Surrey Hills: a complete tour of all the climbs on the London course, riding over each pass in both directions. Since the route keeps you almost entirely off of flat ground, you get a lot of climbing in. 41km (25.5 miles) long, 881m (2893′) elevation gain
Greatest London Loop: ride the outermost roads on London's course, beginning with a flat 13 kilometers through the city then over Surrey's Leith Hill. 25.6km (15.9 miles) long, 345m (1132′) elevation gain
Triple Loops: a large loop containing three more loops. First you hit the Greater London loop, then the Classique, then ride over Leith Hill to a loop which includes Box Hill. 40.8km (25.4 miles) long, 544m (1785′) elevation gain
New KOMs
Leith Hill: 1.9km (1.2 miles) long, 134 meters (440′) elevation gain, 6.9% average grade
Keith Hill: 4.2km (2.6 miles) long, 228 meters (749′) elevation gain, 5.2% average grade
Yes, Keith Hill is just the backside of Leith Hill: like Fox Hill is the backside of Box Hill. You may ask: why is Keith Hill much longer than Leith Hill, with more elevation? Answer: because the Leith Hill KOM only includes the upper section of the climb, while Keith Hill includes the entire section.
Closer Spawn Points
Starting points for Volcano Circuits, Classique, Richmond Flat and Jungle Circuit routes have been updated so you begin your activity closer to the "heart" of the route. This is especially useful for runners who don't want to hoof it several miles to get to their chosen course. According to Jon Mayfield, Zwift may let users select from multiple starting points in the future.
Segment Start Lines
Zwifters have been asking for more visually obvious start lines for sprint and KOM segments for years, and Zwift has finally made our wish come true! See below for an example of the new segment start lines. (Line color matches the jersey for the segment.)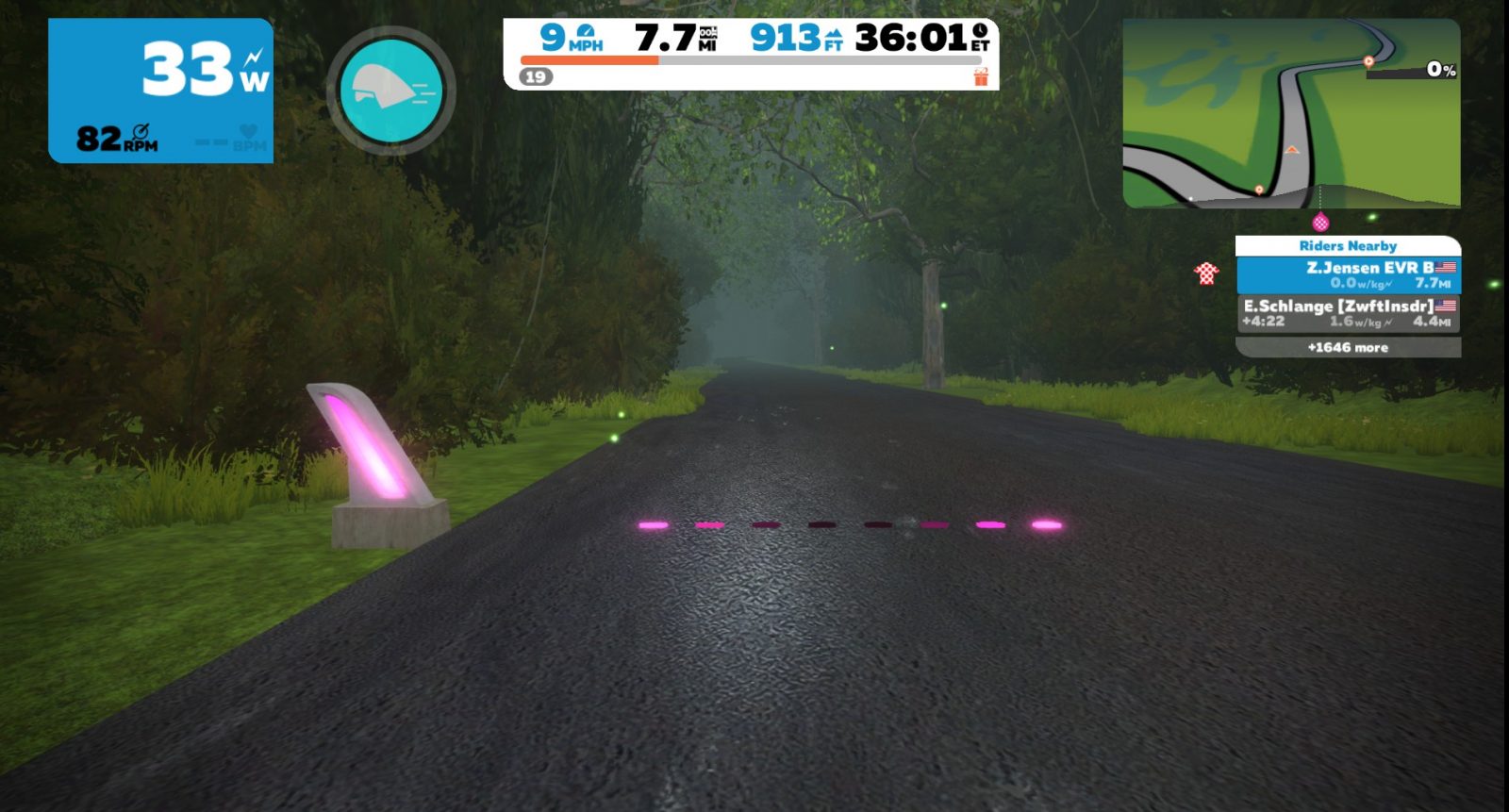 Want More Details?
Read complete release notes from Jon Mayfield >
Watch Shane Miller ride the new London roads below: