Zwift has released its latest game update, but on a different schedule than we've seen previously. This time around the update arrived on Apple TV first (last night), followed by Mac this morning. Windows and iOS will arrive sometime soon (I would guess in the next few days) once Zwift verifies that "some small graphics changes we made work with the many hundreds of different computer configurations Zwift can run on."
Here are some of the notable changes in this update:
New Routes
Watopia 'Mega Pretzel' covers all areas of Watopia in one route (except the bonus radio tower climb on the Epic KOM): it hurts just to read this! Curious why the radio tower climb was left out, as that's an iconic part of the Epic KOM at this point. Perhaps some sort of routing challenge?
'Greatest London Flat' route added which includes the recently added 'Richmond Park' flat road. It will be nice to have a longer, flat race course on London. Loops of Greater London or Classique get a little boring!
We'll post the details of this route and get a "Zwift Insider verified" segment added to our Strava segments list ASAP.
Running Features
With Zwift Run's official beta release coming soon, the folks at Zwift have been hard at work building out the running features.
BETA: Running Pacer Bots can be turned on in some events. They will travel at the specified pace for each subgroup. Very cool! Pacer bots have been something cyclists have requested for a long time, so hopefully this upgrade will make its way over to the bike soon.
Footpod run cadence now senses if bluetooth pod is broadcasting steps or strides per minute
Fixed hologram treadmills from appearing outside of the warmup area for events
New running idle animation added
Expanded Equipment Support
Zwift continues to expand the hardware it supports, which is a key factor in the growth of Zwift as a platform for home users and gyms.
Gear shift indicator added for Wattbike Atom users
Support for Gym bikes that use the Wahoo GymConnect protocol added
Bluetooth treadmill support for BowFlex BXT116/BXT216 treadmills
Bluetooth "FTMS" treadmill protocol added
New Visuals
Graphics brightness auto-adjusts now so that caves, subways, valleys in shadow, etc are much brighter than before
Distance based events now have a 3d holographic finish line added (see image below). This allows for the 5k and 10k run events to have a visible finish, and also allows for more creative cycling events that could end anywhere on the course. Very cool–this will add a lot of flexibility and clarity to events for runners and cyclists.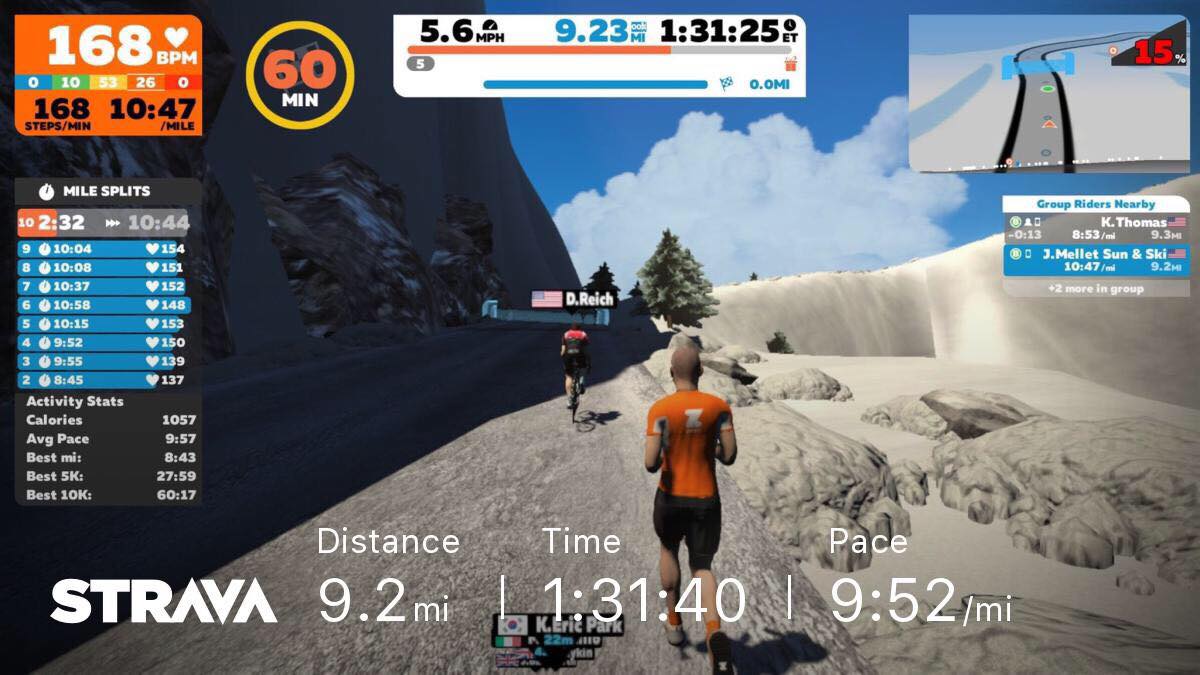 Bug Fixes
Fixed an issue where iOS and Apple TV devices could get into a state where they never see other riders until app was manually killed. This was a common complaint, so I'm happy to see its been fixed.
Cyclists in London moved closer to edge of the road to avoid head on collisions with opposing traffic
Want More Details?