"Bigger Loop" Route Details (Watopia)
"Bigger Loop" is a modified version of Zwift's "Big Loop" which basically adds ~11km of flat road to the start of the route. Released as part of Zwift's Fuego Flats desert expansion, this route features the new desert roads as well as the Epic KOM, Jungle Circuit, and portions of Volcano flat.
Route Basics
Length: 53.1 km (33.0 miles)
Elevation: 678 m (2,224')
Lead-In: 0.5 km (0.3 miles)
Map: Watopia
Start & Finish
When freeriding you will spawn just before the downtown start/finish line. For our Strava segment we started and ended at the downtown start/finish since this is a stable point (unlike spawn points, which have some randomness to them).
We will create another segment beginning at the start pens to cover events on this route, once events begin running here.
Achievement Badge: 1060 XP
Route Description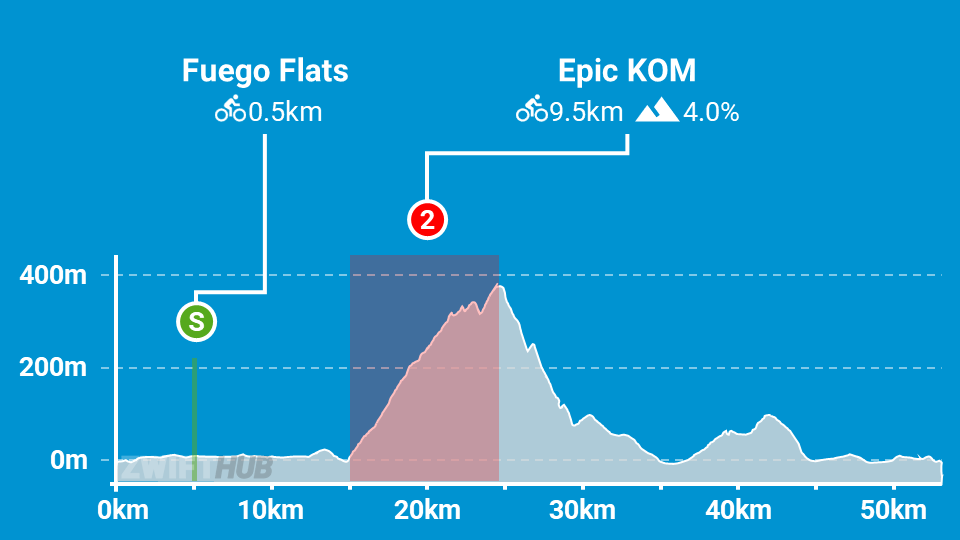 Route profile by ZwiftHub – the place to plan and track your route achievements!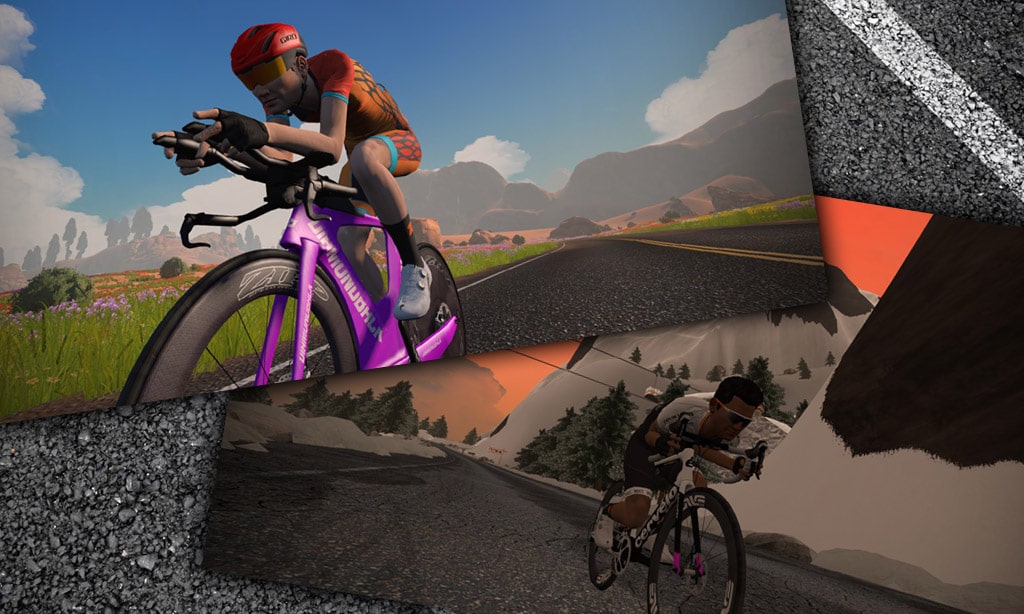 Begin in Watopia's downtown, then hang a left from Ocean Boulevard to head toward Fuego Flats. Enjoy the desert sites, descend through the redwoods, then hang a left to attack the Epic KOM. It's gonna hurt!
Descending the KOM then turning left to the jungle, you will hit the circuit and climb back out before descending down to sea level. Your climbing is finished: now it's time for the flat run-in to the finish, by way of the Volcano flat route.
In summary: 15km of flat followed by 30km of climbing or ascending, ending with 10km of flat. That's "Bigger Loop".
The course profile makes this an appealing route for a longer race. Climbers will be able to get away on the Epic KOM, but heavier riders with higher watts may be able to chase them back over the jungle roads and final flat kilometers.