Editor's note: Monica is undertaking the "Couch to Route Hero" challenge of riding all 67 "free-ridable" Zwift routes (and getting all the badges) in 11 weeks. Each week she shares her story of the previous week's struggles and accomplishments, and some of the rides are epic enough that they deserve their own post.
Watopia's "Quatch Quest" is one of those epic rides – only the second "5 Bidon route" Monica has ever tackled, and this one ends on the Alpe! (Our Couch to Route Hero route rankings groups routes by the estimated number of bidons needed to complete.)
Follow along on her journey, take the challenge yourself, and be sure to give her a Ride On if you see her on course!
---
I went into Quatch Quest a little bit smarter than The Pretzel. Mainly, I didn't have a time I had to be done by AND I had chamois cream! My only real goal for this ride was to not cry in the middle. "Aim for the stars, Monica!"
Quatch Quest has you head through Titans Grove first thing. The plan was to push myself somewhat, but save some for later. I tried to keep my heart rate in Zone 3 or a bit below.
I took a quick break after Titans Grove as I forgot to change my weight (I lost another 2 pounds!) and also wanted to give my feet a break. Next was another ascent up the Epic KOM. As I was going up a gal named Cathy and I found we were both doing Quatch Quest at the same time. She was up ahead and we chatted off and on the whole rest of the ride. We were both happy to know there was no "bonus climb" up the radio tower on this route!
After another break while my gal supertucked down the backside of the Epic KOM the route turned toward the jungle. Because I had to ride through most of it I switched to my Specialized Mountain Bike in game and sailed past people putting out more watts than I!
Next quick break was to stop before the Alpe to switch to my Tarmac Pro. The second-best part about the Alpe was I didn't have to get to the top at any particular time – I could just mind my business and do what I needed to do. (But before you start thinking that I seem to be having a lovely time please note there were many mental choices required to push myself up to each new landmark.)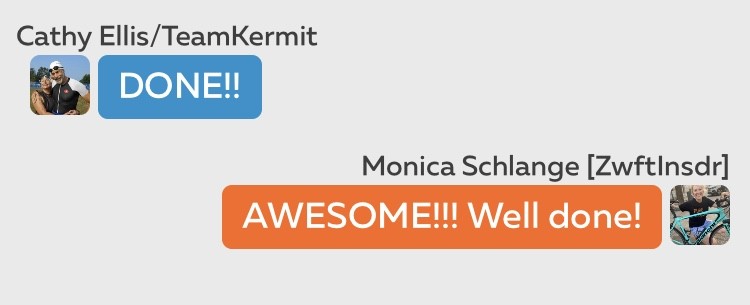 The very best part of this ride was having my new friend Cathy encourage me up the Alpe. She made it up long before me but never made me feel like that mattered. She'd ask where I was and how I was feeling. At one point I told her my feet were hurting pretty bad and my knees weren't thrilled to be there either. She encouraged me to do two things which helped so much: take a break so my feet could rest as climbing is hard on our feet. And make sure my cadence is at my usual pace.
Because my cadence had dropped significantly she said I should ignore all the recent trainer difficulty discussions and lower mine so that I had more gears to use. She was right and it was good to have a second voice say what I was thinking I should do! I finished the climb at about 20% trainer difficulty and about 30 minutes slower than the last time I went up. But guess what – I finished it!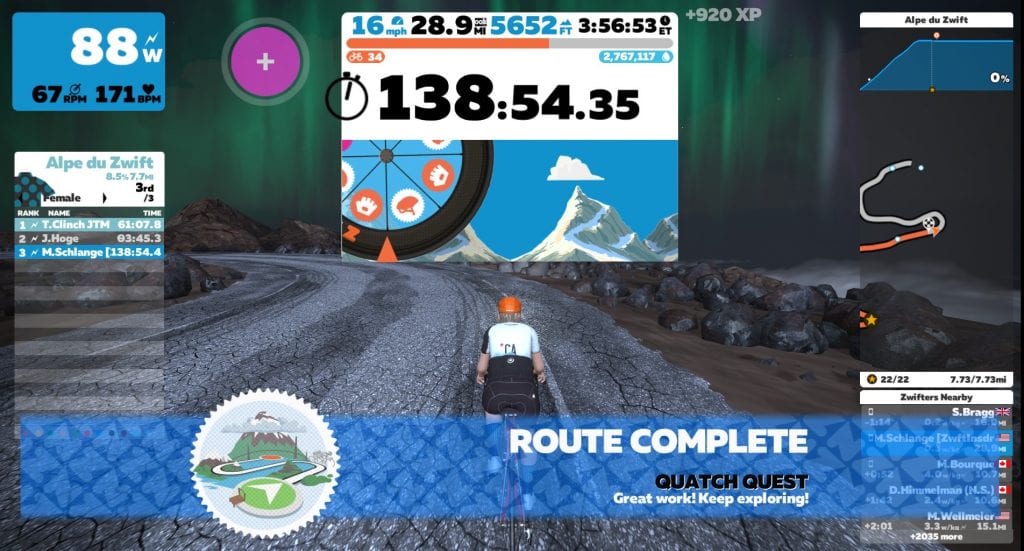 Because I climbed the entire Alpe I felt I earned the extra miles coasting back down. So I limped my way around the loop at the top (after getting another pair of gloves on the spinner) and descended. And wouldn't you know it, during that whole ride of 4 hours and 12 minutes I didn't cry once! (okay, I almost did, but feeling like crying and actually crying are two different things!)
What About You?
Have you ridden Quatch Quest yet? Share your experience below!