Editor's note: Monica is undertaking the "Couch to Route Hero" challenge of riding all 67 "free-ridable" Zwift routes (and getting all the badges) in 11 weeks. Each week she shares her story of the previous week's struggles and accomplishments, and some of the rides are epic enough that they deserve their own post.
Watopia's "The Pretzel" is one of those epic rides – the first "5 Bidon route" Monica has ever tackled. (Our Couch to Route Hero route rankings groups routes by the estimated number of bidons needed to complete.)
Follow along on her journey, take the challenge yourself, and be sure to give her a Ride On if you see her on course!
---
I scheduled this ride for a Sunday. We went to church, went out to lunch, then I zipped home early to start this, my first 5+ bidon route (based on the Couch to Route Hero ranking system). With 20+ people coming over in ~4 hours I needed to hop on the bike quickly so I could be done and showered before they arrived. I guessed that it would take me around 3 hours to ride the 45 miles with 4400' of climb. Silly, silly Monica!
The Pretzel first takes you up the Epic KOM. No problem (except I am getting a little bored of it as of late). Next is the bonus climb we all love to hate. Managed that as well. Then there's the meandering around the lower parts of Watopia. Rolling hills, looping back and forth. At the halfway mark I was right on track at 1.5 hours. Excellent! I was right about it only taking 3 hours!
At hour 2 my feet were burning and my toes were going numb. Because I had the extra time before company arrived I took a longer break than I normally would – 10 minutes of walking around without shoes, filling my bidons, talking myself out of a nap, taking a nature break, then wrestling my bibs back on.
I hopped back on my bike and started up the Epic KOM's back side. I usually prefer this climb over the other side, but this was the first time I attempted it after already riding quite a while.
As I made my way up I realized this wasn't going to end well. I started having trouble breathing (good old exercise-induced asthma was kicking in). Plus, I hadn't been able to pull my bib shorts back on properly so the chamois was rubbing. And then suddenly a few of my toes felt like someone was stabbing a knife right into the bone!
Eric came upstairs to check on me and I was a mess! "I can't! My toes. This is stupid. I hate everything." He talked me into stopping mid-climb to adjust my shoe. I loosened the toe area, released the catch and felt so much better. Onward and upward!
As I continued up the climb I realized our company was coming over in 30 minutes and I was going sloooooow. That brought on all the tears. Crying and climbing and asthma aren't a great combination. I wasn't even close to done with my ride. I was disappointed in myself. The house wasn't ready, the food wasn't ready.
Eric assured me he would take care of the people, the house and the food and left me to carry on. After calming myself back down so I could breathe again I made it to the top of the climb. I was deeply relieved I didn't have to go back up the bonus climb! I pressed on to the descent where I left my gal in her super tuck as I unclipped to relieve my little toes. Both feet were now in excruciating pain. Like someone was slowly trying to break my toes off. I took both shoes off and shook my feet out.
Eventually my gal had made it to the flat part in the castle and came to a stop. If I could just get her to the next descent she could continue to coast down! My fatigued brain decided it would be a great idea to hop back on my bike in my socks and pedal my way across the flat. Pedaling and dismounting a bike in socks off of clipless pedals doesn't feel great!
My avatar finally descended the entire mountain as people started showing up at my house. I hopped back on my bike, WITH shoes on that were completely loose now and finished the last 5 miles of The Pretzel.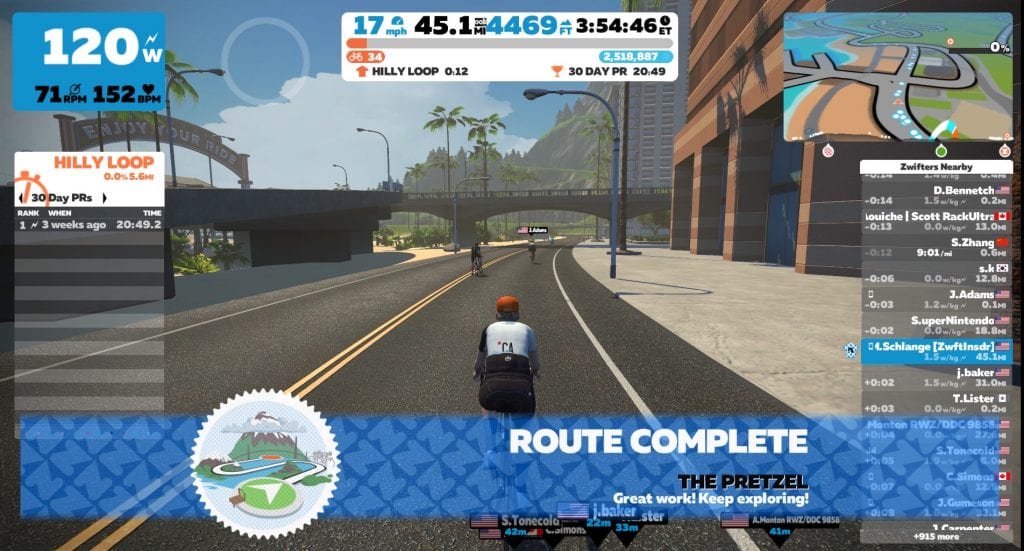 The entire thing took me just under 4 hours of ride time, with 13 minutes worth of breaks. After a quick shower and change I joined our friends and hoped no one would ask me about the ride. They didn't. Later in the evening my face was tingly and my brain couldn't keep full thoughts long enough to get them out of my mouth. I tried downing lots more water and food but I just couldn't get enough. I slept well that night!
My initial reaction to the ride was "how will I ever do 5 more really big rides?" But now that it's been a week I think it's like having a baby: Delivery is terrible but eventually you forget and don't mind doing it again.
What About You?
Have you ridden The Pretzel yet? Share your experience below!