Editor's note: Monica is undertaking the "Couch to Route Hero" challenge of riding all 67 "free-ridable" Zwift routes (and getting all the badges) in 11 weeks. Each week she shares her story of the previous week's struggles and accomplishments. Follow along on her journey, take the challenge yourself, and be sure to give her a Ride On if you see her on course!
---
I rode two 5+ bidon rides this week! In the days before each major ride I walked around head down, moping. I was dreading what was about to happen, wondering how I could have been so stupid to sign myself up for this. In the days that followed each 5+ bidon ride I walked around head held high, shoulders back, hands on hips trying to find ways to "casually" bring up what kind of ride I had just done!
The Week Lined Up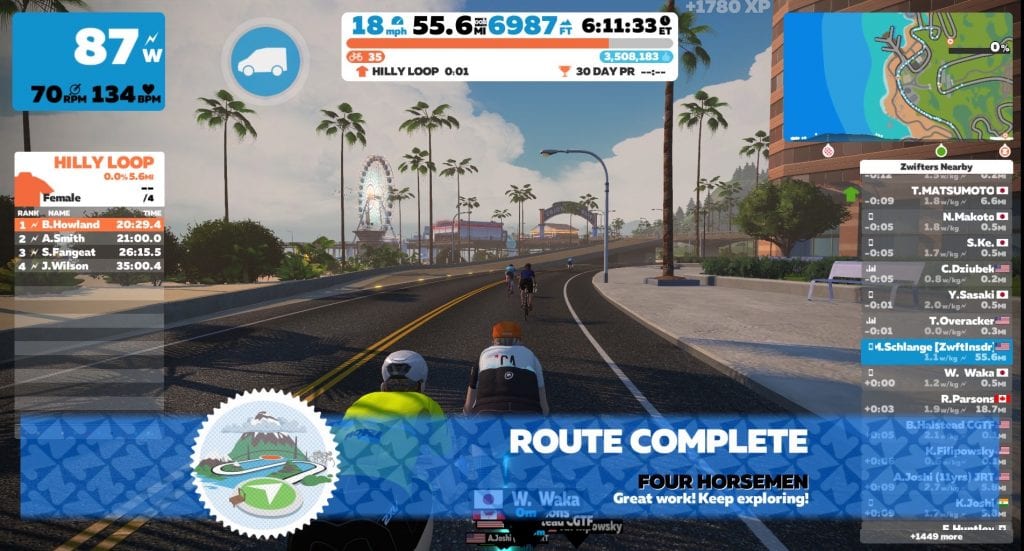 I added 4 route badges this week for a total of 56. Only 11 left! I rode 179.45 miles, with 15,437' of climbing in 15 hours and 16 minutes. The biggest week of my entire life!
Routes completed:
Elephant In The Room
Have you caught on yet that I only rode 4 routes this week? Week 9 has 5 on the schedule. And here's where this Coronavirus stuff is starting to affect my Zwifting.
I was scheduled to ride Figure 8 Reverse in Watopia on Friday. It's an easy 2 bidon route. But I just wasn't feeling great. Felt like my glands were swollen and I was fatigued. I don't think I had fully recovered from riding the Mega Pretzel just 5 days before.
Because I work with highly vulnerable people each week I need to make sure I'm not putting myself into a position to get sick. I also don't want to ruin my immune system for what may come. So I skipped the ride and will tack it on the week after the PRL Full.
The Mega Pretzel
The Mega Pretzel is 66 miles long with around 5,000' of climb. So that I wasn't overwhelmed by this distance I broke it up into 11-mile chunks. I'd ride for 11 miles and then take a break. This was my first mistake. 11 miles is no big deal if you're on the flats, but there's a lot of climbing in this route. 11 miles through the jungle and then up the Epic KOM Reverse takes 100,000 hours (roughly) to complete.
My entertainment for the day went like this: start with my favorite podcasts, then watch some old tv shows, then listen to motivating music. This worked well to switch things up and keep my focus off of how long I'd been on the bike.
By hour 3 I was exhausted. And not even close to being done. I stopped to change my bibs and socks, stretch, and wash my face and hands. I felt so much better!
At mile 50 the pad of my left palm was hurting pretty bad. My thighs started burning a lot. I'd never felt this type of burn before. Front, back, top, bottom… my whole thigh was in severe pain.
At mile 60 my lower stomach area kept cramping up. That was a weird sensation I don't think I've felt since I was in labor with my youngest kid.
In the last 10 miles or so I started getting messages from people in game. At mile 52 I saw Steve Beckett of Zwift HQ riding near me. He sent an encouraging message that gave me some renewed energy! All of the messages and ride ons helped A LOT!
Eric sat with me for the last 30 minutes or so. It was good to have someone in the room to hear me suffer.
I finally finished, slowly pulled my own leg over my bike with my own hand, and got in the shower where I promptly threw up. (Aren't you glad you're following this journey of mine?) Final ride time: 5 hours and 19 minutes.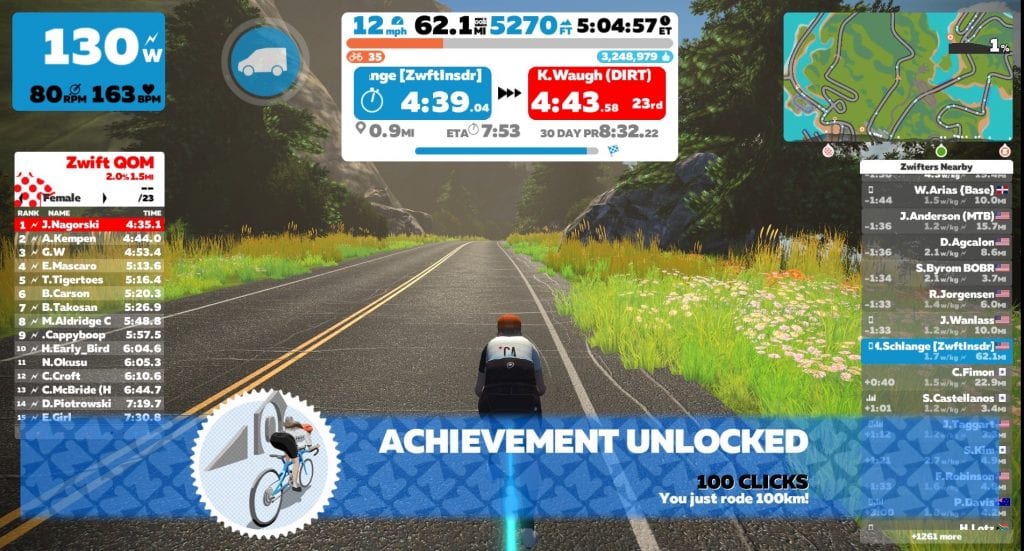 Eric sent our teen out to pick up Pad Thai with Prawns for my dinner that night. I felt well cared for and could feel just how proud of me he was. It felt great!
What would I have done differently? A few small things: wear gloves so my hands wouldn't hurt, put on Eric's PR lotion early on so I would have less leg pain, take breaks at certain time intervals instead of mileage, and start earlier so I had more of the day to eat lots of food afterward.
Watopia's Four Horsemen
My second 5+ bidon route came up way too soon! I really didn't want to do this, mainly because of the Alpe.
I decided I needed to do the whole route in Zone 1 or 2 so as not to deplete my immune system. I did pretty well until the Alpe where I ended up in Zone 3 as I ran out of gears. And patience.
Halfway through this route I realized (because my legs were burning) that I didn't try Eric's PR lotion. I put some on and about half an hour later my legs quit burning and stayed that way the rest of the ride!
I decided to mentally break the route up into 6 sections. The Hilly Route, the Volcano Climb, the Epic KOM, the Radio Tower climb, the Alpe du Zwift, and the Jungle Loop. It helped to think "3 down, 3 to go."

I also decided to take a break approximately every hour. If the hour mark landed near a descent I'd work it around that instead. That worked until hour 3 when I did a bib/sock change, after which each hour dragged on too long. My life motto is "I do what I want!" so I used that to justify stopping every 45 minutes instead.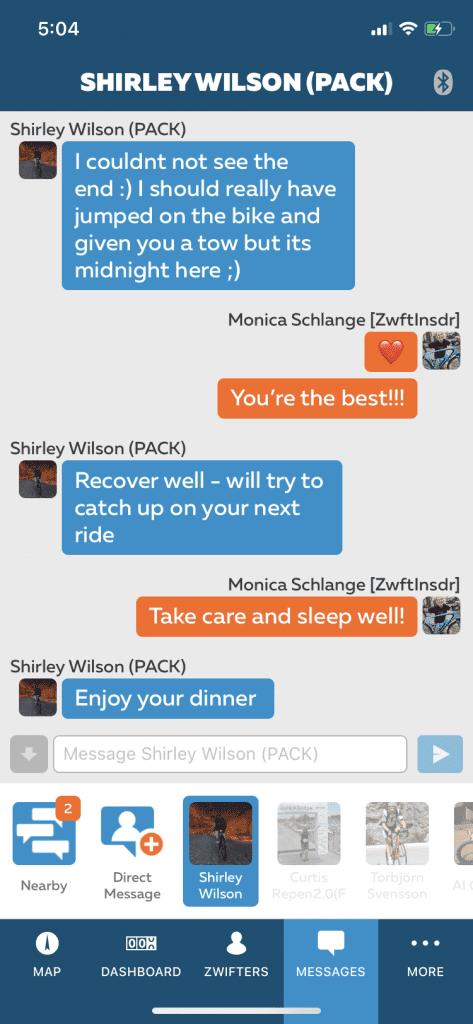 New and old Zwift friends reached out to me during this ride and it was wonderful! A guy called Snappy Little and I had a good chat about doing workouts during route badge questing. Susan Jelinski, a Canadian Zwifter and I chatted about how Coronavirus is affecting our area of the world. My buddy Lewis Dinsdale from Liverpool did a "Ride with Monica Schlange" to encourage me and warm up while waiting for his group ride to start. Many others wrote messages and gave ride ons. It was amazing!

Shirley Wilson from PACK logged on to Zwift just to be able to message me in game. She was in the UK and stayed on for an hour and a half encouraging me through each area. "Any chance you finally got those Meilenstein wheels?" "You're almost through the gravel!" "Looking strong!" It was nearly midnight for her when I finished and she was there in the in game messaging just to tell me how proud of me she was.
This ride took me 6 hours and 10 minutes. If that discourages you from riding it yourself, please keep in mind that my FTP is only 2.0/wkg.
Next Week
The current plan is to ride Greater London 8, Muir & the Mountain, Rising Empire, The Uber Pretzel, and Watopia's Figure 8. I've heard everyone say that the Uber Pretzel is harder than the PRL Full so I might only ride it and 3 other routes this week.
How About You?
What routes did you ride? If you've done the Uber Pretzel what advice do you have for those of us who haven't? How has this Coronavirus stuff affected your Zwifting?