By now, we've all been touched by the COVID-19 pandemic. For some, life has been dramatically altered – working from home, school cancelations, quarantines, travel bans, even hospitalization. It feels as though the world has turned upside-down – and nobody knows when it will return to normal.
As the COVID-19 story developed, the Zwift Community realized it is built on a platform perfectly positioned for this crisis. It's an angle many of us had never really considered – but Zwift offers a way for the world to exercise safely at a time when outdoor riding or running may be unwise, discouraged, or even unlawful.
Zwifter Barry Mainwood said it well: Aside from being able to get some good exercise in it's the last place where all of us from all over the world get to hang out together and socialize. And for that, I'm grateful for Zwift.
It could be said that zwifting helps us fight the effects of COVID-19. At the same time, COVID-19 is affecting the way we use Zwift! Let's dig into these ideas a bit more.
The Effects of COVID-19 on Zwifters
More Meetups
I'm part of the Betty Designs team which is a worldwide triathlon team. A number of the girls have had races cancelled and/or are now working from home. We've been organising meet-ups so that we can get together while getting some exercise, all without leaving home. I've become an expert on time zones and Zwift meet-ups in the last couple of days. It's super fun to do and is a great way to have some kind of social life without physically being around people.

Nadine Voice
Zwifters are taking advantage of Zwift's Meetup feature more than ever, since it makes it easy to create events for a select group of friends. When you're unable to ride outdoors with local buddies, riding virtually (and even using Discord) is the next best thing.
Learn how Meetups work >
Learn about the "Keep Everyone Together" option >
With the cancellation of organized youth sports, having two side by side trainers, and a lot of healthy energy at home, we are doing meetups with our kids… motivating them with the idea that if they ride x miles in a week / month, they can earn a Fitbit (a highly desired device at ages 9 and 10).

Sarah Goodrich
With more Zwifters using Meetups than ever before, we're also seeing more requests for Zwift to upgrade Meetup functionality. Particularly, Zwifters are asking for the option to allow late joining of Meetups, and to hide non-Meetup riders on screen.
Work From Home=More Zwifting
Millions of office workers have been asked to work from home for the foreseeable future. The elimination of commuting time and nearby availability of their Zwift setup means more Zwifting for these members of our community.
I'm working from home and all travel for work is canceled – so I might finally get the chance to zwift every day for two weeks in a row and get that 'unemployed' badge.

Philippe Armbruster
Zwift As the Only Option
In some areas of the world right now, cyclists simply cannot ride outdoors – it's against the law! Spain and Italy have banned it entirely, with Spanish authorities reportedly handing out hefty €3,000 fines for infractions.
I am part of a local cycling club in Madrid, currently on lockdown. On Sunday I arranged a meetup with my fellow colleagues to replace our long ride (110 km with 1.5 times Big Foot Hills circuit). Every day going forward I will be organizing varied meetups (recovery rides, workouts, races). Many have discovered Zwift through this initiative 🙂 and thanks to Discord we could feel "virtually" closer!

Hugo Angelina
Experienced Zwifters are happy to have a way to ride in countries where outdoor cycling is prohibited, but there are also new riders discovering Zwift because it's their only alternative:
I'm in the Red Zone in Italy, about 40km from the city were all this COVID-19 thing started… a lot of guys here are discovering Zwift these days. With my team we are organizing meetups every Sunday and Saturday… As we know meetups needs to be improved a lot (late join could solve a lot of problem for my team for example).

This morning a Uber Pretzel meetup with a lot of great Italian guys.. thanks to Zwift.

Fabio Mux
Zwift As the Safe Option
Some Zwifters are riding exclusively on the platform during this time because they are part of the high-risk groups for COVID-19, or they live with people who are high-risk. Zwifter Brian McEntire coined the term "Social Zwiftancing", which is exactly what these Zwifters are doing!
Having close family members who are in the very high risk group, Zwifting allows me to reduce the chances of picking up an infection that, while highly likely to be trivial for me, would be fatal for them. Having Zwift makes that a very minor sacrifice.

Alasdair MacMillan
As someone who lives in Seattle, the weather is not ideal for outdoor riding yet, so I'm thankful to have Zwift available as it makes long training sessions tolerable while staying indoors. Of course, now that we're also a hotbed for Covid-19, the idea of me wiping out somewhere and needing medical attention when so many people who fall into the 'vulnerable population' are needing help – it seems like a selfish decision… I'm more than happy to hang out in the 'pain cave' until we get through this.

Lynn Johnson
Zwift As Stress Relief
This is a stressful time for everyone, for many reasons. We all know exercise is a powerful stress reducer and happily, Zwift provides a way for us to exercise in the safe environment of our own homes.
Really grateful for Zwift. Normally I'm the only one in the family who does it, but now that we're all couped up in the house isolated, it's a great outlet to get some exercise, pass the time, and release any tension we may all have. One of my kids (9 and 13) is really taking a liking to it!

Andres Sulleiro
I Zwift a lot anyway, but I am trying very hard to social distance as much as possible to protect my asthmatic daughter. Zwift is keeping me sane. People who think they don't have to worry about this because they aren't in a high risk population have no idea the stress involved in trying to protect a vulnerable person in their home. It. Is. Stressful. Zwift is helping me manage that stress. I am so, so thankful for my indoor Queen. Still riding outside, but love the ease and flexibility of my indoor set up. Kudos to Zwift!

Shelly Baldwin Brown
Events with Pros
With nearly all bike racing cancelled worldwide in the coming weeks, pro teams are looking for ways to keep their riders healthy and in-shape. Zwift seems perfectly-positioned to meet this need, and Mitchelton-SCOTT was the first world tour team to really figure this out and begin making some lemonade from the lemons with their "Where the World Rides" series. Surely other pro teams will follow suit soon, but even if they don't, we're already seeing more pro riders using the platform for everyday training.
I'm loving the additional TOW time slot events and the interactions with the professional riders. Cycling Canada has recommended a suspension of activities on the calendar until early May and will re-evaluate mid April. It looks like Zwift will be the only competitions here for the next 45 days.

Blair Drader
Zwifters love interacting with pro riders, and this situation is providing an opportunity for pros to put in some substantial training alongside their fans. Smart teams like Mitchelton-SCOTT will move quickly to plan events that help their athletes train while reaching out to current and new fans.
For the pro riders this is like cancelling their purpose, like soldiers with no war to fight. So it's really nice to connect with fans, talk up sponsors, and do something productive!

Jeremiah Bishop
Events Moving Indoors
It takes some time to make it happen, but we're seeing some of the canceled outdoor events moving to Zwift in various ways. While organizers may not be able to perfectly replicate the outdoor event, someone may be able to do something, even if it's as small as Mitchelton-SCOTT's homage to the canceled Strade Bianche.
Zwift just announced the Absa Cape Epic Race Week, being held during the same dates as the Absa Cape Epic race was scheduled to be held before it was canceled. There are many community organizers who are attempting to move outdoor events to Zwift as well:
Since all IRL races for amateurs are canceled in Poland we (as a community Polska Społeczność Zwift – ZTPL Cycling Club) are planning to ride our own virtual tour, ZTPL.CC Tour 2020. Right now we are waiting for ✅ from Zwift HQ.

Jacek Tarach
I run the local Escape Velocity races and in March/April I had eleven events scheduled. Now all on hiatus. I'm hoping to get going in May with our weekly crits and BC Provincials in June. In the meantime (Zwift event schedulers willing) I'll be adding some additional weekend races targeted at our Spring Series participants.

Stuart Lynne
Nathan Guerra over at Zwift Community Live has been keeping his finger on the pulse of these new events. Other community members are also trying to support events which have had to suddenly move to a virtual venue:
At ZMS Live Stream we have offered to stream any events that are being transferred to Zwift to help with awareness and soften the blow where possible, particularly charity rides that still need the support despite cancellations. We are already working with some riders and groups on additional streams and happy to try and squeeze in as many as we can.

Damon Bates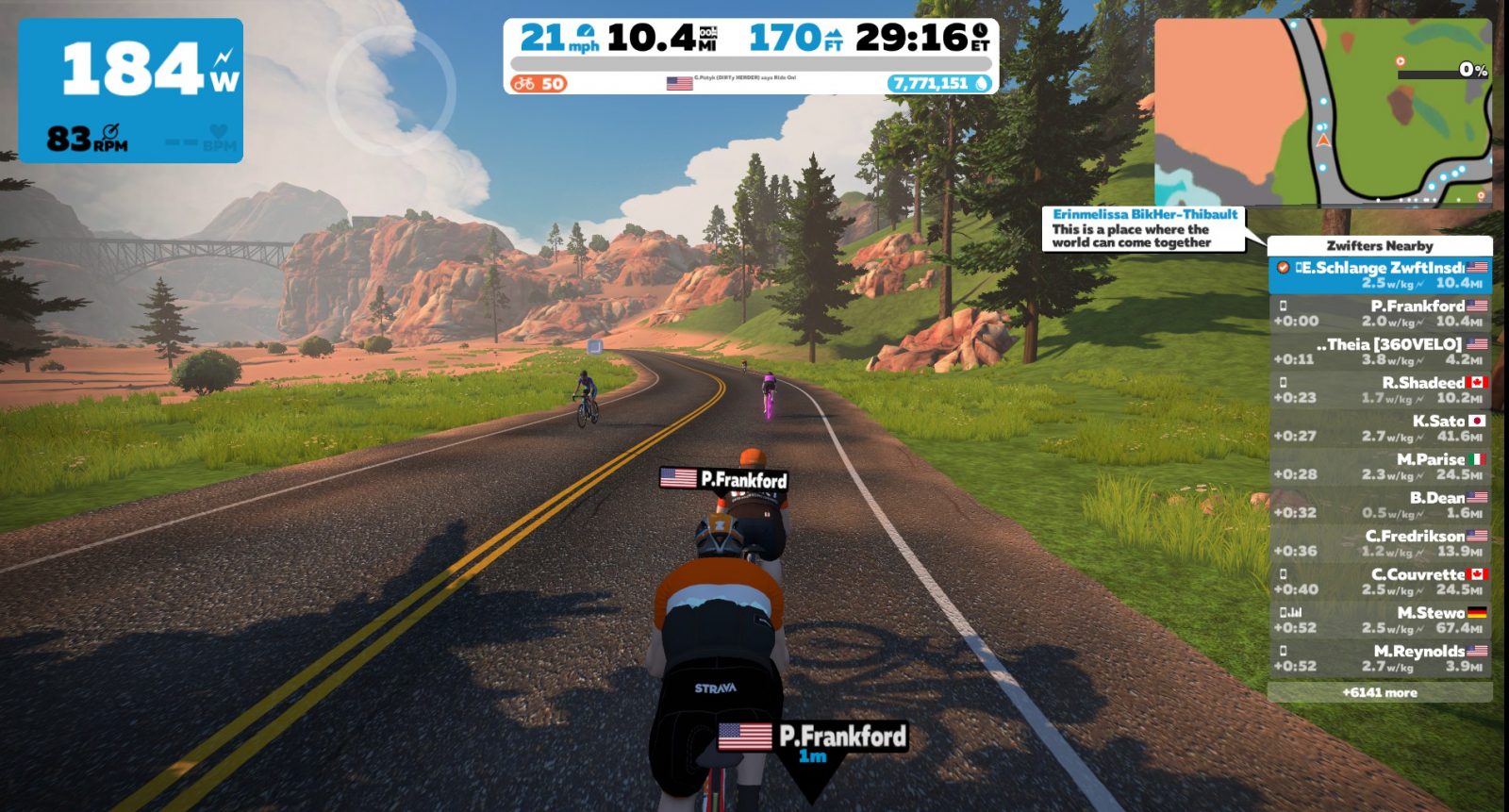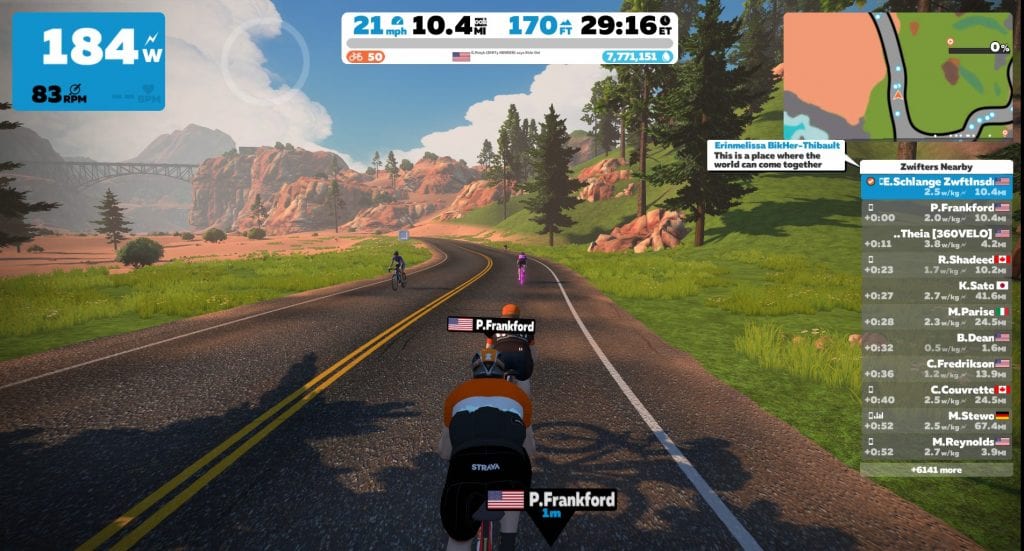 Solidarity
There's definitely a feeling of goodwill and solidarity permeating group rides on Zwift. We're seeing Zwifters checking on other riders via in-game messaging, especially those in Spain and Italy:
While I was quietly ambling along doing the Out and Back route badge today just before I reached the QOM arch a group of 5 Italians blasted past me. Usually this would have me mutter something under my breath but today it really made me smile that they had somewhere they could all ride together, fast and safely.

Sarah Strange
Trainer Sales Spike
I'm getting some inquiries from friends on how to set up a minimalist Zwift pain cave (dumb trainer and speed sensor for z-power). Wonder what the worldwide supply of ant+ dongles and/or the Garmin speed and cadence 2 sensor is.

Gene Edwards
We're even hearing rumors of a spike in sales of indoor cycling equipment! Panic-buying smart trainers? Perhaps it's a thing! Here's one funny story:
I work in a bike shop and a very forward-thinking fellow came in last night 15 minutes before the shop was to close to panic-buy a smart trainer. He doesn't even have a bike to go on it right now, but all his friends have been raving about Zwift and he's realized it might be the only way to stay exercising soon.

Diana Wilson
At a time of the year when many cyclists are moving away from Zwift and heading outdoors, we're hearing more and more stories of riders trying out Zwift for the first time. And loving it, of course!
I live in Redmond WA, work in Kirkland WA. We are at ground zero. Earlier in the year I started toying with Zwift. Started to really enjoy it (coming from Peloton). Then as COVID-19 started heating up, my last non-food shopping trip was to the bike shop to get a Kickr. Wanted to be sure that the next few weeks/months are awesome!

Craig Wiley
Training Load Mindfulness
Note: we are not medical professionals. We believe the information shared below is broadly applicable to most people, but that does not mean it applies to you! It is best to consult your doctor if you have questions or need recommendations regarding exercise or nutrition.
During this time it's important to do what we can to stay healthy – not only for ourselves, but for those we could potentially infect if we get sick! Because of this fact, we're seeing more and more discussion and questions about how training load affects immunity.
The basic answer is: if you're not feeling sick, then it's best to keep getting regular exercise, as this boosts your immune system. But don't overdo the training, as this will tax your immune system, making you more susceptible to health problems.
Here's a thorough and informative paper titled "The Compelling Link Between Physical Activity and the Body's Defense System" from the Journal of Sport and Health Science. Click the link to read the full article, but we'll summarize a few key points which we believe are especially useful to Zwifters during this time:
Moderate-to-vigorous intensity exercise of less than 60 min is now viewed as an important immune system enhancer.
"In contrast, high exercise training workloads, competition events, and the associated physiological, metabolic, and psychological stress are linked with transient immune perturbations, inflammation, oxidative stress, muscle damage, and increased illness risk."
Upper respiratory tract infections (URTI) follow a J-curve model that links URTI risk with exercise workload. Moderate training results in a 40-50% reduction of URTI risk, while elevated training results in an elevated (2-6x) risk of URTI. So again, moderate training is recommended, while high workloads are not.
"Immunosenescence is defined as immune dysregulation with aging. Emergent data support that habitual exercise is capable of improving regulation of the immune system and delaying the onset of immunosenescence."
"The most effective nutritional strategies for athletes, especially when evaluated from a multiomics perspective, include increased intake of carbohydrates and polyphenols." Fuel your rides well with carbs, which leads to "reduced stress hormones, diminished blood levels of neutrophils and monocytes, and dampened inflammation." And be sure to eat fruits and vegetables high in polyphenols, which exert "a variety of bioactive effects that are important to athletes including anti-inflammatory, antiviral, antioxidative, and immune cell signaling effects."
What Hasn't Changed
The COVID-19 pandemic has changed everyday life for billions of people, and as you can see from the testimonials above, it's even changing the way we use Zwift.
But there's a lot on Zwift that hasn't changed at all. We've still got our amazing community. We've still got hundreds of fun events to choose from every day, and a powerful platform to host them all.
What About Zwift HQ?
How is Zwift HQ handling the COVID-19 situation? We reached out to see if they could give us any insight into whether traffic numbers are higher due to COVID-19, whether Zwift is changing their plans to better support Zwifters during these times, etc. Here's what they said:
As you know, we never comment on subscriber numbers. As an at-home training service, we're in a stronger position than most, and as the climate changes, we're likely to see some changes in community behavior (that change being more activity). That said, assuming a more active base, we're working on adding new events throughout the calendar to keep our community moving and training.
Translation: Zwift is working to get more events added to keep the community motivated during this time.
Zwift is definitely talking to pro teams and event organizers about partnering together in the coming weeks – but there is a lot of planning that has to take place to pull these events off. Yesterday, when asked about Zwift stepping in to help with some of the canceled events, Zwift Game Designer Jordan Rapp said this:


What About You?
How has COVID-19 changed your Zwifting, if at all? Are you finding Zwift especially useful during this time? Share below!