Editor's note: Monica is undertaking the "Couch to Route Hero" challenge of riding all 67 "free-ridable" Zwift routes (and getting all the badges) in 11 weeks. Each week she shares her story of the previous week's struggles and accomplishments. Follow along on her journey, take the challenge yourself, and be sure to give her a Ride On if you see her on course!
---
This week was filled with so many lessons. You may think I'd never been on a bike by the time you're done reading!
The best part of the week
I added 7 badges, for a total of 30 done! 37 to go!

This week I put in 111 miles and 5,708 feet of climb in 7.5 hours on the bike! And looking back on my January, well I'm just feeling really proud of myself and all that time on the bike. I also made it to level 33!
Routes I completed in week 4:
My first three lessons
Sunday was supposed to be a recovery ride day. After having done a 4-bidon route the day before I just didn't feel like getting on the bike. I decided last minute to have a rest day. You'd think that would be fine, except that I'm running out of 1-bidon routes to ride. I shot myself in the foot by not riding New York while it was available on the calendar, which then meant on Saturday I didn't have the right 1-bidon rides left and had to go with a 2-bidon. Not that big of a deal, but it led to Lesson One: When you make a plan stick to the plan!
See our Couch to Route Hero scheduling tools >
Lesson Two came along as my hormonal cycle changed for the month. I always thought the week of your period was a terrible time to ride. You feel like crap: bloating, cramping, hunger, fatigue. While all of those things did happen, riding actually helped take the cramps away. What a relief! Plus I felt pretty strong during the rides. Fatigued, but strong. I'm now reading more about this so I can work with what I've got, rather than against myself.
Lesson Three was about bike selection. I'm very proud of getting the Tron bike so I ride it almost exclusively… until this week when Eric saw me about to climb with it. "Babe, there are better bikes for climbing!" I stopped immediately, purchased the Specialized Tarmac Pro and the Enve SES 3.4 wheels and proceeded to get a PR up Box Hill!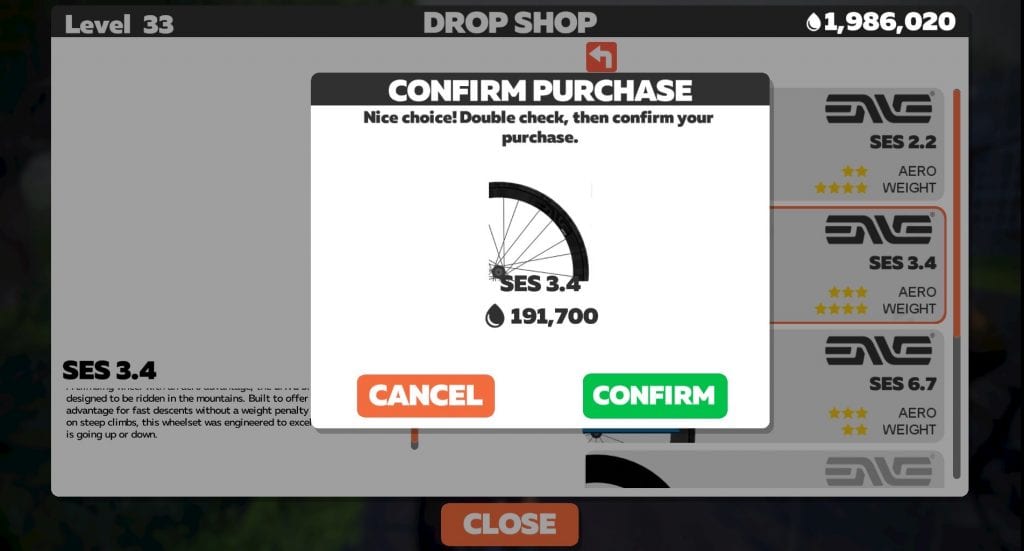 Annoying Riders
Have you ever come across a rider who's just plain annoying? It doesn't happen often, but when it does it sure irks me. I caught a rider on Tempus Fugit toward the end of my ride. Somehow, even though I had been riding faster than he was I got stuck behind him. I didn't want to slow down so had to put out some big watts to get my avatar around his. I did so and then settled back into my ride.
He then puts out big watts and passes me.
No big deal, except that he slows back down and I'm stuck behind him again. Lame! I just want to be done riding! So I put out enough watts to jump out front again. As soon as I do he does the same, gets in front of me and slows down again. Seriously? Leave me be!
After this happens a third time I decided I had two choices. Stop riding until he's gone, or push ahead for a while and drop him. Not one to quit, I bust out the watts as long as I possibly can and notice suddenly he's doing the same. I can't shake him. For the love! So we just play this dumb game until we get through the sprint banner where he gets a PR. I'm tired of dealing with him so hit the big watts again and finally drop him for good. Annoying. Pulling for each other is great; riding past me only to slow down is just poor riding!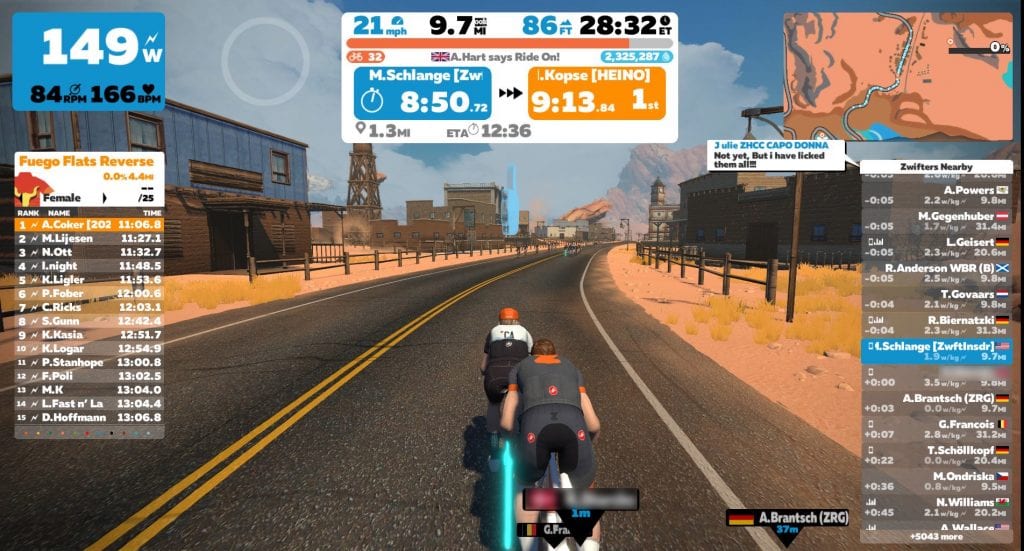 The biggest lesson of all
The fourth lesson of the week was likely the dumbest thing you've ever heard! Somehow Eric and I got to talking about recovery rides. During the conversation, it came out that I assumed a recovery ride just meant it was a shorter ride. And how do you make a short ride even shorter? Give an all-out effort so you're faster and finish more quickly!
Who knew this is exactly the opposite of what a recovery ride is? The answer is: "Everyone. Everyone except Monica knew that isn't a recovery ride!" Sigh. We looked back through some of my recovery rides and found that I'm in Zone 4 for many of them, Zone 3 for some.
So the next question that was sheepishly asked was, "what is a Zone and how do you stay in it?" Apparently, when you're doing a recovery ride you want your heart rate to stay in Zone 1 or 2 for the ride. This allows your body to actually recover from the hard effort, and that's where your body gets stronger.
Eric and I took a moment to make sure my max heart rate was accurately entered into Zwift and then talked about what zone 1 or 2 would look like for me.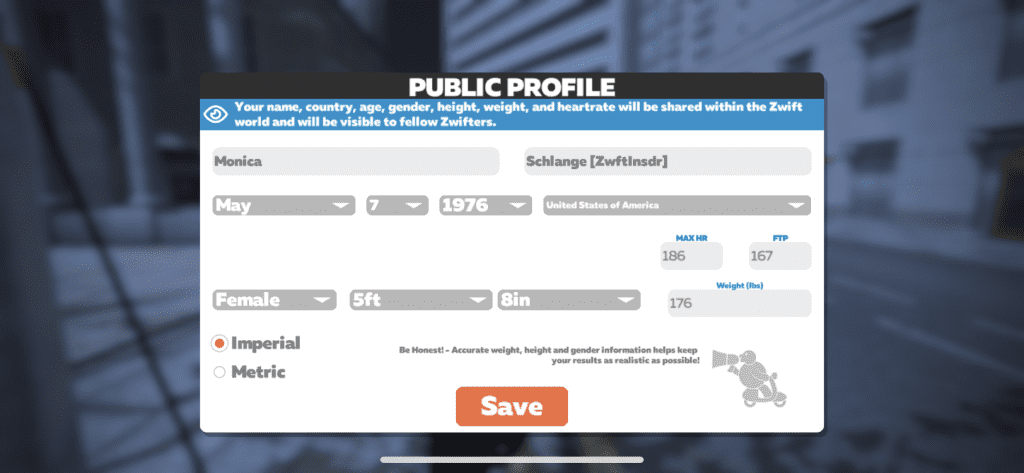 My next ride was a recovery ride and now that I knew I was actually supposed to stay in a certain zone I could try to keep my heart rate down. I have to admit, it made the ride a little more boring… but at the same time, I wasn't on my death bed yet again when the ride was over. It was a relief too to know that my 2-bidon routes coming up will have to be recovery rides that won't make me want to throw up!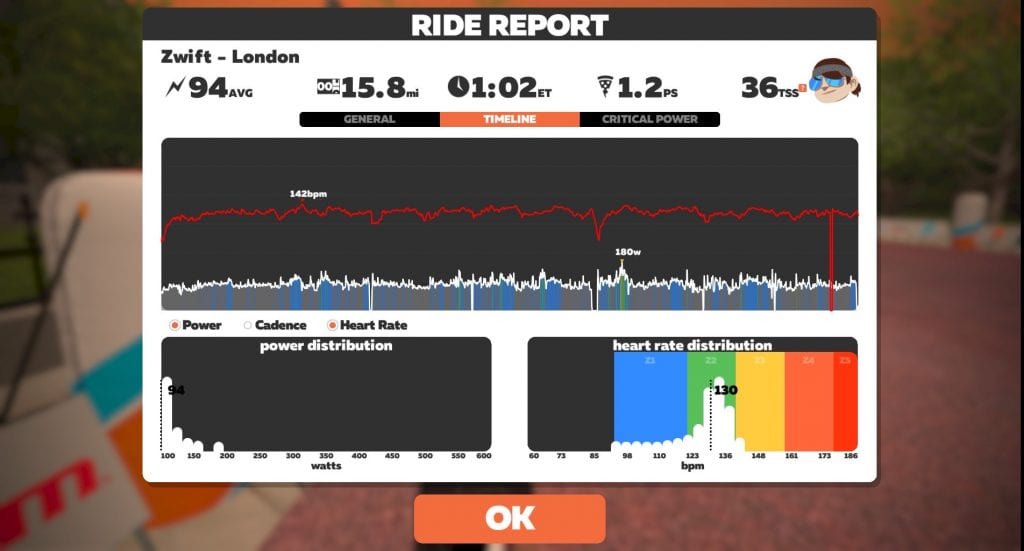 For more on the topic of recovery, read "5 Training Mistakes for Zwifters to Avoid", "How Hard is Too Hard", and "How to Recover Better, Faster".
How about you?
Did you know about Recovery Rides? (it's okay to say yes) And how is your Route Badge Quest coming along?