Editor's note: Monica undertook the "Couch to Route Hero" challenge of riding all 67 "free-ridable" Zwift routes (and getting all the badges) in 11 weeks. Each week she shared her story of the previous week's struggles and accomplishments. Follow her journey, take the challenge yourself, and be sure to give her a Ride On if you see her on course!
---
When Eric first named this challenge "Couch to Route Hero" I was mildly embarrassed by the idea of being called a "Route Hero." But now that it's over you can call me what you want. It feels good to be done and to look back on my accomplishments!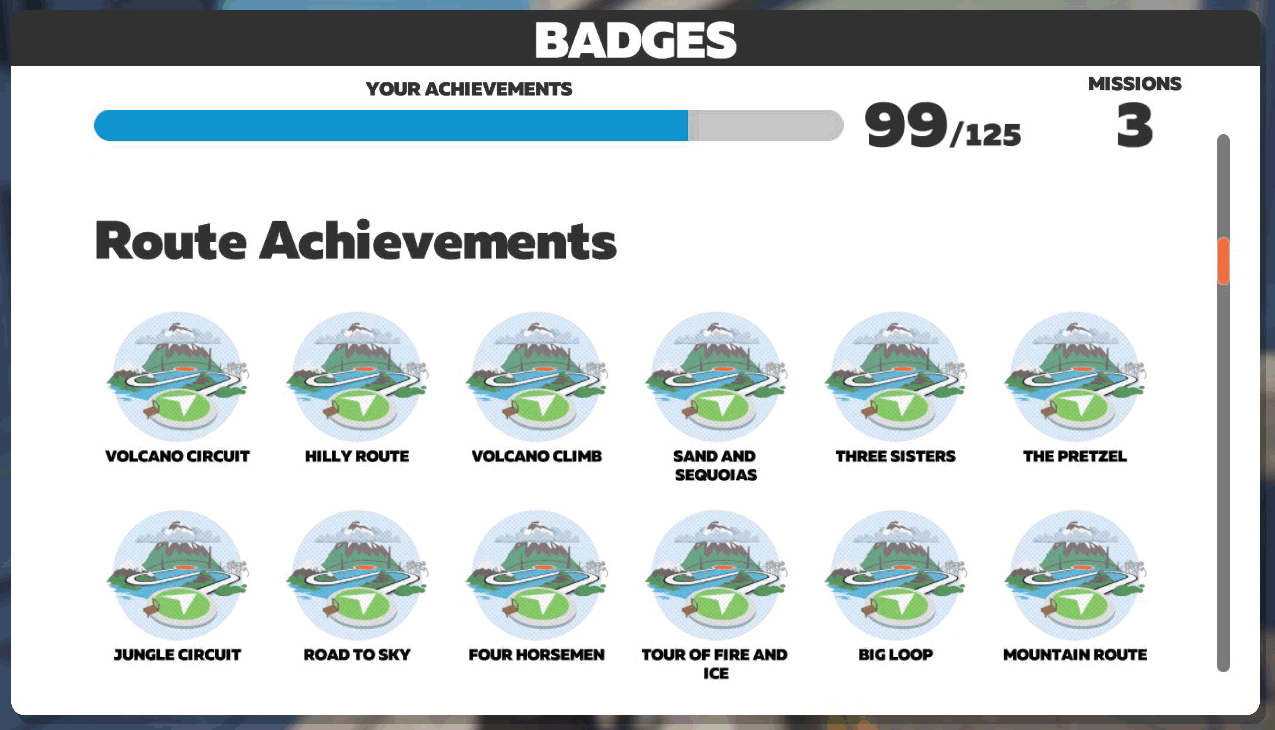 The Week Lined Up
I rode three routes this week, bringing my total to 67. That's all of them! This week I rode 65.1 miles with 4,737 feet of climb in 4 hours 44 minutes on the bike.
Routes Completed:
About this Week's Routes
I don't understand why Out and Back Again has this name. While you DO end up where you started the name implies that you take the same road back as you did going out. This is not the case.
Lutscher CCW was hard. You go up the back side of the KOM… twice. My head wasn't there. A real shocker! So I pushed myself up the first time and planned to take it easy the second time. Little did I know I'd have two friends from across the world join me to climb it the second time. They're both very strong so I went my hardest so they wouldn't fall asleep on the climb. Thank you to Karissa Minn [TFC] and Dafydd Williams [KRT]!
Challenge Results
Between January 5-April 10 I:
Rode 55 days, completing 67 routes.
Rode 1,365.59 miles (2,197.7km) . For perspective: In 2019 I rode 1,435 miles total.
Climbed 110,791 feet. That's 3.8x up Everest.
Was on my bike for 112 hours, 11 minutes and 3 seconds. That's 4.7 days.
Burned 40,955 calories. That's 143 pizza slices.
Received 21,980 Ride Ons from all of you!
My most favorite routes: Watopia's Tick Tock and New York's Mighty Metropolitan.
My least favorite route: Watopia's Uber Pretzel. Do it once so you can say you did. Then never ever do it again!
I went from level 31 to level 37. I got about 40,000XP from all the miles, and 39,600XP from all the routes. I got random XP here and there too, from things like reaching the top of Alpe du Zwift and having the prize spinner land on something I already had, or from going through a banner and getting points instead of a powerup.
I also gained about 2 million drops during the 3 months.
I lost 9 lbs during the challenge. I wish I had paid more attention to calories as I'm sure I could have lost a lot more. Sometimes I could only push myself to do just the bare minimum of this challenge as that was a lot for me. So weight loss wasn't a priority.
Bike choice: I purchased the Specialized Tarmac Pro and Enve SES 3.4 wheels in the virtual garage. I used this setup for climbing, but mostly just rode my Tron bike, while always hopping off in the jungle to switch to a mountain bike.

New IRL: I bought a new pair of bibs that I love. And found that Chamois Butt'r Her' chamois cream is my best friend. Also stretching. Stretching is my best friend.
Some things I learned
I was reminded that I have great resolve (especially when people are looking!)
Recovery matters. Recovery rides and rest days. They make you stronger.
We're stronger together. Knowing others were doing the same routes, sometimes doing them with me: that made me push myself more. We're stronger together.
Fourth, don't put a long ride between two scheduled real-world events.
My chiropractor knows what he's talking about. If I want to stay out of his office I need to not add more than 10% each week. (Alternative way to stay out: have a global pandemic.)
My self-esteem is much higher when I do hard things. Even when no one knows about them. I just feel so much better about who I am.
Looking back on the "easier" weeks reminds me of just how much I progressed each week. What seems like an "easy" week now wasn't back then so I still celebrate Monica of week 6 who nearly died on The PRL Half. It's also a great reminder to celebrate those who have done hard things, without comparing my own accomplishments to theirs.
What's Next
Next Saturday (April 25) we've invited others to join us as we do the 25 laps of the Volcano Circuit. Check it out, and please join us! Learn more here >

Will there be another challenge?
As of right now, no. Not for me. It was all I could do to complete this one, so I need a break from constant accountability. I may take the next month to work to lose some more weight. I thought it would be kind of fun to be much more fit when our Shelter-in-Place is over, so I figure I should start working on that even more now. I'll likely write about it when it's over.
Besides that, I'll be managing two teen's distance learning for the rest of the school year, finishing a book I'm working on about when I had depression, shipping Zwift Insider posters and Banjo shirts and attempting to finish a bathroom remodel.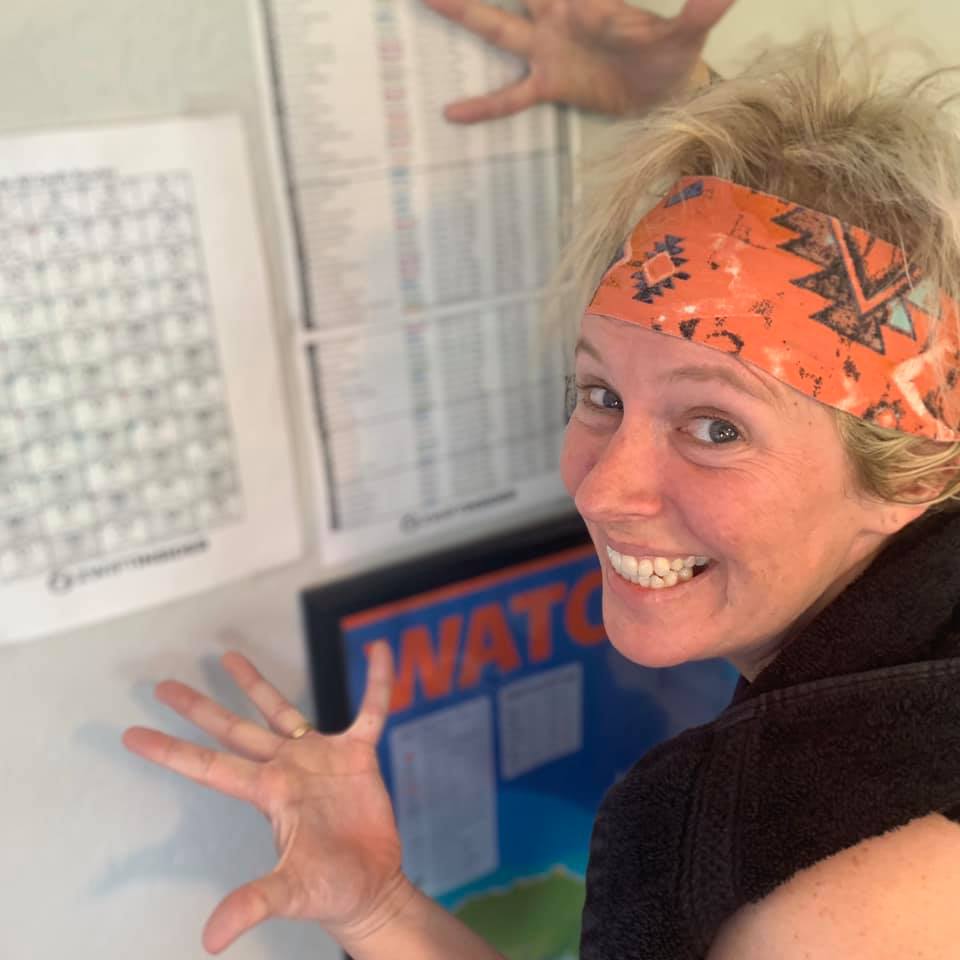 Thank you
To each of you that gave me a Ride On, wrote to me in game, rode with me, commented on these posts, and joined the challenge as well: THANK YOU! I would have quit if it hadn't been for you. You are all the best! Find yourself a community on Zwift that encourages you to accomplish your goals and offers support and advice. There are many to choose from and we're stronger together!
With love,
Monica Schlange
Route Hero