We're nearing the end of Tour de Zwift 2020, and I've been racing each stage. This morning was stage 6: 1 lap of Richmond's 2015 UCI Worlds route. I was excited to race it, because this is one of my favorite race routes in all of Zwift. I was also dreading it, because I knew it would take everything I had to stay with the front of the race over its three climbs.
Ode to Richmond
Richmond is the first course I remember racing after joining Zwift back in October 2015. Between Tuesday night ZTR races (3 laps!) and Friday TFC races, I worked my way from a middling to competitive C in that first winter, destroying myself up Libby Hill, 23rd Street, and Governor Street each lap.

I'll confess – I'm not ashamed. I love Richmond. And it's an unreasonable love in so many ways, because I've never won a race here. The climbs, especially the final Governor Street slog, just destroy me. And the course's visuals aren't anything special. But there's something about how the route lays out which I just love – the flat first half, the hilly back half. Two timed sprint segments on the flat front, two timed KOMs on the butt-kicking back.
And that Libby Hill climb, even though it rips my legs off, is super cool. The cobbles, the twisty-turny road. Best climb in Zwift.
The Warmup
Today's race was at 7:10am, so I set my alarm for 6am. Hopped out of bed, grabbed my kit, then headed upstairs for my typical pre-race ritual: a piece of caffeine gum and some PR lotion on the legs. Hopped on early and got a nice 35-minute, ~12-mile warmup in on Tempus Fugit.
There were lots of riders on course (like most Saturday mornings), including DIRT teammate Dustin Elliot, who had emailed me earlier in the week to ask when I'd be racing Stage 6. We set up a plan to race this morning together, so he hopped on and warmed up with me in the desert.

The Start
We began with 69 riders, and while the pace was high (we averaged 30.2mph to the foot of Libby Hill), I wasn't on the rivet. I averaged 285 watts between the start of the race and the beginning of the Libby Hill climb, and my heart rate was 164 – a good hard tempo pace for me.
Unfortunately, it was also a good pace for just about everyone else. In this race, more than any other TdZ stage so far, lots of riders held onto the front – we had 53 of the original 69 still in the front pack when we hit the first climb.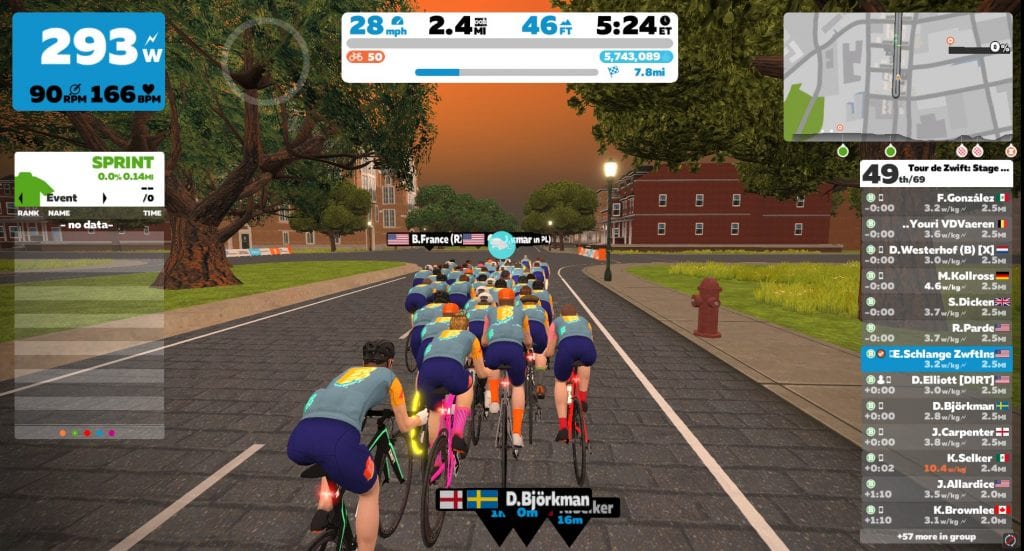 Libby Hill
Do you play race scenarios in your mind prior to the event? I certainly do. For whatever reason (probably because I know the course so well), I had been thinking about this stage a lot more than the other TdZ stages. Here's the decision I had come to: I had to go all-in to stay with the front pack up Libby Hill. Because if you get dropped there, you're not coming back.
So I set my mind on that – I would push to hold the wheel of the front pack up Libby, even if I felt like I was going to blow up. And I reminded myself that I would need to keep pushing over the top, because that's where it's really easy to get gapped and lose the race. I should know – I've done that plenty of times.
Shoutout time: Jonathan Levie (of Zwift Hype fame) launched incredible attacks on the first two Richmond climbs in yesterday's Pro-Am race. The guy flew up those climbs! I knew I wouldn't be matching his speed, but I hoped I could channel my inner Levie just a bit in my race.
The first half of Libby Hill (see Strava segment) is actually a paved straightaway which levels out before the road turns to cobbles for the twisty second half. I stayed seated for the first half, making sure I stayed near the front. And when we hit the cobbles I activated my feather powerup, shifted, got out of the saddle, and hammered.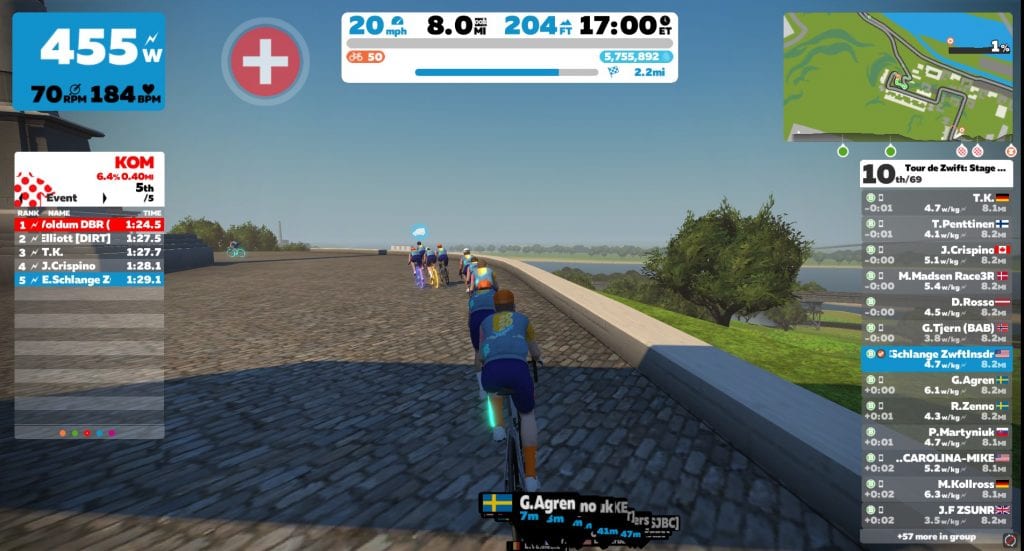 45 seconds later we crossed the KOM banner, and I was still in touch with the front group. Yes! (Looking at Strava after the race, I tied my PR for the Libby Hill Climb: 1 minute, 29 seconds).
I kept pushing so I wouldn't get dropped as the group sped up over the top. Fortunately, the Zwift gods had gifted me an aero powerup, which I used to help me stay in touch with the front group and recover a bit. The race was breaking up, and I knew I had to stay on a wheel or I'd get swallowed by the group close behind.
23rd Street
The next climb came quickly. Where Libby Hill is a 90-second effort, 23rd Street is closer to 30 seconds. It's a good thing 23rd Street is short, because my legs have never recovered at this point! Once again I shifted, stood up, and went all in. Same rule as Libby Hill: stay with the front group at all costs. Conserve nothing.
But I blew up.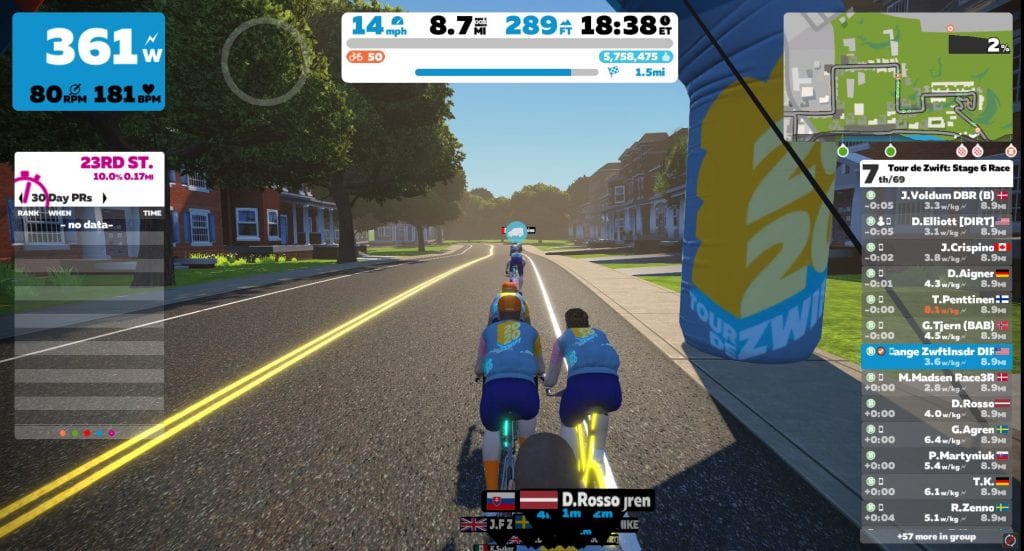 As we crossed the KOM banner, a big gap was opening ahead. The stronger climbers in the group had beasted it up the climb, then continued to hold their power as the road leveled out. Me? I was gasping for air and wondering where my legs had gone. And Linkin Park was ironically singing in my earbuds: "I tried so hard, and got so far. But in the end… it doesn't even matter…"
As the podium rode away, I found myself in a group of 7 riders. We were the 3rd group on the road. My teammate Dustin was at the front with one other rider, then 3 were chasing them, with us behind. Just one climb remained.
Governor Street
This is the climb that gets me the most on Richmond. It's only ~2 minutes long, and not quite as steep as Libby, but my legs are always tired by the time I get here. I had a feather powerup which I deployed when the climb began, but it didn't help much. I was toast. My pack rode away from me, and my new goal became staying away from the group behind.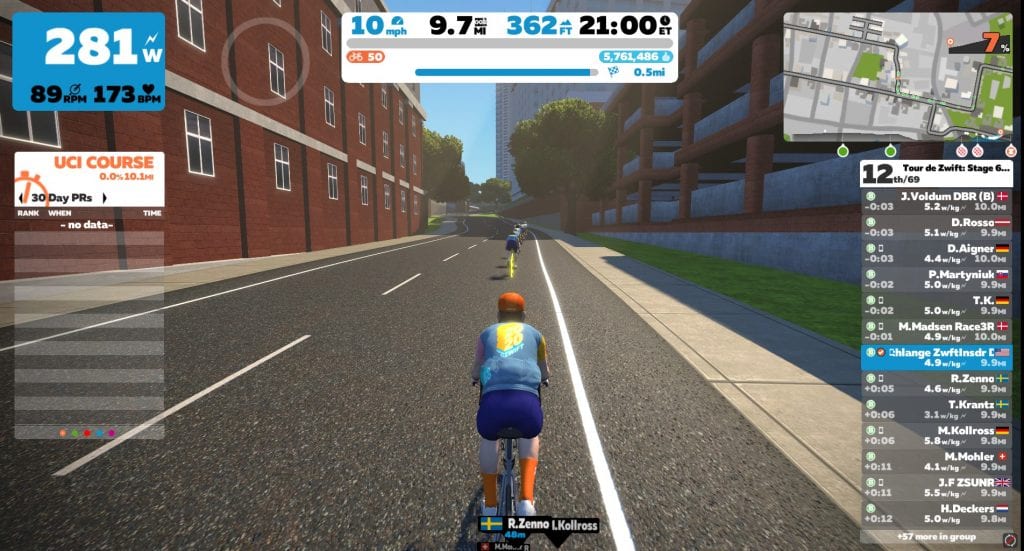 The End
One rider chasing from behind caught me as we finished the final climb. Governor Street ends in a false flat, staying around 1% all the way to the finish line. It feels like an insulting, slow-motion slap in the face. It's brutal, and many riders get caught out by starting their sprint too early.
Lucky for me, I had no sprint left. The next rider was a few seconds back and not going hard either, so we threw in our towels by silent mutual agreement and crossed the line, completely spent. 22 seconds behind the winner, in 13th place.
See my ride on Strava >
See the race results on ZwiftPower >
Team Win!
As I caught my breath and scrolled up in the results, I was happy to see my buddy Dustin took the win in the race! What a stud.
We used Discord to chat during the race, and it was clear he was having a much easier time of it than I was. Looking at his power numbers, this course suits him well – he's got the wattage to hang on in the flats, and the watts per kilo to attack the climbs and shake off the heavier hangers-on like myself.
I'd like to say I contributed to his win in some way, but that would be a complete lie. I was just trying to survive, but he killed it!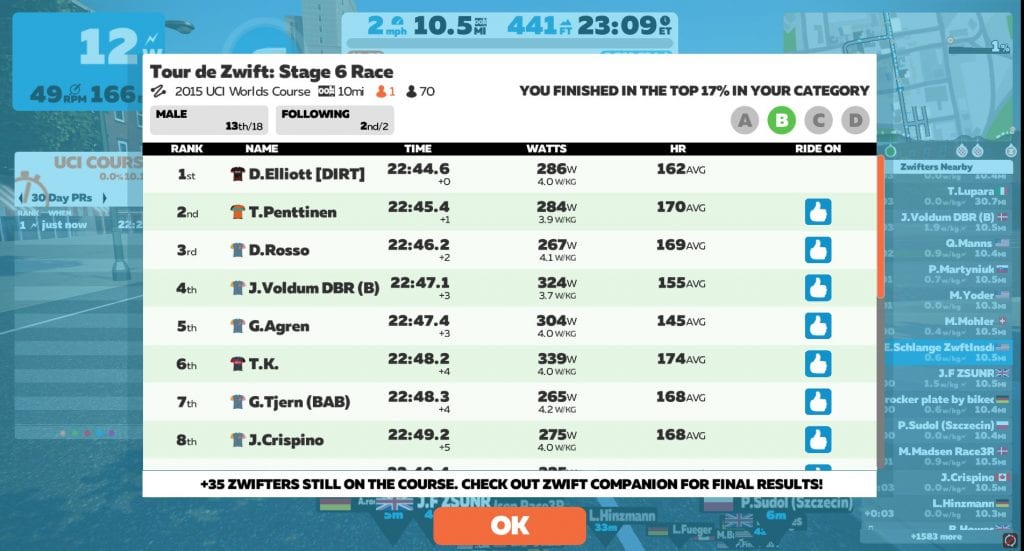 Takeaways
Once again, it's the climbs that got me. Check out my heart rate graph overlayed on the course profile!

I'm not sure there's anything I could have done to get a better result in this race. I couldn't have gone any harder to hold the wheels of those who got away, and if I had eased off to hang with the group that eventually caught me, I would have gained, at most, a single place in the overall results.
So I'm happy with the execution of my race plan. It didn't lead to a win, but I maximized my results, and at the end of the day, that's all you can do.
One good thing: this race is a good reminder that I need to shed a few pounds to be more competitive. I've been working on doing so for the past week, and I'm down a couple of pounds and feeling good. Fewer cookies. More riding. It's not rocket science, but that doesn't make it easy!
What About You?
Have you raced stage 6 yet? How did it go? Share below!