Yesterday was the first points race of Zwift Racing League 2021/22 Season 1, and there were several thousand racers who participated. We raced over one lap of Watopia's Figure 8 Reverse – a popular and exciting course that strangely hasn't appeared on the ZRL schedule until this season.
Here's how my race unfolded as a member of the B-category DIRT Roosters squad racing in Division 3 of the EMEA W zone. Mine is just one story of the thousands that could be told, but hopefully it's an interesting and enjoyable read.
The Warmup
As usual, I followed my normal pre-race routine. Chewed some tasty caffeine gum (two pieces = 200mg of go-go juice), applied PR lotion to my legs, and to celebrate the ZRL points race kickoff I also drank a glass of beet juice two hours before the race.
That stuff tastes terrible (liquid dirt, anyone?) and it always causes a fright when I pee red immediately post-race. But supposedly it's a good pre-race drink, so I do it anyway.
Then it was time to kit up and awaken the legs and heart by spinning with the C. Cadence groupies. 30 minutes or so with a few sprints to get the heart rate up and I was ready to go.
I pulled the Tron bike out of the garage for this race, because I wanted something that climbed well without losing much speed on the sprints. Lots of other riders had the same idea – I would guess that 70-80% of racers were on the Tron bike in my event.
After checking that Discord was set up, the racing playlist cued, and OBS was recording all the action, it was time. Let's race!
Part 1: the First 10 Minutes
Ally is my British teammate who rivals me in terms of Zwift obsession. He had already raced in an earlier event with another DIRT squad, and let us know that the first 10 minutes would be tough. He predicted that the initial effort to the top of the KOM reverse would be a 10-minute slugfest above FTP. And he was correct.
The start was fairly tame, and even as we climbed the little kicker before the first sprint things stayed pretty calm. So calm, in fact, that I decided to go hard on the sprint, even without a useful powerup. 4th over the line (pipped by C Ryan from TBR – he'll show up in the story later as well), but not even in the top 10 for fastest through the segment, thanks to a lack of draft and powerups.
Things calmed a bit after the sprint, allowing me to catch my breath for the KOM Reverse. This is always a tough climb that puts me right on the limit in the early stretches, but I'm generally able to get back into the front pack before we hit the finish banner. And that was the case today. I hammered hard up the steep first section through the statues, then kept pushing to catch the wheels of the riders ahead for the false flat section of the climb.
The first big selection of the race was made on that steep first section, paring the front group down to around 30 riders. And the pack kept stretching out as the climb drug out. As we sprinted up and over the final meters of the KOM I used my aero powerup for a bit of a speed boost. 9th fastest segment time… who would have guessed?
Part 2: Recovery and 2nd Sprint
We all took a collective breath after the KOM Reverse and enjoyed the descent. It was time to recover! Team captain Antoine was on Discord checking where everyone was at. We had 5 riders in the front pack of 13, and our toughest competition (the Vikings) had only 3. This was a good sign.
The pack wasn't pushing hard as we spun our legs out on the flat roads of Ocean Boulevard. There was a group around 12s behind, but they weren't catching us, so there was no reason to work harder. We all knew there was a long sprint coming up, followed by the final KOM. Best to keep our powder dry.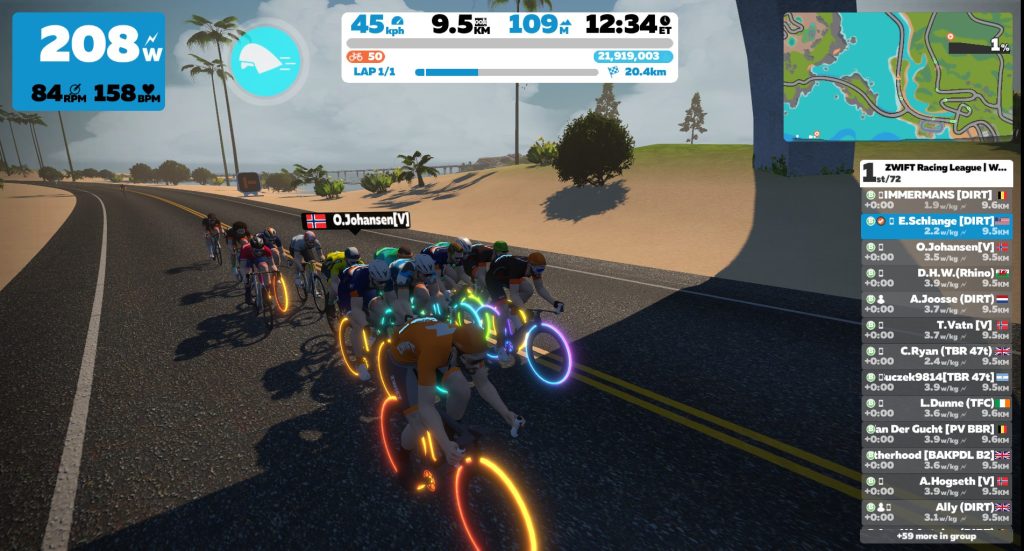 For the first time in the race I had a useful powerup for the upcoming segment: an aero helmet for the forward sprint. But I wasn't sure how I wanted to attack it! Should I go all in and get a few points, but burn a match that might cost me on the KOM? Or do I sit in and do the minimal amount of work to stay with the front, conserving for the maximal KOM effort?
As we hit the start line of the sprint, a few riders spun up the watts, including one Viking (A Hogseth) who activated his aero powerup. We couldn't let a Viking go uncontested, so I pushed a bit harder and grabbed his wheel, activating my aero as well. I sat right on his wheel for the first 2/3 of the sprint, then pushed extra hard to come around. First across the line!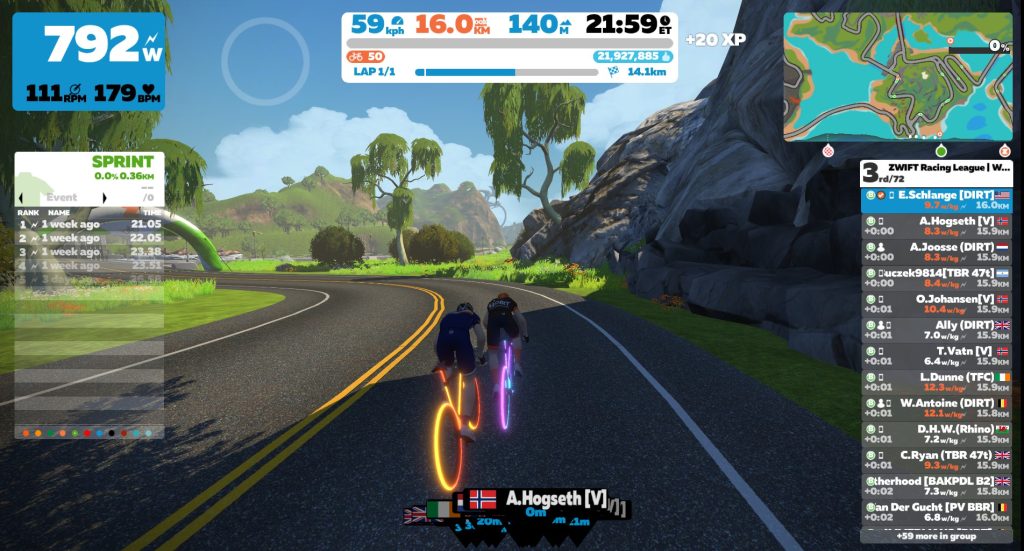 That wasn't something I'd planned on. I ended up getting 2nd in terms of segment time, too, so that sprint was good for 25 points.
But I couldn't think about all that – I had to recover before the KOM. I used my newly-found feather powerup on the kicker into The Esses, then sat in and spun as much as possible. A storm was on the horizon…
Part 3: The Finish
A burrito was handed to me at the downtown start/finish banner, and I didn't know what to do with it.
Using it could accidentally hurt a teammate on what was a very crucial part of the race (the final KOM). And I wanted to make sure I got a new powerup at the top of the KOM, to help me with my finish. In the end, I opted to just throw it away. I wasn't hungry anyway.
Watopia's forward KOM always gets me. It's just a bit too steep, and a bit too long. This time around I decided to stay seated on the steep first section, hoping to keep my heart rate in check and save the hammering muscles for the final stretches.
The front group didn't go bonkers at first, until my teammate Thomas started hammering off the front. Then things started stretching. (Thomas is a beast: the strongest rider on our team for sure. He's not a sprinter, but he can climb and hold high w/kg for a long time. Definitely the man you want for a long breakaway or TTT squad.)
The pack strung out on the second half of the climb, and I was in 6th but couldn't hold the wheel of the Viking in front of me despite getting out of the saddle and hammering. As we came over the top of the KOM the 5 riders ahead were strung out, but I didn't have the legs to catch them. Instead I eased and we formed a chase group as the 5 front riders blobbed up.
Our chase group eventually had 6 riders: 3 DIRT Roosters and 3 riders from other teams. We had one rider in the front group: Thomas. Ally and team captain Antoine were with me in the chase group.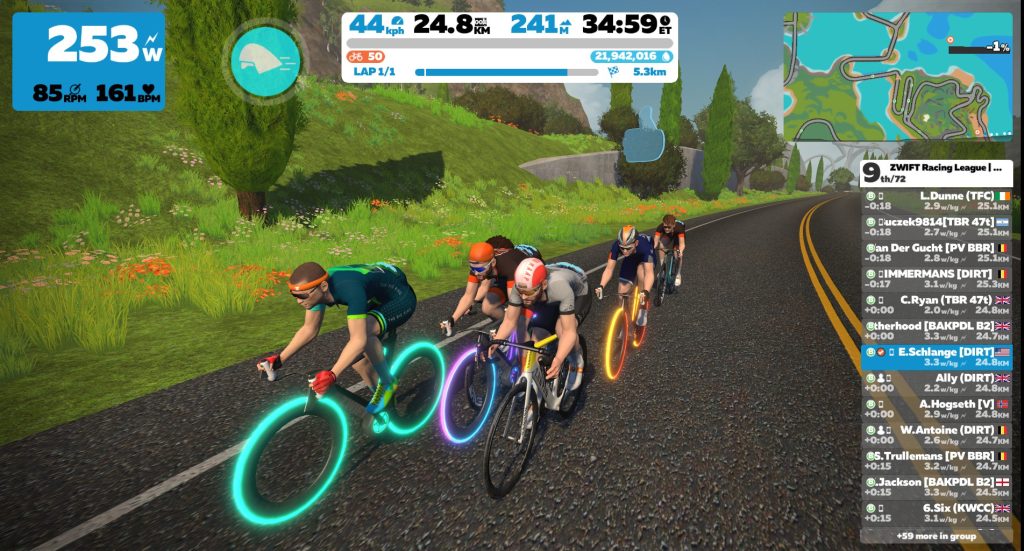 We took it easy for a bit, then decided Ally would attack from far out, because that's the smart thing to do when you've got the numbers in your favor (it forces the other teams to chase while you sit in). Unfortunately, another rider (C Ryan from TBR, mentioned earlier) attacked first! He went hard off the front as we climbed out of the ocean tunnel, and I grabbed his wheel as he smartly activated his burrito powerup.
As Mike Tyson famously said: "Everybody has a plan until they get punched in the mouth." It was time to improvise!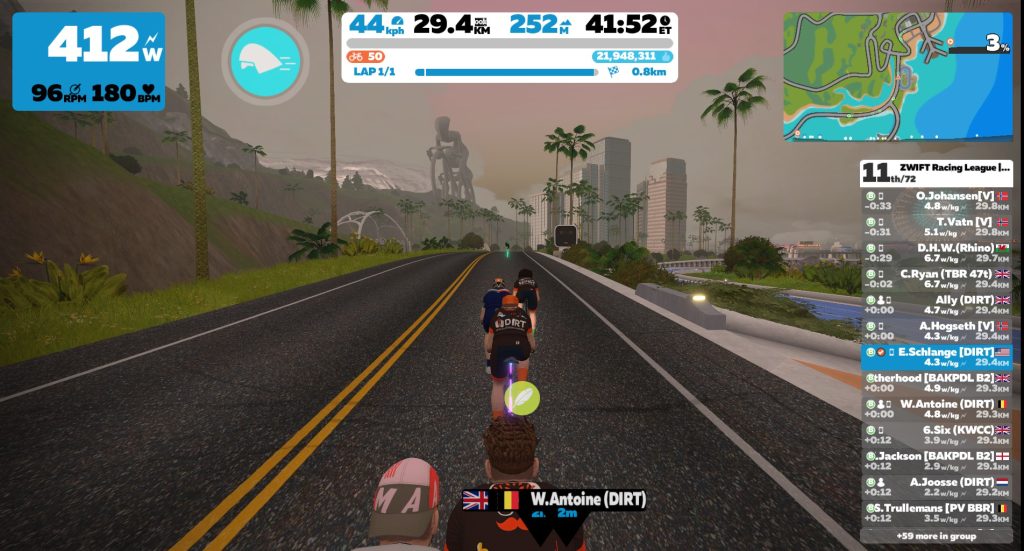 Ally came through with a hard pull to keep C Ryan without range, and I worked to hold his wheel, clinging to the hope that C Ryan would run out of juice and my aero powerup and knackered legs would be enough to catch him. But he seemed so far away…
With 500 meters to go I decided it was now or never – I wasn't going to catch him if I kept waiting with the pack. So I hit my powerup and went hard off the front.
After a few seconds I could see I was gaining on him! And although I was absolutely on the limit, I kept pushing with all I had left, passing him with 100 meters to go. 8th place on the day.
See my ride on Zwift.com >
See my activity on Strava >
See race results on ZwiftPower >
Watch Full Race Recording
Team Result
Thomas, in true Thomas fashion, took the win with a long breakaway from the front group. The rest of us finished 8th, 10th, 13th, 15th, and 23rd respectively (out of 70). A strong finishing showing, plus we scored a lot of intermediate points.
The final tally isn't yet available from WTRL, but Ally's astute arithmetic shows us provisionally with 318 points, giving us 1st place on the day with the Vikings in 2nd.

We took 1st in terms of finishing points, but also in FAL and FTS points. Needless to say, we were all pretty stoked with that result.
Takeaways
The first 10 minutes of this race were indeed tough: I set a 10-minute power PR for 2021! But what I really appreciate is how much more strategic the ZRL races are getting, with riders easing for recovery between efforts. Zwift races are morphing from feeling like a TT to something closer to outdoor road races, and that's a good thing.
The Figure 8 Reverse has been one of my favorite race courses on Zwift since early days. There's something for everyone: climbs, sprints, flat sections. And it's just the right length for a single-lap race, where you never ride the same tarmac twice. I just wish I could crack that forward KOM! Maybe it's time to do some hill repeats.
As I wrapped up for the day, I reflected once again on how incredible it is that I get to race in real time with riders from all over the world. As the Zwift Insider guy sometimes it feels like most of what I hear is complaints about bugs or the slow pace of game development. But at the end of the day, there's no denying the super-coolness of working with a team of dudes from across the pond to win a bike race. Shout out to today's Roosters:
Thomas (Belgium)
Antoine (Belgium)
Ally (United Kingdom)
Arjen (Netherlands)
Dejan (Slovenia)
Your Thoughts
Did you race ZRL this week? How did it go for you and your team? Share below!