I've been enjoying the Zwift Classics series, but going into this week I hadn't yet managed a win. In fact, I appeared to be going backward!
Stage 1: The Apple Lap – 2nd place
Stage 2: Watopia Cup – 3rd place
Stage 3: Watch the Femmes – 7th place
Stage 4: Yorkshire Grand Prix – 10th place
This week we headed to London for a custom-length version of the London 8 route which is mostly flat, except when it takes riders over Box Hill. To be perfectly honest, I didn't fancy my chances of making it over Box Hill in the front group, since I've been dropped there on nearly every race I've attempted.
But I also knew that Category Enforcement had tamed the B group a bit, making it slightly easier for me to hang in on climbs. If I could survive over Box Hill, I may have a shot at the podium. And if nothing else, it would be a solid workout.
The Warmup
I did my typical "casual" pre-race prep: two pieces of caffeine gum (200mg) around an hour before the race, plus some PR lotion on my legs. Then I hopped into the C. Cadence Pace Partner group and spun my legs up for around 30 minutes, being sure to break through that 160bpm barrier so my heart and legs were awake.
The legs didn't feel particularly amazing, but they didn't seem particularly bad, either. Box Hill would be the test. Grabbing my Tron bike for a bit of a climbing edge, I headed for the pens.
The Start
The B category only had 31 riders when we blasted out of the pens, but that was fine with me. Medium-sized fields are fun because you can get to know some of the riders, and attacks can actually split the field and make a real difference in the overall race.
This became evident quickly when the group made a hard right onto the Northumberland Ave climb. This short, 400-meter kicker always catches some riders out, because if you don't hammer hard up and over the top you can easily be gapped off the back.
As the front riders powered over the top a gap opened and our field of 31 become a front group of the 15 strongest/smartest: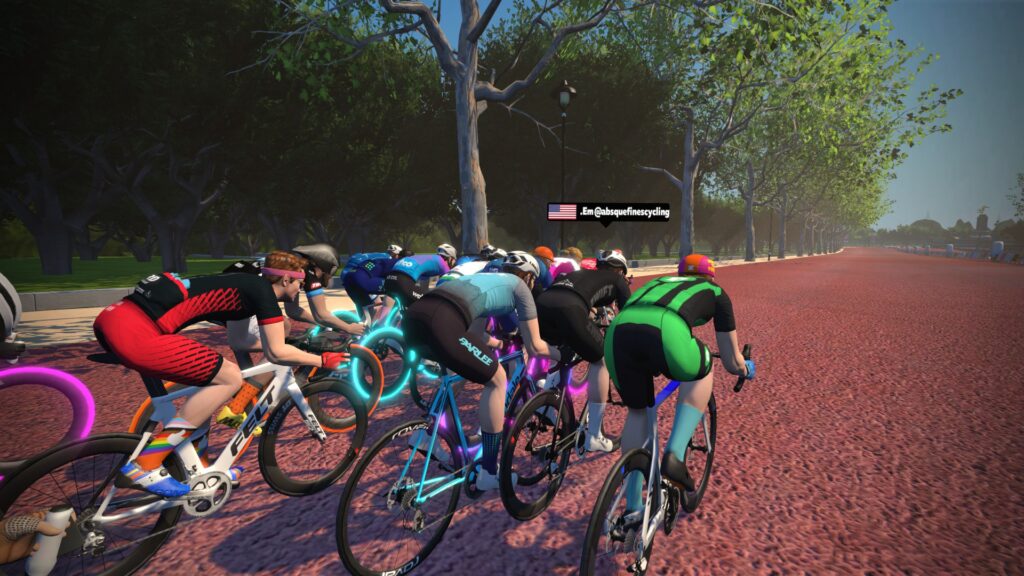 Go Go ZPower Ranger
As we hit The Mall's red asphalt, one rider (McGuire) jumped hard off the front. Glancing at the Zwifters Nearby list, I saw he was on zpower. Not gonna chase. (ZPower riders are automatically removed from ZwiftPower results, so I don't even consider them my competition. Soon enough they won't be able to join most races anyway, hopefully.)
I messaged the group "Go go zPower ranger!" as a sort of joking way to let everyone know he was on zPower. Nobody responded, but one rider (Wicks) jumped off to chase McGuire's wheel.
This could get interesting. It had been a while since I'd seen a zPower rider affect a B race. My theory is most of the zPower rangers have been bumped up to A cat thanks to Category Enforcement, which sort of sucks for A racers… but it's great for the rest of us!
We let Wicks and McGuire work together off the front as we made our way past Big Ben toward Box Hill. Let them sizzle a bit and tire those legs out.
Box Hill
Arriving on the lower slopes of Box Hill, Wicks and Ranger McGuire were still up the road. We reeled them in quickly though as the road tilted to 7-8% and riders hammered the steep beginning section.
In the past, this steep section before the left hairpin is where I've been dropped from the front group. I've always felt the pace was too high and I wouldn't be able to sustain it, so I've eased up.
Today I decided I wouldn't do that. Instead, I resolved to push hard to stay in touch with the front group, going until I blew up or the climb ended!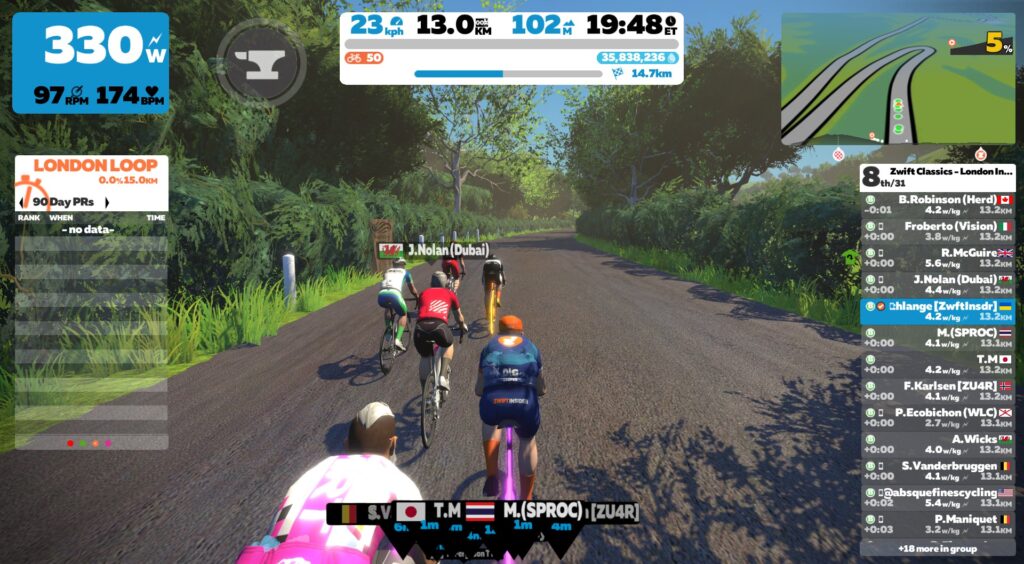 That first bit was no joke – I averaged 386W for the first two minutes of the climb, but that got me up to the hairpin in touch with the front. Then we eased a bit before hammering up the splatter-painted straightaway and into the false flats. Soon enough I was riding through the KOM banner in touch with the front, setting a new Box Hill PR of 7:07 (previous best was 7:11)!
There were 8 of us left, and as the descent steepened I activated my anvil powerup to instantly gain 50kg and fly down Fox Hill. Being the heaviest rider in the front group, my supertuck took me right off the front. But I knew this wasn't the time to attack, so I just coasted down the road and enjoyed myself.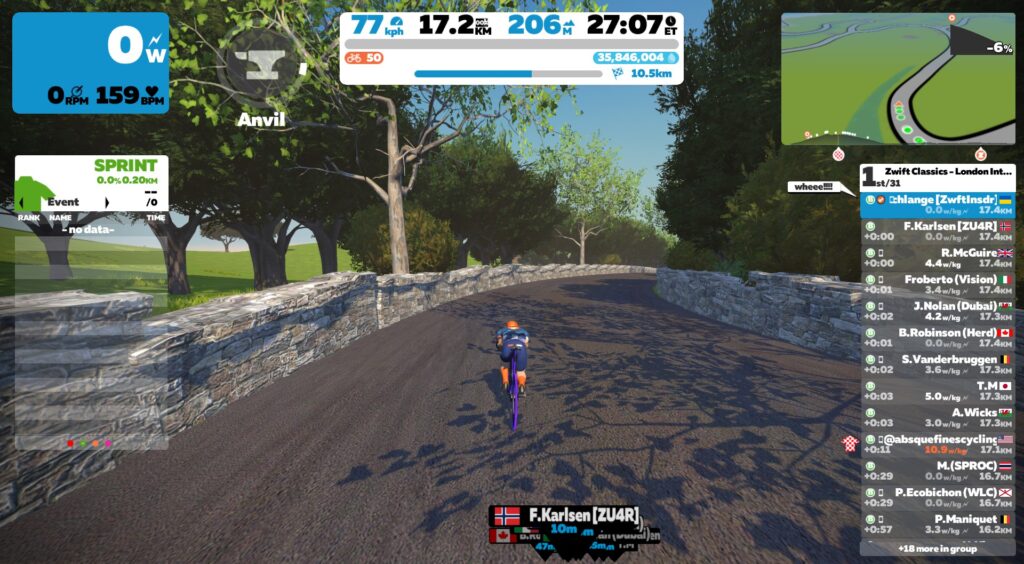 The Finish
With around 9km to go after descending Fox Hill, my sights were set on conserving for the finish. I had grabbed a draft boost (van) powerup at the main lap banner, which was exactly the powerup I wanted for the final sprint. (The only other powerups given in this race were the anvil and burrito. The anvil was useless in the finish, and the burrito, while useful, only lasts for 10 seconds.)
I sat in our small group, watching closely for any serious attacks. With around 4km to go, Ranger McGuire jumped off the front. I wasn't going to chase him down, but if others decided to, I had to follow their wheels or possibly lose the race.
Happily, no one chased. As we neared the finish line I sat in the group, activating my van powerup well before the finish since it lasts for 30 seconds. One strong rider (Robinson) jumped and I went for his wheel, hoping to get an easy tow for a few seconds. Then I came around him, and the only thing ahead was the finish line!
I kept hammering, giving everything I had to keep the riders on my wheel from coming around. It worked! 721W for 17 seconds took me to the finish line. The results screen showed Ranger McGuire finishing 1st. But I knew I had the cup on ZwiftPower, where it really counts.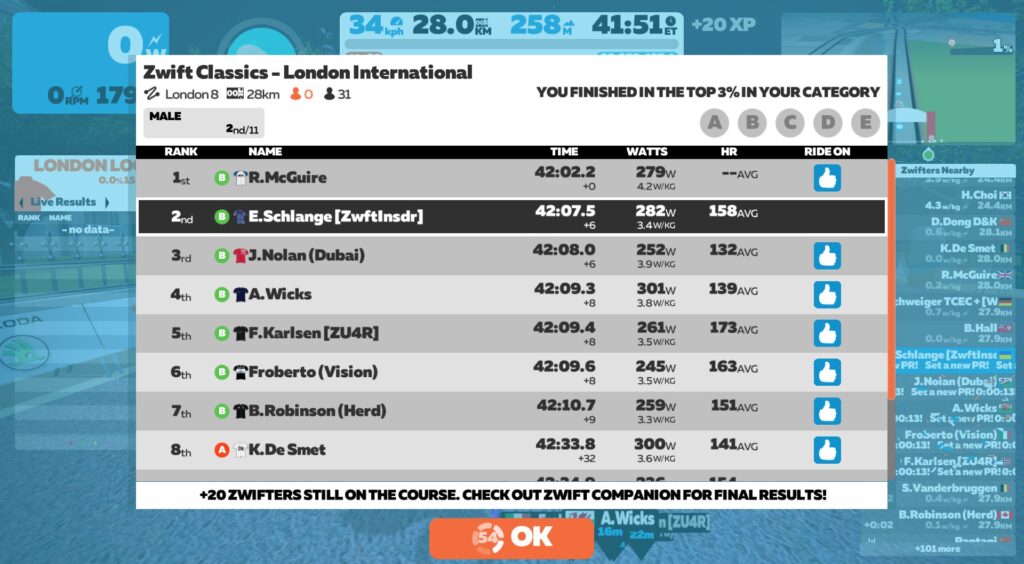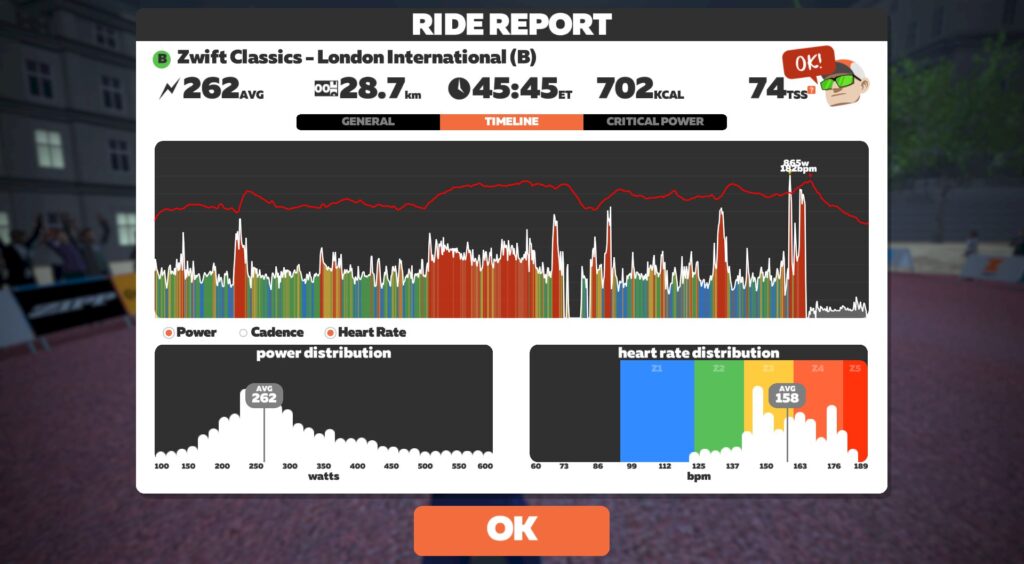 Takeaways
My 6-week power curve got a big boost from this race, with new PRs between 4:30 and 46 minutes. Woah!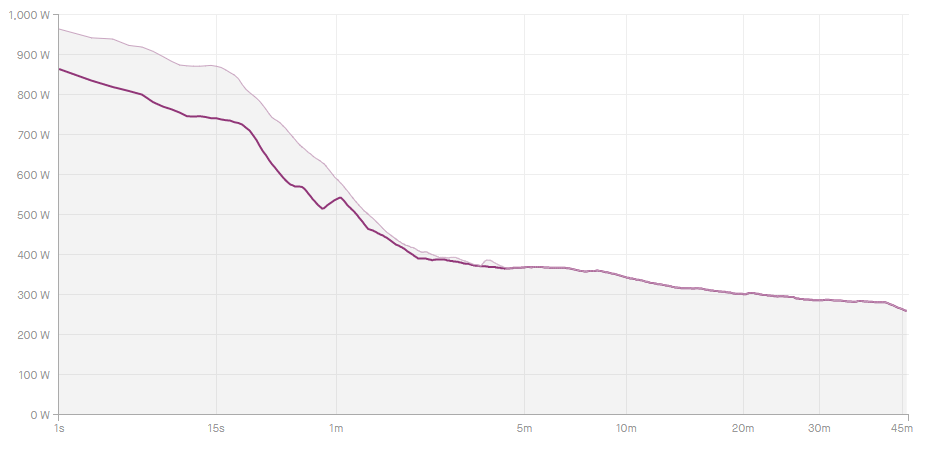 My major takeaway from this race was a new strategy for racing Box Hill: go hard early if needed. Be willing to blow up before the hairpin, because things will (hopefully) ease a bit after that.
My second takeaway was a simple reminder that the sooner Zwift can filter out zPower Rangers, the better. It wasn't a huge deal to me to "lose" to McGuire in this race, but it sort of tarnishes the whole Zwift racing experience when someone with an inaccurate trainer and no HRM can come in and hammer off the front of the group.
The worst part is, McGuire saw a results screen showing him in 1st place, and he probably doesn't even know that what he's doing is bad form.
Happily, Zwift is taking steps to bring hardware requirements to races. I say, "The sooner the better."
Your Thoughts
How did your London International race go? Got any tips for surviving Box Hill? Share below!