The 5th race of of Zwift Racing League season 3 was one I'd been dreading ever since I saw it on the schedule – FIVE LAPS of Richmond's tough Cobbled Climbs route. What were those murderers at WTRL+Zwift thinking?
I'd been swapping between two DIRT B teams for this season, filling in as needed. My old Hellhounds team was racing in division 1, while the new team (Roosters) was in division 5. Both teams were firmly in first place, but the competition level in division 5 was a step down from division 1.
Happily, I was with my division 5 Roosters this week – so I thought I might just stand a chance of making the front group. Maybe. I rested my legs, steeled my mind, chewed some caffeine, applied PR lotion, warmed up thoroughly, then headed to the start pens. Let's race!
Watch My Race Summary
Here's an edit of my race video, where I highlight key moves and explain my team's strategic thinking:

Lap 1
Everyone knew the first lap was where the biggest fireworks would go off. With fresh legs, this is where the fastest-through-segment times would be set, and this is where the first key selection would be made.
Everything stayed pretty low-key until we hit the start of the Libby Hill KOM. I didn't have a great powerup – the van. So I used it early on, when speeds were still high, then I went all-in on the climb as the group strung out. Made it over the top in 20th, then used my drafting boost, a supertuck, and a 23rd street sprint to make up a few places.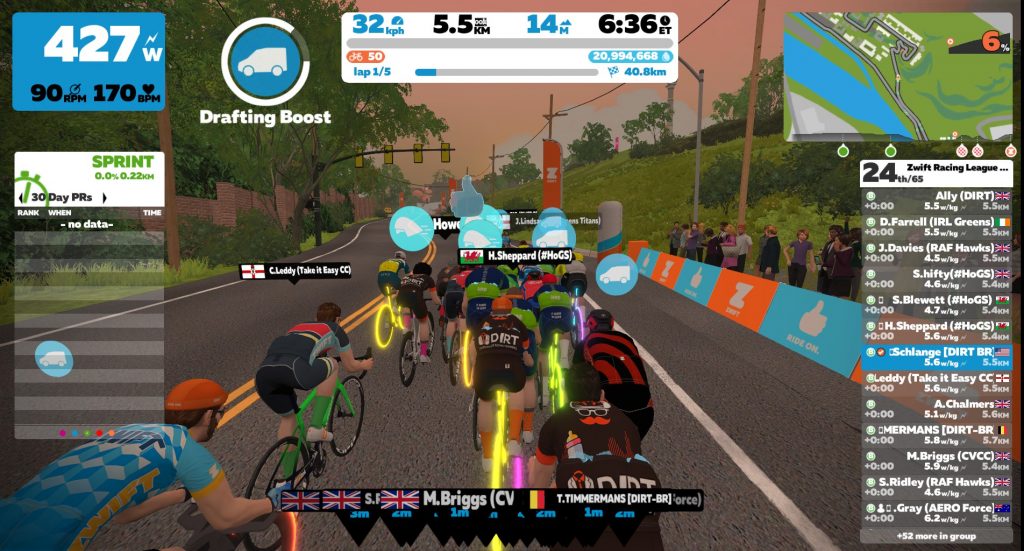 My small chase group caught the front of the race at the bottom of the Governors Street climb. I was still in the front group, along with 4 other Roosters. Our rivals the Green Titans had 4 in the front group – so the game was on!
Lap 2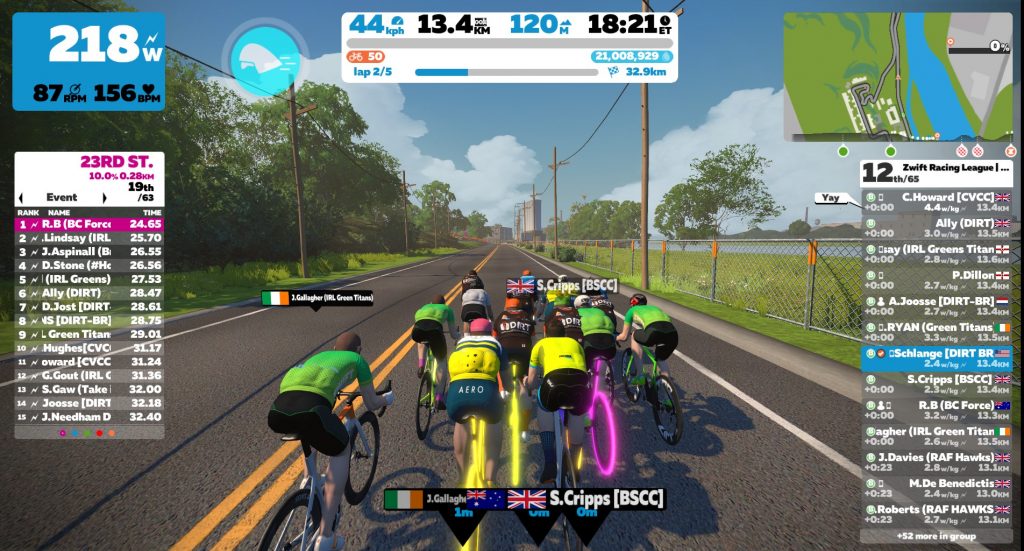 The second lap is where I made my big mistake. Everything was tame again in the front group on the flats and descent, but when we hit Libby Hill, it exploded – at a much higher level than I expected. (And of course, once again, I didn't have a good powerup!)
Gaps opened up, and as we went over the top I lost the front group of 12, never to find them again.
But we were in a good position, with two Roosters in the front group, and a couple near me.
Who Will Work?
At the end of the second lap, we did some clicking around and discussing on our team Discord channel. My chase group had 2 Green Titans and 1 CVCC rider in it, along with myself and a teammate. The front group had only 1 Green Titan and 1 CVCC rider in it – so as we saw it, there was no reason for DIRT to work in the chase group, because we had the advantage in the front group. (Also, I didn't have the legs to chase).
So we sat in. The one CVCC rider in our group stayed on the front quite a bit, and we just sat on his wheel for most of the next few laps.
The Finish
Because of how WTRL's scoring system works, 11-15th place gets the same points. And that was my chase group! So no matter if I sprinted it out and took first in my group, or sat up and took last, I'd get the same number of finish points.
The CVCC rider jumped hard on the final climb up Governors Street, and I let him go. He deserved it! I crossed the line in 12th, the third Rooster to finish.
See my activity on Strava >
See race results on ZwiftPower >
Takeaways
Those Libby Hill kicks were tough. I got a new bump on my 6-week power curve from this race, set on Libby Hill, lap 1: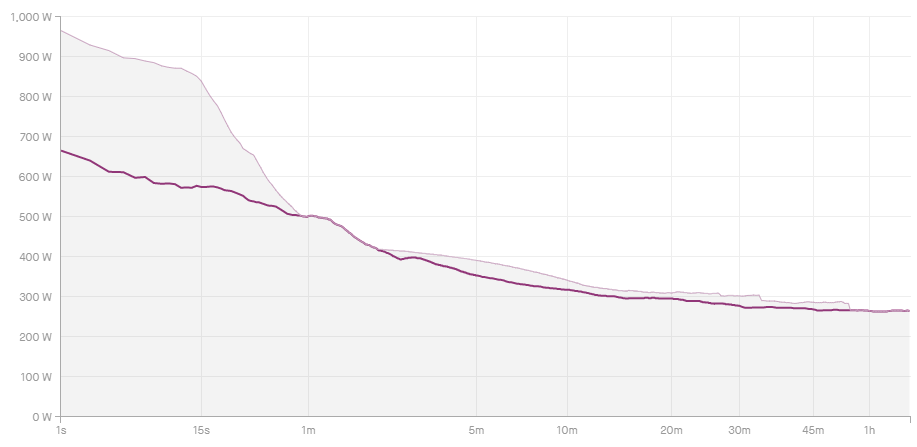 One thing I noticed on this route is efforts were much more polarized – you were either resting, or going all-out. There wasn't as much of the steady TT effort feel you get in flatter Zwift races.
I was kicking myself for getting gapped on the 2nd time up Libby. Could I have made the break? Maybe. Race hindsight is always optimistic though, isn't it?
But the most important thing was that the Roosters won! In fact, our strongest rider Thomas broke away off the front and TTd to a solo victory. Him being off the front meant our other rider in the front group (Ally) could just sit in and conserve – giving him better legs for the final sprint, so he could finish 2nd.
All 6 of our riders finished in the top 25, which helped us get a lot of finish points. Our goal was to get as many riders as possible in the front group, then finish as high up as possible after that. And we smashed it.
Your Thoughts
How did the Cobbled Climbs race go for you? Is your race hindsight always optimistic, like mine? Share below!