The first race of Zwift Racing League 2021/22 Season 3 was held last Tuesday, and it was a doozy in several ways. First race of the season. On a challenging route (Watopia's Road to Ruins) with mixed surfaces and no intermediate points. And the first race in the B1 division (EMEA W) for my team (the DIRT Roosters) after working our way up, division by division, in the past three seasons.
Honestly, I didn't think I would be able to hang with the front group until the finish, given the stronger riders in the B1 division and the two climbs on the course. But I resolved myself to give it all I had to stay with the front group. Here's how it went…
Race Prep
With no intermediates to contest, our team strategy was simple: finish as close to the front as possible!
I did what I could to be fresh and prepared for the race:
Easy effort the day before
Plenty of sleep the night before
A clean, carby oatmeal breakfast
Beet juice two hours before the race
Caffeine gum – three pieces (300mg), one hour before the race
PR lotion on my legs about 45 minutes before the race. More bicarb=less burning.
Pick my bike setup (Chapter2 TOA + ENVE 7.8 wheels) and join the start pens with 30 minutes to go to save my spot in front.
A nice 30-minute warmup with the C. Cadence crew
My legs felt fresh, but I worried it wouldn't be enough. Still, I was ready to give it all I had!
The First Climb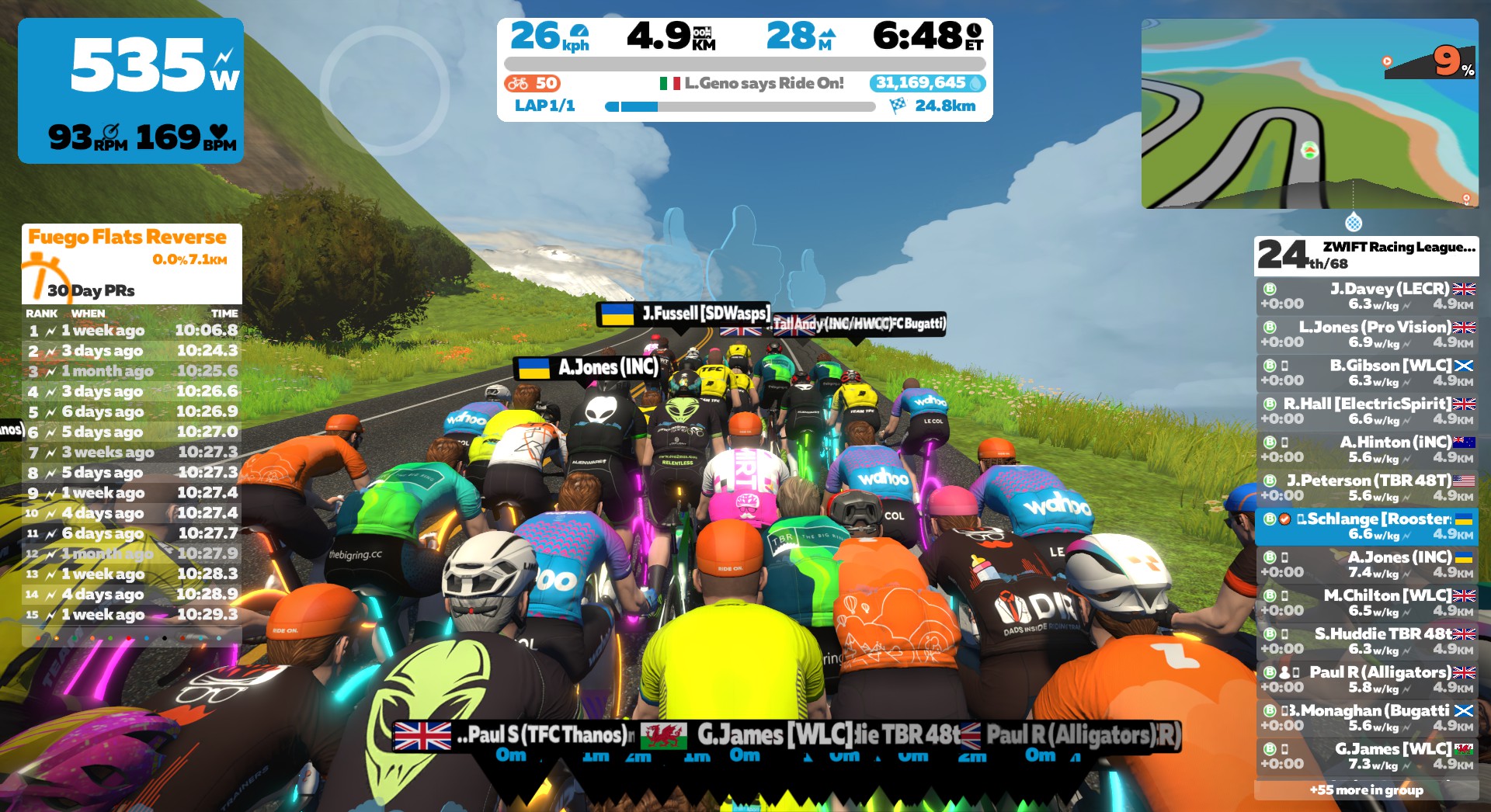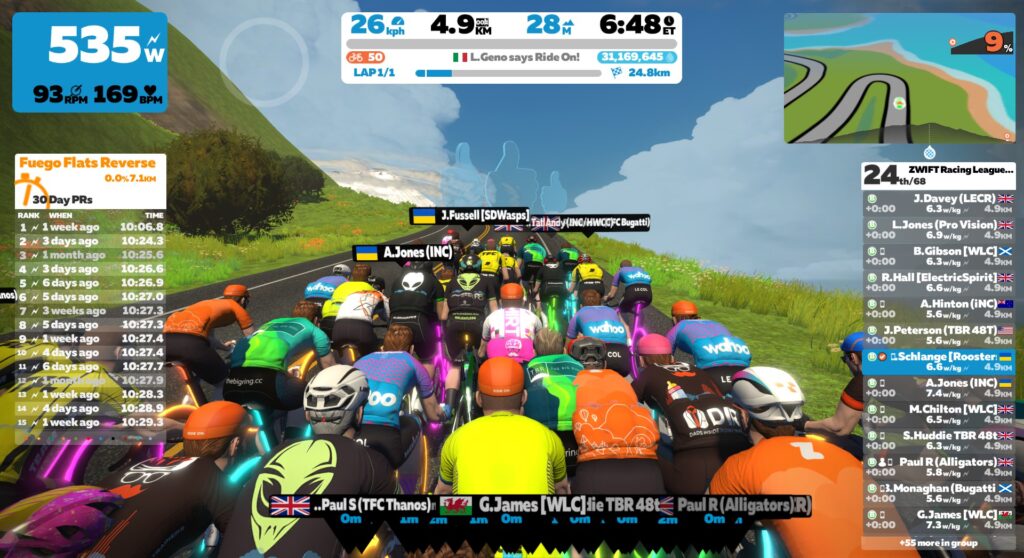 The race began tamely enough, with riders taking it easy through Ocean Boulevard, knowing the fireworks were up the road.
This is something important to understand about division 1 racers, especially in the B and A categories: most of them know how to race. Because of how ZRL promotions and demotions work, division 1 is stacked with strong teams. Why is that? Because the strongest division 1 team isn't promoted up and out of the division, like they would be if they were in Division 2. Instead, they just stay there. The only team changes are the bottom two teams getting dropped to Division 2, while the top Division 2 teams are brought up to 1.
So you end up with the very best teams in that timezone, all stuck in Division 1. In theory, at least. Riders upgrading to a new category change this, as do new teams, but basically Division 1 has a lot of strong, smart racers.
As we turned left at the windmills to head toward the first climb, the road tilted up and the pace increased. This was it: the base of the Epic KOM. My nemesis. I've raced this section many times, and always seem to get dropped on it, early into the race. So I had already decided I would turn myself inside out to stay with the front pack on this climb, because I knew if I got dropped here, I wouldn't see the front again.
The first part of the climb is the steepest, and it's where I generally get dropped. So I moved toward the front before the climb began, giving me a bit of space to "sag" if needed while still staying in touch. Then I stomped on those pedals, trying to hold a good position.
And somehow, it worked! I got to the top of the steep section in the front pack. It took two minutes at 445W, but I had surprised myself. I tried to sit in and recover as we descended to the Jungle, because I knew the dirt climb wasn't far away.
The Jungle Climb
The Zwift gods were angry. Despite my prayers for a steamroller powerup at the Jungle banner, I received (wait for it…) +10XP. Ouch.
Somehow the powerups were misconfigured for the event, so instead of getting something useful I got 10XP – the most useless "powerup" of all, given I'm at level 50 already!
Other riders reported getting +10XP as well, so at least I can find a bit of solace in the fact that the gods hadn't singled me out. Still, it sucks pretty bad when some riders get the super-powerful steamroller powerup heading into the race's key climb, while you get nothing. I sure hope Zwift/WTRL fixed this for future events.
I yelled at the Zwift gods, but to no avail. And as we began the Jungle climb riders attacked hard, and I simply didn't have the legs to hang on. Was it the first climb that had emptied me? Was it the psychological strain of +10XP? Who knows. But I was dropped, sweating my way through dusty no man's land in 35th place.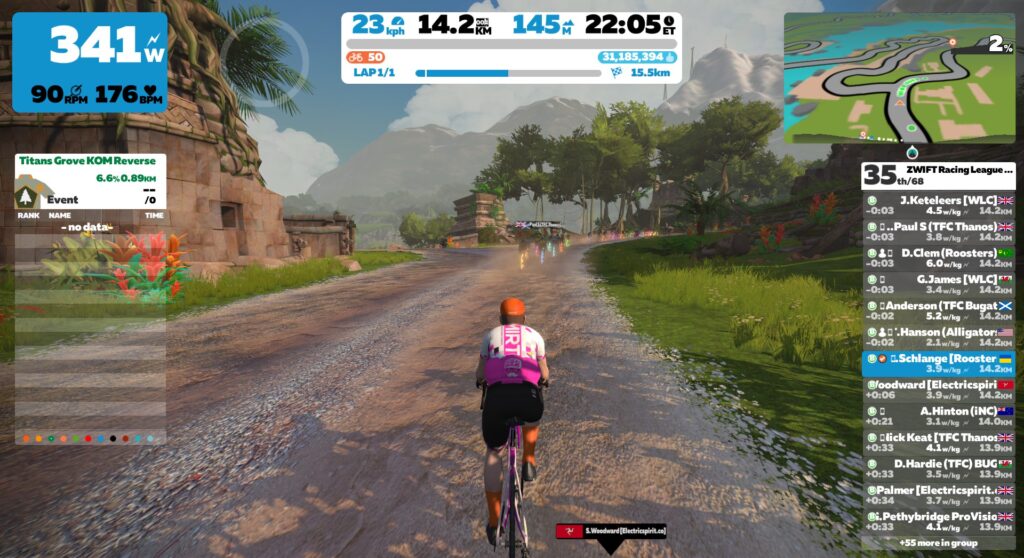 Then it got worse: disaster struck our team captain Antoine partway up the climb when his Internet connection dropped! He was holding his own in the front group, but with no riders visible on screen and no draft benefit Antoine eventually climbed off the bike and rebooted his router to finish 57th.
In the space of just a couple of minutes, the Roosters had gone from 5 riders in front to 3. Ouch.
Trying to maximize my finishing position, I kept hammering with what I had left, chasing three riders up the road who had also fallen off the front pack. But try as I might I couldn't catch up and grab their wheels. Eventually I just sat up and let the pack 15s behind catch me, because I knew I wouldn't be able to stay away solo for 11km, and I wasn't catching the riders ahead.
The Finish
Now in a pack of 11 representing places 34-44, my plan was to sit in then attempt to outsprint most of the riders and grab the 34th or 35th slot, since those slots were worth 1 more finishing point than 36th-40th. And it worked! One rider in our pack outsprinted me (nice work Andrew Hilton) but I grabbed 35th.
Teammate Dejan finished in a group just behind me, Antoine behind him, and we had three riders finish in the front group: Clem, Sean, and Thomas.
See activity on Strava >
See ride on Zwift.com >
See results on ZwiftPower >
Watch my race video (apologies for the audio mix):
Team Result
Our finish points were tied for third place with TFC Bugatti, but ties go to the team whose front rider finishes first, so TFC took third, beating us out by less than 1/10th of a second.
Another DIRT team (the Alligators) took first, so even though it hurt to lose, it hurt a bit less knowing DIRT won. Well done, Gators!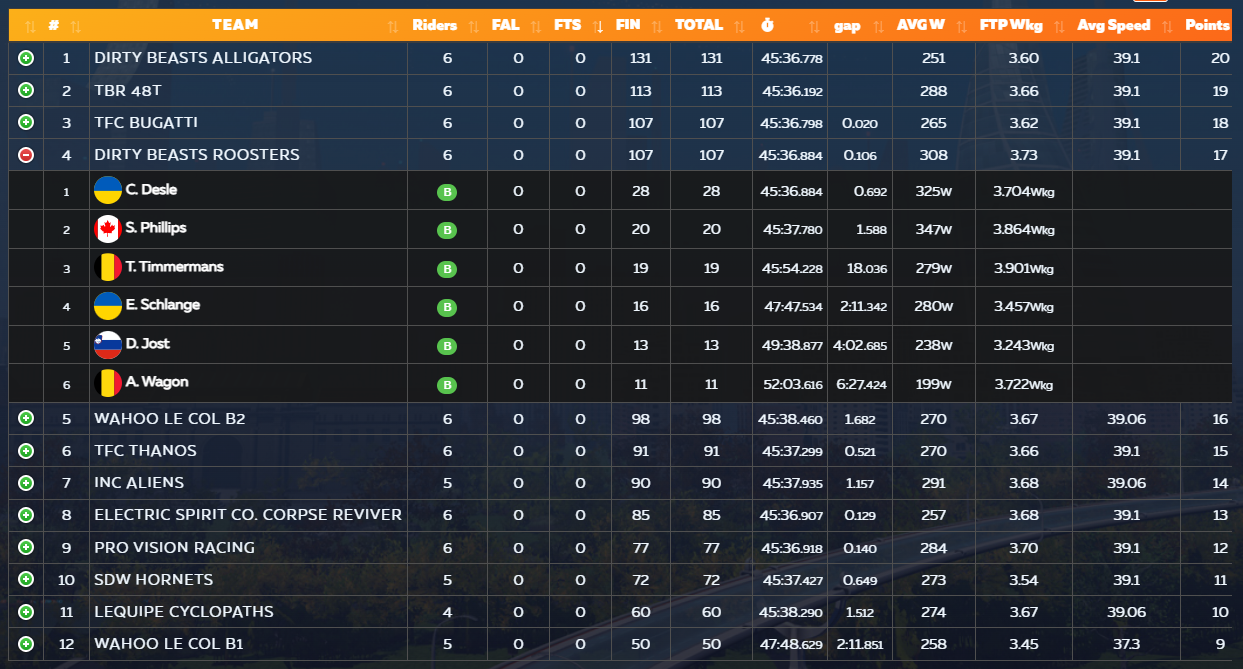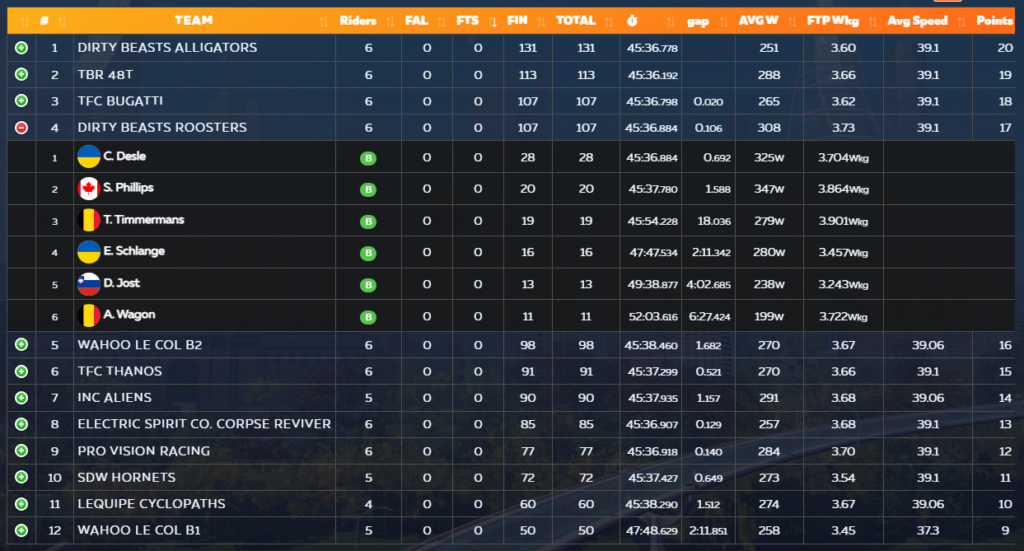 We would have easily grabbed third if Antoine hadn't had a "mechanical" – but that's just how these things go. Having upgraded from Division 2 to 1, I'd say we Roosters were fairly happy with our result – though not at all satisfied, of course.
Takeaways
Could I have raced this better? Only in terms of team communication, I think. My Discord comms were wacky (everyone's voices were very quiet) and that may explain why I didn't communicate well during the race.
And that's an important note, because team-wise, it's possible we didn't play things as well as we could have. On the Jungle climb we had some riders pushing the pace at the front, which may have contributed to me being dropped. I didn't communicate well with my team as I was struggling, though, so that's on my shoulders. Possibly we could have eased on the climb and ended up with me in the front pack, able to sprint for a better finish.
But it's also possible that other teams would have attacked on the climb anyway, and I would have still been dropped. We'll never know for sure, but my takeaway this week was: do a better job of communicating with my team.
Your Thoughts
Share below!