After an easy recovery day, I was looking forward to hitting a longer, harder Zwift race for today's effort. Scrolling through the events list, I couldn't find a race that was exactly what I wanted – so instead I signed up for the Sydkysten/KST Race which would be held over two laps of the Greatest London Flat route.
Being on a flatter course was a good thing for me, although the Greatest London Flat route always kicks my butt when we hit the rises through the park section. Happily, this was a double draft event, which works in my favor over those rises as long as I could hold a wheel.
The only downside was that all the categories were starting together, which meant I would be starting hard and holding onto the A's as long as possible. Not my preference, but without another race that fit my schedule, I decided to give it a go anyway. Because what doesn't kill you makes you stronger, right?
Subscribe to our newsletter
The Warmup
I started my race prep the same way I always do – a couple pieces of caffeine gum and some PR lotion on the legs. I was running a bit later than usual, so my Tempus Fugit warmup was only around 15 minutes long. Shorter than my usual ~30 minutes, but I tried to convince myself that, since this was a longer race, perhaps a shorter warmup would be sufficient.
(Typically longer outdoor road races don't start very hard – they often have a lead-in/warmup section, in fact, so a shorter warmup is permissible. In contrast, short road races start harder, so a longer warmup is needed. Unfortunately, that race rule only really works outside. Zwift races always start hard!)
With just a couple minutes to go, I clicked to head for the London start pens. It had been a while since I last raced on the London map. Let's race!
The Start
The clock hit zero, and the race started hard. I averaged 336W for the first 5 minutes and 318W for the first 11 minutes. Then someone on the front of the pack pinned it hard on the false flat as we left the Classique's red pavement. Our pack got strung out and gaps opened up – including one directly in front of my bike!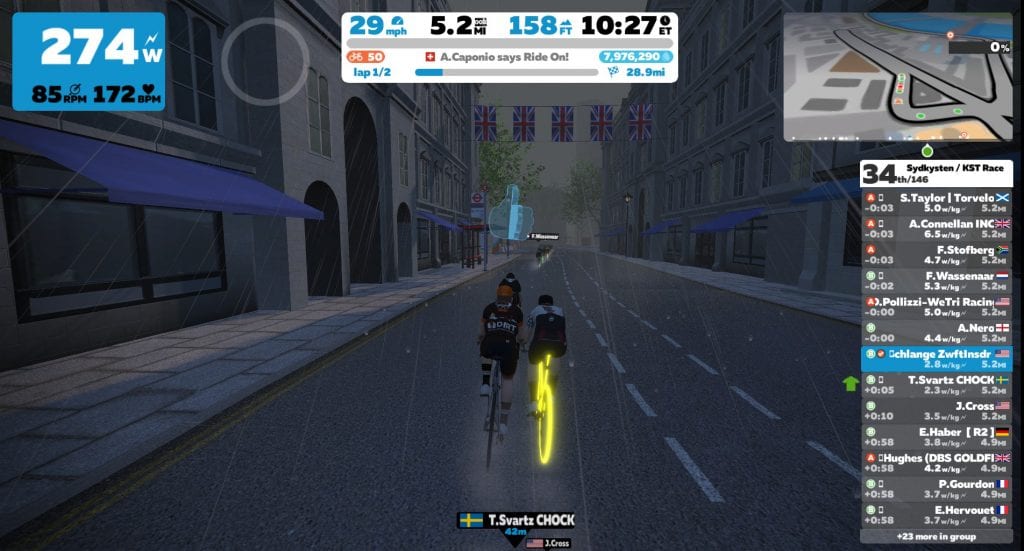 I was dropped. Time to assess the situation.
I had two riders with me: and A named Pollizzi and a fellow B named Nero. The three of us grouped up and began working together, wondering if we could stay away from the chase group that was doubtless forming behind.
This being a double draft race, I had my doubts about our ability to stay away from the chasers. As that group grew, its speed would increase. Our group of three, on the other hand, wasn't getting any bigger. So I kept a wary eye on the time gap to the group behind.
Sure enough, that gap began to come down steadily. That's when I made the decision to stay off the front of our pack of three – it was just wasted energy, after all. I could destroy myself pulling our group, only to be caught 5 miles up the road by the chasers. Or I could sit in and take it (relatively) easy, and get caught 3 miles up the road. I made the easy choice.
It was interesting to watch the rider names of the chase group as they came closer. There were definitely a small number of riders on the front, putting in the work. This included one zPowered B named "R. Hutter" who was pinning it at 4.5+. It also included two A riders, and a couple of B's who would finish near the top in the end. As they neared my small group we joked about how we were going to let Hutter sit on the front and pull us to the finish. He never replied, but based on his power numbers for the next several miles, he certainly did his best! Thank you, sir.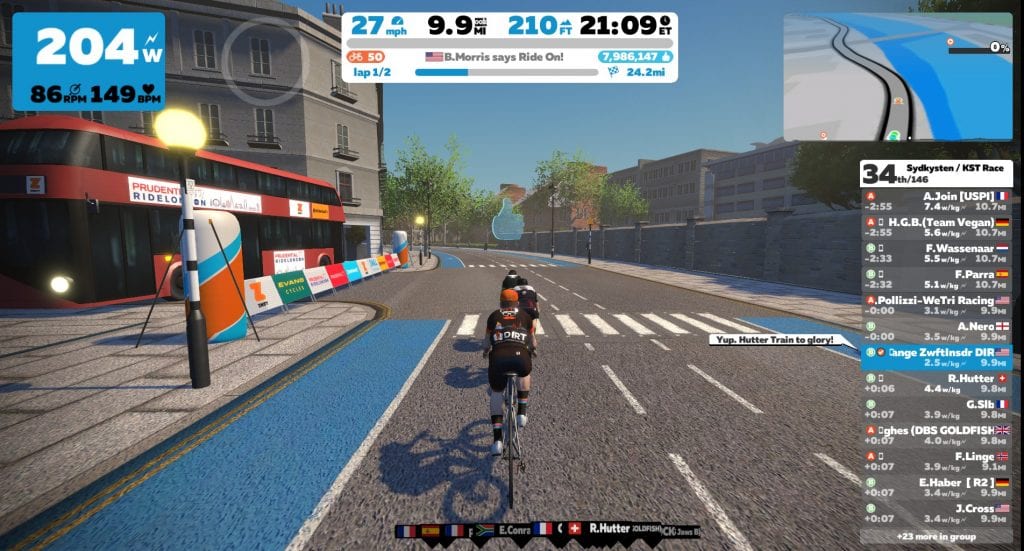 At mile 10, 22 minutes into the race, we were picked up by the chase group. This pack of ~12 was mostly B's, with one C (you're not fooling anyone, "p.coulange"!) and two A's. At this point, I should have checked ZwiftPower's live results to find out how many B's were up the road – but when I had done that in a race two days earlier, the live results weren't working, so I figured they wouldn't be today. (Note: I was wrong!)
All that to say: I wasn't sure what place I was racing for at this point. The front of our group was 32nd place, and I figured there were probably 20-25 A's up the road. That left several B's probably in that front pack. With any luck some might get dropped and picked up by us, but chances were the podium was all up the road, never to be seen again.
I stayed off the front, because I knew three things:
We weren't going to catch the front group, which was stuffed with A's and strong B's
I didn't have the legs to attack and stay away from a pack of ~12, especially in double draft mode with 25 miles to go
The gentle slopes of the park section were coming up, and I would need everything I had to stay with the group over this section
The Middle
The park section of this route can really be broken down into three climbs. Calling them "climbs" is generous – they're really just rises in the road. Yet I'm always surprised by how hard they make my races! In fact, as far as I can recall, I haven't survived this section in any of my past races. I always get dropped by some or all of whatever group I'm in.
We hit the first rise, just out of the Underground tunnel. I stayed seated, wanting to save my out of the saddle power for when I needed it most. I tried to stay close to the front of the group, too – benefiting from the double draft (we were moving at 24 mph, even on the climb) without being so far back that I could get caught out if a gap opened up.
It worked! I finished that first climb near the front of our group. Then it was onto the next climb, the smallest of the three. I maintained a good position there, enjoyed the slight downhill, then steeled myself for the last rise – the longest and toughest.
This rise I attacked with a combination of seated and standing efforts, forcing myself not to get "lazy" by drifting back too far in the pack. Happily, our chase group didn't have the hard-charging strength that was certainly in the front group, so I was able to hold onto the wheels without going fully into the red zone.
We exited the park, and hit the ramp up out of the Underground. This is an interesting section to race, as it always catches someone by surprise. I've found the best approach is to hammer hard up the climb, then keep hammering until I'm up to speed with the rest of the group.
You can't attack it easy. And you've got to keep pushing even after it flattens out, otherwise you'll get left behind.
Someone in our group caught sight of a handful of B riders 2 minutes up the road, and the chase was on! I almost felt sorry for these lonely B's, knowing the inevitability of the catch. Sure enough, we gobbled them up mid-Classique. The front of our group was now 24th place. Were the B's in my group now competing for a spot on the podium? I didn't know, but I decided it was quite possible.
The Finish
The second lap was uneventful – just chugging along in the double draft, employing the same tactics over the park rises that I used to good effect on the first lap. This final lap was largely a high tempo effort for me, meaning I wasn't on the rivet, but it also wasn't easy. I could have pushed harder, but there was simply no reason to do so, with no riders up the road within catching distance, and no way I could stay away attacking off the front.
Soon enough, we found ourselves back on the red pavement of the Classique for the final stretch. 33 miles in, 10 riders in our pack, and probably a B podium slot up for grabs!
Did I have a strong enough sprint to beat the other B's in our group? This race wasn't handing out powerups, so that was a non-issue. And I had sprinted this section many times, since we use the Classique Reverse route for Sprintapalooza occasionally. I knew it was a "slow" sprint, since it was on a false flat. I also knew I could conserve a lot of energy by staying in the draft, so I tried to maintain a position 2-3 wheels from the front, until just before the sprint start line.
Then I shifted, stood up, and went all in! I didn't even look up until I heard the sound of my rider crossing the banner. 5th place in the B's is what the results screen said – but 1st place had averaged 4.7 w/kg, so I knew he was out. 4th place then.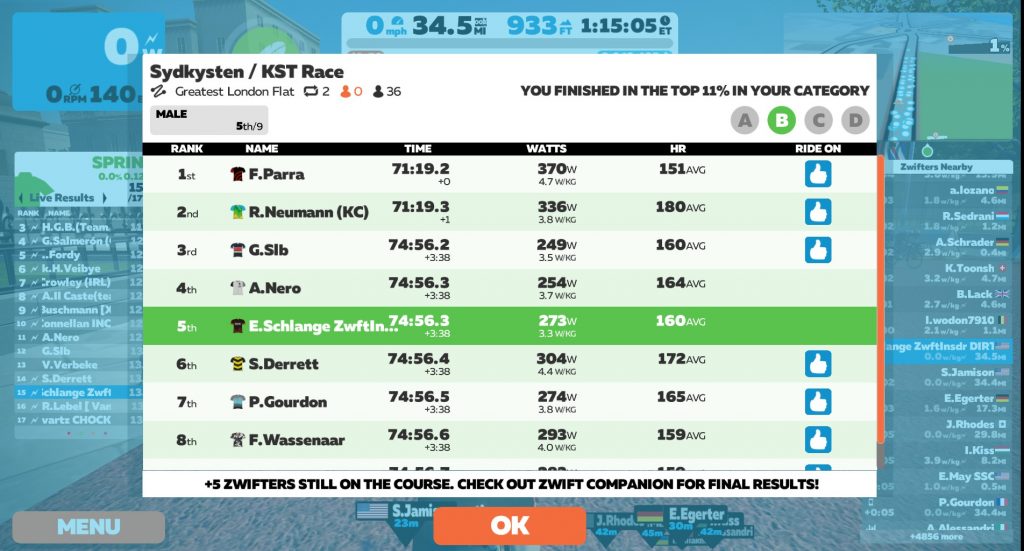 But wait… what would ZwiftPower say? That is, after all, where the final results live. I knew R. Neumann, the one B who was able to hang with the front pack, was a legit B on ZwiftPower. (I had looked at the start list before the race began, and he was the highest-ranked B.)
As it turned out, 3rd place finisher "G. Slb" was on zPower, and that wasn't allowed on the B podium for this race (a pretty common practice). So I made it onto the podium… just barely. Third place in the final results, and second place Nero beat me out by 1/100th of a second. Well done Neumann and Nero!
See my activity on Strava >
See my activity on Zwift >
See race results on ZwiftPower >
Rider Types and Race Selection
Race winner Richard Neumann is an Austrian who rides for Kirchmair e-Cycling and appears to be perfectly suited for just this sort of race. He's a bigger rider (89 kg) with massive 20-minute power that puts him right at the top of the B category, just under 4 w/kg.
That means he can sit in with A riders on a flat course and not even be fussed about having a weaker sprint, since he has no B's left to sprint against by the time the race ends. Which is exactly what he did today. Smart race choice, sir!
Takeaways
My big takeaway from this race is it ain't over 'til it's over. Typically my mindset is, "If I get dropped from the front group, my shot at a podium is gone." And that's generally true, if you're in a race where the categories are split up! But in a combined race like today's, you may very well be racing for one or more B (or C, or D) podium spots from the chase group, as riders up ahead may eventually drop back to your group, or get DQ'd on ZwiftPower for various reasons.
So race smart from the chase group. That may mean pushing the pace on the front to help catch your competition up the road. It may mean sitting in and conserving energy, because there's no way your group will catch anyone from your category. It may also mean attacking hard to drop some of your competition from the chase group, so you have a better chance at a high result.
Your Comments
What's the best race result you've ever had from the chase group? Share your experience below!