After losing a race to a solo breakaway early in the week, I decided to jump into another race and attempt a breakaway of my own.
Let me say here at the start: I've never been a breakaway rider. Not outdoors, and certainly not on Zwift. As much as I admire Eddy Merckx, his "Always attack!" mantra has never worked for me.
It's unclear if this is due to my power profile, my mentality, or something else. But with Zwift's latest Pack Dynamics changes, breakaways stand a much better chance of surviving. So I figured it was time to start giving breakaways a go. Today was the day!
I chose stage 1 of the ZRacing series as my event, because looking at the race through the lens of the breakaway made its tiny 10km length seem quite doable. Little did I know what was in store…
The Warmup
The race began at 7:10am, so I was on the bike by 6:30 to spin up the legs with Coco. I hadn't eaten breakfast, but I figured that was OK since it was a short race. Knowing it would be a short, sharp effort, I chewed some caffeine gum and applied PR lotion to the legs… my typical "hard race" race prep.
I paired up my Zwift Play controllers and put in a few hard, short efforts to get the heart rate up and break the ice. Then I headed for the start pens on my trusty Venge + Disc combo.
The Start
Joining the pens, I noticed the route was set to "Flat Route Reverse." For some reason I'd been thinking it was the forward version, and had already marked my mental map for great spots to attack (the climb out of the ocean tunnel, the snaking slight climb toward the Villas, or even the ramp after the sprint).
So I had to recalibrate my brain a bit. Where are the smart attack points here? Just after the sprint, when the road ramps up out of the Villas? On the dirt before we head into the ocean tunnel? Or what about a long attack from the ramp out of the tunnel near the finish?
But I didn't have much time to think about it – soon the clock hit zero and the race was on!
Along with wanting to initiate my own breakaway, I had decided to chase any promising-looking attacks, because with a race this short, a breakaway at any point may be able to stay away. Right at the start the race strung out, with a handful of riders clearly pushing to get into a break. I pushed to join them, but the peloton gobbled us up soon enough and we headed up the short climb into The Esses.
More Attacks, More Chasing
On The Esses one L. Weber attacked, and I chased. It was actually really fun to chase him down with the Play controllers in The Esses, because I could cut corners! Check it out below (I've cued the video to the right place):
Everyone else was watching for breakaways too, though. Or maybe they were marking me? (It's flattering to think so, but I doubt it.) The blob chased their way back to me, and we rode together again for a bit. Up the kicker and down through the sprint, the effort level stayed high as riders pushed on the front – I averaged 345W for the first 4 minutes of the race, which took us through the Italian Villas.
A. Cooper jumped ahead on the snaking descent to the Fishing Village, and after a couple of riders followed I pushed hard to join them. I made it, but also succeeded in pulling most of the peloton with me!
Arriving at the Fishing Village things calmed down as riders caught a breath. Remarkably, despite all the attacks and chasing, we still had 34 riders in the group from the original 40 starters… only one rider had dropped since we entered The Esses.
The Finish
We recovered a bit down into the ocean tunnel, then with 2.3km to go two riders (C. Duponq and A. Cooper) rolled off the front and upped their watts. I had been planning to wait until the ramp out of the tunnel to launch a final breakaway attempt, but I ramped up to join them, rolling to the front to keep the speed up and get a gap on the peloton.
The riders behind just weren't having it, though. They kept the leash short, and half the group flew past me as I eased up at the worst time – on the ramp out of the tunnel!
Out of the saddle, hammering my way back to the group, I made it to the front and grabbed a wheel. 600 meters to go, and I had an aero powerup.
With 300 meters to go, a rider popped his aero powerup and came around, so I did the same. There were two problems, though:
I activated the 15-second powerup too early, so it ran out with 150m to go
I didn't have a sprint left, because the race had been so hard up to this point
I crossed the line in 5th. Congrats to Ramon van Rixtel, who executed a perfectly timed sprint for the win!
See results on ZwiftPower >
See activity on Strava >
Watch My Race
Takeaways
Lots to talk about here.
New race, who dis?
I've finished just over 1000 races according to ZwiftPower. Let me say this clearly: this race didn't feel like a "typical" Zwift race. If you haven't raced with Pack Dynamics 4.1 yet, you're in for a surprise in your next race.
(Related: earlier this week I wrote about a race I lost where I rider won with a long solo breakaway. That's something you never used to see in Zwift, either!)
I went into today's race thinking I was the sneaky racer who knew a breakaway might work. But clearly, plenty of riders held that same knowledge, and we all had the same idea – attack and get into a breakaway that stays away.
The race was so short that it became a nearly-continuous battle of riders trying to establish a breakaway. But the peloton was strong/smart enough to pull those attacks back, so in the end it came down to a bunch sprint.
If we'd had 20 starters instead of 40, I bet one of the breakaway attempts would have stuck.
I predict this is how more and more races on Zwift will feel moving forward. Before PD4.1 you could let solo attacks go because you knew they couldn't stay away from the fast-churning pack. That's not the case anymore, so now we have battles to establish a breakaway, like you see IRL. And once that breakaway is up the road, the peloton will have their hands full trying to organize a chase.
It's going to get really interesting when team racing enters the picture as ZRL and DRS kick off next week.
Hindsight Is 20/20
With the benefit of hindsight, I could say that, had I raced this differently, I could have podiumed or even won. If I had sat in the wheels and let others chase down the attacks, chances are good others would have chased them down. We still would have entered the final kilometer as a group, but my legs would have been fresher.
But that's the tradeoff you take in bike racing outdoors, too. When pack physics (IRL or virtual) allow for breakaways to survive, you have to choose between:
sitting in the pack and risking that the breakaway never comes back, or
chasing/initiating breakaways, risking burning out your legs and wasting energy because you still get caught by the peloton
Pack Dynamics 4.1 has dropped us into a new realm of Zwift racing, where the possibility of successful breakaways forces us to make strategic mid-race decisions if we want to race smart. I think that's a very good thing.
Knowledge is Power
I haven't been researching the competition prior to my races lately, but with breakaways standing a chance, it's more helpful than ever to have a short list of riders to watch.
Because you can't chase every attack (I did in this short race, and had nothing left for the finish). You have to decide if an attack is worth following, and that is determined in a big way by how strong the attacking rider is.
Sauce for Zwift has a rider info window that may also be helpful here. I think I'll dig into that…
Power Curve
This was a tough race for sure – I averaged 334W for the ~14-minute race and hit some 6-week power PRs at various spots along my power curve between 4 and 14 minutes: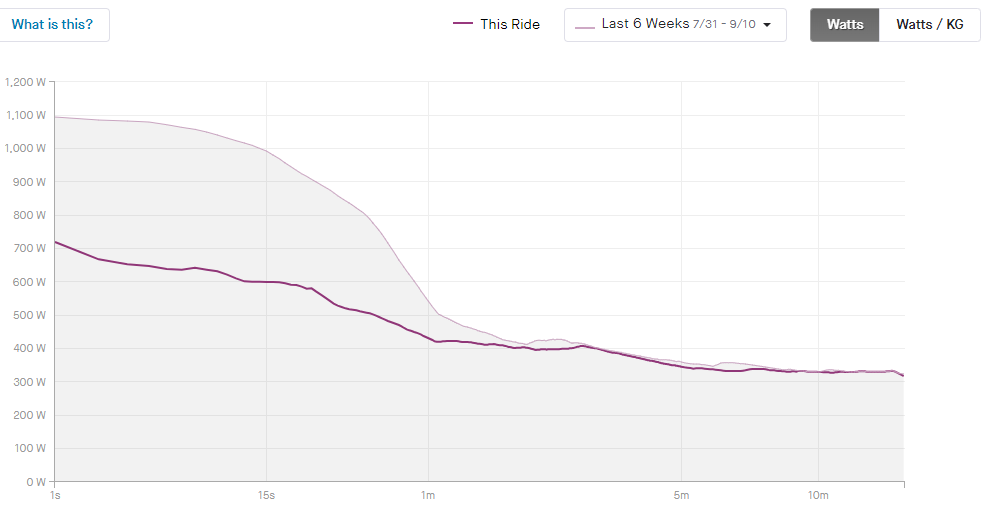 Was I wasting watts? A bit, I'm sure. To be honest I wasn't even thinking about the watt-wasting issue during this race, except at one point when it popped into my mind. (I then eased up a bit. Lo and behold: I stayed in the same place, with lower power! See that moment here, although it's hard to see the power reduction because I have Sauce for Zwift showing instant power and not 3s average):
Mostly, though, this was a hard race because I chose to make it hard. I chased breakaways and made some attacks myself, because that was the approach I'd chosen before the clock hit zero.
Your Thoughts
Have you tried breakaway away in a recent Zwift race? Have you noticed others are trying the same? Share your thoughts below.