Tuesday was the big day: the first race of Zwift Racing League Season 2. My team, the DIRT Roosters, had won our B3 division last season and are thus in B2. It can be intimidating moving up a division, but after scouting the competition and talking strategy, we figured we had a fighting chance.
Planning Our Race
We'd planned everything. Plan version 1 was hatched as we went into the weekend: our four strongest sprinters (Clem, Dean, Arjen, and myself) would attack sprint 2 for FTS+FAL points, then try to stay away through sprints 3 and 4, since they weren't far apart. Antoine and Thomas would work to hold good positions on the sprints, trying to grab a bit of FAL if possible. But they would be saving themselves for points in the big Rooftop KOM effort.
That was our first plan. But I think we all had the same feelings as we pondered this strategy. "We're going to blow up attacking the sprints, then get dropped hard on the KOM."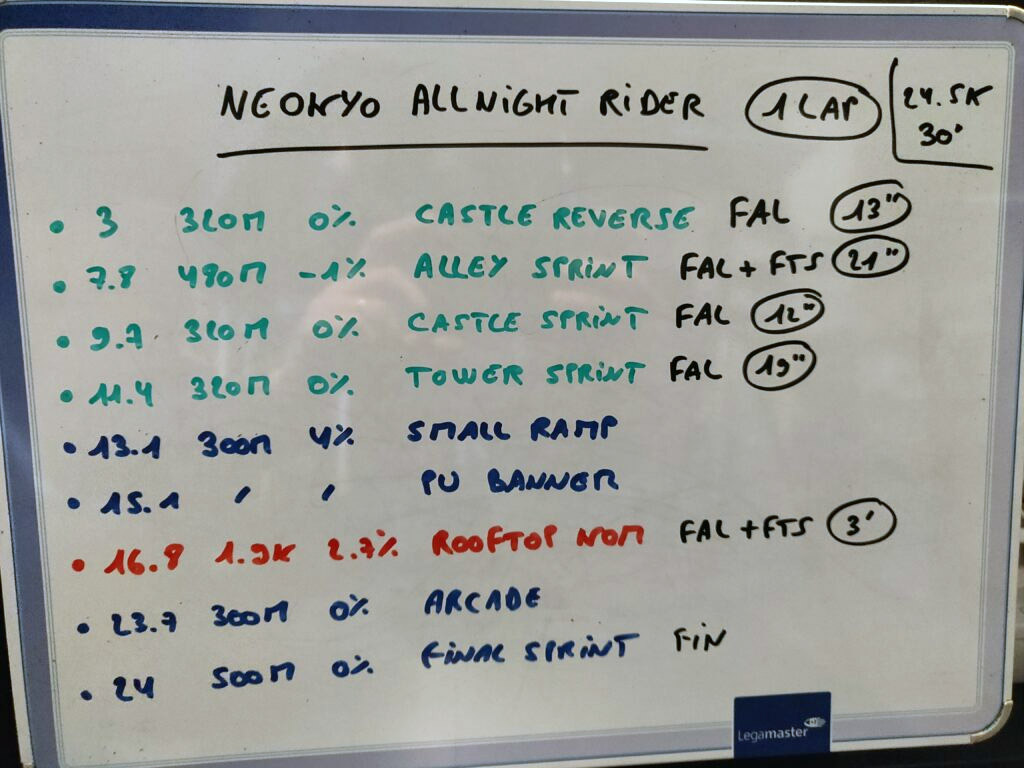 So on Monday, the plan was revised. We would all chase FTS on the one sprint awarding it (Alley), then attack for FAL points on another sprint or two of our choosing, depending on how we felt. Our goal was to have the race come back together after the KOM, with our sprinters in the front pack contesting the podium.
That was our plan. Then Tuesday happened.
"Join Event"… How?
I was logged on early, having completed my typical pre-race ritual of three pieces of caffeine gum (I usually do two, but today was special) and some PR lotion on the legs. Then it was off to Neokyo for a spin while I recce'd the sprints once more and even grabbed the green jersey: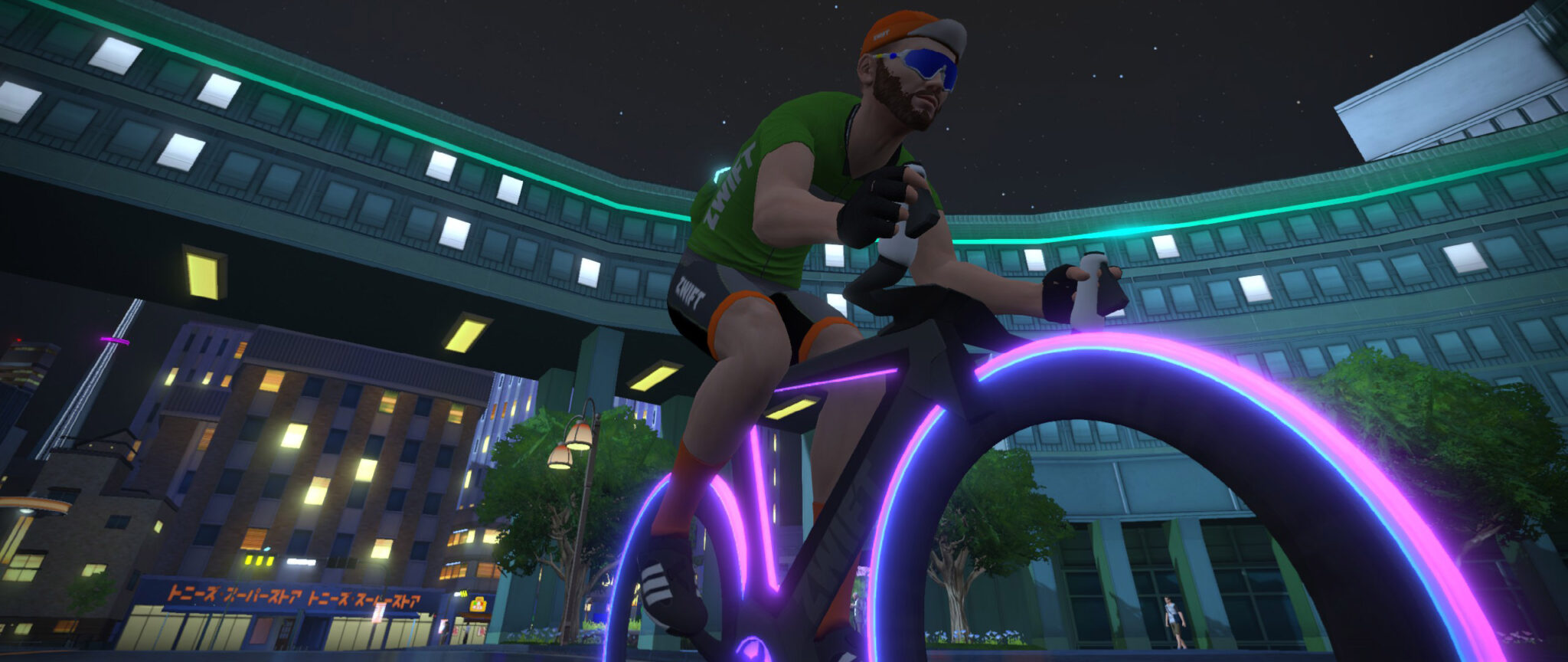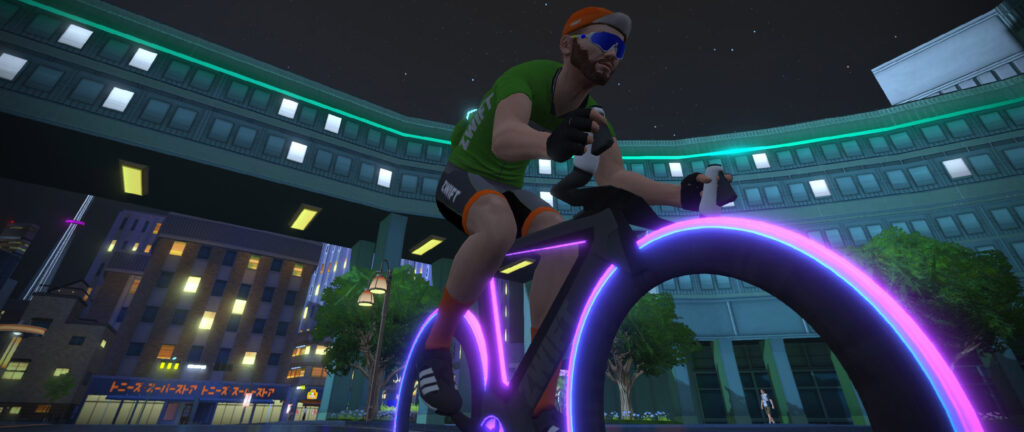 Signing into our team's Discord voice chat, I began chatting with Clem and Antoine who were already there. And we watched the clock, knowing once it hit 30 minutes before race time, we should get the "Join Event" popup for us to click and save our spot near the front of the pens.
Our race began at 11:31AM my time. 11:01… nothing. 11:02… nothing.
I figured it was just me. Then Antoine said, "Guys, I'm not getting the Join Event button. I'm going to restart."
Crap.
So I restarted too. I joined other Zwift worlds. I re-clicked my signup link from WTRL (which was rather annoying, since they just changed to a signup system wherein we cannot UN-sign up from a race… which is what I've done in the past if I didn't get the Join Event popup.)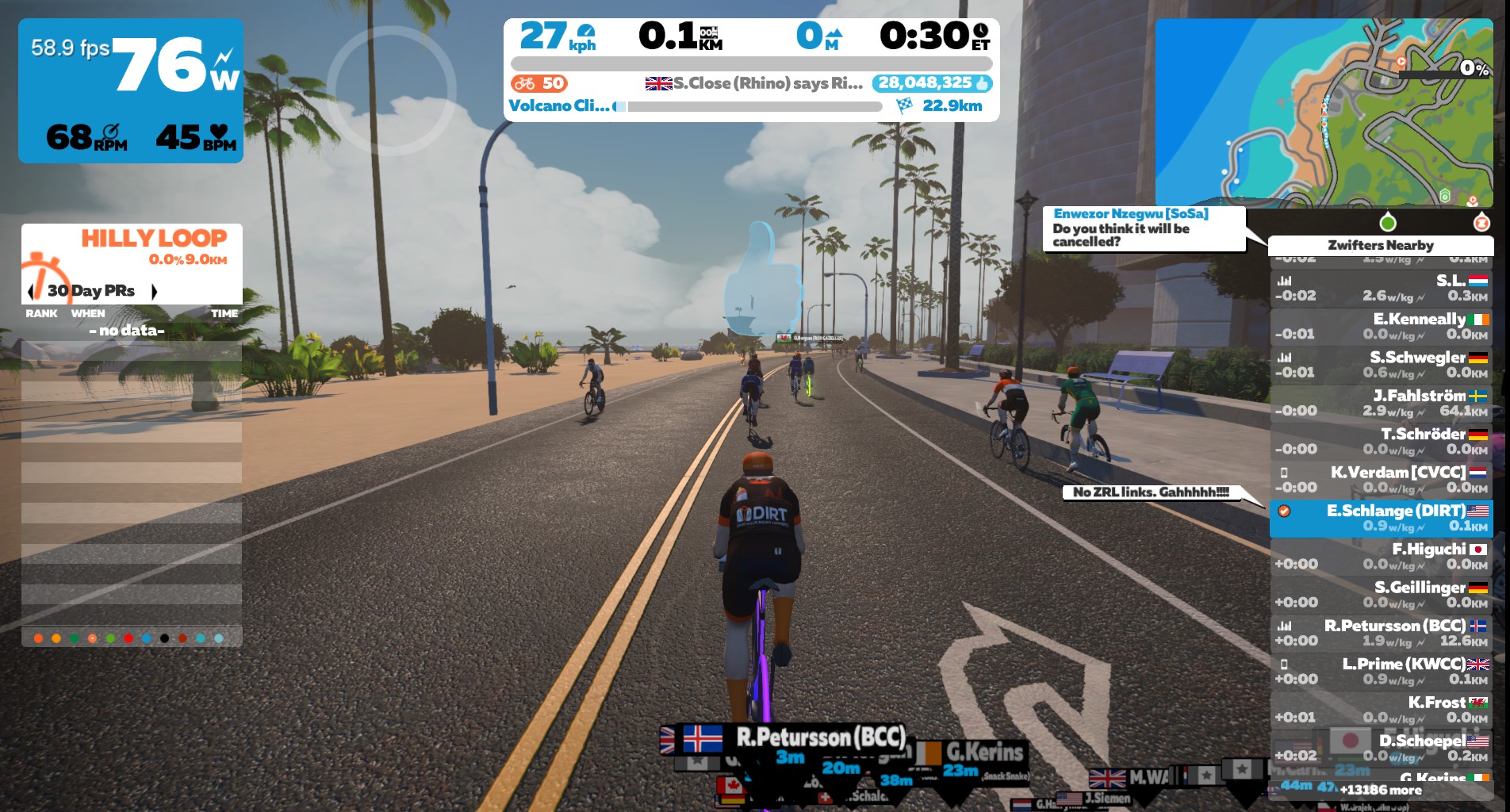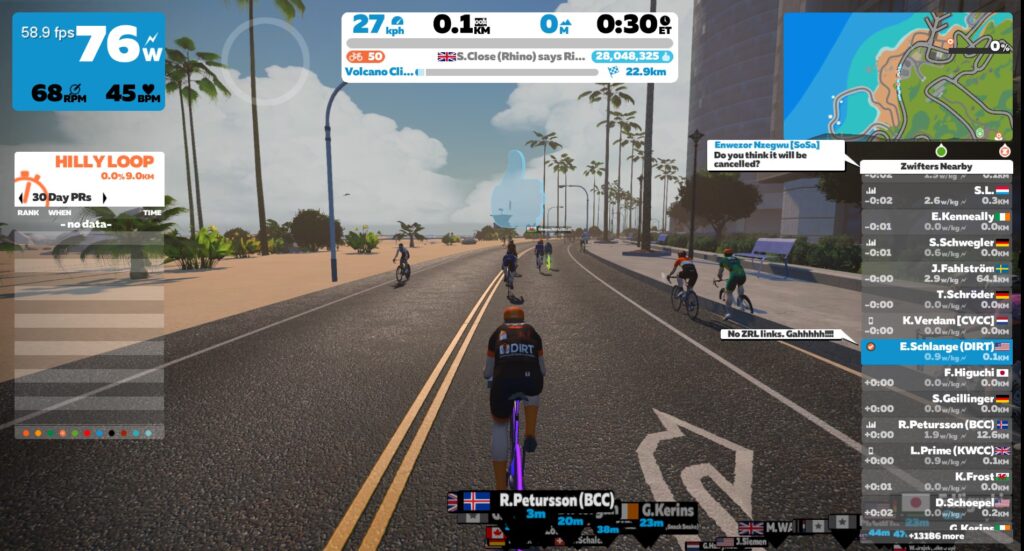 Nothing. Spinning with the C. Cadence crew, others were messaging about it too. "Not getting a prompt to join my ZRL race. Anyone else?"
Clearly this was a widespread issue. And on the busiest day of the Zwift season thus far. Yikes.
We all kept restarting things. Checking Facebook and finding messages on WTRL's group with instructions that didn't help. Signing up for other events to see if we'd get prompted to join those (we didn't). Looking on ZwiftPower to see if other races were underway (but ZwiftPower had crashed, because everyone else had the same idea.) I even pinged Martin at WTRL about the issue, but all he could say is it was on Zwift's side and they were working on it.
When the clock hit 11:25, despair began to set in. We weren't going to race today.
One last reboot. Still nothing. 11:31. No race.
Making Lemonade
We were all amped up and ready to race, so some of the DIRT Roosters decided to go looking for something else. We found a few candidate races, clicked to sign up, then waited for the prompt.
Nothing.
All the nervous spinning and Discord helped pass the time, and soon enough it was past noon and I'd ridden over 40 "warmup" kilometers. Our race would have been over by now. I told the guys on Discord I was signing off. And just as I went to shut down Zwift… "Join Event" popped up!
For a race starting in 10 minutes.
I jumped back onto Discord, and the other guys had seen it too. So we decided to do the JETT race on Temples and Towers. It looked terrible, with three Makuri KOM efforts and a large field of riders (probably a lot of angry ZRL hopefuls). But we all had some angst to sweat out, so we went for it.
I won't bore you with the details of that race, because that's not what this post is about. But here are the highlights:
Not until the race began did I realize it was a combined-category race. So I was up against ~100 B riders, but also a pile of A's!
I went hard on the first KOM (Neokyo's Rooftop KOM) and set a PR of 3 minutes flat, staying in touch with the front group. Hurray!
Then we hit the Castle KOM, and I got dropped.
And just when I thought it was all over, I realized this event used a custom distance, and ended well past the normal route finish line… after going over the Rooftop KOM a second time. Worst. Day. Ever.
The race ended in a random spot just after descending the KOM. I finished 18th in the B's – see my ride on Strava
Watch My Race Implosion, Including the New Legz-Cam(TM)
Follow-Ups from Zwift + WTRL
The result of all the "Join Event" problems is that Week 1's race won't count, for the 32 it affected. Those divisions will now race a 7-race series instead of 8.
This is probably a bummer for those who actually got into the pens and raced their hearts out (19 B riders finished the race the DIRT Roosters were supposed to join – see ZwiftPower results). But I'm not sure there's any better solution!
Here's what Charlie Issendorf, Zwift's Race Director, posted on WTRL's ZRL Facebook page:
As WTRL posted earlier, there was a bug with some racers not receiving the "join" button before the start of their races. Zwift experienced a brief server issue just as some of the WTRL events were about to start.
We are incredibly excited for the start of ZRL and this is not what we envisioned for the very first race of the season. We are sorry for the inconvenience this has caused and we are working with our staff to identify the underlying issue so that we can prevent this from happening in the future.
After discussing with WTRL, we will void the results for the divisions that have been affected. The affected divisions will now have a 7 week season instead of an 8 week season.
WTRL posted the following on their own website (along with a list of all impacted divisions, which I won't include here):
Following the Zwift game outage yesterday (11th January), WTRL have reviewed the impact and will flatten/annul results in the divisions listed below. All of these divisions show entire teams were signed up but not in the race. Teams in these divisions will now follow a 7 race season. If you feel your division has been missed, WTRL will of course hear your case via email from TEAM CAPTAINS ([email protected]).
Unfortunately the issues were outside of WTRL's control and we completely empathize with the frustrations felt. With the new Zwift Clubs event feature, Meetups, Zwift Racing League, Tour de Zwift and regular events all trying to take place at the same time, an overload occurred. Zwift are currently working to find a solution to resolve this.
Charlie then followed up with another Facebook post on Thursday:
An update on the broken "Join" button that prevented some Zwifters from joining ZRL races on Tuesday. After a thorough investigation, we learned there was an overload of events that caused bugs. We fixed those server issues to prevent a recurrence in the future.
We wanted to reassure every Zwifter taking part in Zwift Racing League events that this has been resolved. Thanks for your understanding and good luck in Race #2.
Wrapping It Up
What actually caused the "Join Event" problem? I'm not at liberty to divulge the details. But at the same time, I think the racing community needs to know that the issue wasn't one of capacity, as if Zwift's servers couldn't handle the load. As I understand it, it was a simpler issue of settings that didn't take into account the high number of concurrently-running events thanks to ZRL, Tour de Zwift, Meetups, and now Clubs.
Change the setting, fix the issue. Sounds like this bug is officially squashed.
Your Comments
How did your first race of season 2 go? What strategies did your team employ… or were you stuck with the "wait for Join Event link" strategy like the DIRT Roosters? Share below!