On January 6, 2021 the 32 year old ultra-cyclist Michael Knudsen of Copenhagen, Denmark set the Strava vEveresting KOM in 7:17, besting the previous mark held by Tom Ove Kaland of 7:28 set on January 3, 2021.
In doing so, Michael added this incredible accomplishment of endurance to a list which includes being one of only 7 athletes on the planet to complete the Trans-Siberian Extreme (9,100km) and a 5,100km "indoor RAAM."
Read more about Michael's background in part 1 of this 2-part post >
vEveresting Basics:

Why Did He Decide To Do It?
After completing a vEveresting for charity on Alpe du Zwift last year, Michael recalls, "I already knew back then I would go for vEveresting at some point and try and race it." It would have to wait, however, as Michael had set 2020 as the year he would try to win the prestigious 5000km Race Across America.
"Covid-19 stopped that but I'd logged an average 23 hours of training per week so my base fitness was solid," Michael says matter of factly. By chance, Michael saw that there was a segment for the Strava KOM when Tom Ove Kaland set the record. Michael says, "I felt like testing myself."
Zwift Setup
Michael describes his setup as "super basic and similar to most, I know." He utilizes a Wahoo KICKR v5 combined with a Wahoo Headwind fan for cooling. In classic Knudsen style he adds, "I don't have any special details or homemade features."
Strategy and Mindset
During a recon ride on January 4th Michael dialed in his pace and power. "I felt fairly confident climbing at 330 watts (Michael weighs 69.9kg and boasts an FTP of 375W) so I set ERG mode to 330 to see what time that would give me." Climbing steadily at 4.72w/kg allowed him to complete the Alpe du Zwift ascent in 41:50. He remembers saying to himself, "OK…this could be interesting."
Michael described his mindset as, "40 minutes of work and 10 minutes off doesn't sound too bad." The realization that the work would be at nearly 5w/kg was not a thought he was eager to entertain.
After disabling ERG and setting his trainer difficulty to 100% Michael completed 3 more ascents in times ranging between 40:20 and 41:50. "I felt good," stating in an annoyed tone, "I wish I didn't do the first climb in ERG or I would have just kept going."
He didn't, which allowed him a moment to contemplate his strategy further. Faced with a decision, Michael asked himself, "Do I pace purely for the record or do I give my absolute maximum effort and risk seriously blowing up in the process?"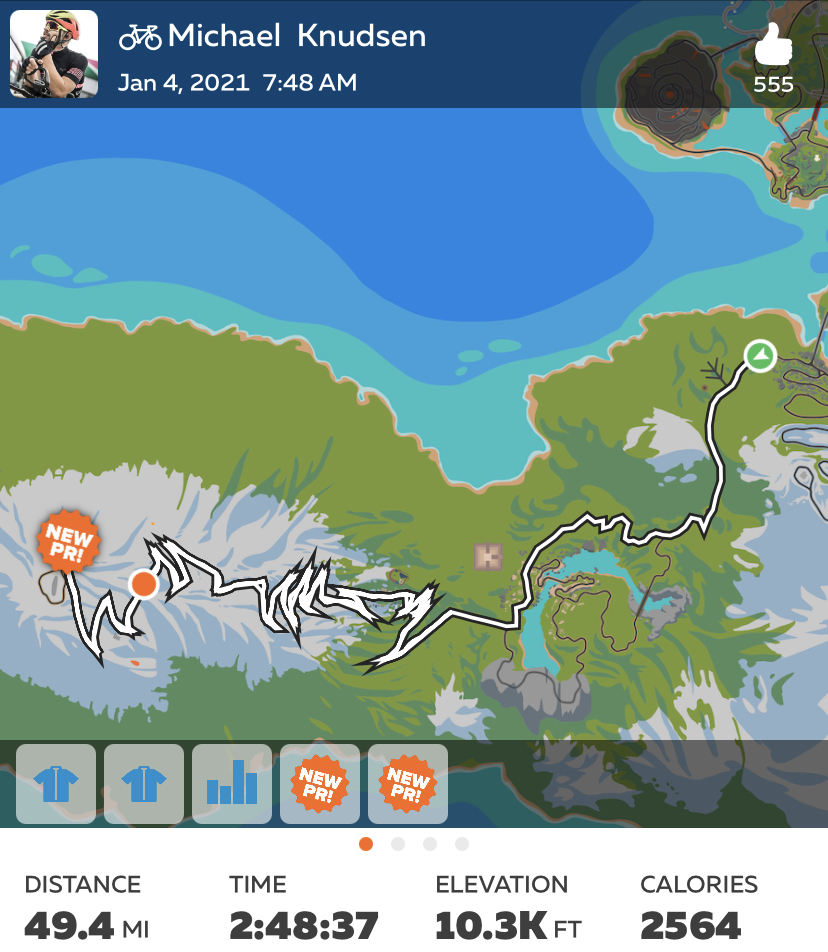 Michael's "Race" Day
Guess what? He decided to go all out for a maximum effort. Are you surprised?
"I did my normal daily routine on the day," Michael reports doing "nothing special or fancy." Which meant eating a light breakfast of bread with butter and jam, performing a few mobility exercises before jumping on the bike, and riding his girlfriend's avatar to the bottom of the climb so he could join her there and avoid the time penalty of the Road to Sky lead-in.
"As with all big events it's important to break it down into manageable pieces," Michael explains, describing his mental approach. "The vEveresting to me was 8 times 1 climb and I focused on one at a time."
The Race's Lower Slopes
Michael started climbing hard to set a pacing benchmark at the halfway point. He is no stranger to ultra-endurance events and through experience knows that most athletes break mentally. Although he admits, "the physical challenge was greater than expected, as if I was sprinting a marathon."
Michael ascended climb 1 in the low 40's managing to resist the urge of pushing for sub-40. The next few climbs went well, but as Michael recalls, "not diamonds in the legs and I was worried that the recon ride 48 hours prior was a tad too much too close."
Michael reached the halfway mark in good style several minutes ahead of record pace.
Nutrition
When describing his food prep Michael admits, "I'm not the big planner to be honest. Which has cost me dearly in other events and races in the past. So I was actually more or less out of gels and other of my favourite sports nutrition for the event."
Here's what Michael consumed during the record breaking ride:
3 liters of electrolytes (8 tabs)
1.5 liters of energy drink
2 liters of Sprite
4 gels
3-4 packs of carb gums
1 bar
Some bakery stuff
Jam sandwich
"My tactic was just to eat as frequently as possible," Michael explains. "It was easy to drink going up, but eating was more difficult because trainer difficulty at 100% meant changing gears all the time."
The Hit The Wall Moment
The 5th climb proved to be Michael's "hit the wall" moment, which worried him because "it came way sooner than I expected." Michael controlled his negative thoughts and with strong Zwift community support "nursed it to the top." After refueling and regrouping during the descent he began the 6th in what he termed through previous experience as "full-on defend mode!"
His mind and legs shifted into damage control knowing that the last 3 climbs would be "absolute savage." Michael recalls, "It's quite stressful knowing that you have to keep climbing close to 5w/kg to stay in the game with zero room for error."
A Second Wind?
On the 7th climb Michael caught his second wind and was climbing under more control. "I knew by then that if I just kept my concentration and nutrition I would be just fine."
Unless of course you start to cramp?
As he crested the summit Michael's inner thigh began to spasm. While attempting to stretch and massage on the downhill all he could remember saying to himself was, "Don't screw this up!"
Having collected himself and after delving into the vast experience of past ultra-events Michael adjusted his strategy for the 8th and final full ascent. Michael explains, "I dialed down the pace to make sure the cramp wouldn't force me off the bike and derail this whole endeavor."
The Most Scenic View is From Atop the Greatest Climb
The final 6 km up the 9th climb was as Michael expected, pure joy and the opportunity to celebrate with the fellow Zwifters who supported him. Satisfied by the effort, Michael states, "I'm very proud of the ride knowing I couldn't have gone any faster." Humbled by the support of what Michael calls his amazing Zwift community he had but one thing to say, "This is just awesome…thanks!"
vEveresting IS Hard!
In case you are still not convinced, take it from Zwift's ultra-cycling Superhero, whose palmares are full of extraordinary feats unfathomable to us mere cycling mortals.
Michael states, "I dug as deep as I possibly could and that leaves your body in a big hole. I personally only have so many times a year I can push my head and body down in that hole and this event was surely one. It's both your head and body which needs to recover after pushing for so long so hard."
Thoughts On Recovery
"To be honest, I actually had to go to work on a night shift 5 hours after completing the ride. But in the days that followed I tried to focus on sleep and food to boost my recovery. In terms of recovery equipment I've got recovery boots, as massage hammer, and foam rolling which I do from time to time. My biggest advice for recovery is sleep and quality nutrition."
What's Next?
Ever seeking the next challenge, Michael intends to complete every Zwift route badge as fast as possible and multiple vEveresting records before attempting to break the IRL record in the Spring. He also intends to put the 1,000km in 24 hours notch in his belt in 2021.
Michael Knudsen's ultimate goal is to have the opportunity to pursue his passion as an ultra-cyclist full-time and thereby reward the family, friends, and sponsors who have sacrificed so much for him. I am confident he will! Ride on!
What about you?
What are your cycling goals for 2021? They need not be as auspicious as Michael's, but remember "A goal without a plan is only a dream."