Editor's note: Originally posted on the Bereda Training Journal, this is author Dennis Cottreau's second conversation with Zwift Community All-Star member Justin Purificati as they follow his participation in Zwift's new KISS Super League. Their first conversation can be found here. The discussion in this article happened following Justin's 3rd place finish in Round 1 of the Super League.
---
After a few winters spent tormenting internet racers on Zwift, amateur cyclist Justin Purificati was asked to participate in Zwift's new KISS Super League and race virtually against professional road racers as part of the Community All-Star team.
If you're wondering what it takes to be an "All-Star", just check out Justin's all-time stats:
156 Zwift Races
63 Wins (40% of races)
108 Podiums (69% of races)
Absolute FIRE. 🔥
But here's the thing: none of those races had professional cyclists filling out the majority of the start list.
So the question remained… what would be Justin's (and the rest of the All-Star's) chances in round 1 of the KISS Super League?
Alone in His Basement
If you watched the live stream of the event, you'd have seen a lot of excitement as Matt Stephens introduced the race before panning across to Team Wiggins warming up on trainers in front of a crowd in a Pinarello shop in London.
There was a lot of noise and energy.
Across the Atlantic, Justin was quietly preparing for the race in his garage in Ottawa, Canada.
"To be honest, I was pretty nervous," Justin told us, "I mean I don't think I've ever been that nervous getting lined up for a virtual race before."
And that's saying a lot, as Justin had previously been invited to race at live events as part of CVR's World Cup.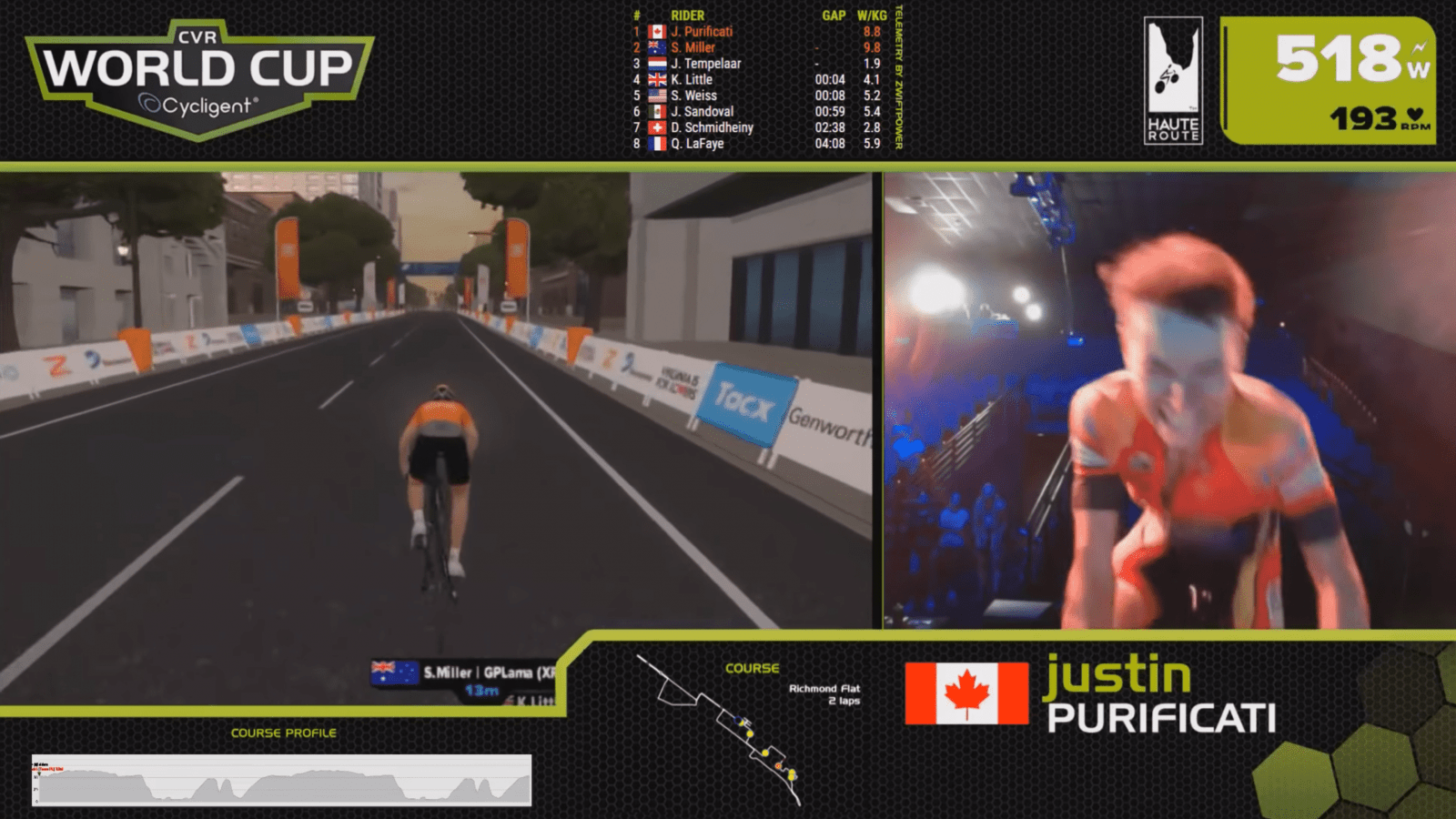 Still, he somewhat appreciated his solitude.
"Knowing what the other guys had to go through, especially Team Wiggins, I was like 'Oh I've been through that before'," Justin said, referring to his live events with CVR.
"At least, you know, I'm at home and I've got my own setup. I can get focused, I have my jams going, I don't have people breathing down my neck."
Fierce, Professional Competition
Justin got his first look at the professionals on the start list a few days before the start of round 1.
"Right away, just from the UCI racing that I've done in North America I noticed a lot of the big names," Justin recounted. "So that's when I started getting nervous cause I was like, holy crap, I know a lot of these guys. I know Ben Perry, for one, who's definitely a force to be reconned with. Same with guys like Ben Wolfe. Like, he is a big guy. He's also a horse, so I mean, if he tries to get away, he probably could."
Justin has competed on the road against many of these racers.
"Definitely seeing all those names kinda got me worried," Justin admitted. In the days leading up to the race, he thought to himself: "Oh man, this is going to be pretty intense."
All-Star Strategy
The Community All-Star team knew that they had experience on their side as "the veterans of Zwift," as Justin put it.
Here's what they knew:
Round 1 was mostly a flat race
Most of the pros weren't used to Zwift
Zwift's new Double Draft algorithm would hold things together
There was an uphill finish
"The game plan was basically sit in, go as easy as you can, stay on the wheels as long as you can, don't worry too much about trying to cover moves," Justin said.
They were sure the pros would try to attack, but with a group moving at 52 km/h on the flats, chances are they wouldn't survive.
Basically, "Conserve as much energy as you can," Justin said.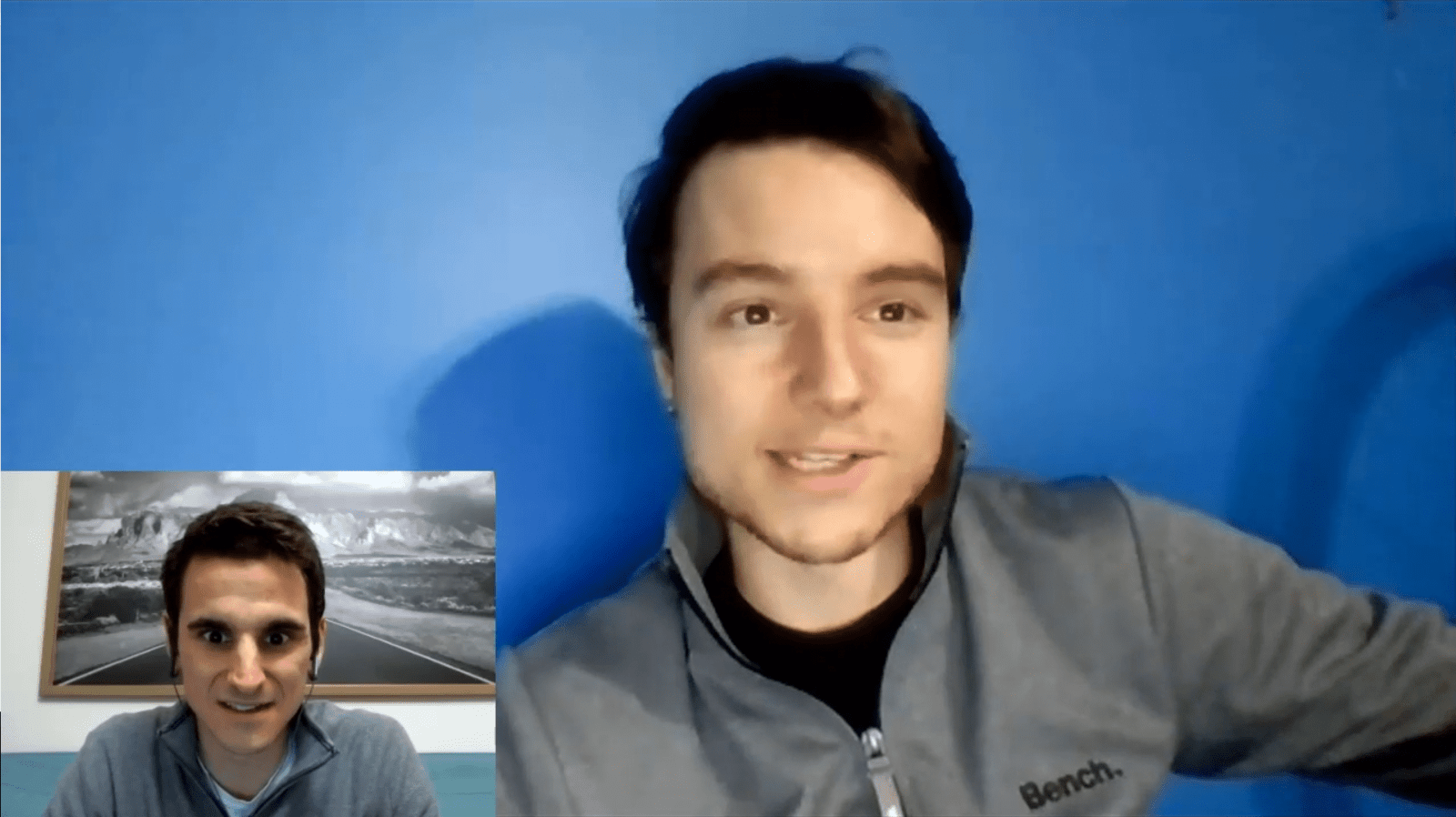 You could see their experience in play with every rise in the road. The four All-Stars in the race would hover around the back of the group, but just as the road turned upwards they would have moved through the pack and hit the front with momentum, making the climb as easy as possible.
"Oh yeah, you can tell that we've all done Zwift racing before," Justin laughed. "Before the hill starts we kind of accelerate before everyone else, ride the draft through to the front, and sort of ease off and only go as hard as we need to."
Race Report, from 3rd Place
From Justin's perspective, things went according to plan:
"I mean, I think it played out as we thought it would. We figured a lot of people would get caught out just from not being used to drafting and the whole 'not quite following the accelerations at the right time,' and we figured it would mostly stay together until the fireworks and the final climb and that's pretty much what happened. Like, we thought it might go a little harder on the final climb, but I guess it was a pretty steady pace. I think we went a little slow at the bottom but looking over the effort afterward, I'm realizing that we kinda went a little harder than we thought, so…"
Instantly, I had to jump in and ask about the NUMBERS.
Justin gave me heart rate:
"I was probably around 185 [beats per minute]. I think most of the race I was hovering around 180 but I felt pretty comfortable for the effort I was doing. I was definitely well-rested. But I mean, the final climb… hitting 190, starting to get up to like, 195…"
Ouch.
"I averaged over like 410 watts or something up the final climb," Justin said, finally giving us some insights into the wattage.
"For what I was doing I actually felt quite comfortable," Justin continued. "And like, I was never really on the rivet like I've been on certain other races. But I mean, I think it went down probably as best as we could cause it stayed together pretty well a lot of the climb so that allowed a lot more of our riders to just hang on till the end."
An Infernal Pace to Start
Despite the exciting finish, there was a lot of talk about the carnage happening in the first 10 minutes of the race.
After all, Conor Dunne averaged 500w for the first 14 minutes of the event…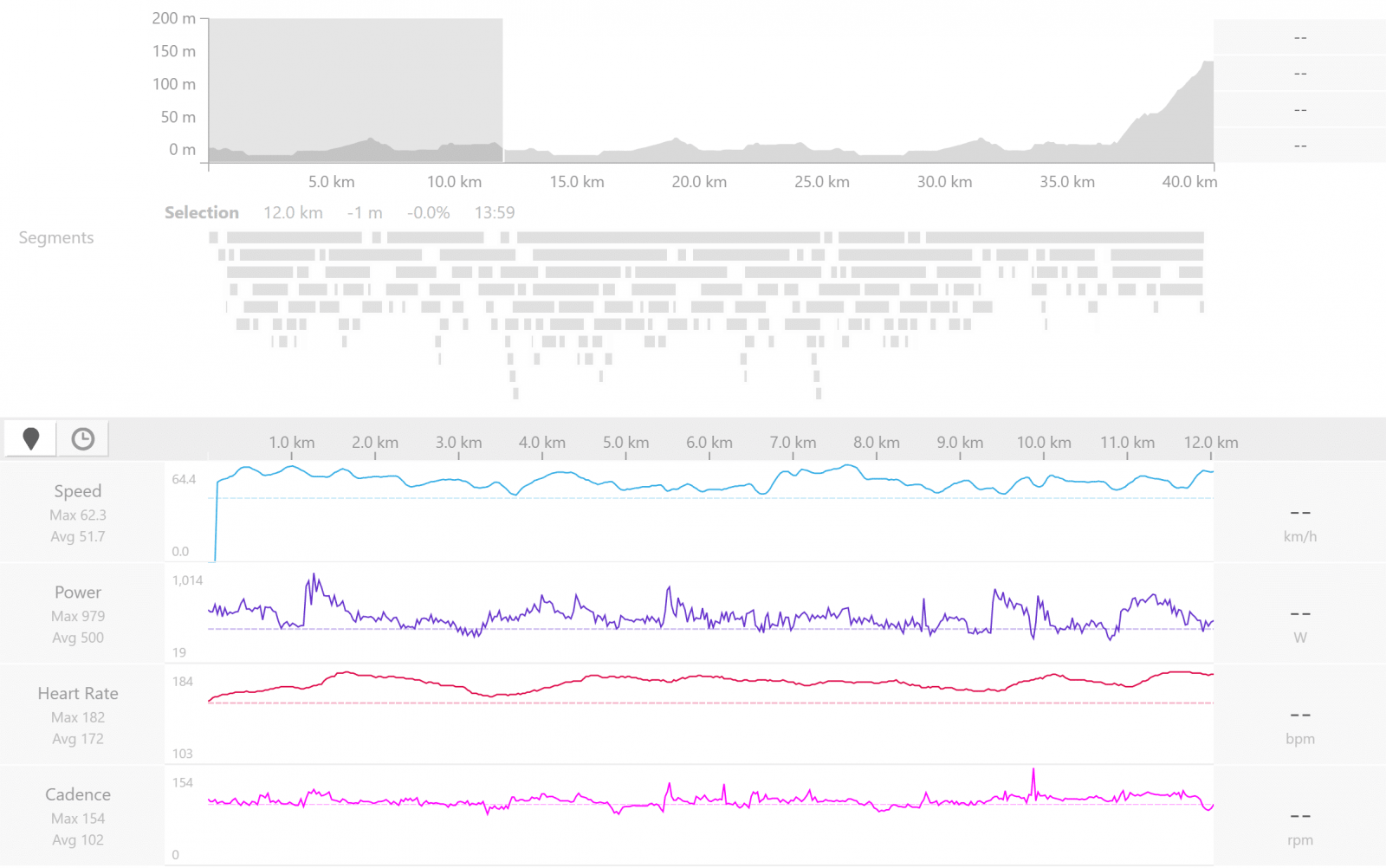 Still, with his experience, Justin was able to keep his cool.
"I thought that it was alright," he said. "After the first 30 seconds, you know, the sprint out of the gate, it kind of all settled in."
Justin, in stark contrast, only needed 313 watts on the same 14 minutes: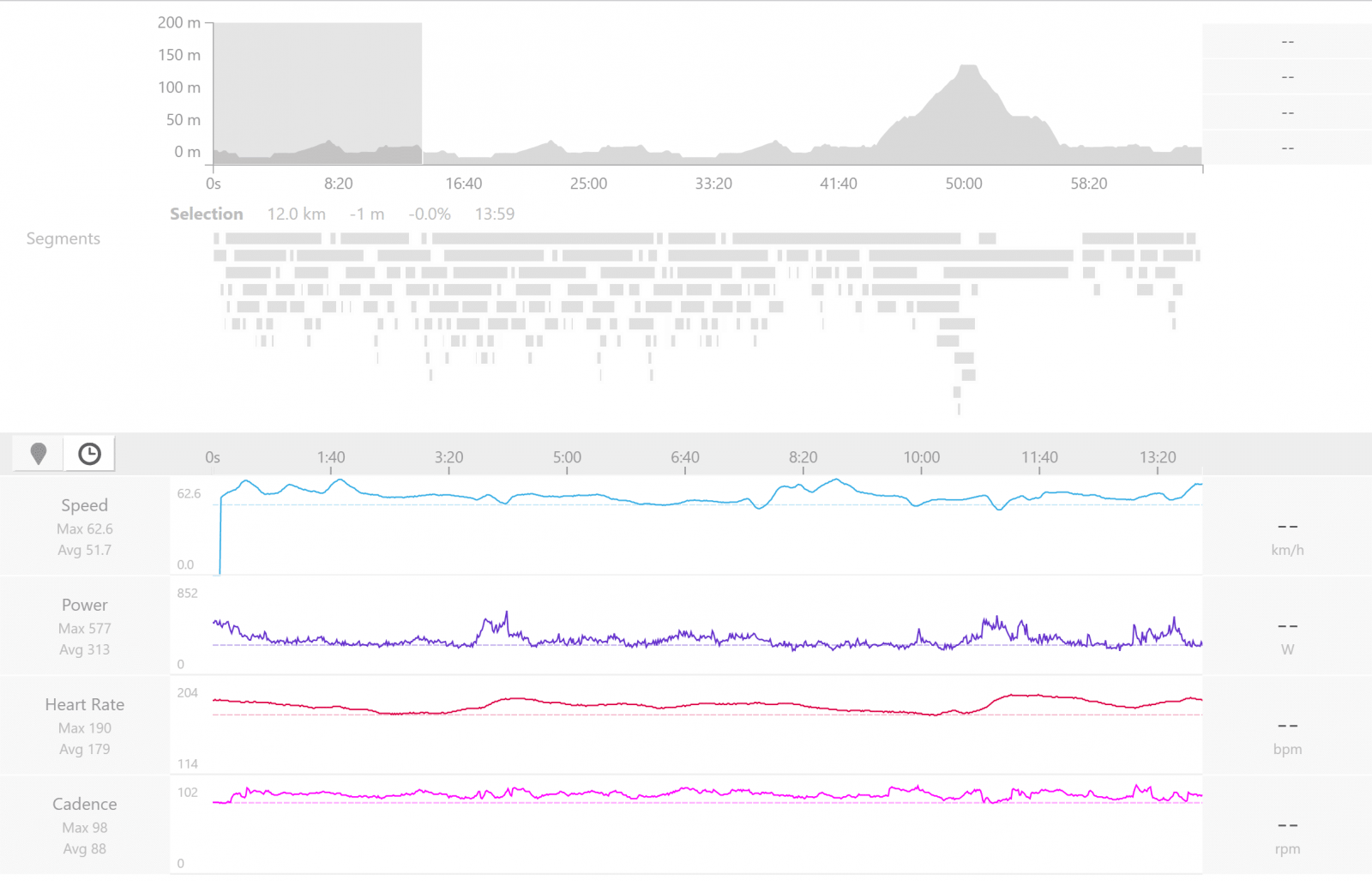 Justin is significantly lighter than Dunne, so weight and size plays a factor here, but so does Zwifting experience.
"Bring it till you're up to speed then you can start going a little bit easier but never actually let off too much," were his words of wisdom for the audience.
Hot, Hot, Volcanic Finish
"The last 500 meters were pretty tricky because Zwift races that we've done don't typically end at the top of the Volcano, so, even though we've ridden that course a lot of times, it's never really been a course they were actually using for racing," Justin said.
The course was new for everyone, but the All-Stars still has some tactical experience on their side.
"Most of us knew that having an aero powerup would still be the most useful one, just to power into it," Justin told us.
"The group was a little bigger than we thought it would be and we were all trying to stay near the front and be attentive. And then in the last 500 meters, I started launching as hard as I could and then it was basically just trying to follow wheels."
Timing the sprint has as much to do with responding to the competition as it does with meters remaining to the finish.
"As soon as one person starts dropping the Aero PowerUp, that's really your queue to go," Justin confirmed.
He ended up crossing the line in third place.
Back in London, Team Wiggins was getting interviewed post-race, despite their highest placed finished being Oliver Robinson in 22nd.
Justin didn't have a post-race interview, only this, from me: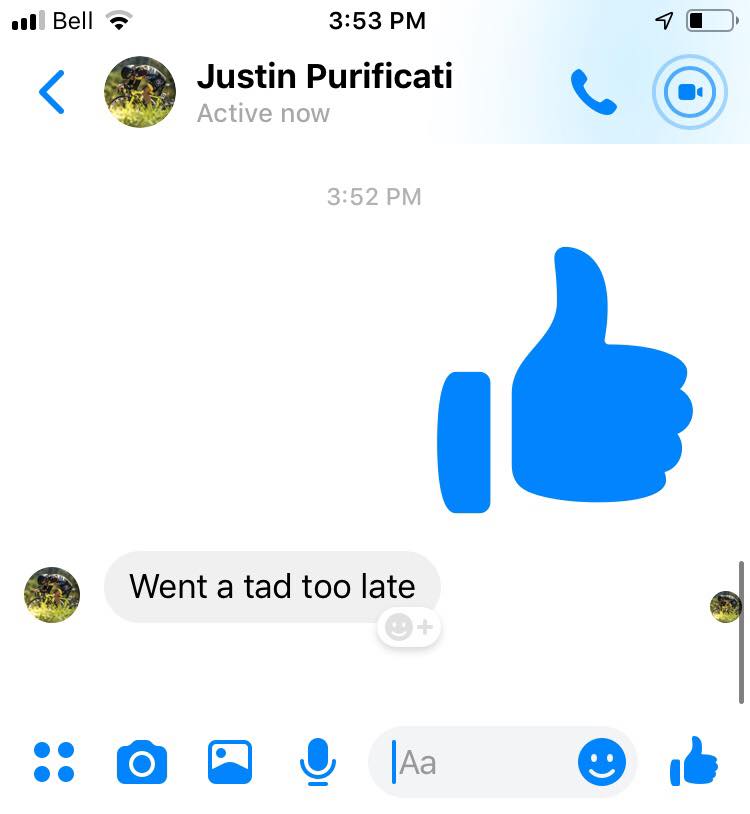 In our last conversation with Justin about KISS Super League, we talked about the new level of access virtual racing could provide for spectators to the athletes.
This exchange happened literally moments after the finish.
Just enough time for Justin to towel off his fingers.
Unexpectedly Untactical
Last time we spoke, Justin predicted that the racing would be tactical: "That's what the pros are used to. I'm sure that's what they're going to do on Zwift."
Round 1 of the KISS Super League ended up being surprisingly untactical, though.
Still, Justin is sticking to his original thought.
"I think it's probably something that will change," he says, "I know one thing we weren't expecting was having the double draft effect in the race and that kinda speeds things up a lot."
Double Draft being a new feature in the Zwift world.
Justin thinks removing it in some of the future KISS Super League races could lead to more excitement.
"It would definitely animate the race a lot better. You would have less of this fast-moving blog effect that you basically get from everyone just trying to ride as hard as they can and get a little more separation going because, I mean, in the race yesterday a few guys did try attacks and then there were a couple groups of 1's and 2's that would maybe get a second or two at the most."
Short Race for Pros
It's possible that virtual racing could develop into something that commands the full attention and focus of its racers' seasons, but at the moment, they're pulling in athletes that are preparing for 4, 5 and even 6-hour long road races.
With a winning time of 50 minutes for round 1, these could be the shortest races they do all year.
And it requires a different skill set.
"Crit race!" Justin laughed.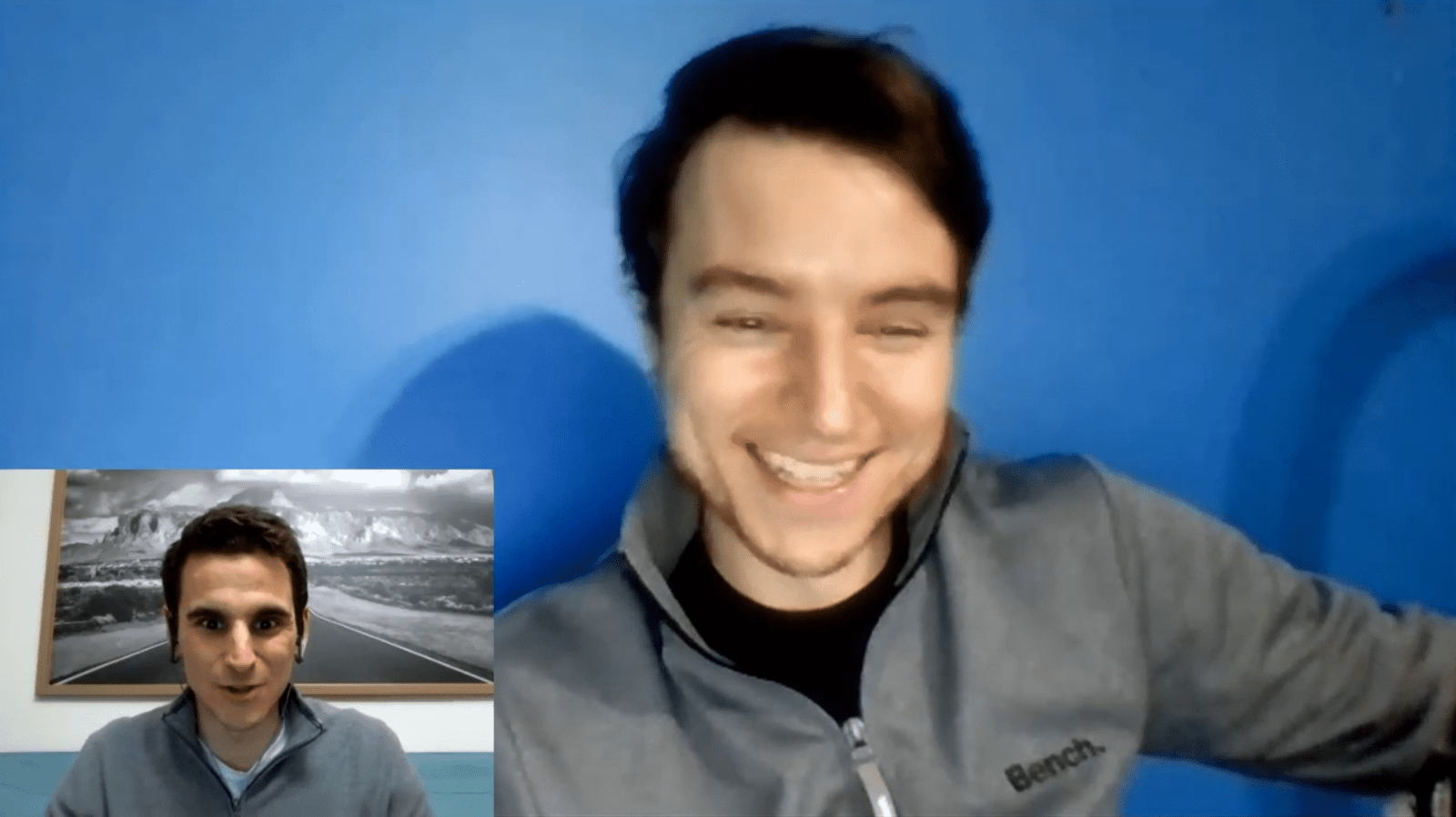 "Yeah!" I joked back. "So, I mean, how much can tactics lay out when everyone's over threshold the entire time?"
It's definitely a different style of racing and one that's more familiar to North American athletes.
"So, maybe the European guys will have a bit of a hard time," Justin mused.
Looking to Next Week
"So, next week is going to be a flat course," Justin reported.
"It was supposed to be, I think, a London flat course, but today we got a message saying they were going to do the Innsbruckring."
"It's probably going to be the sprinter teams going in, so…"
I jumped in: "Right, so maybe no Justin Purificati in the lineup next week, or…?"
"Not yet," Justin said, "I mean, if we do need to make a substitution at some point I could probably do alright but we have some guys on the team that could definitely lay down some sprints so I'm definitely looking forward to seeing what they'll put out against the pros."
When asked about predictions, Justin said: "Steve Young for the win."
Discord Support Squad
During the race, the All-Star team used Discord to communicate strategy, overcoming the fact that they were scattered around the world in their respective basements.
But it wasn't just the racers that were in on the discussion.
"We were lucky enough to have the guys not racing yesterday on Discord with us just giving us some live feed, letting us know what was going on, anything that we'd missed, you know?" Justin told us. "So, definitely next week I'd like to return the favor."
Keeping the Excitement Coming!
At Bereda, we've talked to lots of people about the race, and I think a lot of people found the race really entertaining. Some of those people admitted that they found the race entertaining even though they didn't want to.
Justin was a big part of the fireworks in the first every virtual professional cycling race, so not only do we congratulate him on an excellent third place finish, but wish him and the rest of the All-Star team more success as the series continues.
Same time next week, Justin!
Chat then 🙂