After my first Crit City race on Monday, I was anxious to try out the course in the other direction. (The "Bell Lap" route from Monday traverses Crit City in the counter-clockwise direction, while the "Downtown Dolphin" route goes clockwise.)
Wake Up/Warm Up
So last night I found a Downtown Dolphin race that fit my schedule: 5:45AM, 8 laps. I woke up at 4:45, did my usual pre-race prep of 100mg of caffeine via a piece of caffeine gum and a little help via some PR lotion on the legs. Then it was off to Fuego Flats for a warmup.
I hit the pens with 5 minutes to spare, and noticed I had a few DIRT teammates in this race. Fun stuff! Maybe we'd be able to implement some team tactics?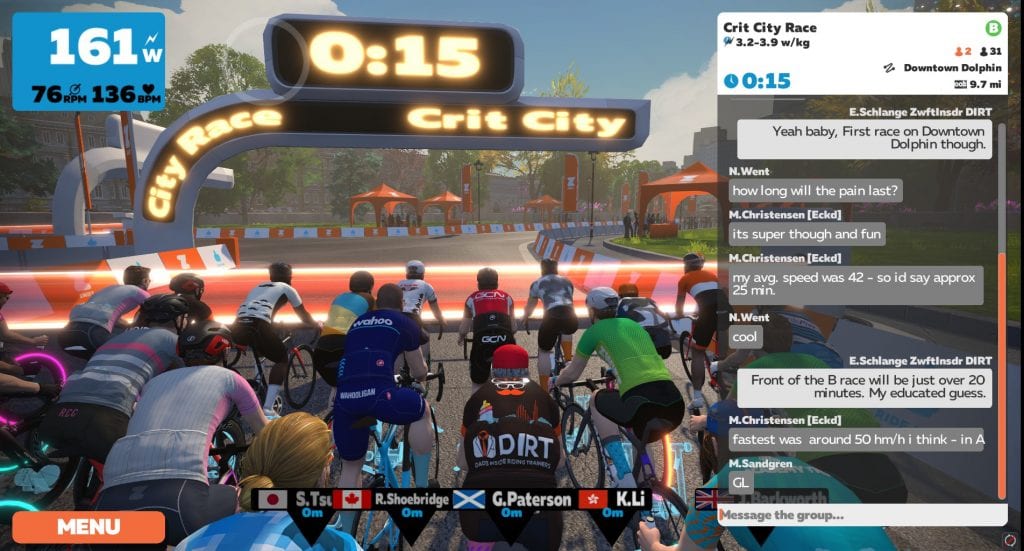 About the Route
This would be my first Downtown Dolphin race, but I had the route layout memorized after doing so many Crit City-related Zwift Insider posts. I knew the key attack point would be the prime section, where the road turns to brick and we ride through a couple of 90-degree uphill turns to the banner.
I also knew the finish would be tricky, with the downhill rolling twisties leading into a hairpin before the straightaway. I wasn't sure how to best time that final effort, so I figured I would do a little research doing the race.
The Start
Like Monday's race, I found the start to be a little tamer than the typical Zwift race. 90 seconds at 348 watts got us through the first prime banner before things settled down. That'll wake the legs up, but it's not exactly an explosion out of the gates.
Our starting group of 30 was quickly whittled down to 18 before two laps were done.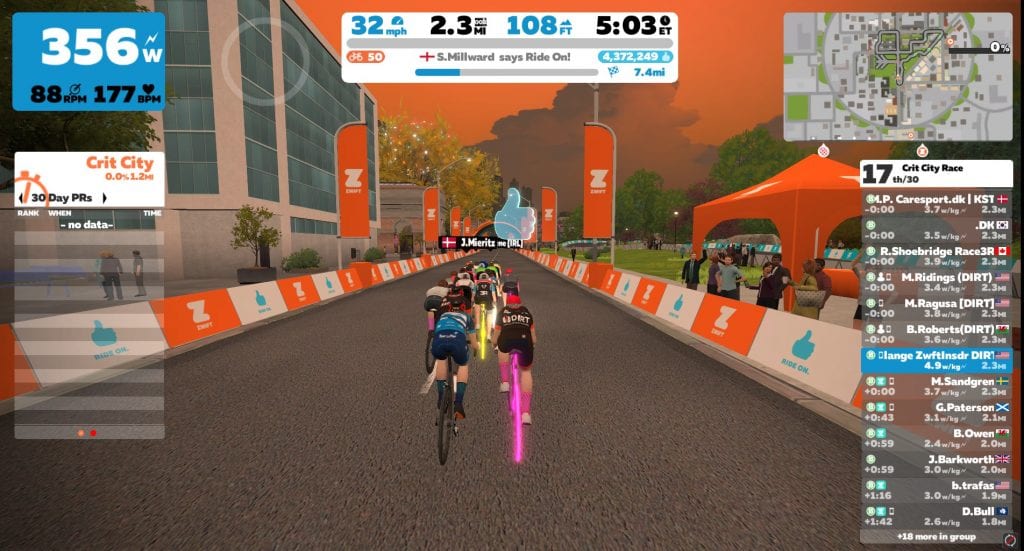 The Middle
The pack settled into a rhythm that was even more pronounced than that of the Bell Lap. Because while the Bell Lap has two sections where power noticeably ramps up, Downtown Dolphin really has only one: the prime segment.
So we would hammer up the prime climb (~15 seconds), feather powerups flying every which way, then settle back into threshold pace as we passed Zwift HQ and descended the twisty rollers. Our lap times were consistently in the 2:34-2:36 range, just like Monday's Bell Lap race.
I tried a cheeky attack over the top of the prime on the 5th lap, and got off the front a bit–but it was just too hard to get away from the pack.
Mental note: get on Discord with teammates for one of these races, and try a group attack where we can work together to stay away.
The start/finish banner hands out powerups every lap, but the prime banner does not. My luck was bad today, though: three laps in a row all I got was a 10XP bonus. [email protected]#%!
The Finish
As we neared the end, I had a few riders marked who seemed especially strong. Two South Koreans who had been near the front most of the time (Woo and T.aero), a guy decked out in virtual Rapha kit (Carr), and another wearing the distinctive 3R kit (Shoebridge).
The watts revved up a bit as we began the final lap, and the Zwift gods smiled upon me with an aero powerup. Finally! Things really broke loose up the final prime climb when our Rapha rider attacked hard (I saw his avatar sprinting, which is saying something nowadays). He got a good gap on the group, but the high sustained effort meant I didn't have the lungs to chase him, so I stayed on the wheel of a certain "H.ugh Jass" and hoped ol' Hugh would be hammering hard enough for me to catch the break.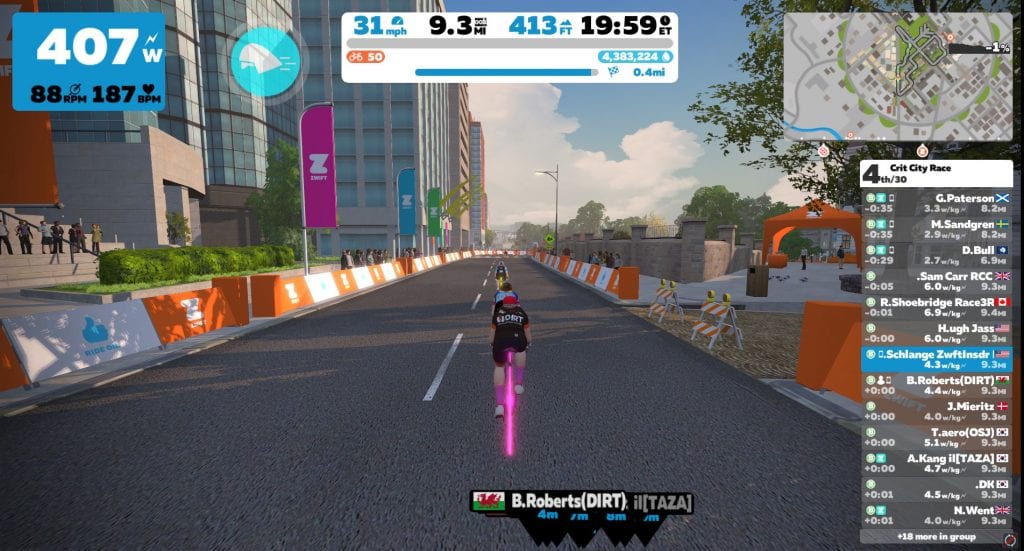 Down the twisties all hell broke loose: DIRT teammate Ridings flew past me with an aero helmet, and it was carnage left and right and riders battled in the final seconds.
Me, I kept hammering to hold a decent pack position, then deployed my aero powerup just a few seconds before the hairpin turn. (My goal was to time it so it would last until just before the finish, and on previous laps I had noted that the final straightaway was about 10 seconds long.)
I upshifted, got out of the saddle and into the drops, and hammered for the final 15 seconds. A glance at the screen saw me passing a few riders, which was just the encouragement I needed to keep going!
I crossed the line in 3rd place. On the podium! But also… not a win. My teammate Brian Roberts took 1st, so congrats to him.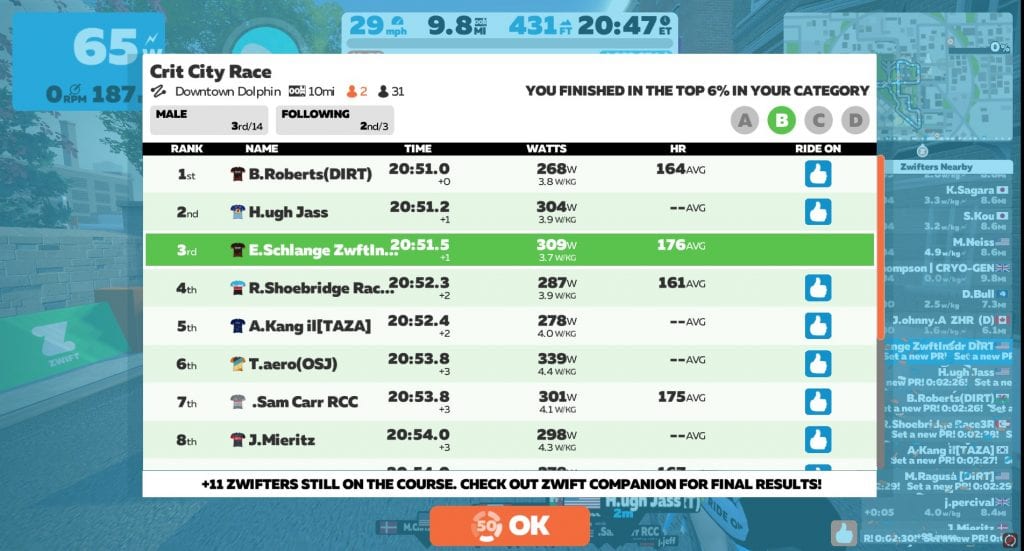 Some Numbers
The final lap I averaged 388 watts, and our lap time was about 6 seconds faster than all the previous laps.
The similarities between this race and Monday's Bell Lap effort are startling:
20-minute power: 307 today, 308 Monday

Normalized Power

: 322 today, 318 Monday
Overall Time: 20:51 today, 20:53 Monday
Max HR: 187 today, 186 Monday
Average HR: 177 today, 174 Monday
Comparing the power graphs of the two races, you can see that the Downtown Dolphin route produced a more pronounced short interval (up the prime section) on each lap, while the Bell Lap was a bit more of an even effort. This makes sense, given the differences in route profiles between the two.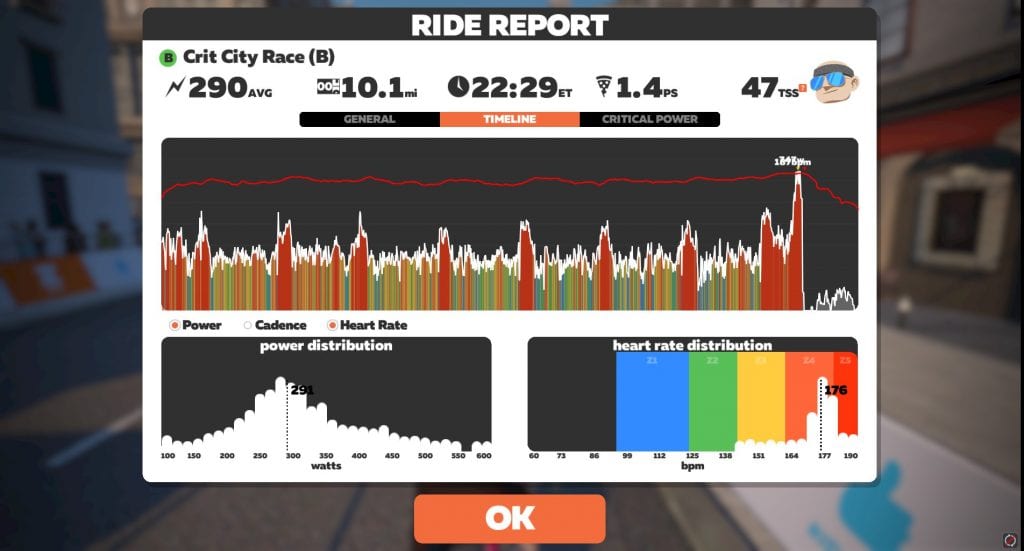 See it all on Strava >
See results on ZwiftPower >
Downtown Dolphin Strava Segment Bug
There's a weird issue with the Zwift Insider verified Strava segment (and all full lap segments) for this route. Because the roads are so close together at the bottom of the twisties and on the sprint straightaway, Strava is leaving out the last few hundred meters of the course when it calculates lap times.
I've filed a bug report with Strava, but I don't expect anything to come of it.
Takeaways
Debriefing myself on this race effort, I've come away with the following:
What's up with my sprint power? I can sprint at around 1100 watts on decently fresh legs, but both of this week's races have seen my sprint topping out at around 750 watts. Weak sauce! I may need to work on training my "fatigued sprint" if I want better finishes.
Teamwork would be fun: organizing a few team members to orchestrate a Crit City breakaway attempt would be a lot of fun, I think. I definitely want to try this soon.
Final lap madness: both of my Crit City races really picked up in the final lap, and the win goes to the rider who can still put in a decent sprint after riding over threshold for a couple of minutes. I need to be better prepared for that final effort.
Your Comments
Have you raced Downtown Dolphin yet? What did you think? Share your comments below.