Bell Lap is one of two routes on the racing-focused Crit City map released in the December 6, 2019 update. Featuring dead turns, an uphill prime section, a lap counter, and sharp corners with sightlines on city streets, this route's layout nicely replicates the visuals of a downtown crit.
Turn by Turn
The Bell Lap route traverses the map in a counter-clockwise direction, so you will begin by exiting the start pens and turning right to ride through the lap banner. This more "open" portion of the course could be described as the sort of park-like, modern section of Crit City.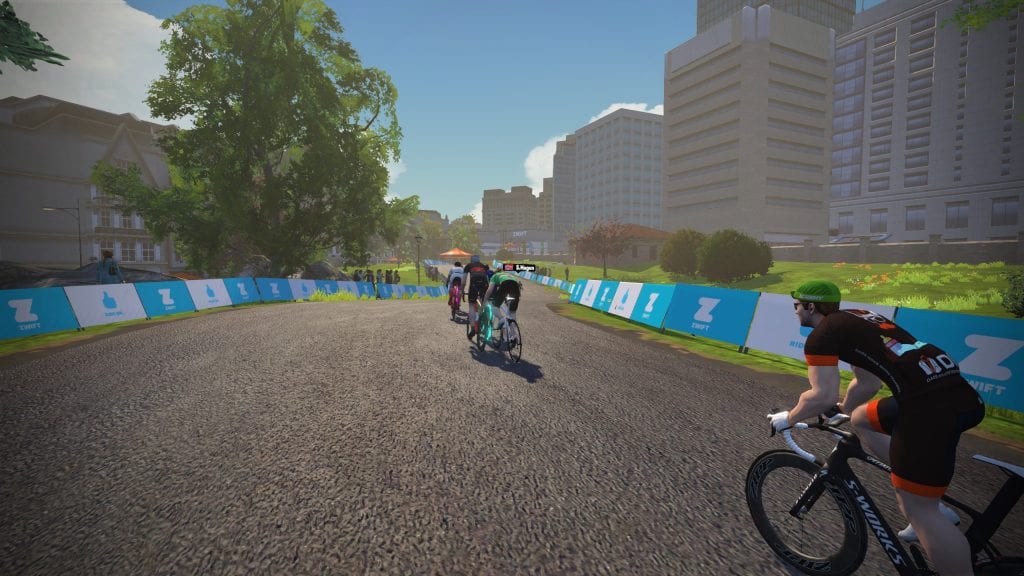 At the end of this straightaway you will hit the first sharp turn, a hairpin that takes you into a twisty, rolling uphill climb toward Zwift HQ. This is where attacks happen on each lap, so stay attentive!

After the twisties you'll be on a false flat riding past the virtual Zwift HQ building. The next dead turn is coming up, a 135-degree turn which takes you onto the straightaway containing the prime banner. There is no time prime section in this direction, though, so just ride through the banner and enjoy the short descent–it's the longest downhill you'll get at Crit City!

After the descent over the prime brick the road flattens for a moment, then turns right, bringing you into the older, city center portion of the course.
You're now on a false flat climbing, toward the eSports stage. Turn left and the road tilts down slightly–wave to the spectators at the eSports stage but stay attentive because the finish line is just up the road!

You'll quickly pass the Watopia mural, turn a left, and now as the course begins to open up again there is just one turn left before the finish. Mind your position in the pack, because if you're not near the front going into the final turn you'll probably never get there!

Start and Finish Points
Since this is an event-only route, riders will always begin in the start pens located just before the lap banner when riding in the Bell Lap direction.
Event Only
Crit City, like Bologna TT, is an event-only map. This means you can only access it by joining official Zwift events.
Learn more about joining a group ride/race
See all upcoming Crit City events
Strava Segments and Route Profile
Route details:
Distance: 1.95km (1.2 miles)
Elevation Gain: 8 meters (26′)
Strava Forward Segment