Two days without a ride and I was climbing the walls. (It didn't help that I'd spent most of Christmas day eating cheesy potatoes, pork tenderloin, and all manner of desserts.)
I needed a Zwift race, and I needed it bad.
So I found a Crit City race happening on the Bell Lap route at 1:45PM and signed up. Let's race!
Warm Up
I worked until about noon, putting together some Zwift Insider posts and replying to some of the many comments on my recent "Enforcing Zwift Categories" post. (I'm seriously amazed at all the chatter this post has generated–it's nice to know I'm not the only racer who thinks category enforcement should be a priority!)
Then it was time for my pre-race ritual: a piece of caffeine gum and some PR lotion on the legs. Bonus: I just received the newly-formulated "next gen" PR Lotion, which is supposed to work just as well while being much less slimy/sticky/messy. Guess what? It went on much better than the old version. Hurray!
I contemplated eating something pre-ride, since I'd eaten nothing since the night before. But I simply wasn't hungry–my body was doing just fine running off of yesterday's calories, apparently.
Since group rides are fun, I hopped into the GGCC Glasgow Green Cycle Club Thursday Training Ride for my warmup, rolling at around 2.5 w/kg around Innsbruckring. Perfect warmup pace, with a couple of hard efforts up the leg snapper and on the sprint section to blow the cobwebs off.
After 15 miles with the GGCC group it was time to head to the Crit City start pens.
The Start
Here's something a bit odd: I arrived in the pens wearing the green sprinter's jersey I'd just won on Innsbruckring. Especially weird considering Crit City doesn't even have a sprint section!
I'd noticed three other DIRT teammates signed up for the race, so I messaged them asking if they wanted to try some team tactics in the race. Only Jeff Beltramini wrote back, so we sketched out a quick game plan before the clock hit 0:00.
Things began fairly tamely, which was fine with me since Jeff and I had planned to attack on the uphill twisties in the second lap. We hit that section and Jeff took off, with me chasing his wheel.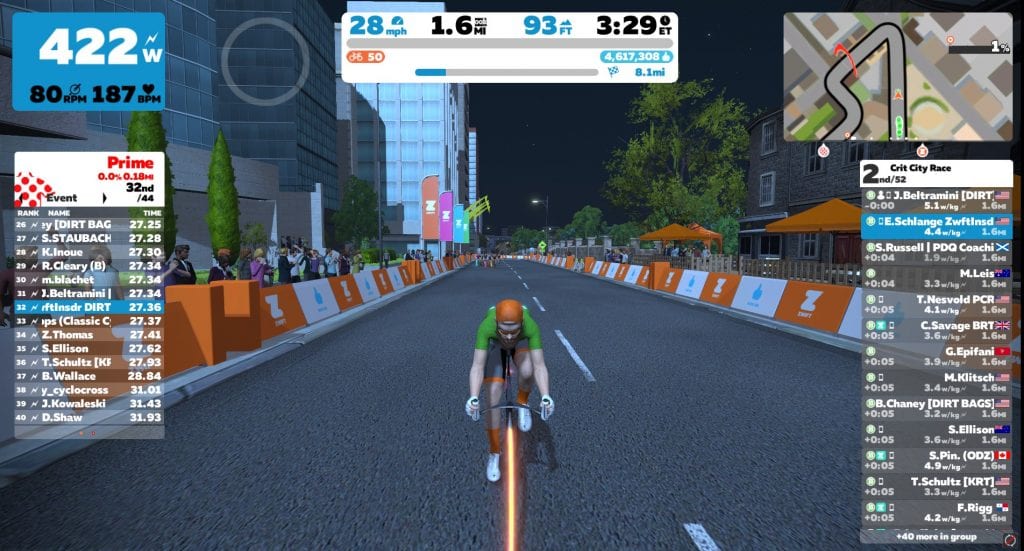 We quickly gapped the group by 5, then 7, then 10 seconds. For a moment I thought they might actually let us get away, with Jeff putting in a massive effort and me ready to pull through once he was done. But the group began to close on us towards the end of the lap, and I realized I didn't have the legs to keep us away. Curse my poor VO2 max!
Lesson learned: a two-man breakaway isn't going to work here. I sure wish some of the B's would start to follow these attacks–it would really make the race interesting to have a breakaway group of 5 working together.
On the plus side, we'd managed to whittle the field down, reducing it from 52 to 28 by the 3rd lap.
The Middle
The middle section of this race was as uneventful as the other Crit City races I've done. When riding in the Bell Lap direction, power ramps up a bit on the uphill twisties as well as the false flat straightaway leading to the eSports stage.
But the group wasn't pushing very hard, turning in laps around 2:37-2:39 without anyone attempting any attacks. Apparently everyone else was recovering from Christmas too!
It wasn't until the 7th lap that I finally received a useful powerup instead of a 10XP bonus. What the heck? It was the draft van, so I used it after the uphill twisties to make my sitting in even easier.
I did my best to breathe easy and reduce my effort as much as possible without getting dropped, so I had maximum energy for what I knew would be a challenging final lap.
The Finish
When the final lap began the PowerUp Gods smiled up me, giving me an aero helmet. Sweet!
Jeff and I had planned to attack hard on the uphill twisties, with the idea that we may be able to gap the group and stay away for the ~90 seconds until the finish. And that's exactly what we did: I attacked hard, with Jeff on my wheel. That stretched out the group, with just a few riders hanging with us. Then I blew up in spectacular fashion, Jeff "counter" attacked hard, and I sat in with the riders who were chasing to catch him, being careful to stay off the front because I didn't want to help my opponents reel in a teammate.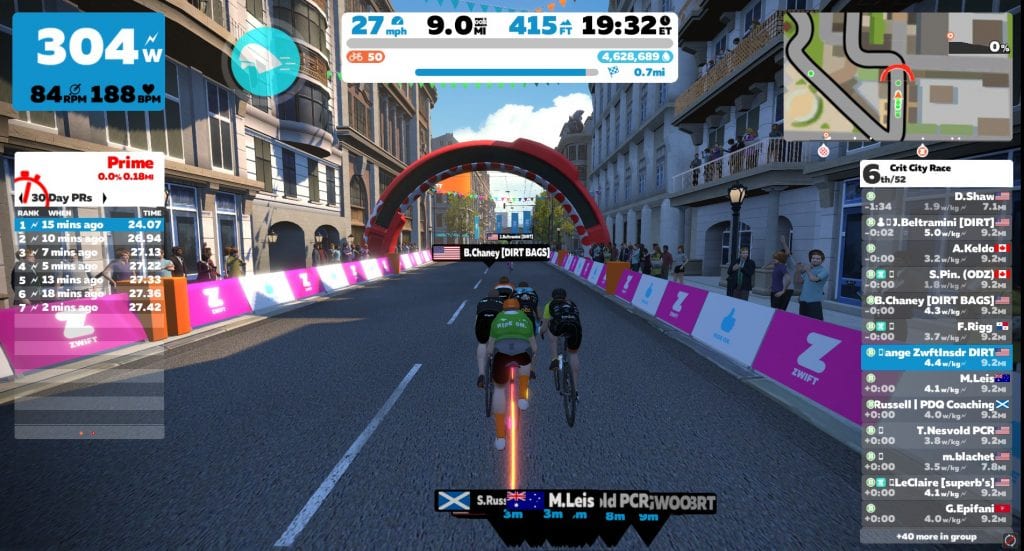 The group was charging hard, though, and Jeff wasn't going to stay away. We caught him just after the eSports stage, and after my first Bell Lap race I knew I shouldn't wait to begin my sprint. So as we hit the last left-hand turn I shifted up, activated my aero helmet, stood up, and gave it all I had!
It's hard to look at the screen when you're pouring everything into the sprint, but I glanced up a few times and saw that I was passing a lot of riders.
Then I was in 5th.
Then 3rd.
Then 2nd. It was going to be close!
I gave it all I had, but Simon Piniel from Team ODZ just edged me out, winning by 7 thousandths of a second. Chapeau, Simon! 2nd place for me. First loser!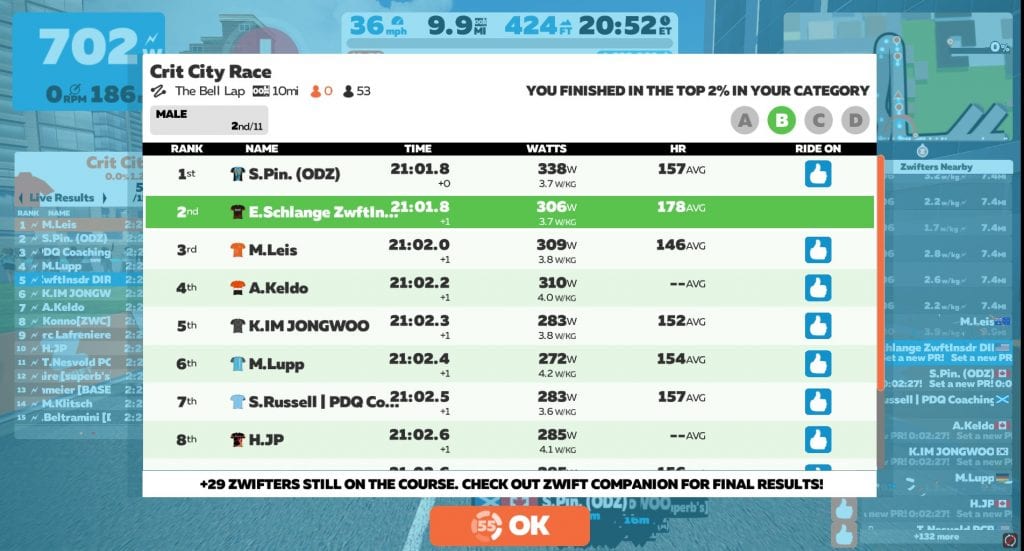 The final lap was 2:27 long, exactly the same time as the final lap of my first Bell Lap race. In terms of power and effort this race looked a lot like my other Crit City races–but it was my best result yet, at least partly because I'm getting better at timing that crucial final sprint.
See it all on Strava >
See results on ZwiftPower >
Takeaways
Here are some takeaways from this race that I'll use in future Crit City races:
Rest before the last lap: it's really helpful to go into that final lap as rested as possible. Working on hanging with the group at the lowest effort possible is a fun challenge, and it really pays off in the end.
Visualize that final lap: like any good crit, everything blows up in the final lap on Crit City. I'm finding it helpful to enter into that lap with a plan, and to know where I should begin my sprint if things are going well in the final seconds.
More teamwork, more fun: Jeff and I had a great time working together in this race. I hope to get more DIRT teammates out, maybe on Discord, so we can scheme and work together. Teamwork adds such a fun dimension to Zwift racing, and a team of 4-5 could really impact a race if they worked together.
Focus on sprint technique: I really tried hard to focus on sprint technique and putting out my maximum wattage this time around. While I think there are still more watts to give, my 5-second power in this race was 802 watts, compared to 705 watts and 721 watts in my previous two Crit City races. That makes all the difference in the final seconds.
Looking Forward To More
I'm really enjoying these short Crit City B races, but there are two things I'd like to try:
Racing with the A's, to see if I can hang on until the end. I feel like I've got more to give during these B races, so I'm wondering if I've got what it takes to hang in with the A's for very long. Only one way to find out!
A longer race: I've seen some Crit City races that are 2-3x longer than these ~20 minute efforts. I would like to try one of those to see how the experience changes.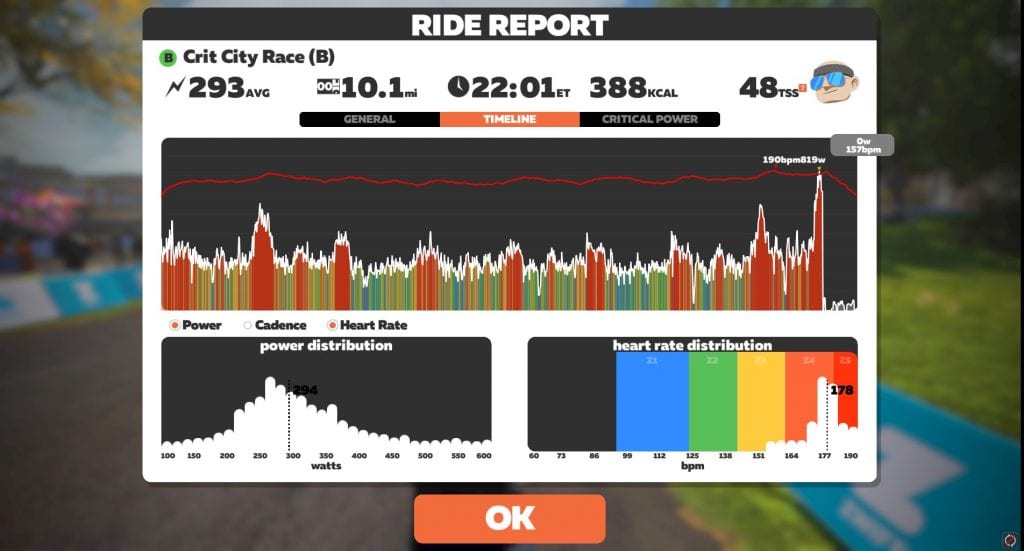 What About You?
Got any tips or tricks for Crit City racing? Share them below!