Zwift's September update included a new bike: the Handcycle! Powered by your arms instead of your legs, Handcycles are especially popular with disabled athletes who have reduced use of their legs. That said, they can be used by fully "able" athletes looking for a good arm workout.
The Handcycle is available now in everyone's garage, free of charge. Here's how Zwift describes it:
Designed in collaboration with experts in para-cycling, this frame is for athletes who crank with their arms instead of their legs. This well-balanced cycle will let you see the roads from a whole new perspective.
This frame is rated 4 stars for aero and 1 for weight, which seems sensible given the fact that handcycles are quite aero IRL, but also quite heavy.
Here's everything you need to know about the performance of the new Handycle in Zwift.
Aero (Flat/Rolling) Performance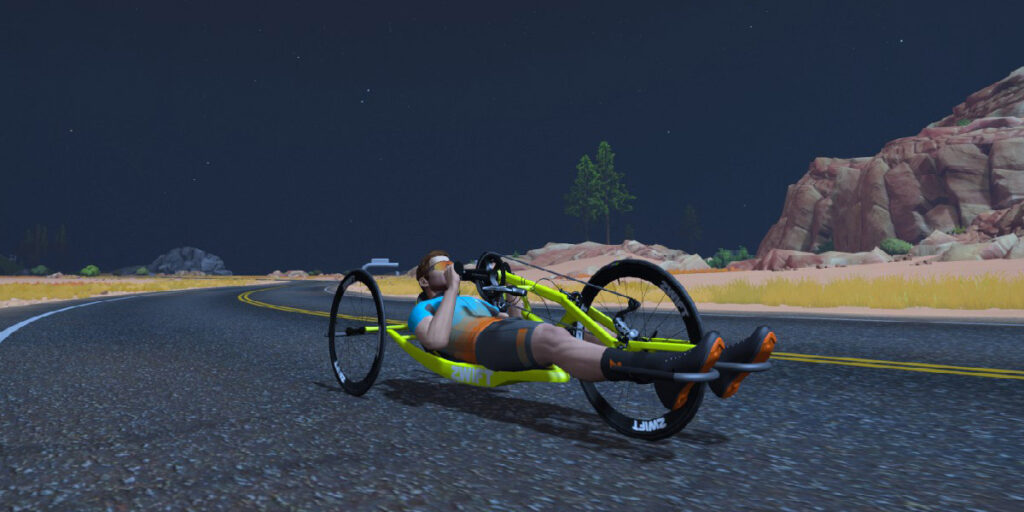 The Handcycle's aero performance is strong, slightly edging out the fastest road setups (which includes frames + wheels) in game. This includes setups like the Specialized Venge S-Works + DT Swiss Disc wheels.
Its test time of 50:16.5 is just 0.5 seconds faster than the fastest road frame + wheel combos over our test route of two laps of Tempus Fugit totaling 34.6km. Does that make the Handcycle the new fastest road bike on Zwift? Not really. This is a more complicated issue than isolated speed tests. We'll discuss this more below.
Climb Performance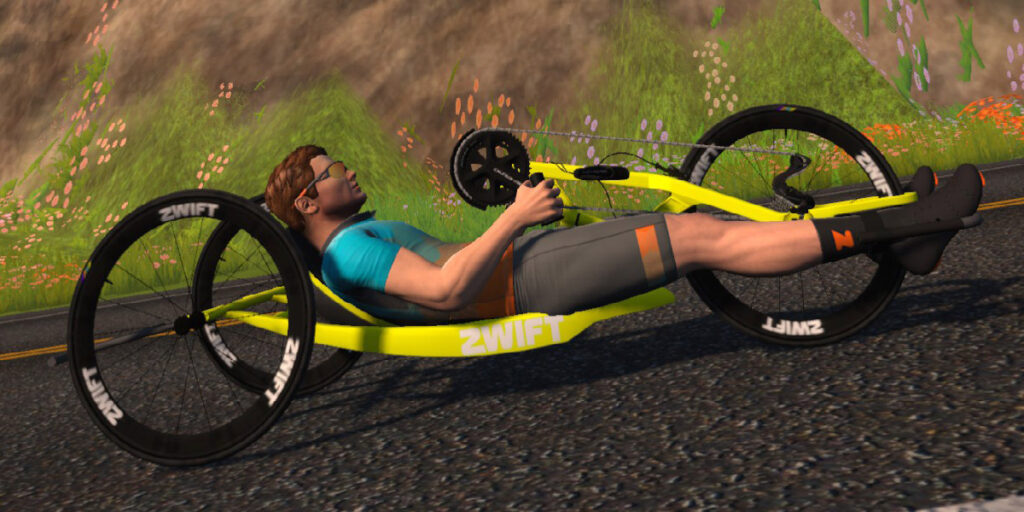 In contrast to its stellar aero performance, the Handcycle's climbing performance is quite poor. And this isn't surprising, given the high weights of typical real-life handcycles!
The Handcycle turns in an Alpe time of 56:07, which makes it the slowest frame+wheel combo in game. The next slowest is the Zwift Mountain bike at 55:51.
Note: all test results above are from a 75kg, 183cm rider holding 300W steady using Zwift's stock 32mm carbon wheelset.
The Wheel Wildcard
Speed testing the Handcycle is a bit different from our typical "frame only" or "wheels only" speedtests, where we isolate the performance of a specific frame or wheelset.
The Handcycle is a unit, like the Tron bike or all Zwift mountain bikes, where the frame and wheels are inseparable. So when we talk about the performance of the Handcycle, we have to compare it to complete frame + wheel combinations, just not specific frames.
By that comparison, as noted above, the Handcycle just barely outperforms (half a second faster over 50 minutes) the fastest road setups on the flats. What are the fastest setups on Zwift? There are four turning in the same fastest times on the flats. Choose from the Cervelo S5 2020, Felt AR, Specialized Venge S-Works, or Uranium Nuclear frames, then pair them with the DT Swiss Disc wheels.
Given the drafting details explained below, one might want to compare the Handcycle to the fastest TT setups in game. It is significantly slower there, turning in a time 95.5 seconds slower on our flat test course than the fastest TT setup (Canyon Speedmax CF SLX Disc + DT Swiss Disc wheels).
Drafting Details
The Handcycle is unique on Zwift because of the way it drafts and gives a draft to others. Specifically:
An upright bike cannot draft a handcycle
A handcycle can draft another handcycle
A handcycle will get half the drafting effect when drafting an upright bike
We've confirmed this drafting behavior with tests:
A Handcycle rider at 270W (3.6 W/kg) can stay in the draft of a road bike rider holding 300W (4 W/kg), since the Handcycle rider is receiving 50% of the typical draft benefit
A Handcycle rider at 243W (3.24 W/kg) can stay in the draft of another Handcycle rider holding 300W (4 W/kg), since a Handcycle receives the full draft benefit from another Handcycle. These numbers basically line up with what you'd see if both riders were on road bikes.
A road bike rider on the fastest setups (such as a Venge S-Works + DT Swiss Disc wheels) must hold 300W (4 W/kg) to keep pace with a Handcycle rider holding 300W (4 W/kg), since the road rider receives no draft benefit
Should You Use the Handcycle?
There's one last question that needs to be discussed: should Zwifters who are riding upright, leg-powered bicycles be using the Handcycle in game?
Zwift says "Handcycles are available to all, but they're intended for Zwifters using handcycles on their trainers. Thanks in advance for keeping that in mind."
Leg muscles are much larger than arm muscles, so powering Zwift's virtual Handcycle with your IRL legs simply isn't realistic. For reference: the current world record holder for the fastest handcyclist told us that in no time during his training did he hit 700W.
Furthermore, it's simply bad form. One hand cyclist wrote in to us recently on the topic of leg riders using the Zwift Handcycle and said, "Now, when we finally have visual representation, we are still far outclassed by leg riders because they are not riding the handbikes as they would IRL – using arm-level power."
Here's how we see it: if you want to test the Handcycle (powered by your legs) in a casual ride or two, that's no big deal. But on an ongoing basis, and certainly in competitive events (hard group rides, races), leg riders should stay off the Zwift Handcycle. It's just the right thing to do.
Conclusions
In our opinion, the Handcycle performs the way it should in Zwift. Like an IRL handcycle it is quite aero, but also heavy. Zwift's drafting dynamics for the Handcycle make it not a good option for leg-powered racers looking to "cheat the system", and that's a good thing since there's no easy way for Zwift to determine who should have access to the Handcycle and who shouldn't. Consider the following race scenarios:
TTT: a TT rig is faster than the Handcycle, and receives full draft off other bikes thanks to Zwift's latest TTT improvements
TT: a TT rig is faster than the Handcycle
Scratch Road Race: the Handcycle will only receive 50% draft benefit off road bike riders, so you'll be working extra hard while only having the aero performance matching what many other racers are using (fastest road frames + DT Swiss Disc wheels)
The only time the Handcycle could be seen as an advantage in a race is if you plan to ride off the front early, solo (or with another handcycle) and stay away for the duration of a very flat race. In that case, since road bikes can't draft the Handcycle, it would be the best machine to have. But it's nearly impossible to stay away from even a small pack of riders for an entire race, and you'll probably get called on cheating if you're matching the power of strong leg-powered riders!
The Handcycle will be added to the following posts, and it can also be found on our Master Zwift Frames List:
Questions or Comments?
Share below!
Important note: this post contains speed test results for Zwift frames or wheels. These results may change over time, and a bike's performance relative to others may also change. We don't always revise posts when performance rankings change, but we do keep current, master versions of our speed test results which are always available. See the frame charts, wheel charts, and Tron vs Top Performers for current performance data.