I'd likely be a lazy, chubby mess if it weren't for community and the prospect of fun. Case in point? Thrice I failed the quest to earn my "Unemployed" badge on Zwift; only accomplishing it once I turned it into a game I'd tell the community about.
The plan was to somehow incorporate the day of the challenge with something I'd do during that day's challenge. For instance, "Day 10: Ride 10 laps of the Volcano Circuit." I asked Zwift Insider followers on Facebook if they had ideas for each of the days. Many people chimed in, with a handful wanting me to ride up Alpe du Zwift some ridiculous amount of times because apparently some of you want me dead. I did get some fun ideas, though, so here's how the two weeks played out. If you're looking to get your (what I now call) "fUnemployed Badge" you might try some of these!
Day 1: Ride the 1st custom workout Eric ever made for me. It was a 30 minute workout called "Slimmervals" and was HIIT. I'd forgotten about it and may add it in this summer after making it a bit longer now that I'm stronger than I used to be. The pain during the High Intensity parts wasn't fun, but the accomplished feeling I got at the end was!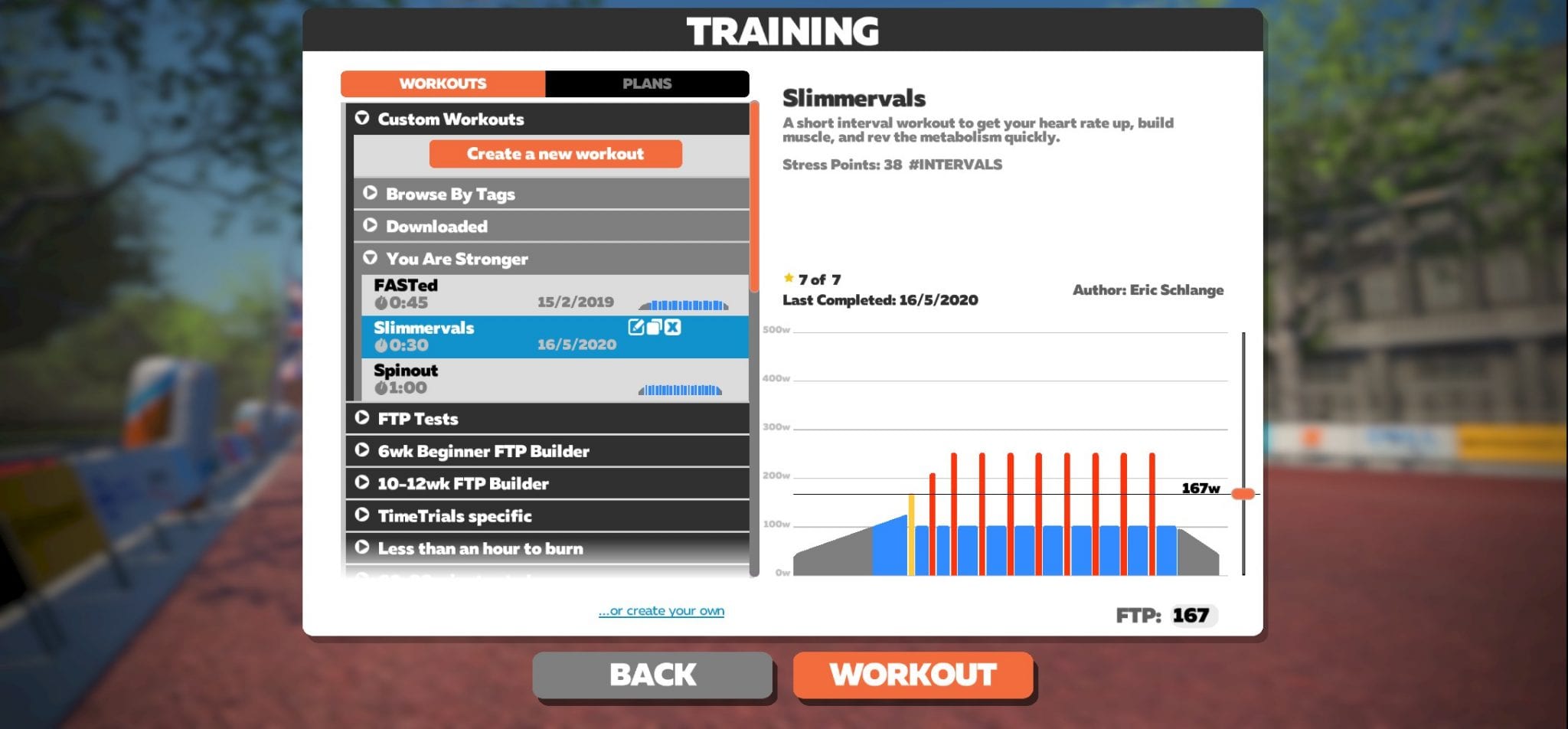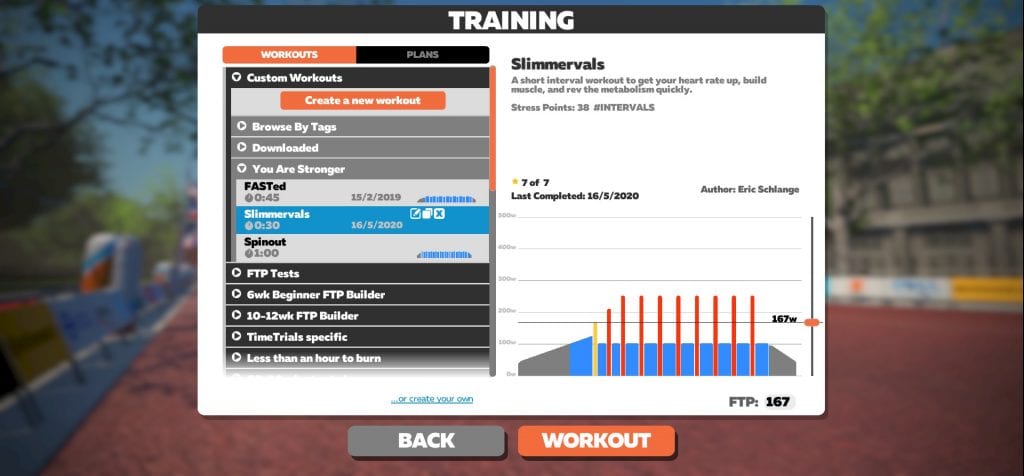 Day 2: Ride "Two-er of Two-it Well" Haha! This one came from ZI reader Hamish E K Greagor. I had to use ZwiftHacks' Zwift-Preferences to world hack into Yorkshire since it wasn't on the schedule that day. The bonus to that was there wasn't a lot of competition for the jerseys and I ended up getting two!
Day 3: Ride Triple Flat Loops Rebel Route. Best part about this? For the Triple Flat Loops Rebel Route Strava Segment I got 10th woman in the world! Well I've already been kicked from that placing, but ladies: go ride this route and see if you can make top 10! There are only 16 women who have ridden it. (This one was inspired by ZI reader Kiersten Kotronis.)
Day 4: Listen to episode eighty-FOUR of the Zwiftcast and sprint every time Simon speaks. This was a brutal one as I never knew when or for how long Simon would talk. After a bit I did learn to somewhat predict when his golden tones would dance through the speaker next, but then would forget to stop sprinting when a guest was on. This was a fun and distracting workout! And especially amazing as this Zwiftcast special was a twenty-FOUR minute episode featuring Zwift community members. Love that!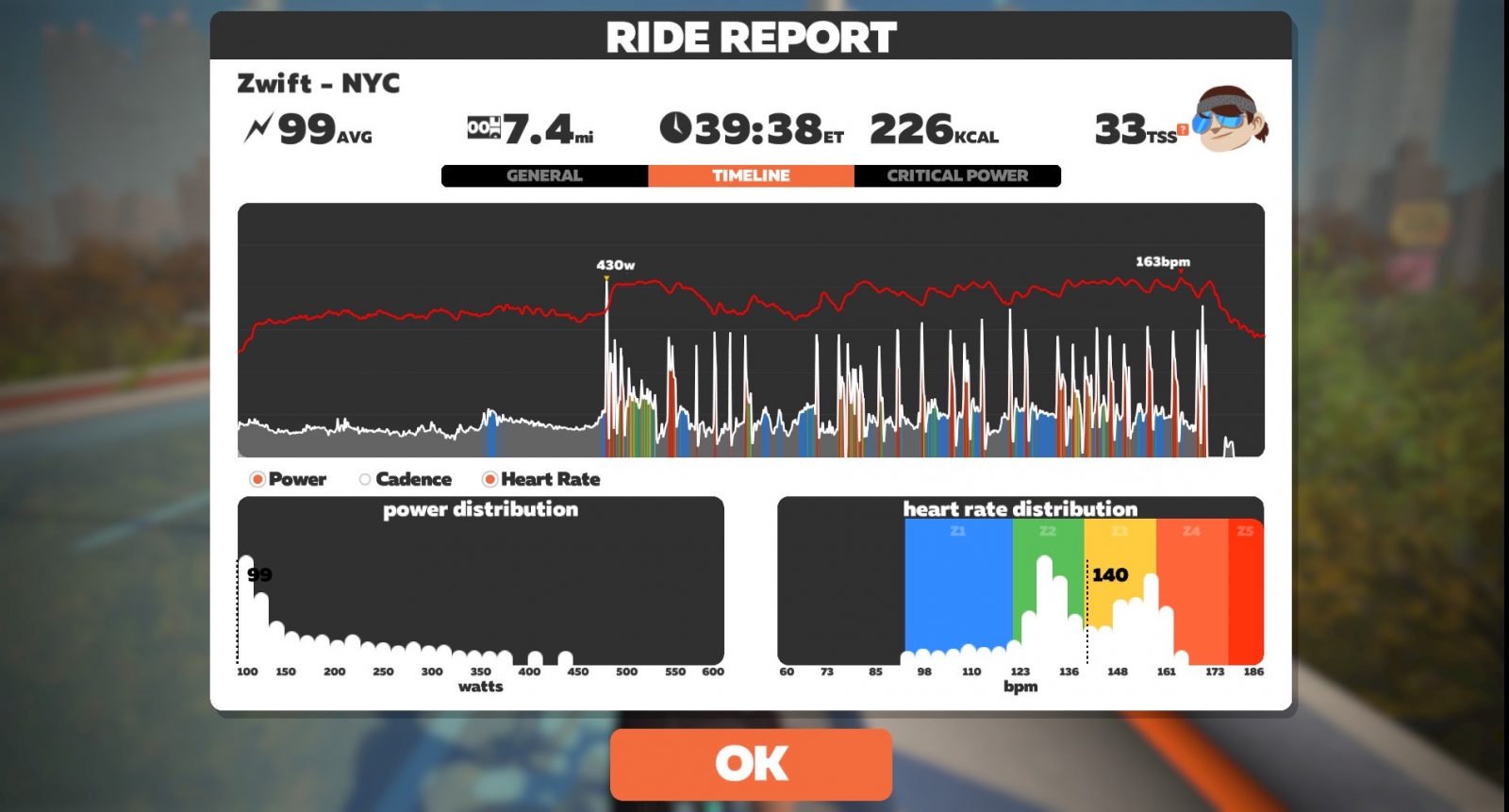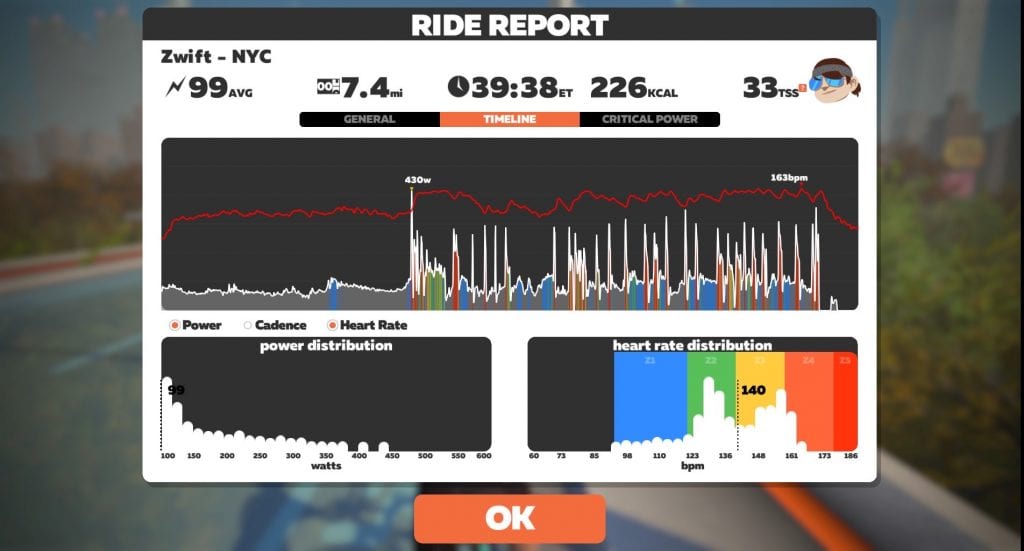 Day 5: Ride 5km. Officially, Zwift has said you have to ride 10km each day to get the Unemployed Badge, but we'd heard rumor you can ride 5km or fewer and still get it. I was scared this ride wouldn't count. But it did!
Day 6: Ride with 6th Zwifter on my list. This one was suggested by ZI reader Pamela Levine and it was a great idea as it made the whole thing feel like a fun mystery. A gal named Wendy Tuck was the 6th Zwifter in my list and after the pedal assist was done she dropped me like a hot rock! Sheesh, that woman is strong! Anyway, I decided I'd ride 6 miles, and am so glad I did as the 6 miles ended just before the steepest climb in Yorkshire! Thanks for starting when you did, Wendy! You saved me from that climb!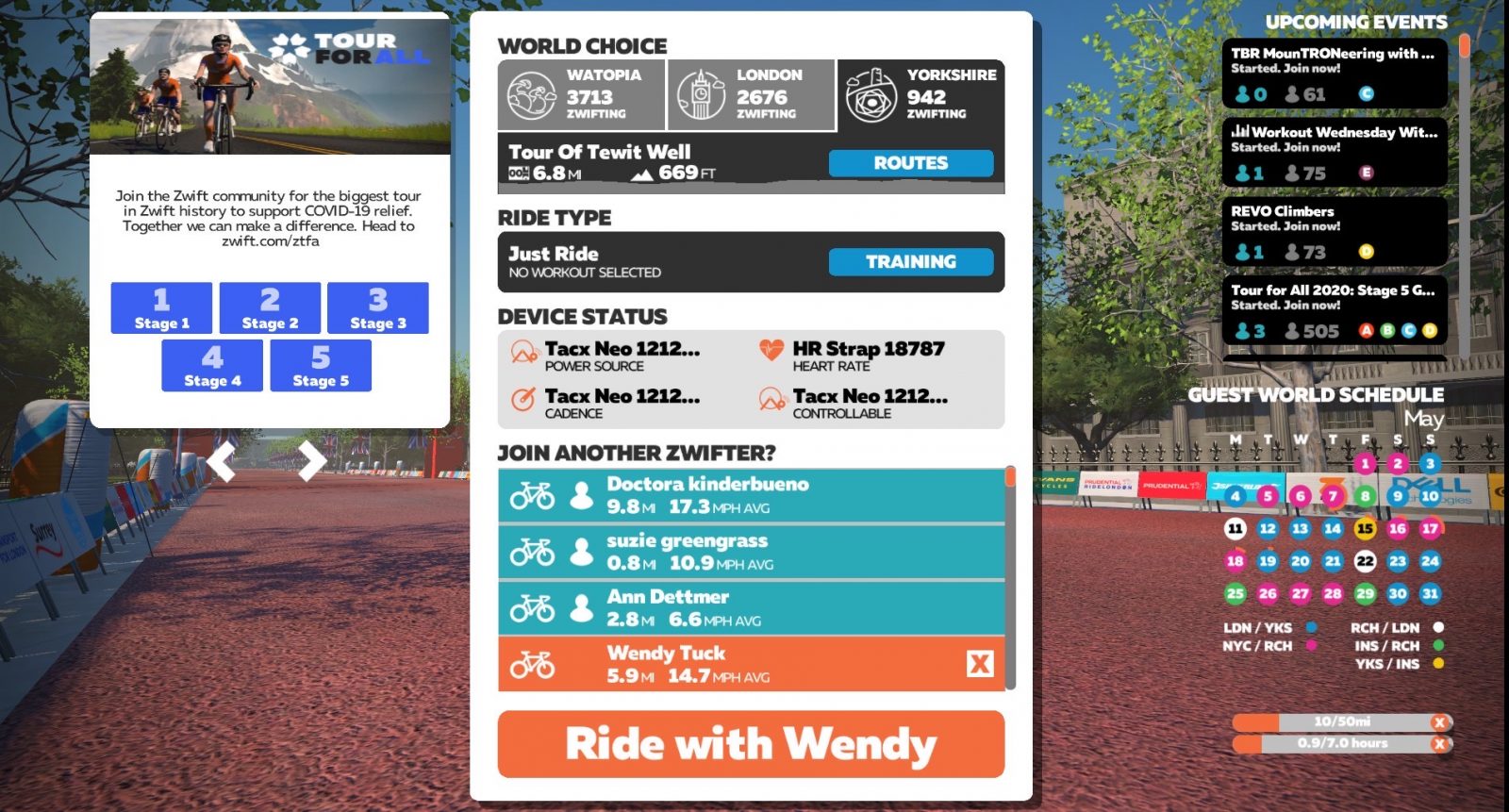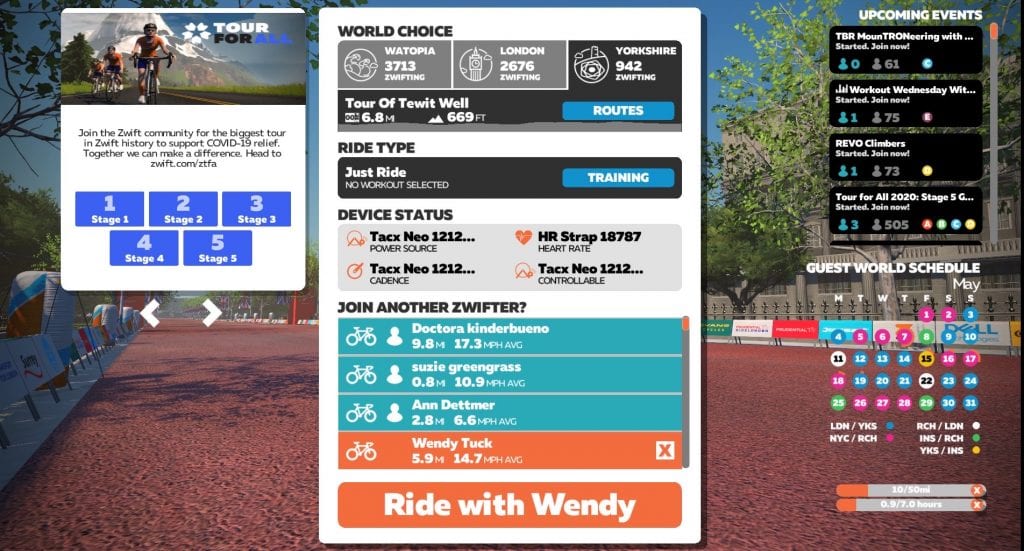 Day 7: Race on Crit City before 7am. I hate to race, but I'd never ridden in Crit City before and since you can only ride it if you're racing… My race prep included reading Eric's Downtown Dolphin route tips and Scott Lynch's Cat D experience. When my kids asked how I did, it turned out to be quite a complicated answer: "Well I got 43rd out of 76 people, but only 60-something finished… but around 30 people who finished in front of me were too high for the Cat D Race… and it said I was 3rd out of the 7 women who raced it… but ZwiftPower said I got 4th out of 12 people… but two people in front of me were classified as 'almost C cat' or something… and I never saw any of them in the race… so maybe they were able to hang on to the sandbaggers that pulled them to the finish… and ZwiftPower says I was the top woman… so, yeah I guess I basically won." In other news, I love that route!
Day 8: 8 miles of London 8. Turns out I ended up with 8 eights this day! 8 miles of London 8; climbed 328'; burned 189 calories; kept HR under 138 (recovery ride); rode for 28 minutes; averaged 85 watts; clicked over to level 38! Apparently 8 is my lucky number! (Another one inspired by Pamela Levine.)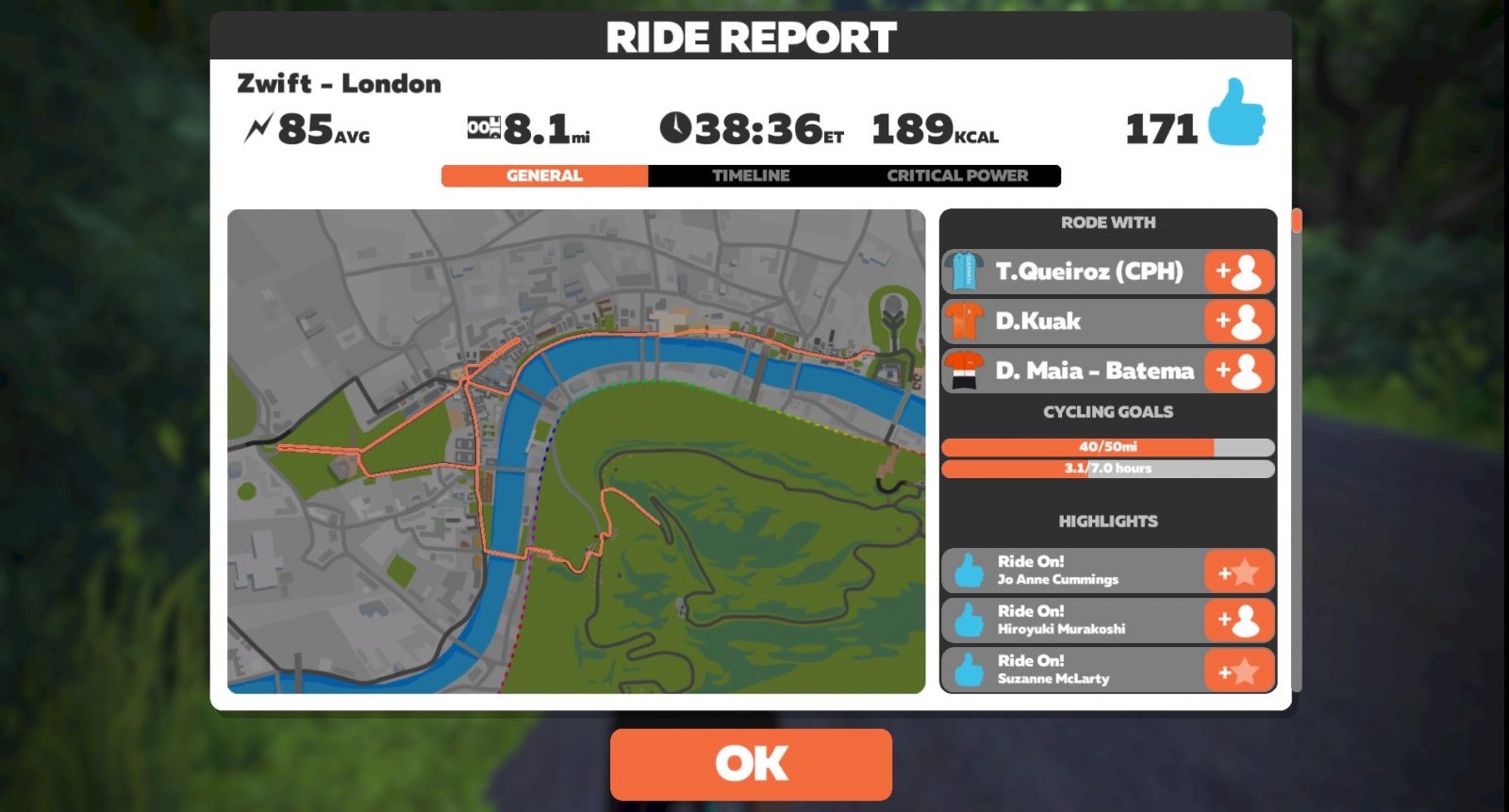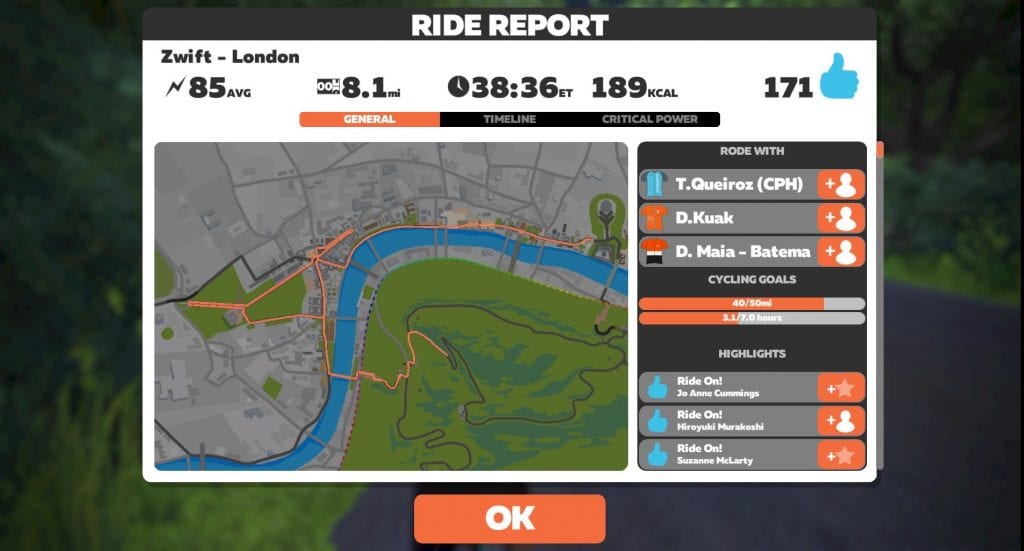 Day 9: Ride the first route that has 9 letters in its name at 9pm. The first 9-letter route listed on our Route List was Flat Route! Woohoo! Since it was short I did 9 miles of it, which happened to bring me to riding 49.9 miles for the week. Then I laid awake for way too long after riding that late at night. Oops.
Day 10: Ride the Mighty MetropoliTEN. I had to world hack in to New York, which meant I took another women's jersey since it was pretty quiet that day. I also got a 30-day PR at the KOM!
Day 11: 11 gears, 11 seconds each gear. This one, inspired by ZI reader Steve Okker, was fairly confusing and pretty brutal. I rode Tempus Fugit because it's flat. And because I didn't use an app with a recurring timer I had to pay close attention! I started out with my easiest gears, front and back, and every 11 seconds I'd shift to the next hardest gear. Once I completed the small ring I shifted the front to the big ring and then back to the easiest gear and slowly made my way up again. Once done I then went back down in the reverse way. My knees weren't very excited about the hardest gears so I tried to keep my cadence up. 11 seconds feels like 11 minutes when you're in the big ring!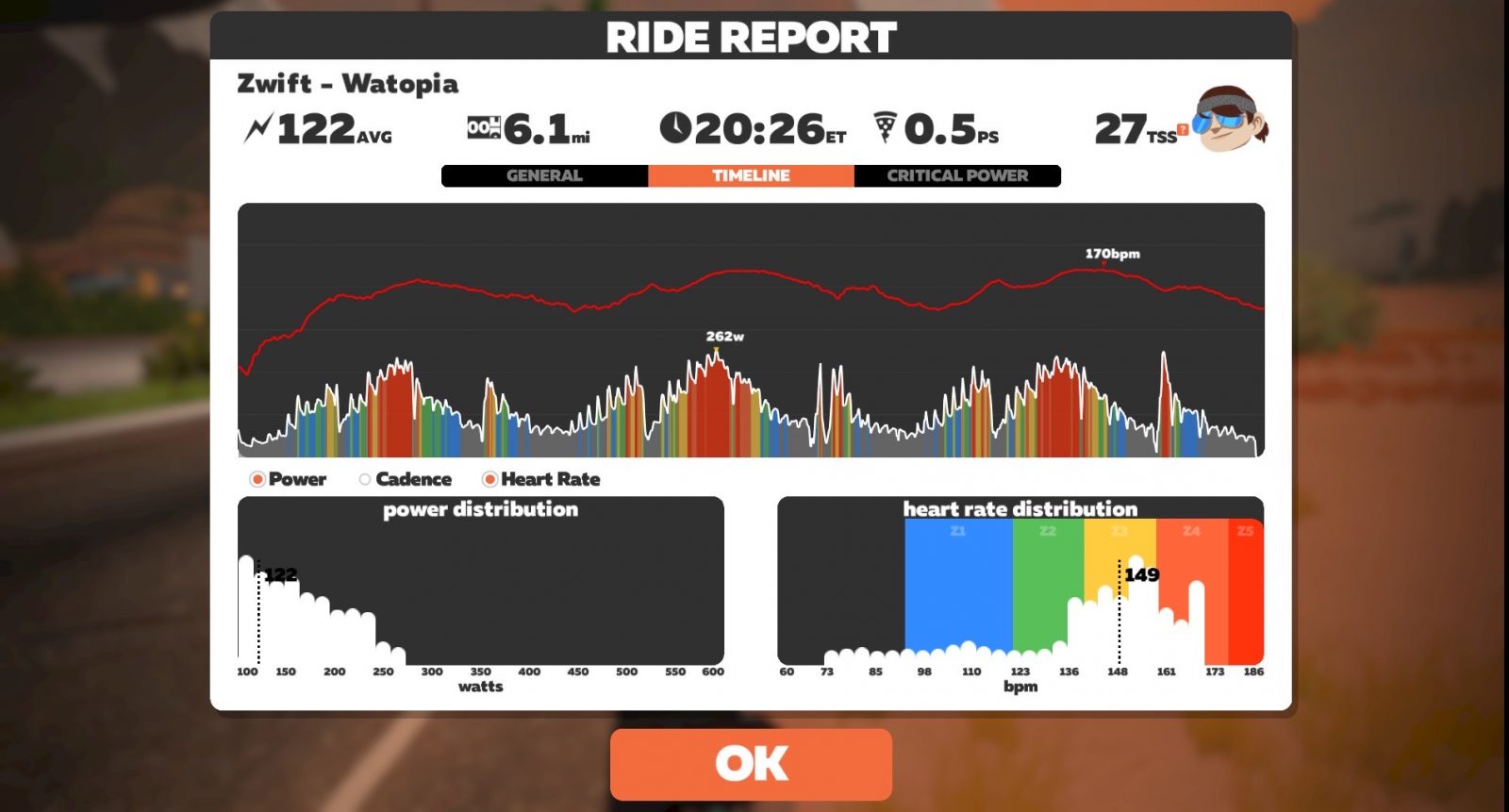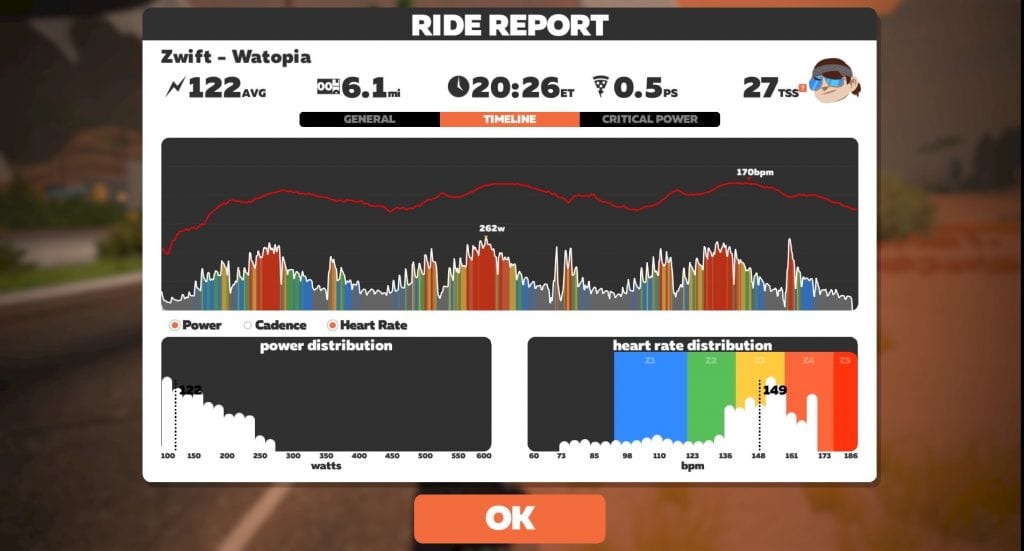 Day 12: "One Dozen Everything Bagels, to go, please!" I rode the first 12 miles of the Everything Bagel route in New York. I was toast by the end!
Day 13: Inspiration from GPLama's 13th YouTube Video. I watched Shane Miller's 13th YouTube video listed and at the time it was his Swift Zwift Tips about the May Mission. As I still needed all of my mountain bike miles for the mission I decided to ride Repack Ridge on my S-Works MTB. I was terrible at it as my steering was just me leaning on my rockerplate while my phone was attached to my handlebars. 5 out of 10 stars on the route! But it was really fun to do, and a great distraction! Thanks GPLama!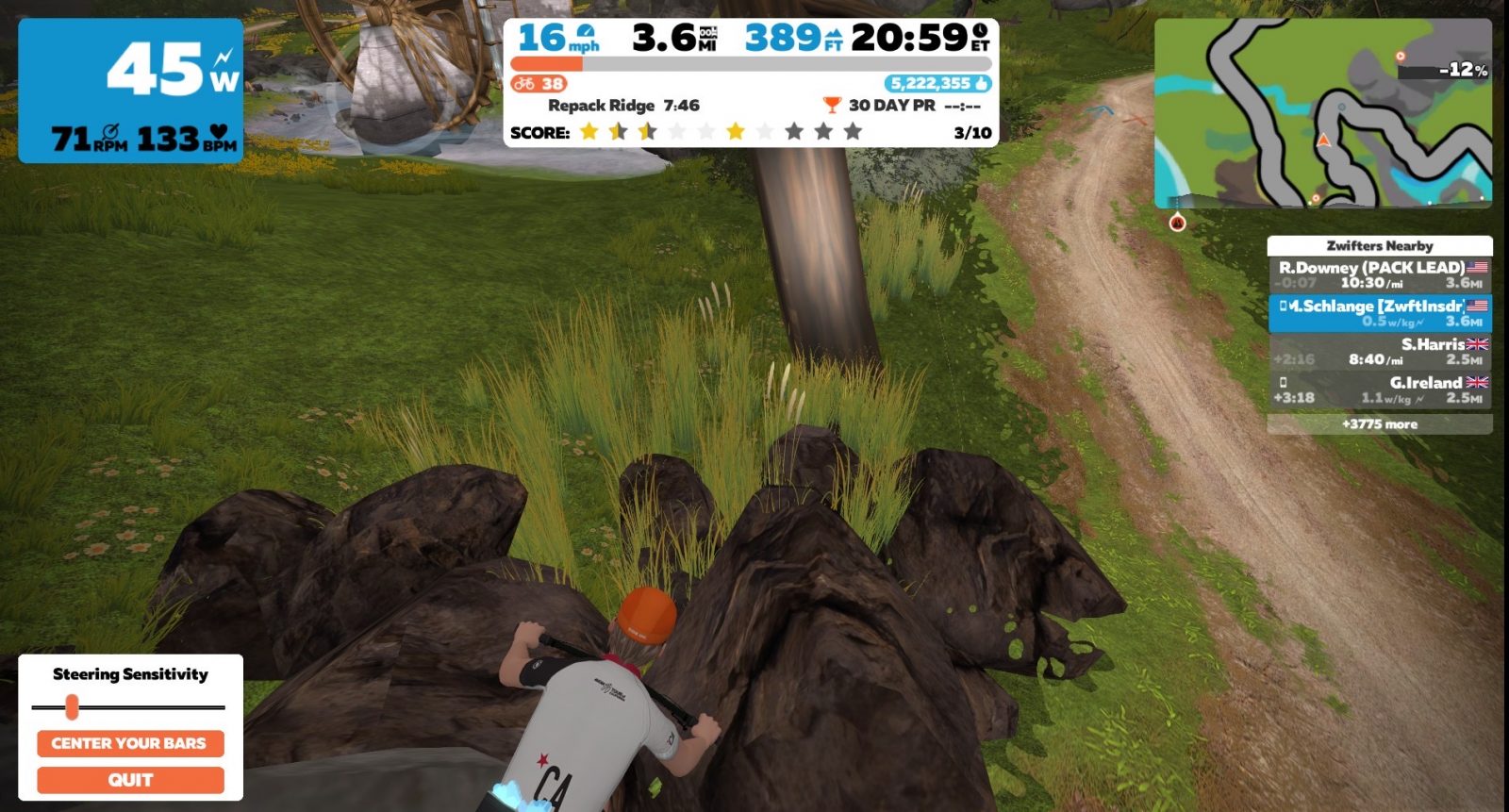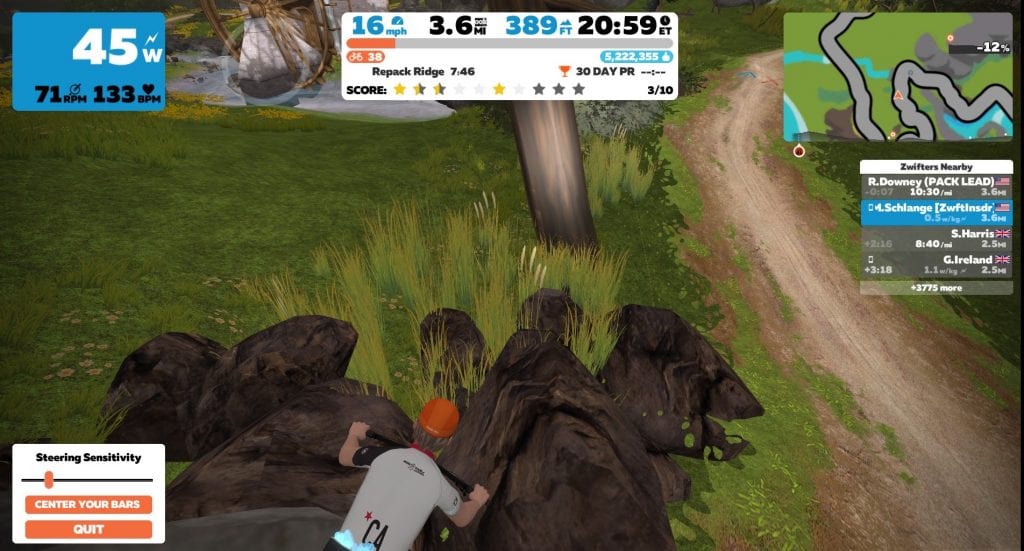 Day 14: Gain inspiration from Nathan Guerra's 14th video at Zwift Community Live. Nathan is my favorite Zwift race commentator so I found the 14th video on his ZCL Facebook page. It was Tour of the Gila Stage 1 TTT over Sand & Sequoias, so I rode 14km of that route on a TT bike. Bonus idea I thought about after I was done was to play the video during my ride so it felt like he was commentating on a race I was in!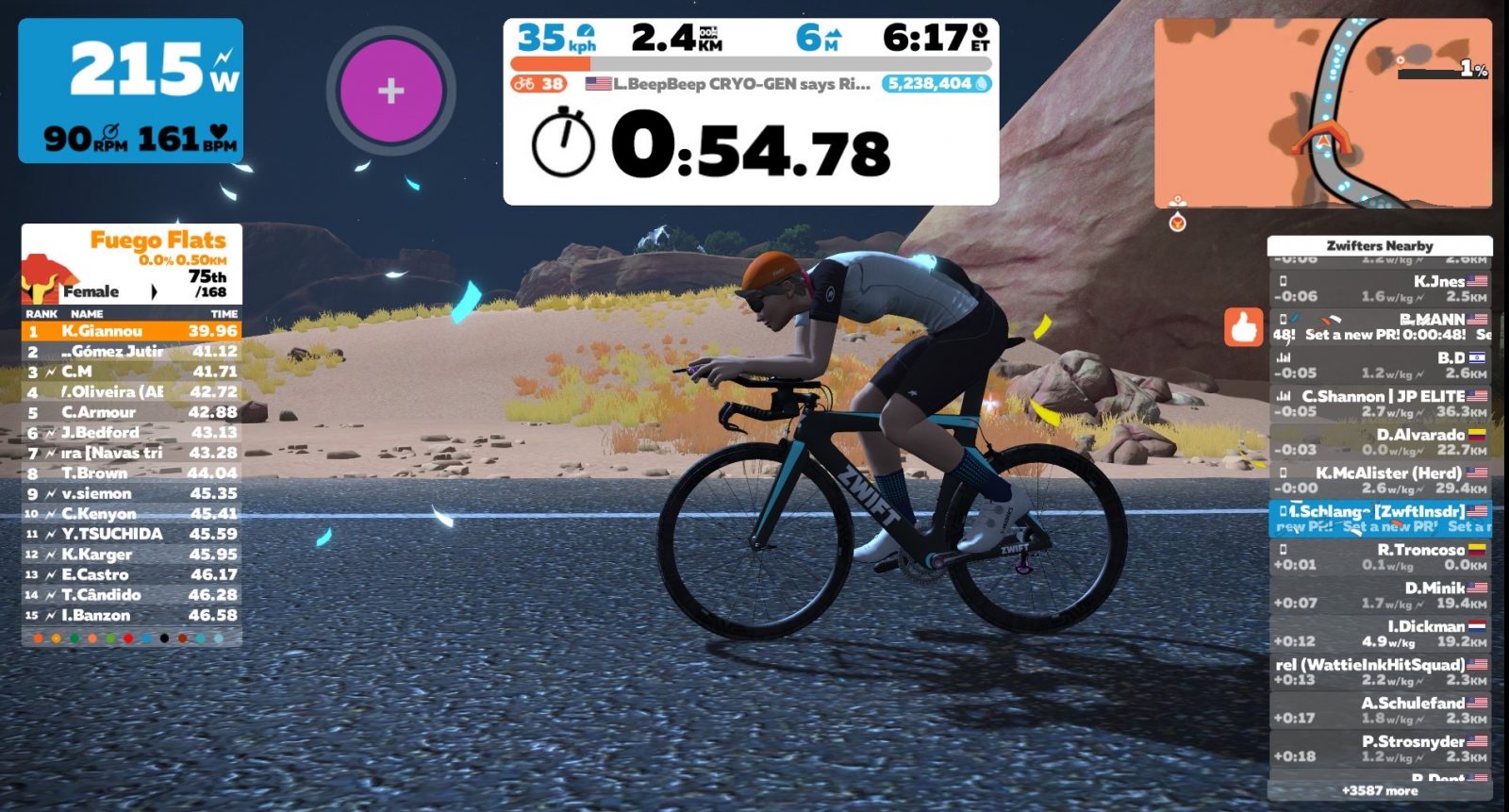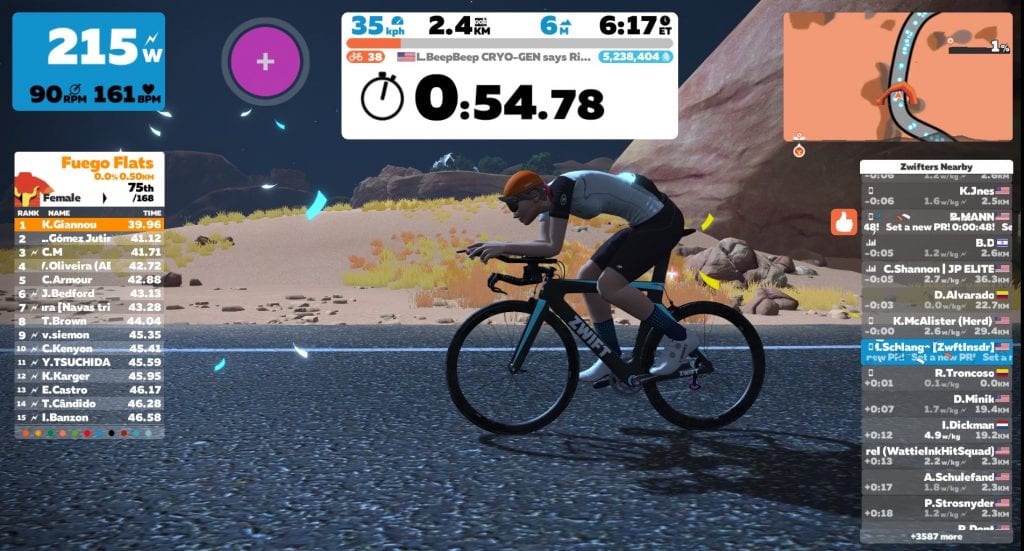 After my Day 14 ride I logged back in and my "Unemployed" Badge showed up! This was a fun way to do this. If any of these rides inspired you, let us know what you rode and how it went! I am now officially "fUnemployed!"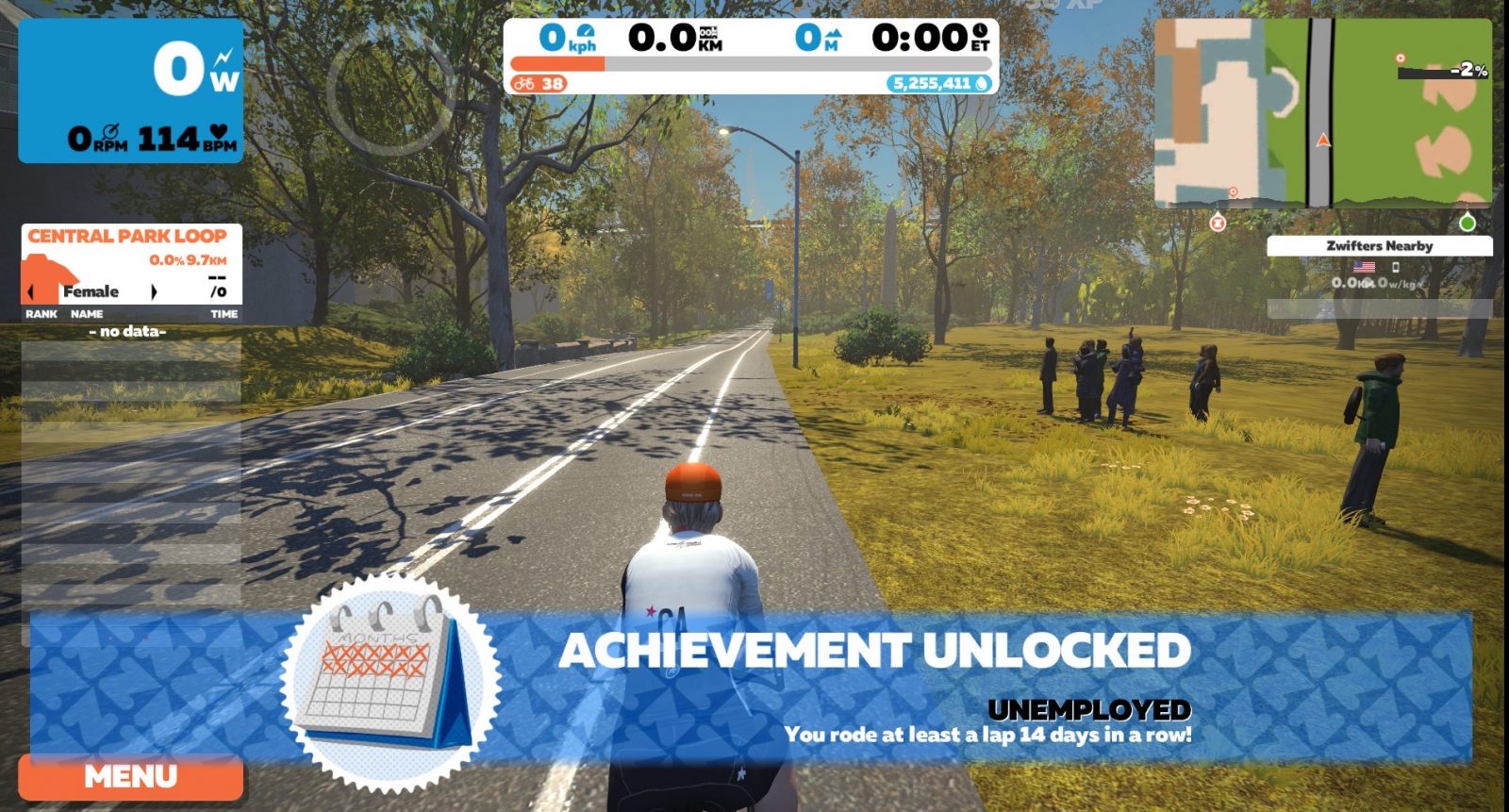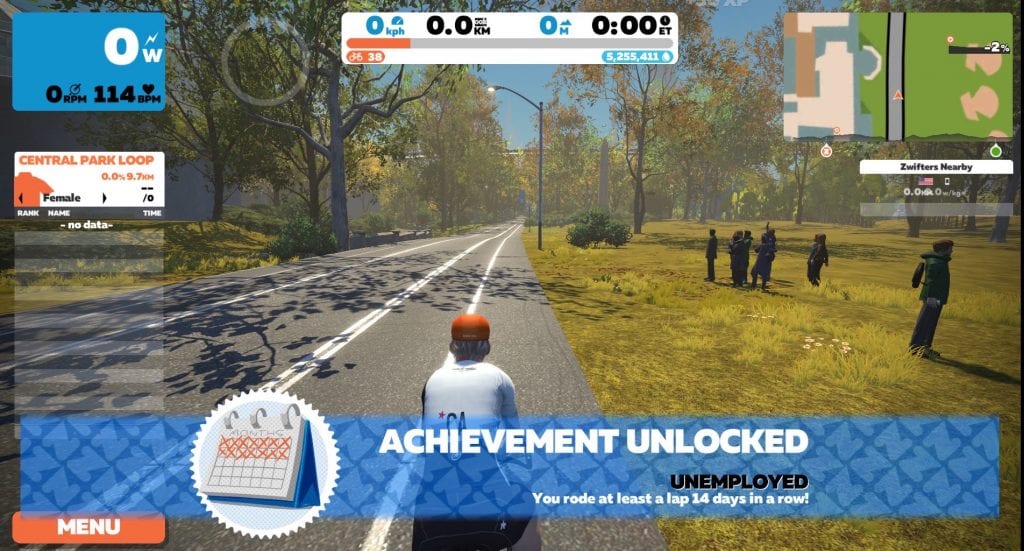 Questions or Comments?
Share below!