I raced exactly one day on the road in 2020. I was about six weeks out of the hospital following a career threatening training crash and rehab and I pinned on a number for the Tour of Murrieta crit in Southern California. It was exactly what I was looking for: uneventful. I felt capable and comfortable in the pack again and that was enough.
Maybe I would have raced harder knowing it was also the last race of the season as well as the first.
Finding Myself in an Empty Year
After my wife Emily, my dog Knox and I settled back in at home in Canada a couple weeks later I spent most of my time searching for something that wasn't there. I needed to find something to work on and apply myself to. I thought about trying to get back into some of the menial but satisfying construction work I had done in past off seasons. I thought about going full time with my coaching business and engaging some of my post-retirement plans ahead of time. But I knew I couldn't go down those roads.
The combination of my accident and the pandemic served to scrape away a layer of uncertainty about my identity and my career as an athlete. After my crash, I was in and out of the hospital three times over six weeks inDecember and January. Each time I got on the trainer as soon as they would let me and started pedalling. We were in mandatory isolation with six feet of snow piled up on the ground and no racing in sight and I was back in the garage putting in the work on Zwift the second day. I knew that I couldn't lock my cycling career down for the year. I had to find competition and ambition somewhere.
Racing Nowhere Fast
In April our Elevate-KHS team was invited to race a Zwift series of stage races hosted by the Project Echelon team. The races would loosely replicate national racing calendar mainstays like Tour of the Gila and Joe Martin Stage Race. It was a process, but we rallied the troops and learned the basics of team time trialing, Zwift draft dynamics, and strategy. Even for me, a Zwifter since Jarvis Island, it was a steep learning curve since I hadn't raced on the platform since 2017.
Against steep odds, we rose to the challenge and I ended up second on the Gila queen stage and the team backed me to overall victory in the Joe Martin event. It took everything I had to compete with top-level Zwift teams like Saris-TPC and Vitus and that was exactly what I needed.
Read my story of the Virtual Tour of the Gila
Read my story of the Virtual Joe Martin Stage Race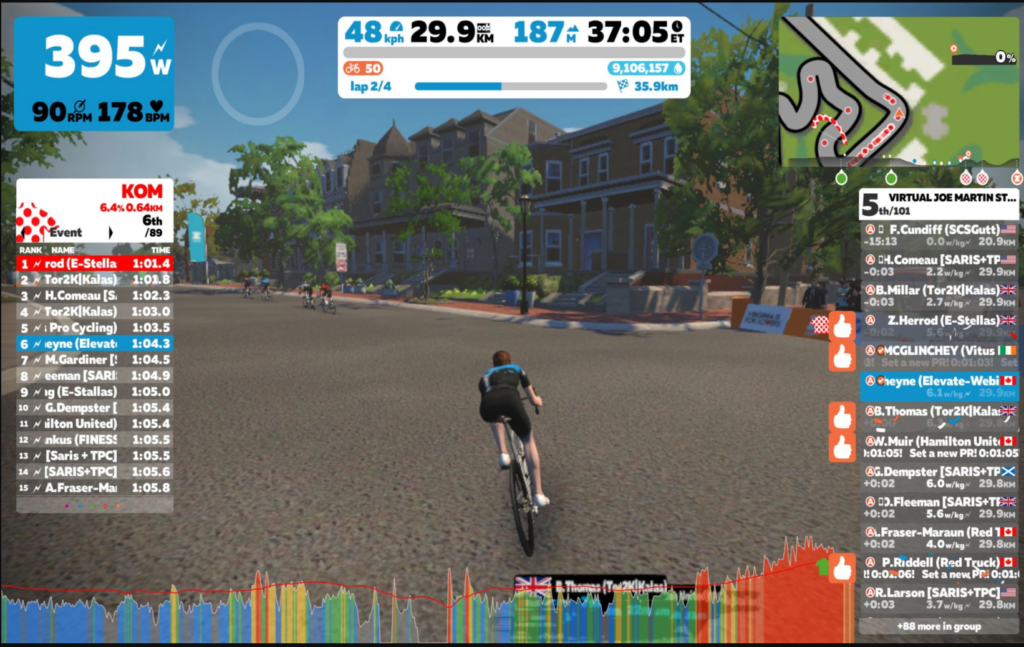 Where Do You Go From Here?
That run didn't last very long. The Echelon series petered out as outdoor riding weather bloomed in the early summer and the finality of our scrubbed 2020 pro calendar set in. So, I asked around with some of the top e-racing teams: "How can I progress into the top Zwift Invitational events and series?" There was no good answer, the top teams were full and the e-racing season doesn't often make stops to let new riders aboard.
I struggled against that but eventually relented and moved on to different challenges. I did some epic rides with my riding buddy Deon, doing my first 300k and riding in stunning new places. I Everested and broke the Canadian Record in a delightful low-key sufferfest. I paced a couple of talented young local riders to take some ridiculous KOMs. It all kept me going until summer faded into fall and all the big rides and searing climbs had been ridden.
Better Late than Never
I almost came to terms with begrudgingly stepping away from the bike for the year. Usually by late September my mind is so exhausted from the pressure cooker of the season I look forward to that step. Not this year, I still felt like something was missing and I kept looking for those puzzle pieces so I could call it a year well ridden.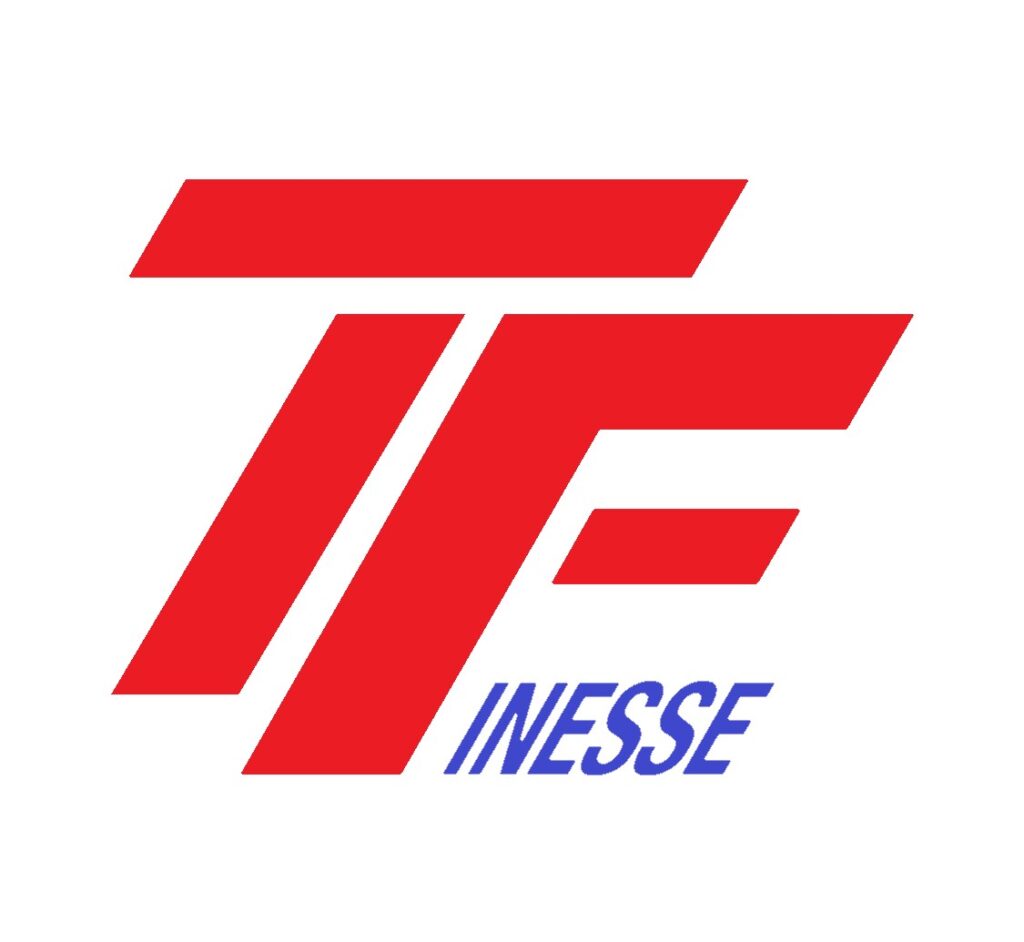 I had been in contact with the Finesse-Wahoo e-racing team through the summer trying to find more racing and suddenly there was a big opportunity. The new Zwift Racing League (ZRL) was starting, offering weekly top-level races in a team scoring format and the chance to move up into the coveted Premiere League if the team won its division. Teamwork, competition, and progression – it was all there, the ingredients to my motivation as an athlete. I fired up the Wahoo KICKR and joined the team formally for the season.
Just days after the first event, which Finesse Wahoo dominated in a landslide win, I got an email from Cycling Canada confirming my selection to the inaugural Zwift UCI Cycling ESports World Championships in December. It was another big chance to work and perform at my best level. Finally, the 2020 season was on.
Taking It On
I have to be honest, I wasn't ready for either of these big challenges to begin with. The Worlds course and most of the ZRL races are full of punchy and anaerobic efforts and that doesn't suit my natural strength as a climber and TT rider. I have spent the last 5 weeks training myself to be sharper than ever and learning the subtleties of high-level Zwift competition so that I can actually make a difference with my strength in races.
The Finesse-Wahoo team has been tremendously helpful and it as an added bonus we have been winning big. We pulled off the rare breakaway win in last week's ZRL race in New York and won the last TTT by almost a minute. Commentators are beginning to call Finesse "America's Team" and I'm proud to be apart of that.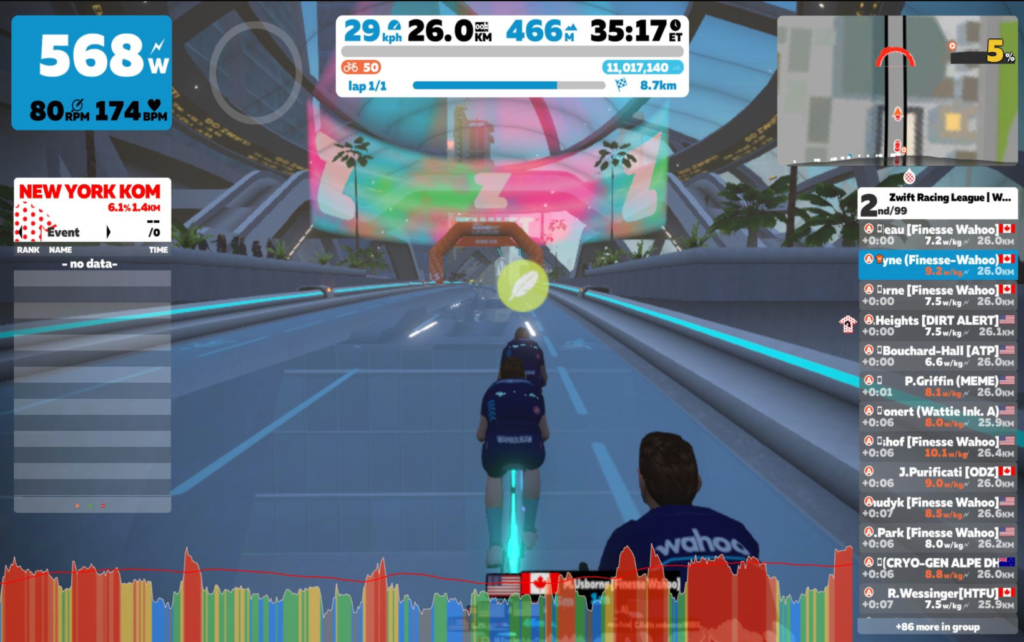 I am going to start writing regularly about my dive into the deep end of Zwift Racing as it unfolds. Everything from my specific training, to Worlds practice events, to our team's ascension in the Zwift racing ranks is moving quickly. For now, I am happy to be back where I belong in this sport: pushing the limit and building to something bigger.
Questions or Comments?
Got questions for Jordan, or comments to share? Post below!