We recently published an article sharing Zwift's hidden PowerUp "grant locations". Then details for Tour of Watopia 2023 were released, and we learned that Zwifters would be receiving extra powerups at new grant locations during the Tour.
Yesterday Zwift released a minor game update, and we started hearing reports of new powerup grant locations in Watopia. After chatting with Zwift, we learned that the Tour of Watopia's additional powerup grant locations are now in game, and will probably remain throughout the month of March.
Where are the new powerup grant locations? There are 13, indicated by arrows in the image below: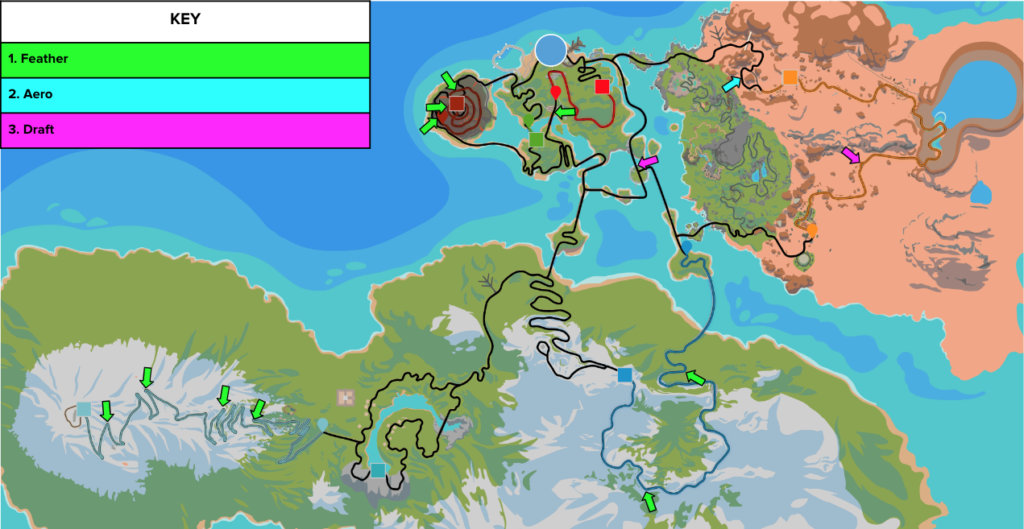 Here's a list of Watopia's new (and temporary) grant locations:
2 on Fuego Flats: one at the first turnaround, and the second between the Oasis and Saddle Springs
1 on Ocean Boulevard at the Sequoia Circle intersection
1 just before the start of Hilly KOM Reverse
3 on the Volcano KOM: one at the start, another at ~1.3km, and another at ~3km
2 on Epic KOM: one at ~2.7km and another at ~6.8km
4 on Alpe du Zwift: at turns 15, 8, 6, and 2
Note that the type of powerup indicated on the map above only applies to Tour of Watopia. If you are free riding or in an event, these grant locations will act like any other powerup banner on course.
For Ride Organizers
Zwift says if you're organizing a ride in Watopia and don't want participants to receive extra powerups you'll need to move your event off of Watopia or contact Zwift so they can add a special tag to your event which blocks these extra powerup grants.
Questions or Comments?
Post below!