Our goal: to transform a 265-pound rookie rider with a tested 1.92w/kg FTP into a cat C Zwift racer (2.5w/kg+) in 6 weeks.
The first week was mostly about orientation and baseline testing, the second week about building endurance and improving form on the bike. In the third and fourth weeks we started pushing the endurance Boone was building, working to keep the watts higher over the duration of the ride. And in the fifth week things got tougher, with V02 workouts making their way into the mix.
Now the final week. It would have a bit more VO2 work, plus some racing and testing to measure progress. Would we achieve our goal? Only one way to find out!
The Plan
As a reminder, here's the basic plan we settled on for the 6 weeks. (Many thanks to Alan Dempsey of HPP Coaching for giving us solid advice that sets Boone up for success).
Week 1: Benchmark testing + Endurance
FTP test, attempt first Zwift race, and get some time on the bike
Weeks 2-4: Endurance + Cadence Work
Lots of work from low zone 2 to mid zone 3, with some high-cadence drills to train the legs for efficient pedaling
Weeks 5-6: Endurance + Intensity, Finishing with Benchmark Testing
Start with similar rides as weeks 2-4, with some VO2 and threshold efforts included in short durations. Toward the end of week 6 we'll do another FTP test and Zwift race, so we can compare progress from week 1.
Ride #21: VO2 Workout, Aborted
We had high hopes of completing one more tough VO2 workout at the start of this final week, but it didn't really work out, probably due to several factors…
First, Boone's FTP had been bumped up from 250W to 257W – so the intervals were at a higher wattage. Then we added 15 seconds to his 3-minute VO2 intervals. He had done an FTP Ramp Test the day before, so his legs might have been feeling that effort still. And on top of that, ERG mode was misbehaving at the start of the workout (a reboot fixed things).
His first 3:15 interval was a struggle. And the second interval took all he had. After that we just binned it, and Boone rode around Yorkshire, enjoying the sights and getting in some saddle time. Today wasn't the day for a tough effort, but he could still get some riding time in while working on his cadence and endurance.
Ride #22: New Hour PB
We wanted to see how long Boone could hang with C. Cadence, so on Wednesday he headed to Fuego Flats to spin and warm up his legs. Our plan was to hopefully come across Cara's group after a bit of a warmup, then just hop in and go.
This actually worked out nicely, and Boone was pushing some decent wattage when Cara finally came through. Boone held onto her group for the rest of his hour-long effort, setting new power PB's in the 23 minutes + range, including averaging 223W for the full hour. He also rode further in this ride than any previous, covering 23.2 miles.
While he rode I logged into Boone's account in Zwift Companion and handed out Ride Ons to the C. Cadence group, resulting in lots of unlocks (and XP bonuses).
Ride #23: Crit City 8-Lapper
With just a few rides left in his final week, Boone and I were both itching to see him test his newfound fitness. So on Friday, Boone joined an event which he hadn't tried before: a Crit City 8-lapper (he had only done 6 before), in the Bell Lap direction (he had only done Downtown Dolphin before).
First he warmed up with an easyWatopian spin, and I adjusted his weight down once again. (He'd been watching his calories closely, and enjoyed dropping his in-game weight regularly!)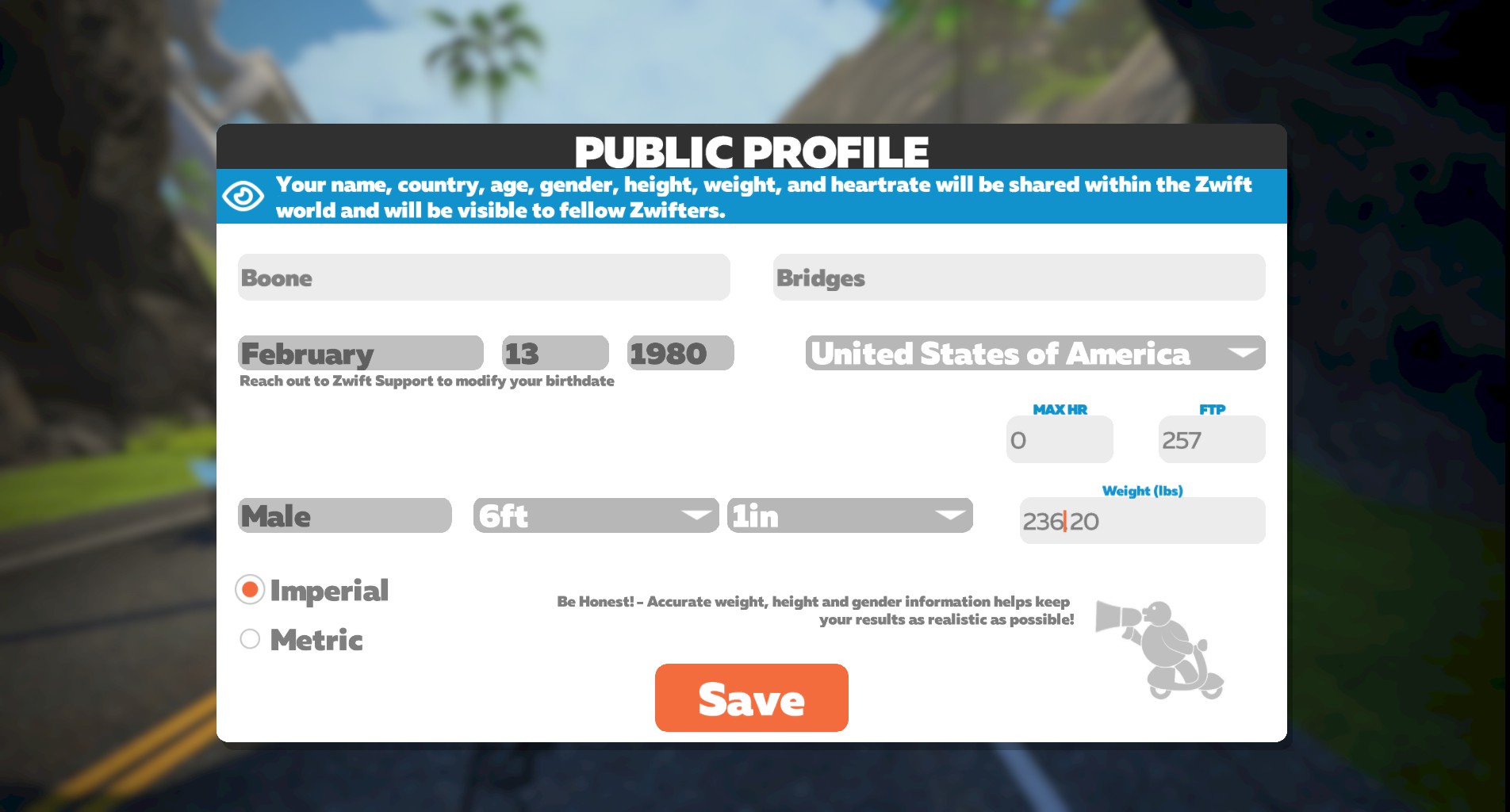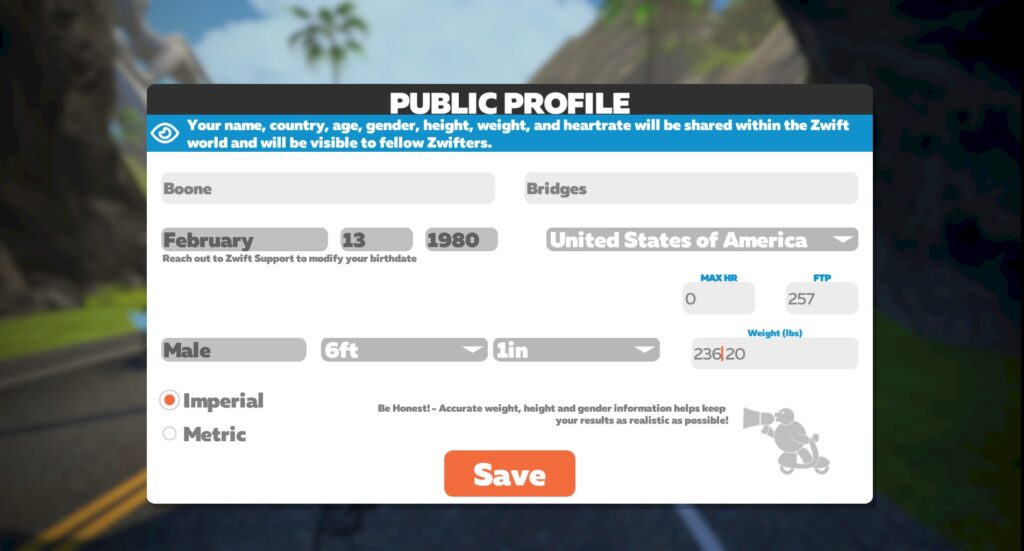 Before the event I did a bit of poking around ZwiftPower to survey Boone's competition. I came across one noteworthy rider: Lukas Reischl. Lukas stuck out on the signup list because he had the best ranking, but when I clicked his profile he really stuck out. Nearly every event in his recent list was a Crit City D race that he had won! (14 races in 2021, 10 of them are 1st place finishes in Crit City).
Now, we could discuss how it's probably time for Lukas to upgrade to the C's so he can push himself to new levels of fitness – but that's a topic for another post. What was important for us was that Lukas seemed to be very similar to Boone. He's a big dude, with a strong sprint. And he knew how to win. I told Boone, "This is the guy to mark for the race."
41 D riders started the race, but within the first 2 minutes the front selection was made – and Boone was in it! 7 riders worked to build a gap on the chasers, and the seconds added up.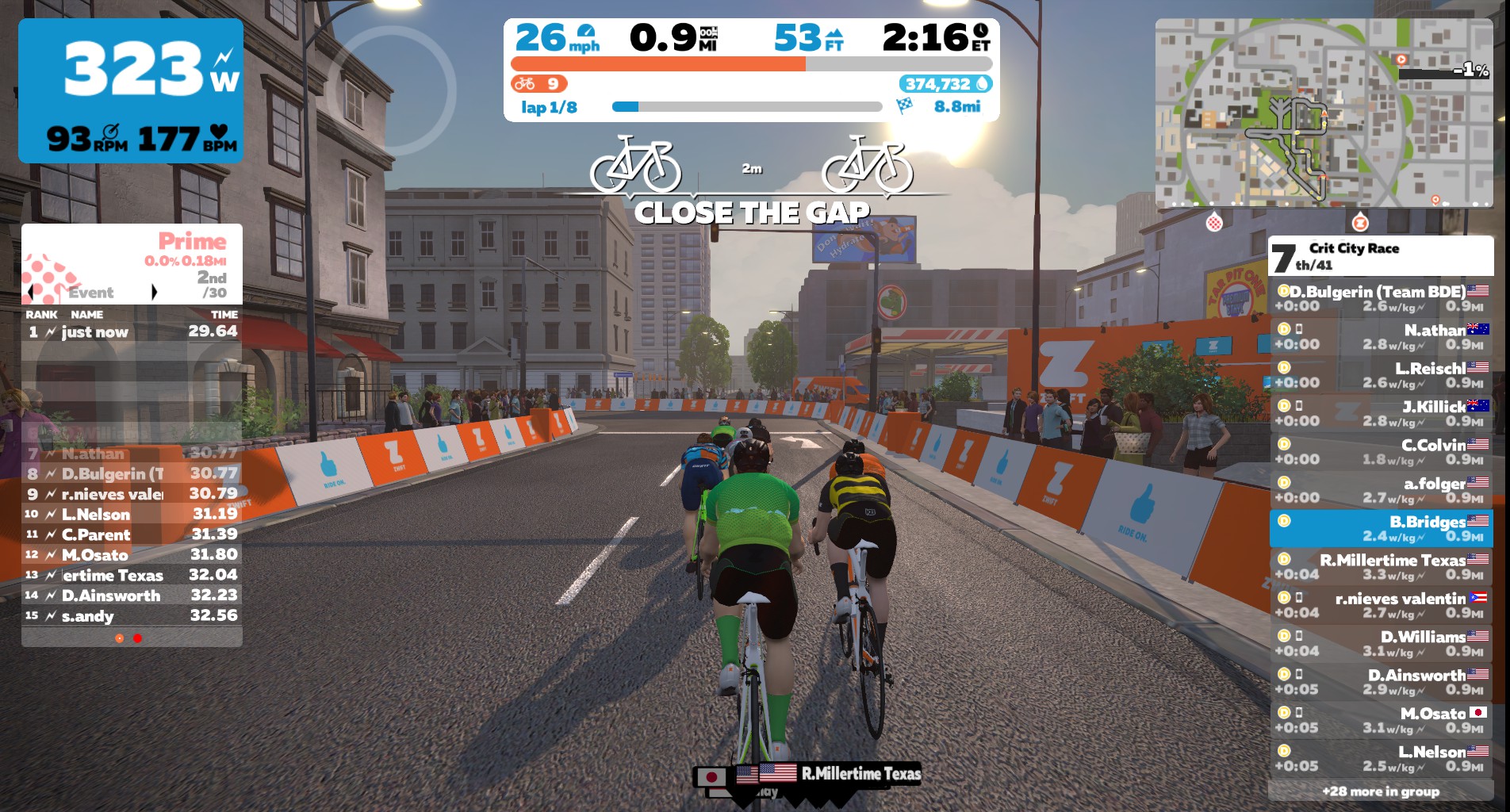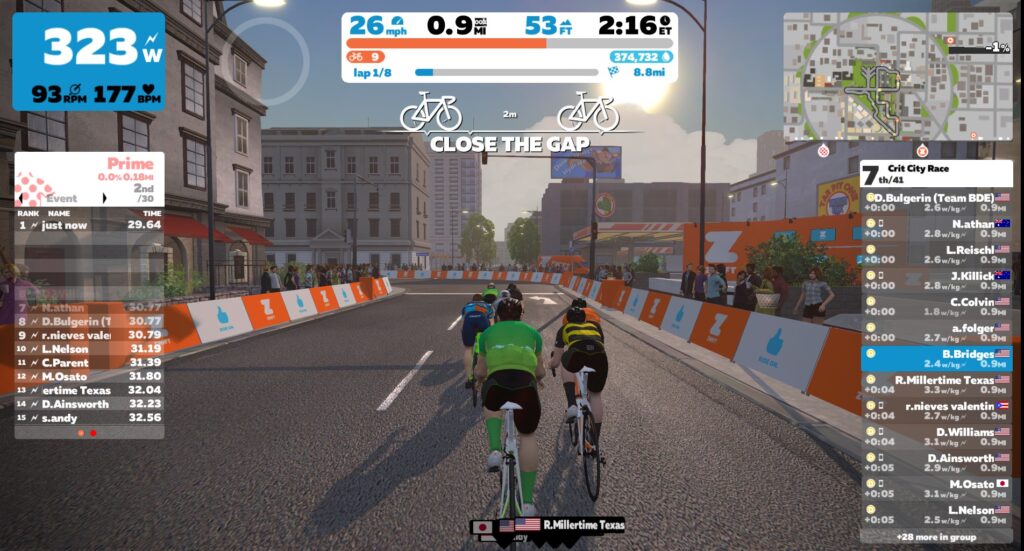 Boone rode smart, staying in the draft. I handled his powerups, deploying them when it was most helpful. After a few minutes the green cones started showing up, slowing the sandbaggers and thinning the front group further. After just 2 laps, only 4 riders remained in the front group: Reischl (above), Nathan (a ZP-registered rider), "Colvin" (who we knew nothing about), and Boone.
Not much happened in laps 2-7… the gap to the chasers grew, the 4 front riders kept plugging away, and Boone stayed out of the wind mostly.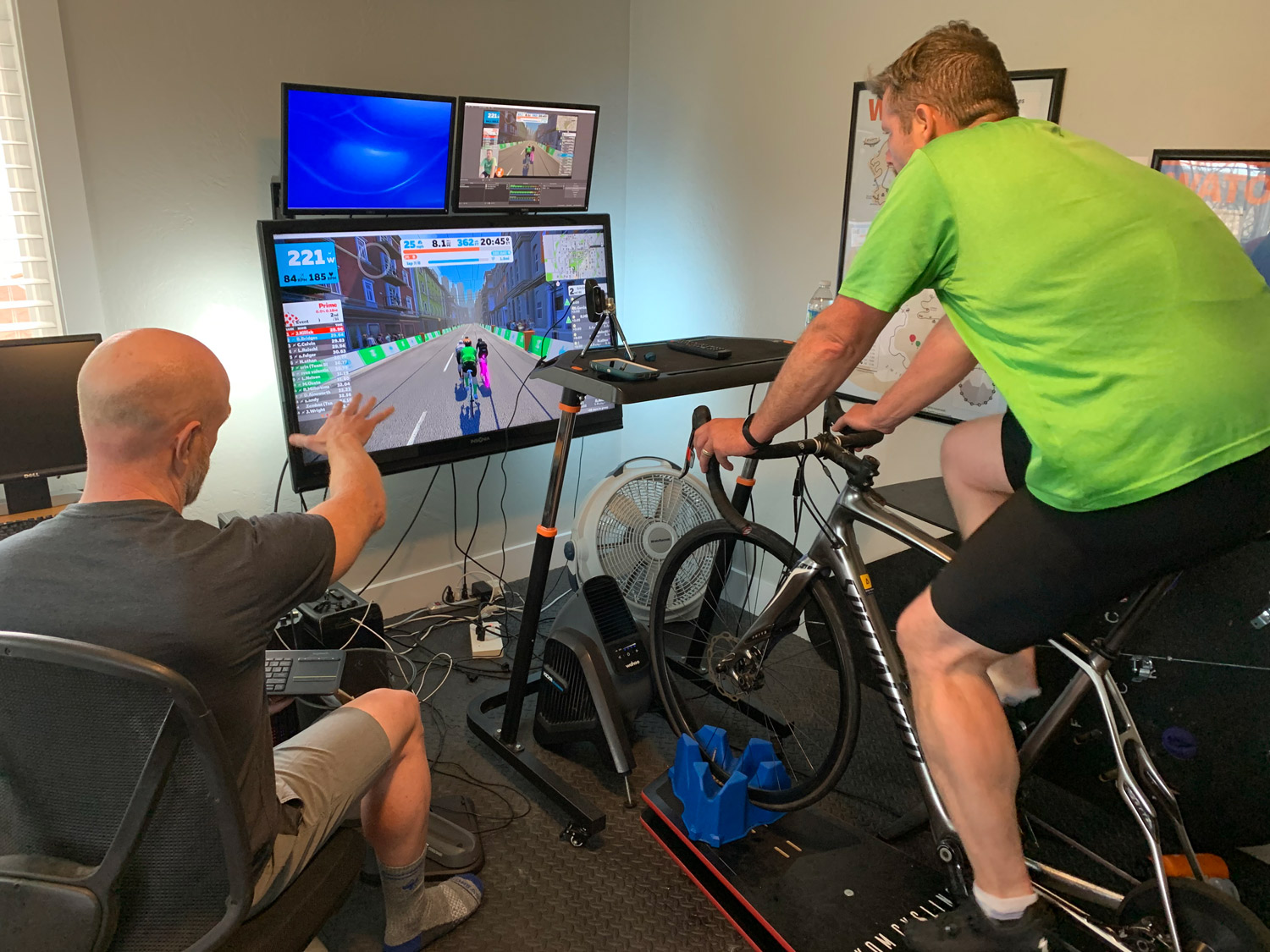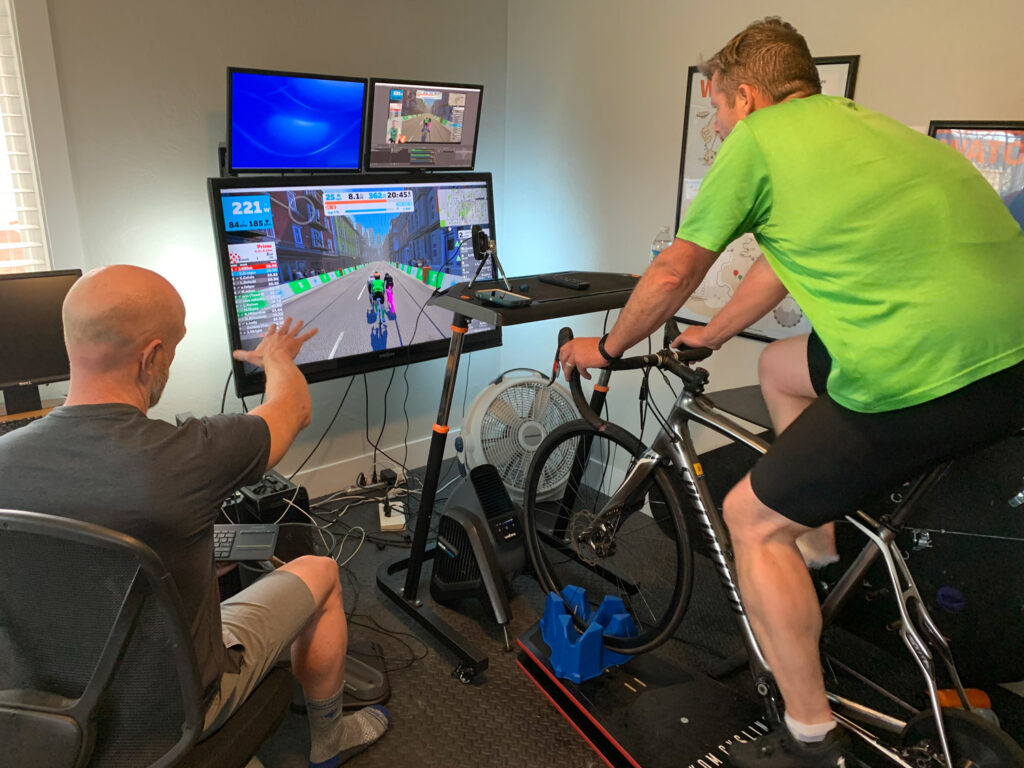 On the 7th lap, it suddenly hit me that Boone had never sprinted for a win in a Zwift race. Uh oh. And he was going up against Reischl, who clearly knew what he was doing, and had the power to back it up. As we neared the end of lap 7 I tried to talk Boone through the finishing sprint, explaining that it's usually a mistake to go early. That he'll want to shift up a gear or two. And telling him where to start the sprint.
Then it was the final lap. All we got was a steamroller powerup, which wouldn't help us in the sprint – so I used it on the bricks. Nathan tried to go long, and Boone grabbed Reischl's wheel then Colvin's as the three chased Nathan. Then Nathan got coned! (Time to move up the C's, Nathan!)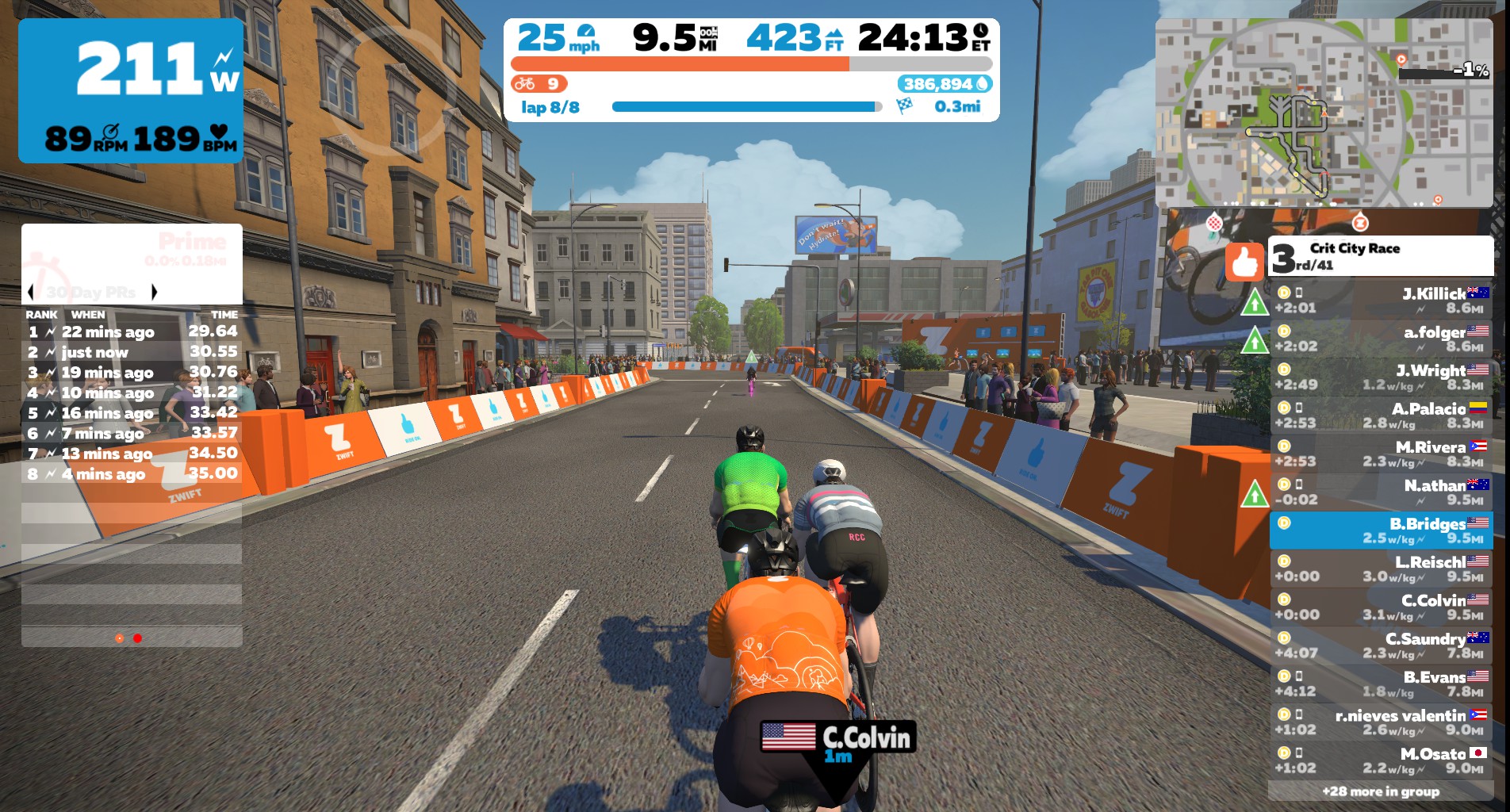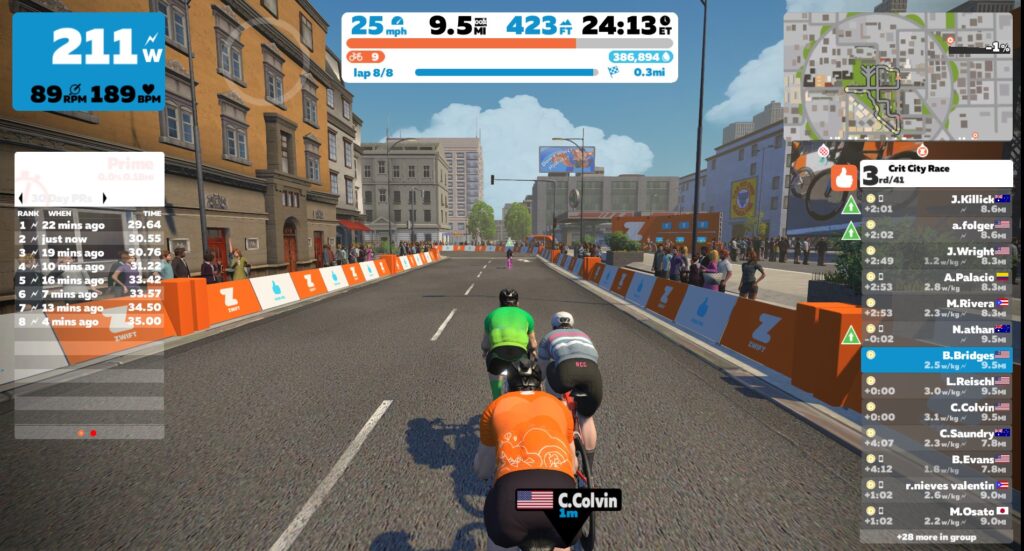 It was just the 3 riders now, and nobody wanted to go first. Boone got to the front and started his sprint. The other two were on his wheel. Colvin couldn't come around, but cagey Reischl was sitting in with a draft powerup, and in the final straightaway rocketed around Boone to take the win.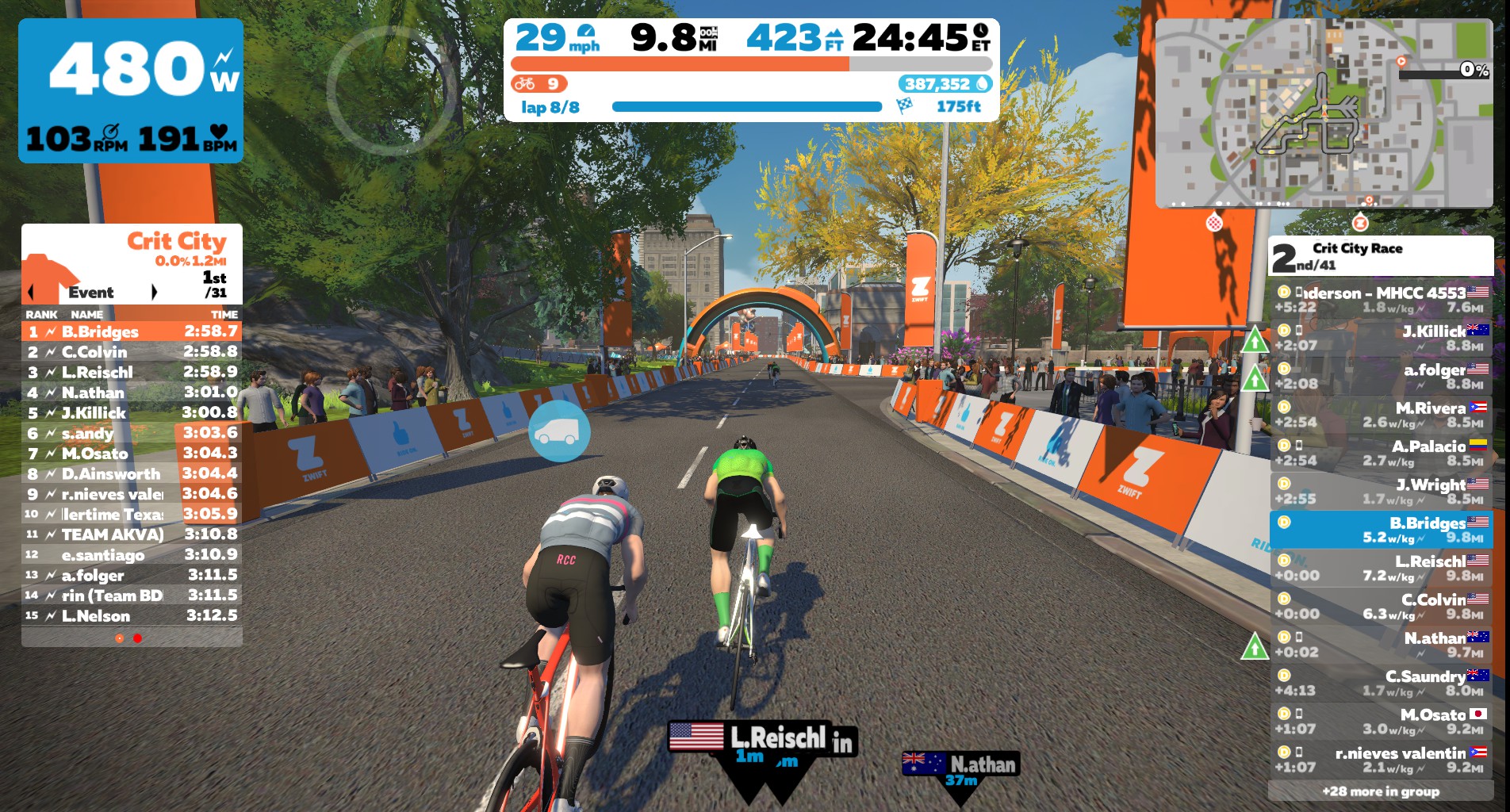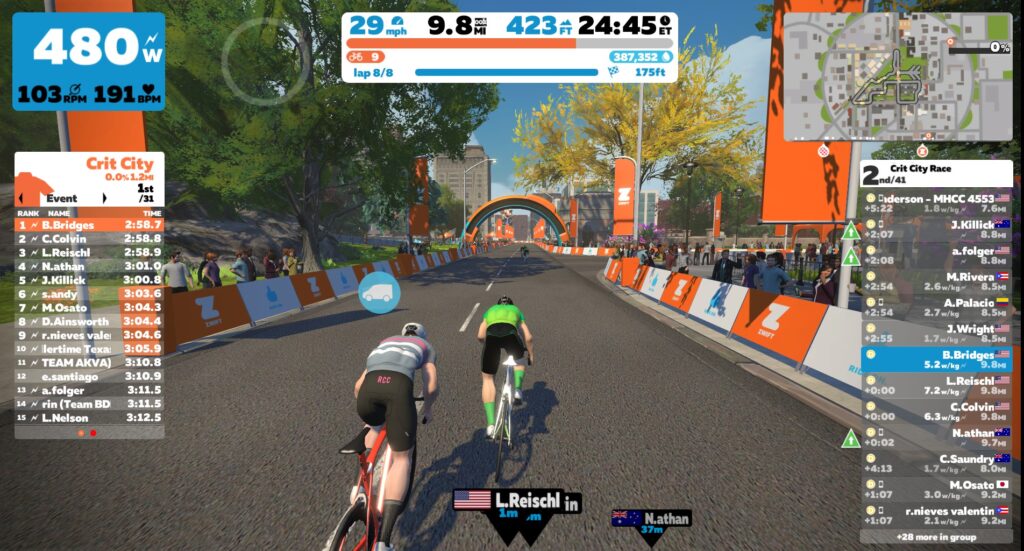 Boone's a pretty competitive guy, and he was not happy about losing that final sprint. He wanted a rematch!
But looking on the bright side, we were both happy – he had finally hung in the front pack for the whole race. That's a huge accomplishment. Just being in the mix for the final sprint is a big deal! Winning that sprint is another matter entirely, of course. It comes down to which powerup you've got, how much is left in the legs, a good sense of timing, and more.
This race gave Boone a huge confidence boost, as you can imagine. It also gave him an FTP boost, and an upgraded power curve from 16 minutes onward.
Watch the Race Video:
Ride #24: Crit City Breakthrough
After Friday's race, Boone definitely had the hunger. He was looking for a win. So on Sunday afternoon he came over to take on his third Sunday Crit City race. Just like the previous two Sunday races, it would be 6 laps of the Downtown Dolphin route.
We discussed strategy ideas beforehand, and he said he thought he could break away sooner – perhaps using the brick descent as a launch pad in the final lap. I also gave him a few squirts of my secret weapon – PR lotion. What can I say? We both wanted a win! I warned him that PR lotion, which contains bicarb, would help his legs not burn so bad. But the muscles are still doing all the same work, so he shouldn't go too hard too early and blow up!
I did a bit of ZwiftPower scouting beforehand, but no riders stuck out like Reischl did in the earlier race. As Boone spun his legs around Watopia to warm up, I dropped his weight further – he had skipped out on birthday cakes and Valentine's candy, and it had paid off. Sub-235 pounds for the first time in 9 years!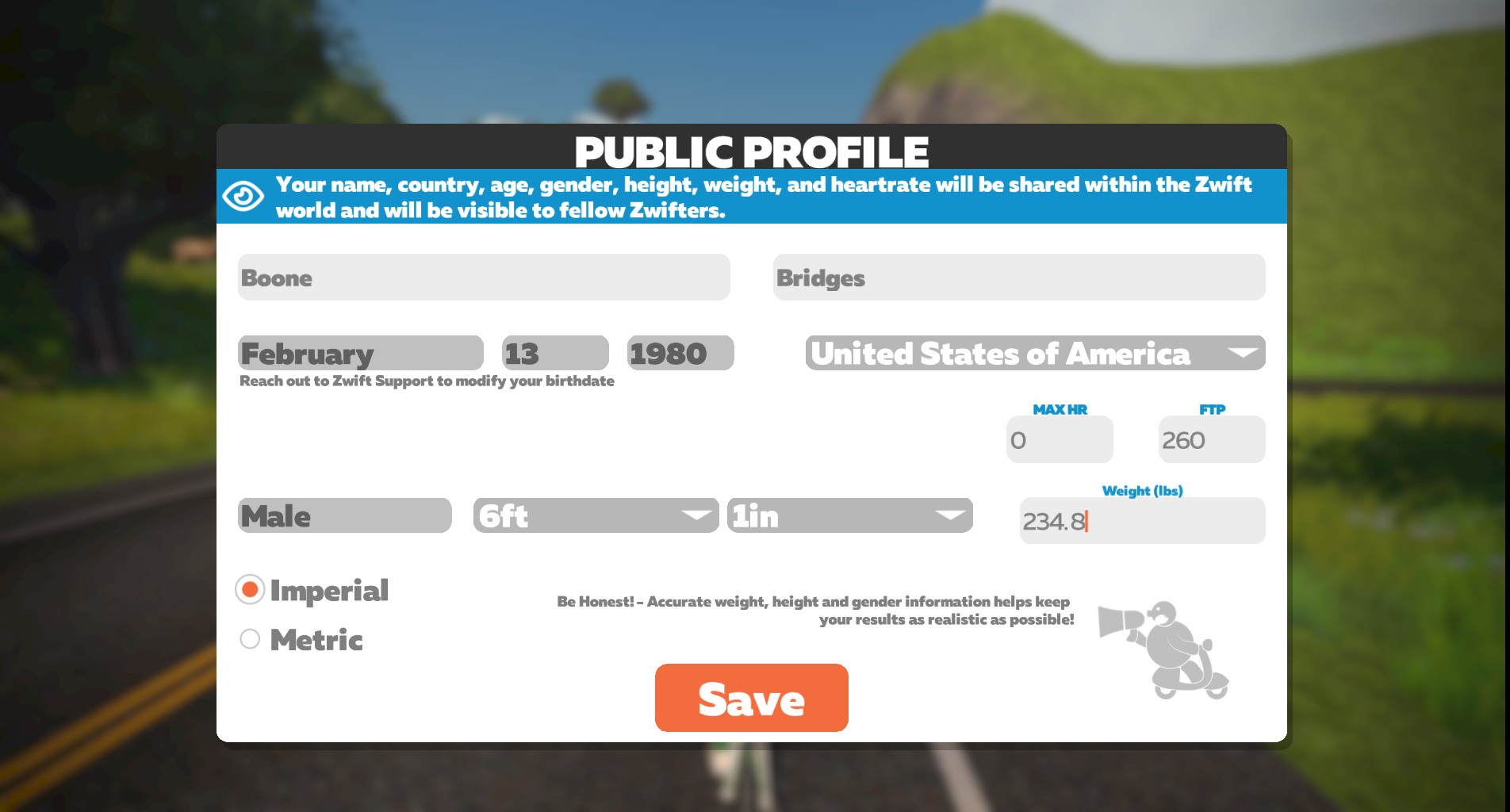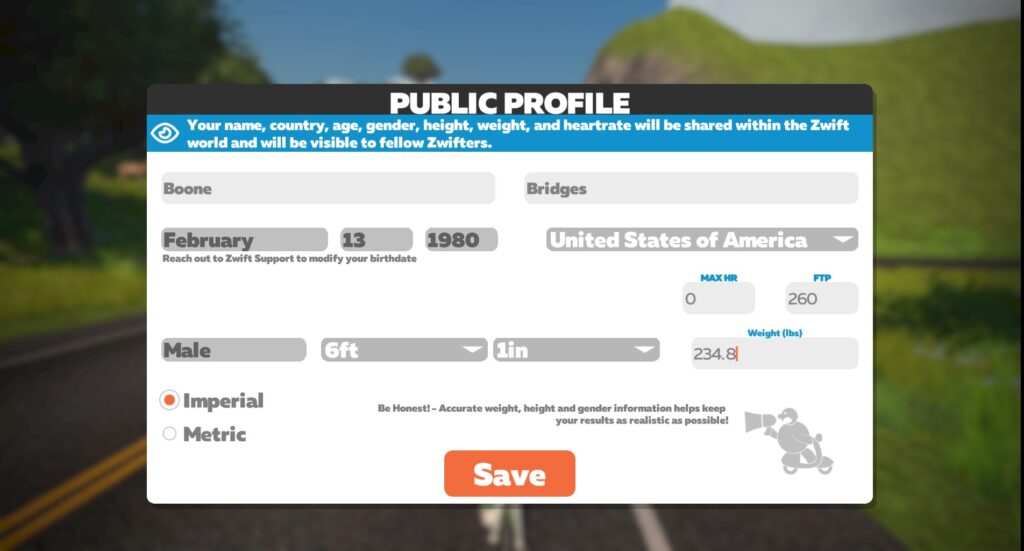 Right out of the gate a gap opened up, and Boone was in the chasing group. This is where you have to make a split-second decision. Do you put in the work to close that gap, or do you ease up, hoping others in your group will do the work for you?
We didn't leave it to chance. The race had just started, and Boone certainly had a few seconds of high watts in his fresh legs. Close the gap!
And there we were. The selection was made – 8 riders out of the initial 27.
At the top of the bricks on lap 2, 4:40 into the race, RadDadChad got coned. (He'd stuck in out the rider list because of his great name, but also because he had messaged beforehand that he would be winning the race.) Pride goeth before a fall, Chad. 😋 You'll hear us razzing you in the video below, but it's all in good fun.
As Boone began the brick climb on lap three, he put in an extra dig as I activated his feather powerup. He and rider "Almanza" quickly gained a 3-second gap on the other 4 riders. Boone went to the front, pushing extra watts on the descent and building the gap.
Was he really going to attempt this? I didn't say it at the time, but I was thinking, "This is way too early – he's going to blow up." Boone dropped Almanza, and built the gap to 10s by the time he crested the brick climb on the 4th lap!
His heart rate was pretty high, but he looked good, and nobody behind was willing (or able?) to put in a real chase. The gap kept growing… at the top of the bricks on the 5th lap he had 12s on them. Could he hold on?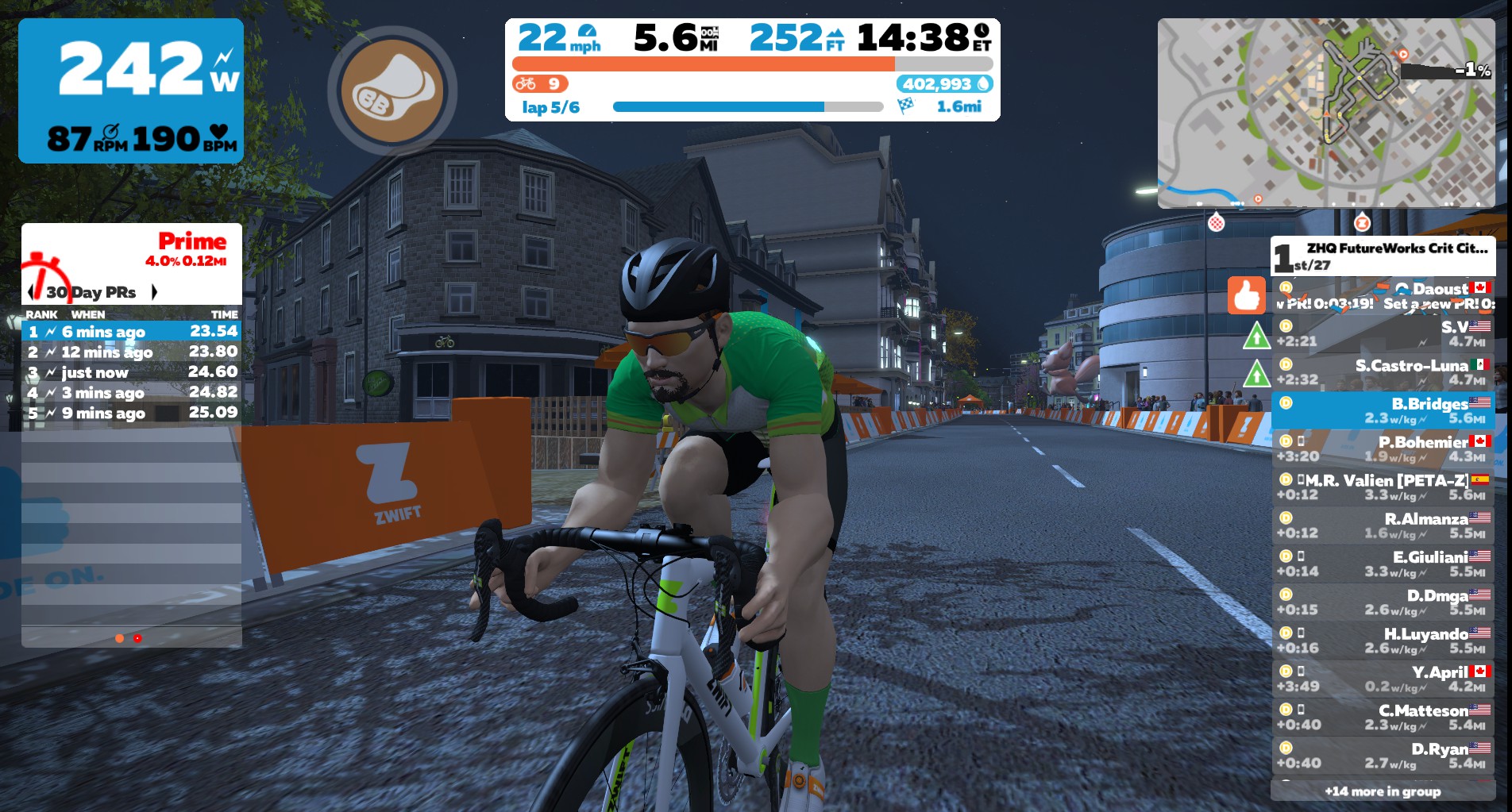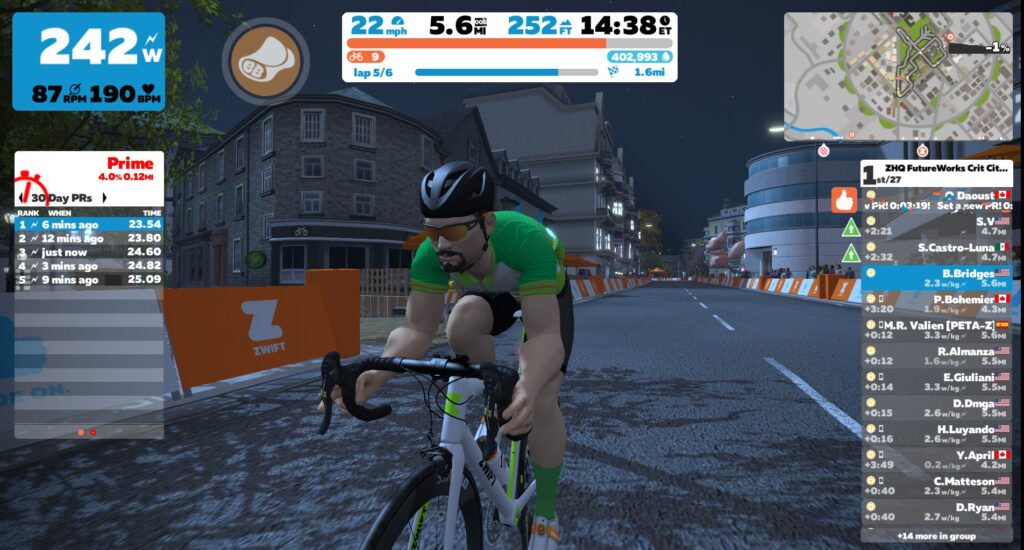 As he began his final lap his heart rate was at 190 – the highest we've seen is 192.
But he had that look in his eye. I've seen it before, many times. He wasn't going to stop.
The group behind was trying to chase, closing it to 8-9s. But it was too little, too late. Boone hammered up the bricks as a strong rider from the chase group got coned. Then Boone hit the bottom of the descent, hammered for a few seconds, then stopped pedaling and "coasted" over the finish line, 8s ahead of the closest pursuer!
And even though he stopped pedaling at 19 minutes, he still got an FTP upgrade based on his 20-minute average power. A breakthrough ride for sure!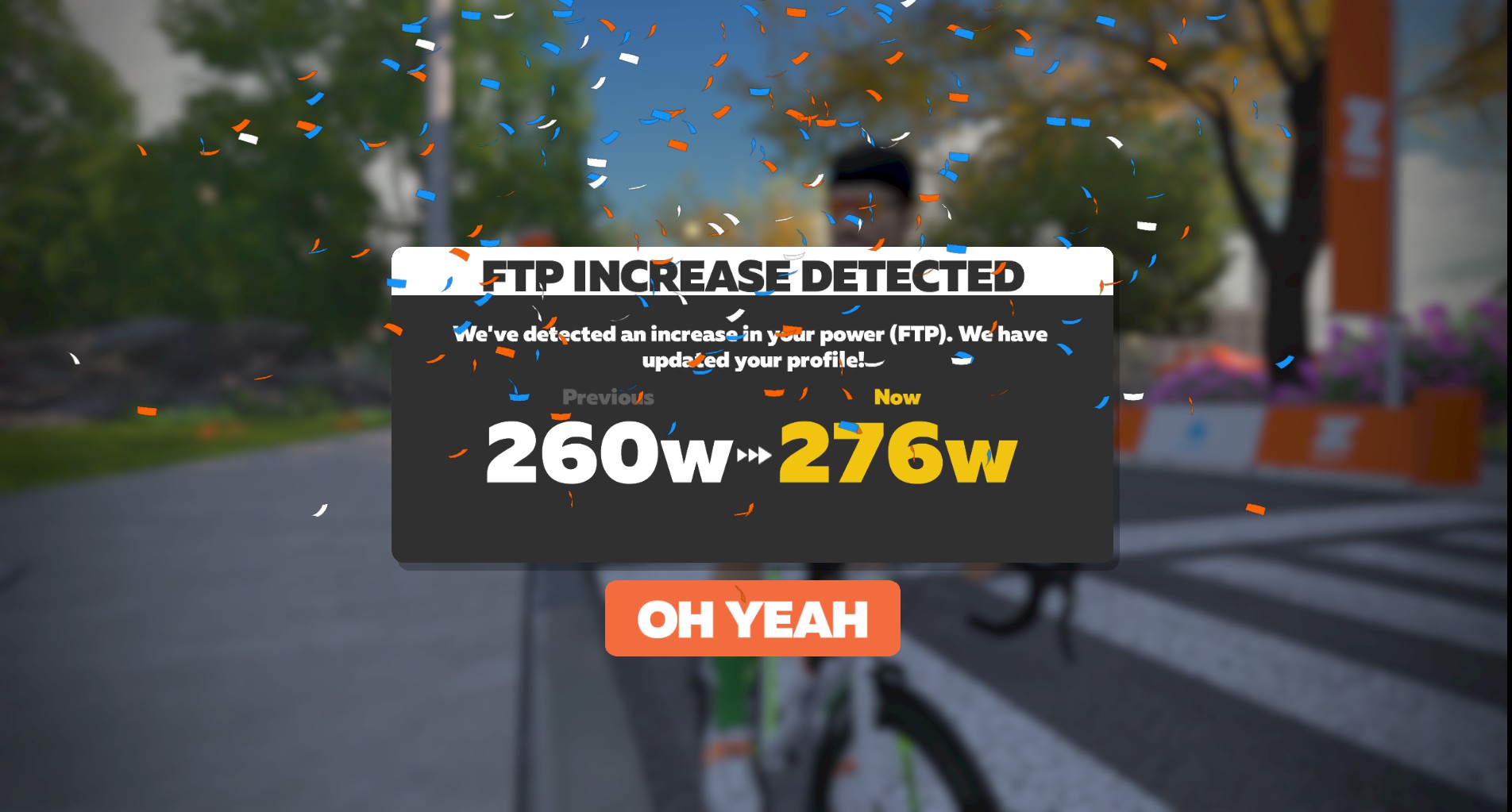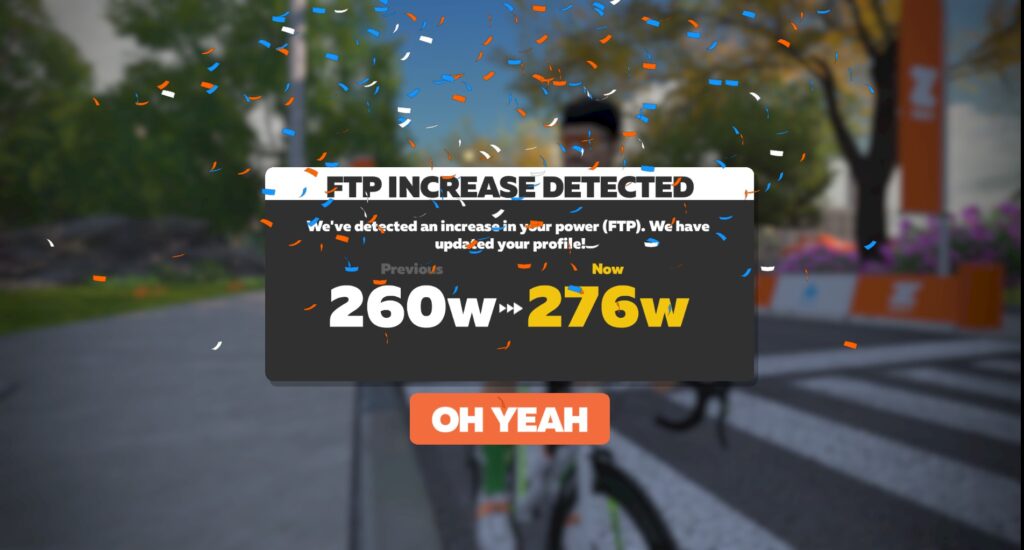 We checked ZwiftPower for confirmation of his win… but his name wasn't showing up. Clicking "Unfiltered" we discovered Boone had been disqualified – his w/kg were too high for a D race (2.78 w/kg for 19:01)!
So not an official win (and Boone wanted to be sure to extend congratulations to "Joseph Davis", who took 1st in ZwiftPower.) But Boone was happy to be DQ'd. Because it meant we had achieved our goal: to achieve a 2.5 w/kg FTP in 6 weeks. To be bumped up into Cat C status. The new FTP (276W) divided by Boone's weight for today's race (106.4kg) gave us 2.59w/kg.
Watch the Race Video:
(You'll hear my wife Monica in there, as well as our very expressive buddy Zane who's been coming over to watch Boone's races)
And the PR Lotion? Let's just say Boone is convinced. "My legs didn't hurt at all." He'll use it in his final FTP test as well.
Ride #25: Final FTP Test
Zwift had detected an FTP of 276W in Boone's race, but we wanted to finish the 6 weeks with an FTP test, the same way we'd begun. So the day after his race win, Boone did a ramp test. Could he meet or beat the 276W mark with semi-tired legs?
Yes he could! The ramp test gave him a new FTP of 278W. That gives him a final FTP of 2.62w/kg, up from a starting FTP of 1.92w/kg. A 36% increase. Amazing! His pure wattage went from 230W to 276W, which is a 20% increase.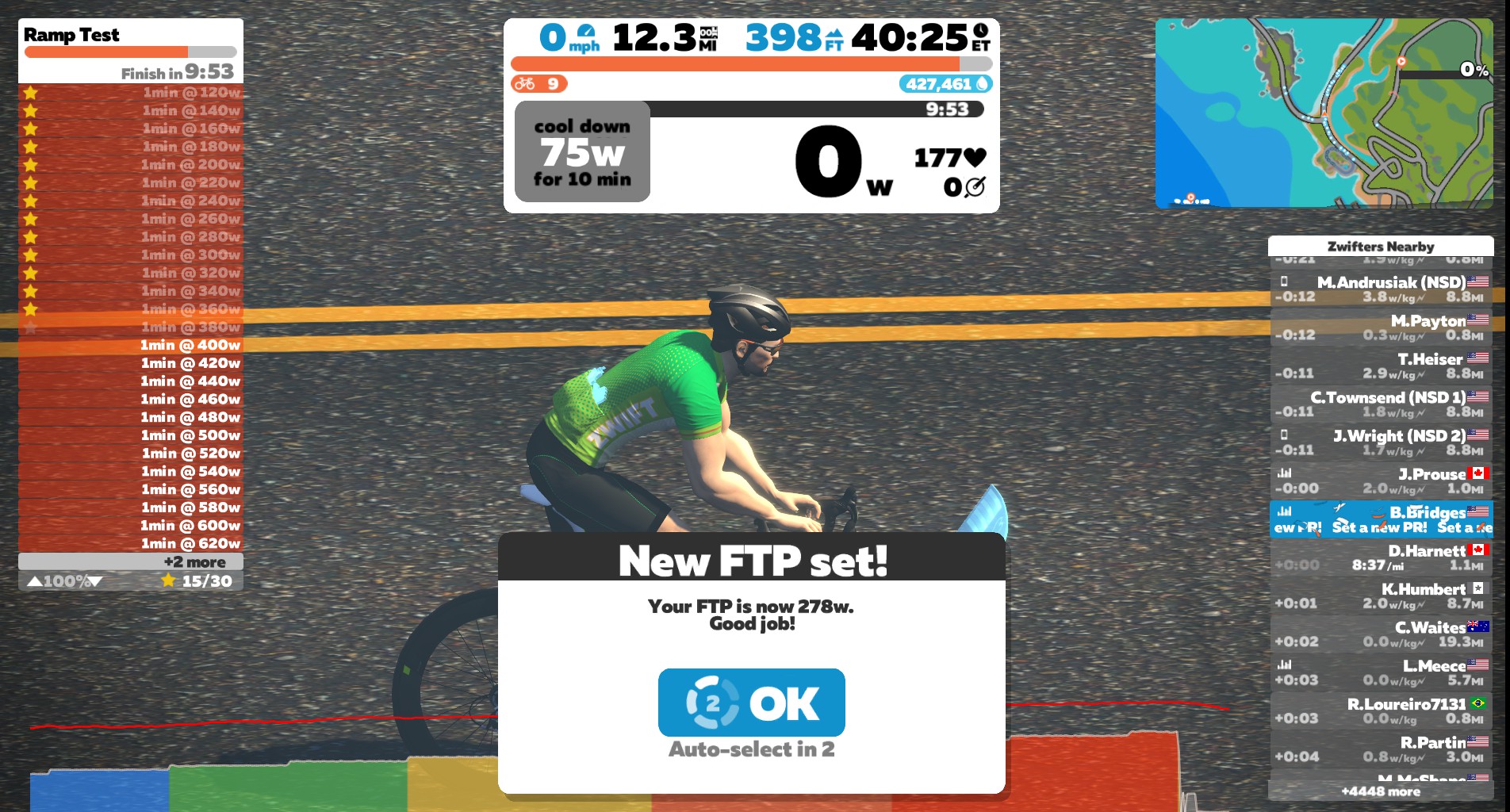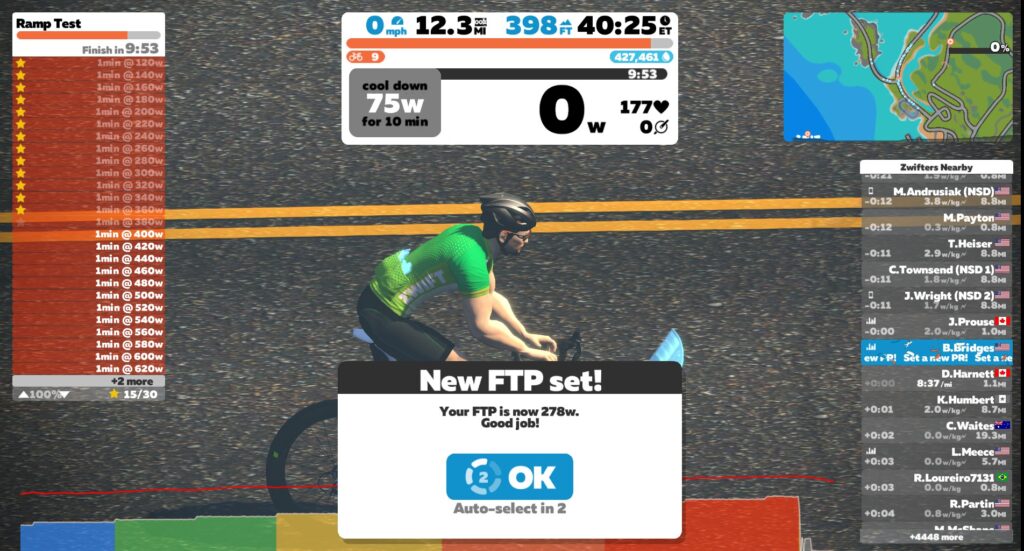 Final Takeaways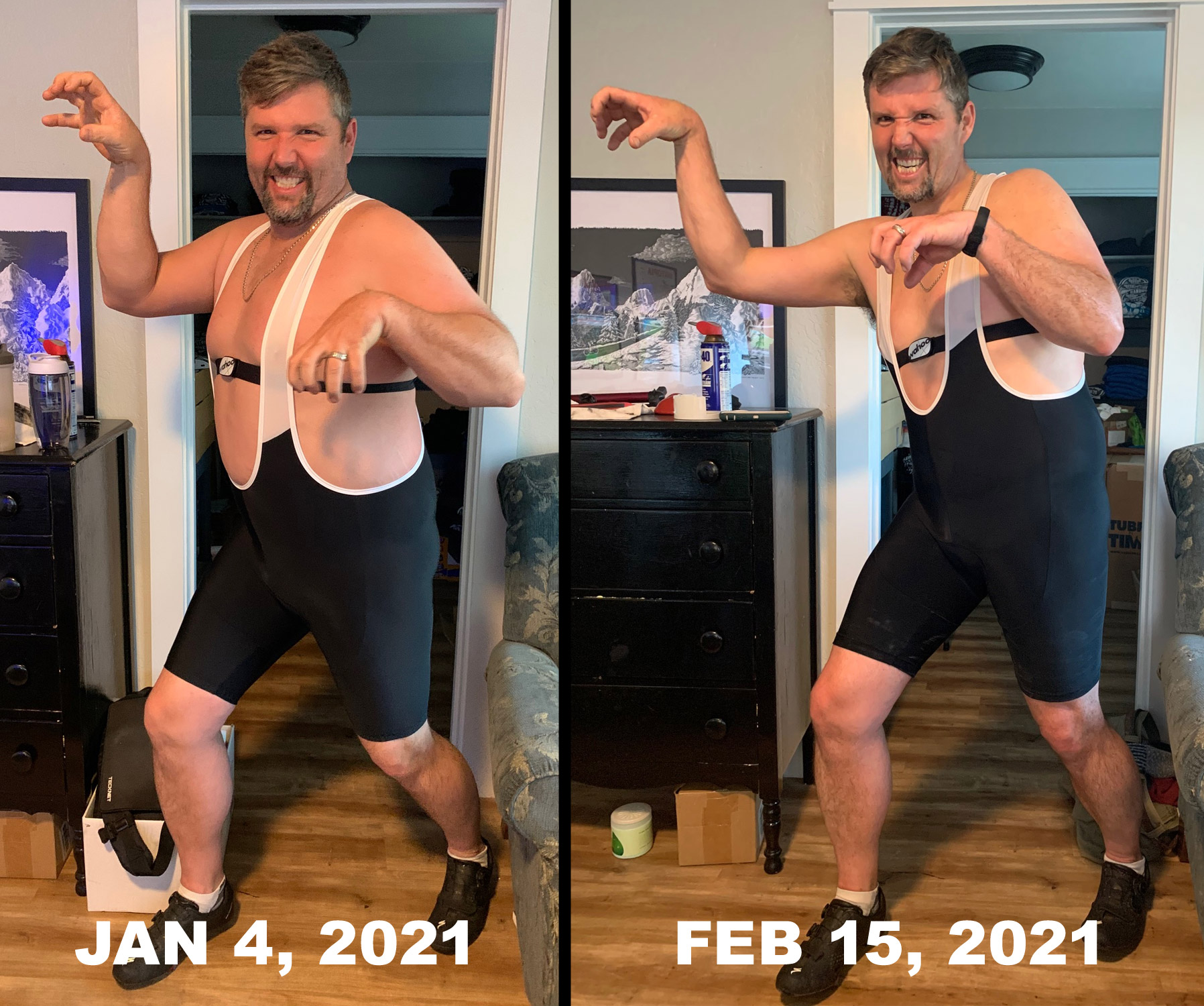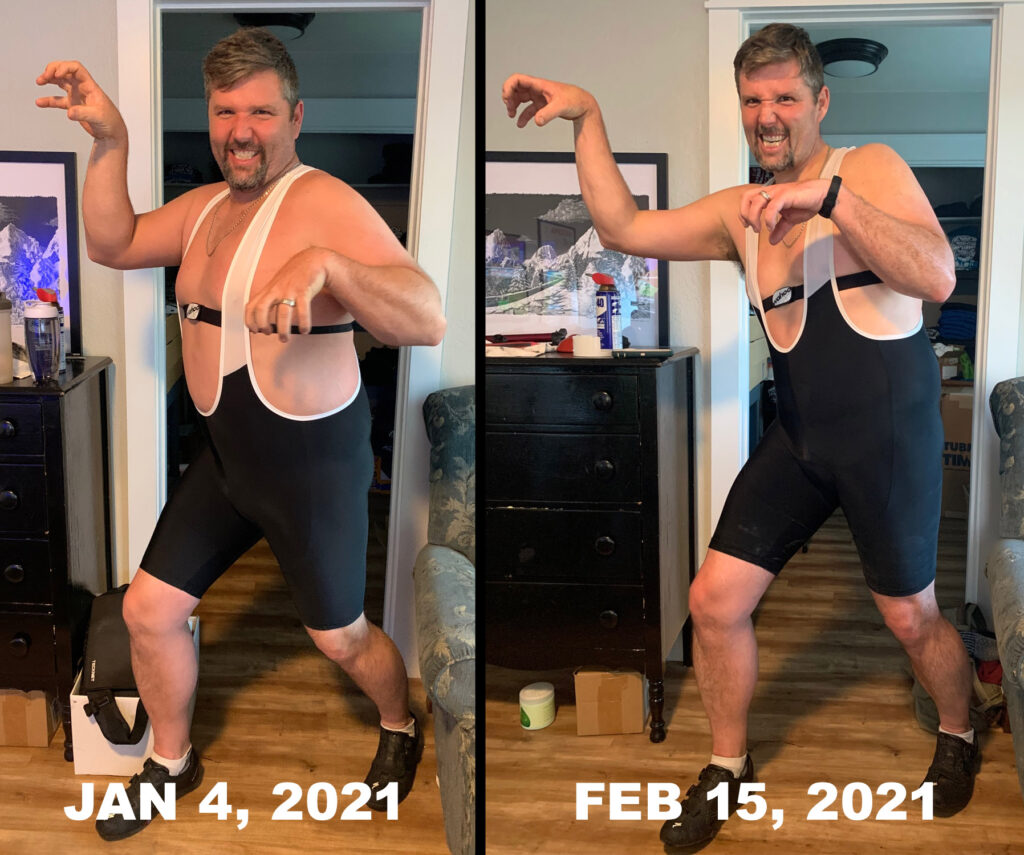 I'm super-impressed with that Boone was able to accomplish in 6 weeks. But I'm not surprised.
You see, as close cousins, we've known each other since before we could walk. And he's always been a guy who, once he sets his mind on doing something, gets it done.
He lost over 30 pounds in these 6 weeks, by carefully watching what he ate and getting some exercise every day. And he jumped into every workout I threw at him, never complaining or trying to weasel his way out. He knew we both wanted the same thing – and trust makes a good team. We had a good plan, we stuck to it, and the results followed. That's how training works.


The fitness gains are great to see, but in the end, we both agreed that our favorite thing about this 6-week experiment was how much we got to hang out with each other. We're best friends, but the daily pull of work, family, etc, means we don't spend a lot of time together. I think that's going to change moving forward.
What's Next?
Boone wants to keep riding, as he wants to keep losing weight until he gets to a healthy 190-200 pounds. He doesn't have much interest in outdoor riding, but likes the efficiency and safety of indoor workouts. And, of course, he enjoys the competitive aspect of racing!
We haven't figured out exactly what his Zwift setup might look like yet, but for the next couple weeks he'll be riding on my setup as we figure out what comes next. Maybe, just maybe, a new Zwift Insider series will emerge! Stay tuned.
Thanks for Your Support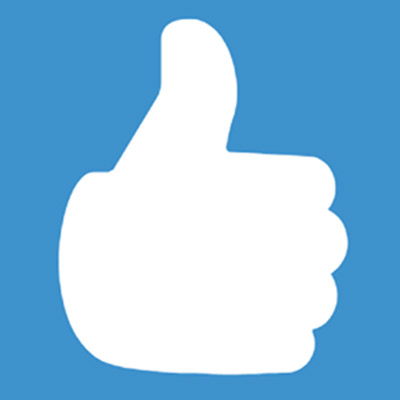 Thanks so much to everyone who cheered Boone on during this 6-week journey. He really appreciated it!
Your Thoughts
Comments on our 6-week experiment, or this week's events? Share below!