Cycling is addictive. It's also social! And my guess is we all have a good friend (or five) who isn't the least bit interested in riding, despite our many advances.
My cousin Boone is one of those folks. We've been best friends all our lives, growing up playing sports, building tree forts, and getting into trouble together. And while we still share a lot of hobbies and family time, Boone never got into cycling, despite my heavy-handed hints.
So when he approached me in late December looking for a 6-week Zwift training program, I jumped at the chance. What's not to love? Zwift. Bikes. Fitness. Boone. Let's do this!
The Big Idea
Boone, like many 40 year old dudes, is looking to drop weight and build fitness. He's not convinced that he wants to be a cyclist, but he knows it's a time-efficient way to get fitter.
On top of that, we're always looking for an excuse to hang out, and this was perfect: he would do his training at my house, on my Zwift setup. It would be a fun experiment with bodily repercussions, not unlike the time we climbed into barrels and rolled ourselves down a hill at the age of 10.
Our goal: to transform this 265-pound rookie rider into a cat C Zwift racer in 6 weeks.
The Plan
After chatting with Boone, checking out various Zwift workouts/training plans, and talking to some coach friends, we settled on the following basic plan:
Week 1: Benchmark testing + Endurance


FTP

test, attempt first Zwift race, and get some time on the bike
Weeks 2-4: Endurance + Cadence Work
Lots of work from low zone 2 to mid zone 3, with some high-cadence drills to train the legs for efficient pedaling
Weeks 5-6: Endurance + Intensity
Similar rides as weeks 2-4, with some VO2 and threshold efforts included in short durations
Week 6: Benchmark Testing
FTP test and another Zwift race
Ride 1: Startup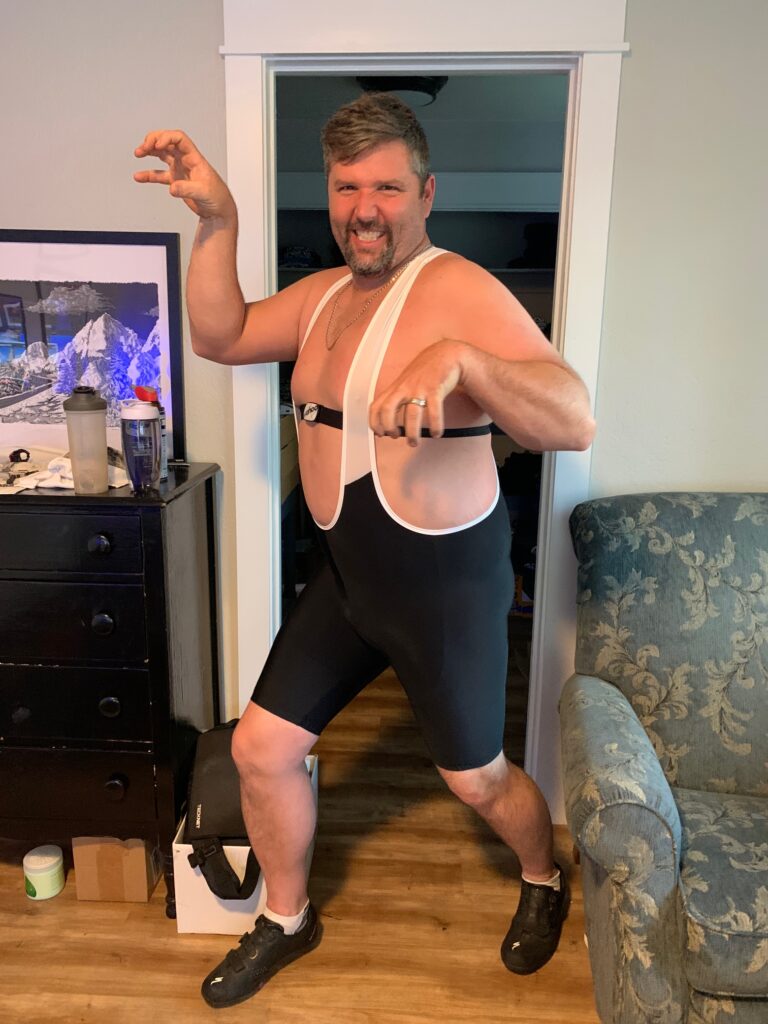 Zwift was the perfect place for Boone to experience his first "real" bike ride in over 20 years. With a lot of new stuff to think about in terms of training, bike handling, clipping in, etc, the last things he wanted to worry about were dressing for cold weather, distracted drivers, and dodging potholes.
As mentioned, I wanted to make it easy for him – so he was going to use my Zwift setup, right here in the Zwift Insider Pain Lab. I had already marked my seat height, assuming I would need to adjust it for him. We wear the same shoe size, so he would be wearing my old (but just repaired) road shoes. And though he chafed at the idea of wearing bike shorts, I pointed him to TheBlackBibs.com for a cheap but decent pair of bib shorts, assuring him he'd thank me later.
Our first day was mostly taken up with getting Boone signed up and familiar with Zwift, the Companion app, ZwiftPower, and Strava. Once everything was in place, it was time to ride! Our goal for the first ride was pretty simple: just get familiar with the setup, with clipping in, and riding in Zwift overall.
Boone climbed on the bike, and we were both surprised to find that the seat height was actually just right. He's taller than me, but apparently his legs are not. Easy peasy!
It had been quite a while since I signed up a new account to Zwift – it was interesting to see how Zwift strips away the UI for beginners, using on-screen prompts to orient as you ride. You don't even get to pick a route the first time! No rider list, no map.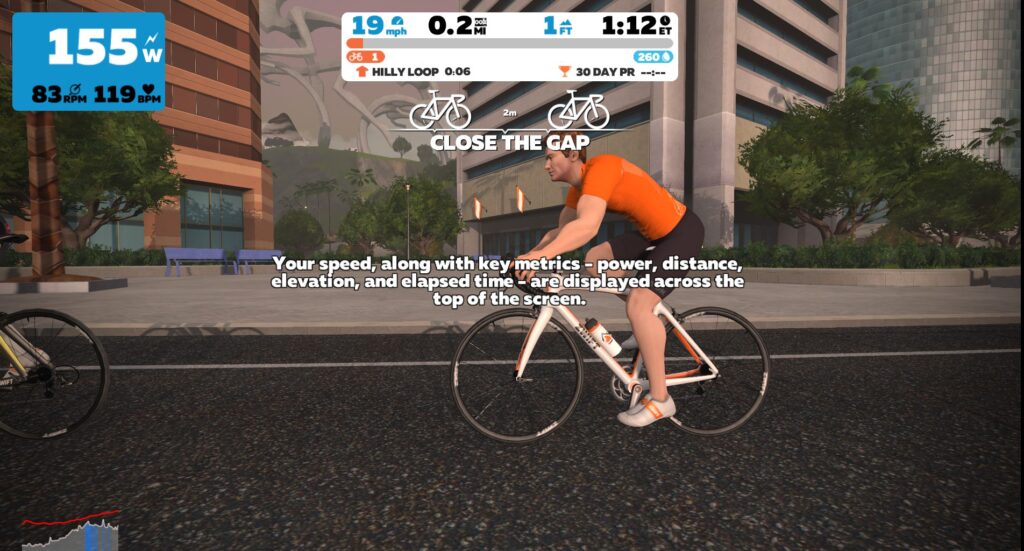 That threw me off more than Boone, but it worked out alright. He got the hang of drafting pretty quickly, kept his cadence nice and high (he's always been an athletic and coordinated fellow – his bike form looked pretty good after a 20-year hiatus). We decided to go for one max heartrate attempt on Watopia's sprint section, getting his heartrate up to 187.
For much of the ride he was cruising with his heartrate in the low 180's, but that didn't last long. After 25 minutes Boone's legs were done. That's ride 1, in the books!
Ride 2: FTP Ramp Test
With 4 rides planned per week, Boone would have a day of recovery off the bike between every ride except one. So 48 hours after Ride 1 he was back in my office, ready for Ride 2's ramp test and pace partner practice.
Our goal for this ride was to get a baseline FTP result, and use any remaining energy Boone had to practice riding in a group with Dan Diesel.
Boone warmed up with Dan for a few minutes, then headed off to the ramp test. I warned him (and so did the test) that it would start out easy, then get really hard really quick. And that's exactly what happened! The initial intervals below 200W were so easy that Boone said it felt like there was hardly any resistance at all. But as the wattage bumped up by 20W every minute, he started to feel it.
One minute he was holding 260W and feeling good, and the next minute Boone was struggling to survive to the end of the 300W interval. And that's where he stopped.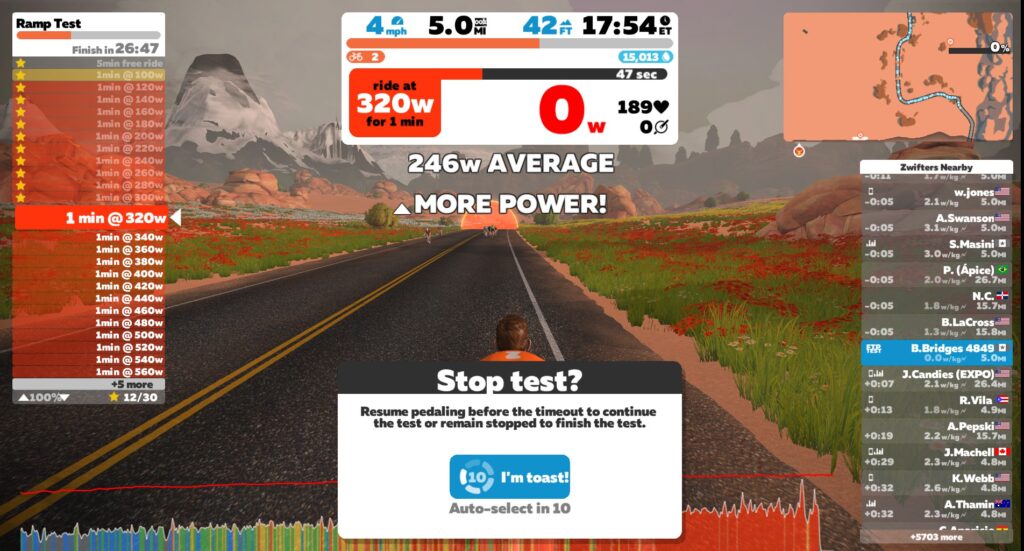 FTP test result: 230W. At 120kg that's 1.92w/kg. Our goal was for him to cut some weight (he figures around 20-30 pounds in 6 weeks) while boosting power, so he's over 2.5w/kg and a cat C racer after 6 weeks.
Doing the math, if he cuts 20 pounds, he'll need to boost his FTP to 278W to be at 2.5w/kg. Doable? I think so. But it won't be easy!
Overall Boone rode for 31 minutes in this ride – a new duration PR!
The 3 Stages of an FTP Test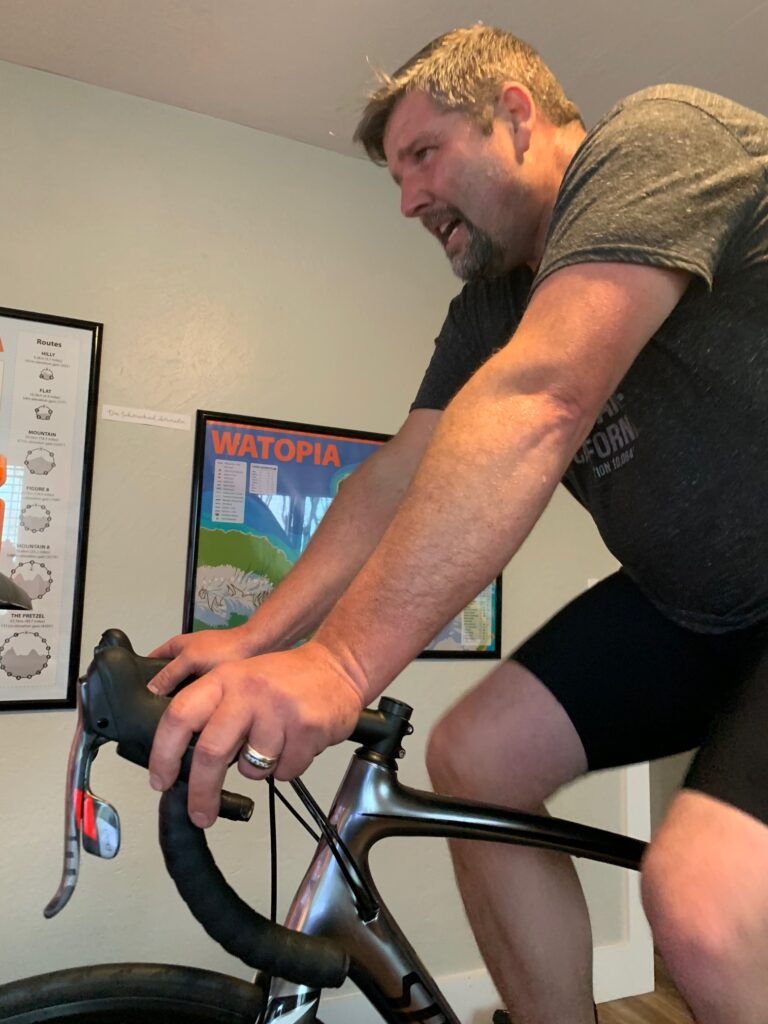 Ride 3: Endurance
Boone's third ride was just an endurance session. As a new cyclist his legs need to be trained to pedal efficiently, while his crotch also needs to be broken in and his cardio system needs to get used to sustaining all that output. This just takes time on the bike, and that time shouldn't be at max effort – it should be somewhere between Zone 2-3.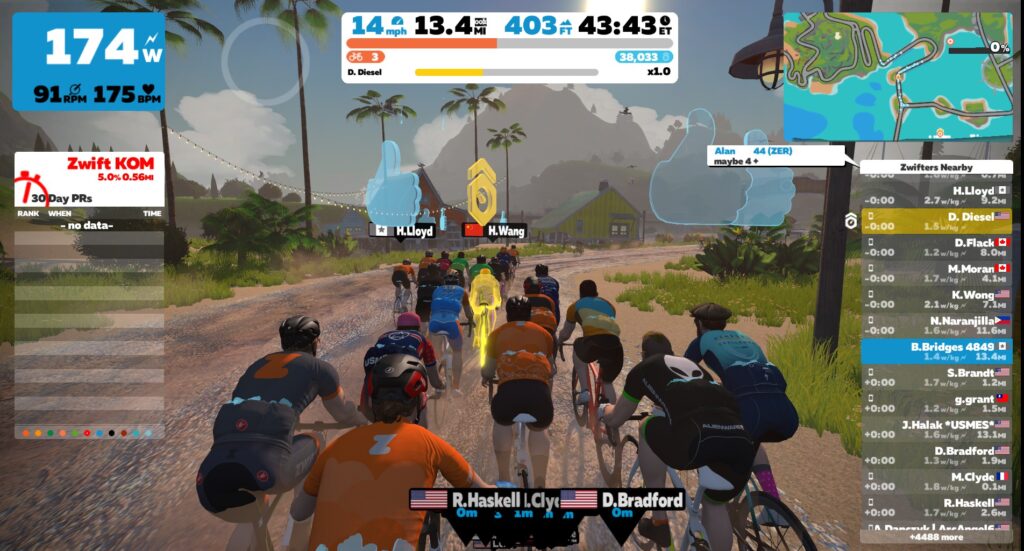 On today's ride Boone lasted 51 minutes. including 45 minutes with Diesel Dan (although Boone rode ahead of him for half of it). We also learned how powerups work on this ride, which would be helpful for the next ride: Boone's first race!
Ride 4: First Race
I wanted Boone to experience a Zwift race early on so he could see what all the fuss was about, and how key strategies like drafting and powerup usage played into things.
We chose a 6-Lap Crit City race for Boone's first event, for two reasons:
Short length: Boone doesn't have the endurance to race for 30-50 minutes
Anti-sandbagging enabled: this was important as the D category can get blown apart by sandbaggers
Our buddy Zane showed up to watch this event – Zane is a strong rider who races in the A's on Zwift and cat 2 outdoors. The three of us have competed in various sports for years, and Zane was thrilled at the prospect of seeing Boone suffer on the bike! He brought over some KFC and a soda to sip loudly while Boone labored away…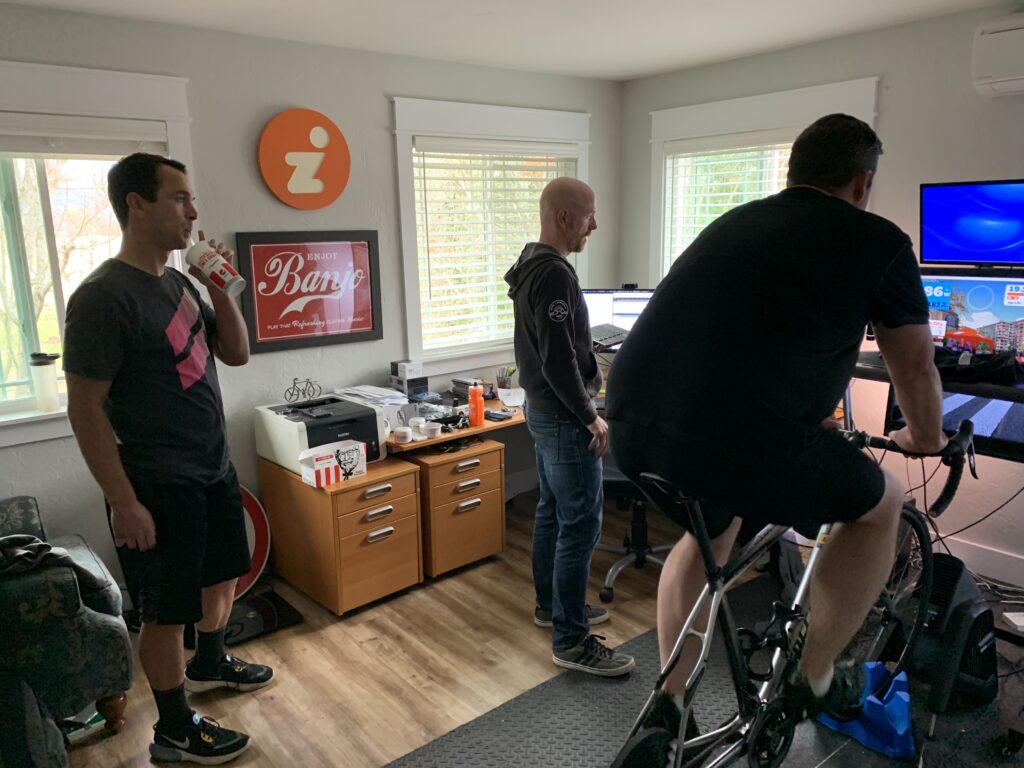 For this race Boone and I would be tag-teaming, just like we did as 5th graders playing DOS-based flight simulators: one guy would fly, while the other did the shooting. Boone would do the pedaling – I would handle powerups.
I talked Boone through the race as he warmed up. The key points I hit were:
The start would be hard, to the top of the first brick climb about 75 seconds in. Try to stay with the front group, without putting your nose in the wind, in this crucial section
You'll be able to recover a bit on the twisty descent
Draft, draft, draft!
If you get dropped, we'll make a decision about whether to keep pushing or sit and wait to be caught
The race would last about 20 minutes, so try to pace yourself accordingly
It's all about conserving as much as possible, so you have energy when you need it
Boone started off great – the starting group of 25 quickly split in half, but he hung with the front quite nicely, sitting back out of the wind. But at the top of the brick climb on the third lap, his legs gave up and he got dropped from the front pack.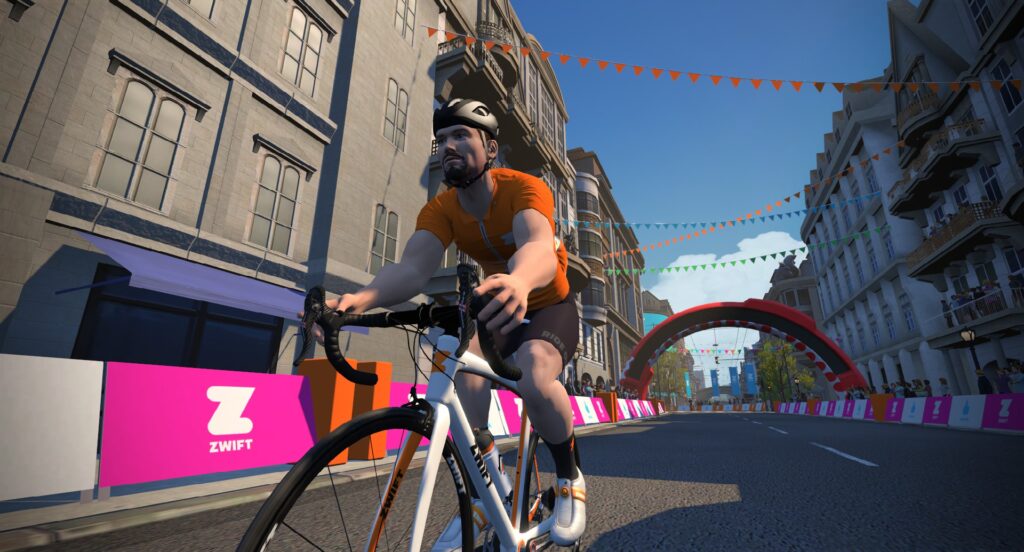 Now sitting in 9th, he didn't have the legs for a TT effort to the finish. So he took it easy, letting the next riders catch. And catch they did – flying right past because Boone still wasn't feeling it!
Boone sat in with other riders for a couple laps, then put in a good hard dig in the final lap with Zane, Monica, and I yelling for him to give it everything he had. And he certainly did! In the end he finished 12th, but I let him know… it's the ZwiftPower results that really matter. And guess what? ZwiftPower showed him winning 3rd place. A podium spot! Bronze for Boone!
(Oddly enough, today ZwiftPower shows him in 4th place. So who knows? But it's better than 12th!) See his race results here >
Watch the race recording
Week 1 Takeaways
Boone and I talked quite a bit after each of his rides, chatting through his experience, what to do next, where we're going, etc.
After 4 rides, he's finding that comfort in the saddle is one big challenge. Most of that is probably just those sit bones needing to be broken in – but part of it could be that he needs a different saddle than mine. Butts vary.
He had a revelation after the second ride – that this sort of training allows one to eat a lot while still getting fitter. That's exactly right, Boone. Ride to eat. Eat to ride. It's a glorious virtuous circle.
He's happy with the progress already made, from 25 minutes to 50 minutes in a week. For the next week it'll be about doing more of those endurance rides, breaking in the sit bones, and just increasing comfort and efficiency on the bike as he builds cardio fitness and drops weight.
Support Boone!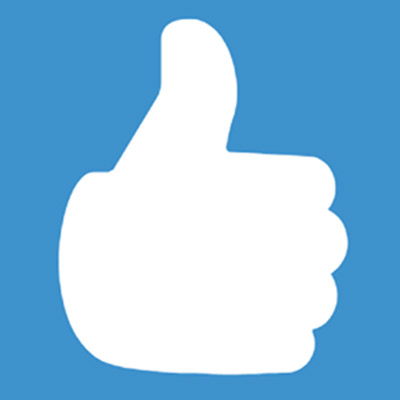 It always helps when someone encourages you in your training efforts, and the Zwift community is a super-supportive bunch. I'd love it if readers could support Boone with Rides Ons and Strava kudos. If you're up for it, follow him on Zwift (name "Boone Bridges" and Strava.
Your Thoughts
Got any beginner tips for Boone? Comments on our training plan? Share below!