Last Friday I took part in the very first private club ride on Zwift, "Club Jarvis Members Only Ride #1".
If you recall, Club Jarvis went live a few weeks ago as the first (and only) club on Zwift's new "Clubs" module. (If you want to learn more about what the Clubs feature will do, read this post.)
This event was Zwift's first test of running a ride for a club where only the members could participate. As such, the event didn't show up in the main Companion events list – it was only listed under "Club Events" on the Club Jarvis homepage. Clicking to join the event was easy enough – the same as joining any other Zwift event.

Family Reunion
When Friday morning came around I led my weekly Sprintapalooza ride, then hung around until the start of the Club Jarvis event. The ride's description included a Discord link, so I hopped into that as I clicked to join the event.
This was two laps of Sand and Sequoias, at 2 w/kg. A casual social ride, with HQ's Wes Salmon listed as one of the leaders. The other leader? One "Jarvis Bear". Interesting!
The ride began, and I started looking around at the names of the 70+ riders. We had a pile of folks in Discord as well, and a sudden feeling of Zwift Nostalgia rolled over me. Maybe it was the OG Zwift Carbon bikes we were all riding, or the Beta kits on our backs. But mostly, I think it was that so many prominent, long-time members of the Zwift community had joined this ride!
Only beta users can join Club Jarvis, which meant everyone on this ride had been on Zwift since before November 2015. I spotted Kim Little, one of the first top racers on Zwift. Another top racer (and Kim's teammate on TeamX), Casey Schumm, joined us – but only on Discord. Because he was "working" from home. Their teammate René Rolighed was there, the guy who created ZwiftNation, one of the earliest race results tracking sites. Team ODZ's Justin Wagner was prominent on the Discord chat (as he always is), bringing fun sound effects and jokes to the crowd.
Jesper Rosenlund Nielsen from ZwiftHacks was in attendance. David Desrosiers was there – he's the guy who figured out many of the early Zwift hacks, and is still quite active on the Zwift Coders Facebook group. There were many others I've seen for years, including Zwift forum stalwart Gerrie Delport and Morten Tillquist Nielsen who created the kit unlock graphics for this post years ago.
It really felt like a meetup of old friends. We shared long-running inside Zwift jokes, made fun of Wes Salmon for his inability to get Discord working, and generally just had a good time as we spun around Fuego Flats and into the redwoods.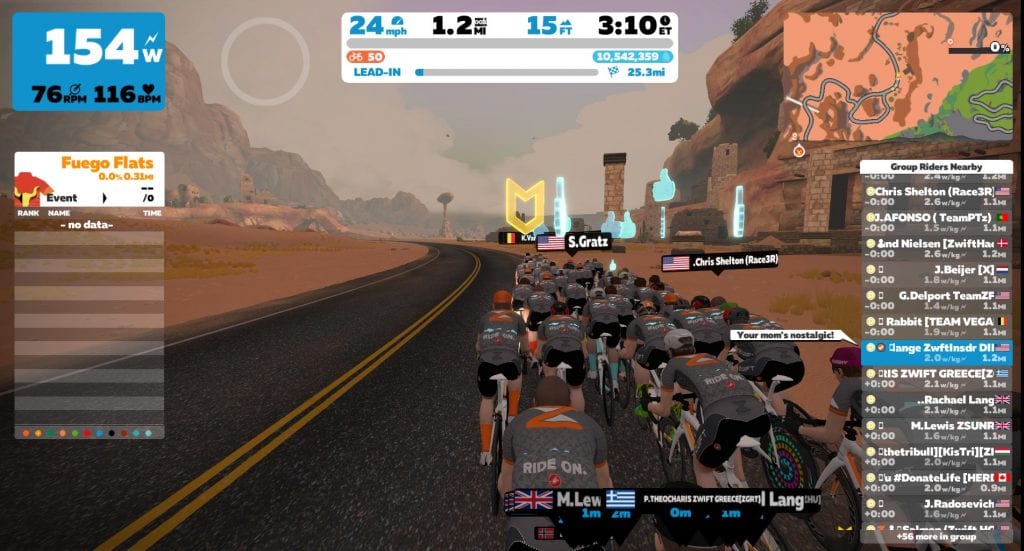 Jarvis the Pacer Bear
As it turns out, ride leader "Jarvis the Bear" was actually a pacer bot being controlled by Wes. So Jarvis stayed at 2.0 w/kg steady while Wes rode nearby with his own beacon. Wes asked what we thought of Zwift creating the ability for ride leaders to control/set up a pacer bot like Jarvis the Bear, to keep rides from surging. A lively discussion ensued – keep in mind this group is packed with experienced Zwifters, many who have led hundreds of rides over the years.
We discussed the merits of the "pacer bear" idea – most saw the value in it for certain group rides, but noted that many group rides wouldn't want such functionality. We also discussed how ride leaders would need to be able to control the pacerbot easily from within the ride. In the end, it sounds like this is one of those ideas that may come to fruition well down the road – but I wouldn't expect it any time soon.
Subscribe to our newsletter
So Well-Behaved
The inability of Zwifters to stick to stated pace in group rides is a long-running joke/complaint at this point. But guess what? Our group stayed tightly packed, even though the pace was 2 w/kg and we had many strong racers in the bunch. So it really is possible to keep a group ride together without a fence. It just requires people who know how to ride with the beacon, and are willing to do so.
After the first lap, Wes asked if we wanted to bump it up to 2.5 w/kg. We did, so Jarvis revved it up a bit and away we went!
Standing on the Brink
As our little group wound its way out of Titans Grove on the final lap, I couldn't shake the feeling that we'd entered some sort of Zwift time machine. 5 years earlier, many of the Zwift luminaries in this group were just getting onto the platform for the first time. For me, and many others, those first Zwift rides turned a lightbulb on which never really turned off.
On those nascent rides we immediately saw how Zwift might just change the world of cycling forever. And we immediately began to test the game's functionality. To break it, and request new features. We were the first Zwift fanboys/girls, and now years later we've seen Zwift evolve from a small group of beta users to a massive community with hundreds of daily events and pro racer participation.
Today we stand at another key point on Zwift's timeline. An unprecedented number of new users have come on board, and Zwift is working to get the Clubs feature released and Meetup capabilities expanded. Once those tools are in place, the social side of Zwift will be taken to a whole new level. Combine community-building tools with a much larger user base and we've got a recipe for massive growth, both in terms of user numbers and engagement levels.
I can't wait to see what happens next.