The 7 Deadly Wins challenge is my personal mission to collect a gold trophy in every Zwift Classic, no matter how many tries it takes. You can follow the highs and lows on my Youtube channel, Zwiftaholics.
---
Laps of Two Bridges Loop clock in at only 7km, so efforts up the punchy start of the Reverse KOM sure do come around quickly. I now know this is especially the case when you have an opponent who's decided to essentially punch you in the face every time you climb it.
I'm quickly learning that scoping out a Zwift Classics signup list any earlier than 5 minutes before the start is not time well spent. Whether it's the appeal of this specific series or the easier access to upcoming races in the new home screen I don't know, but it feels to me like race fields are exploding in the hour before the banner drops.
As the clock ticked down, what had looked like a relatively thin field suddenly featured some fearsome rivals. In my stream I called out Andrii Karanfilov and Andrew George; both had impressive ZwiftPower rankings, strong 20-minute power, and potent sprints. They were names I would get to know well over the next 30 minutes.
The first climb was uneventful, with barely an orange number to be seen, which lulled me into a false sense of security. After binning my first three powerups (anvils and ghosts) and rolling yet another ghost I decided to have some fun on the climb and launch a fake attack to see if I could trick some opponents into burning a match. It worked, but like a careless camper on a windy summer's day, that spark turned into a fully fledged forest fire.
George surged after (invisible) me, kicking from 6 W/kg to 9 W/kg and leaving me scrambling as I zapped back into view. The attack sparked a reaction from Karanfilov, who popped a feather and also surged past.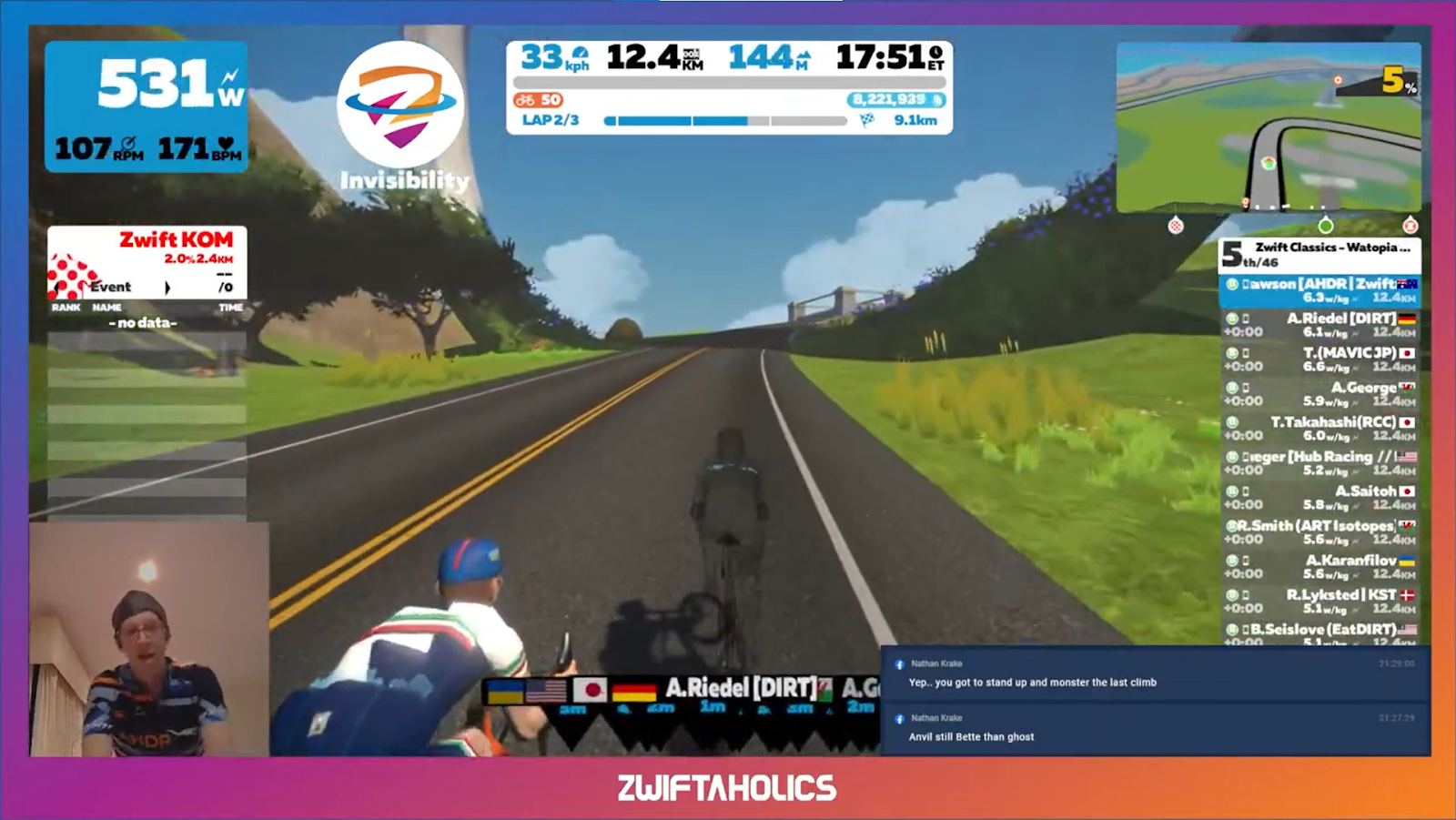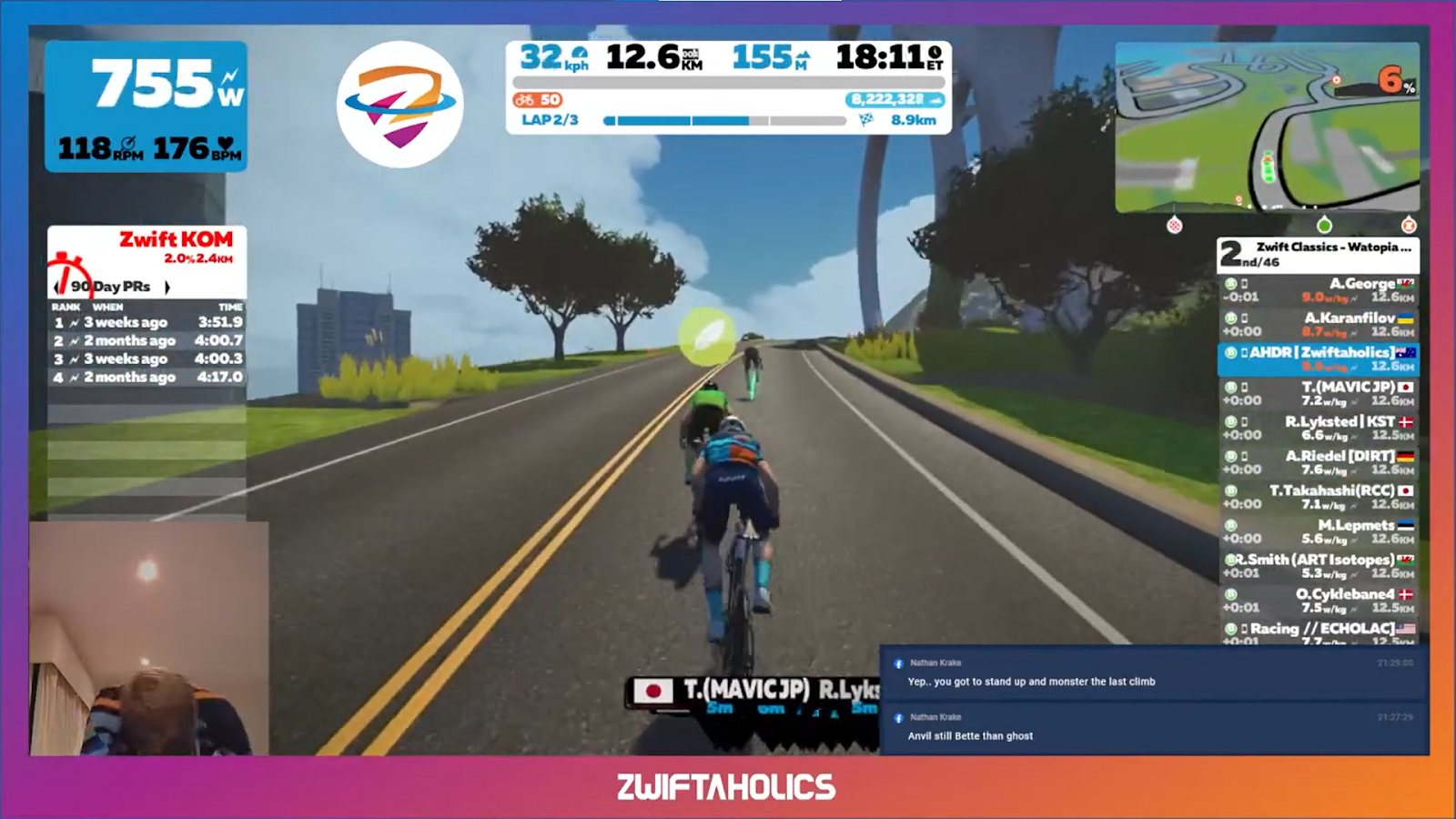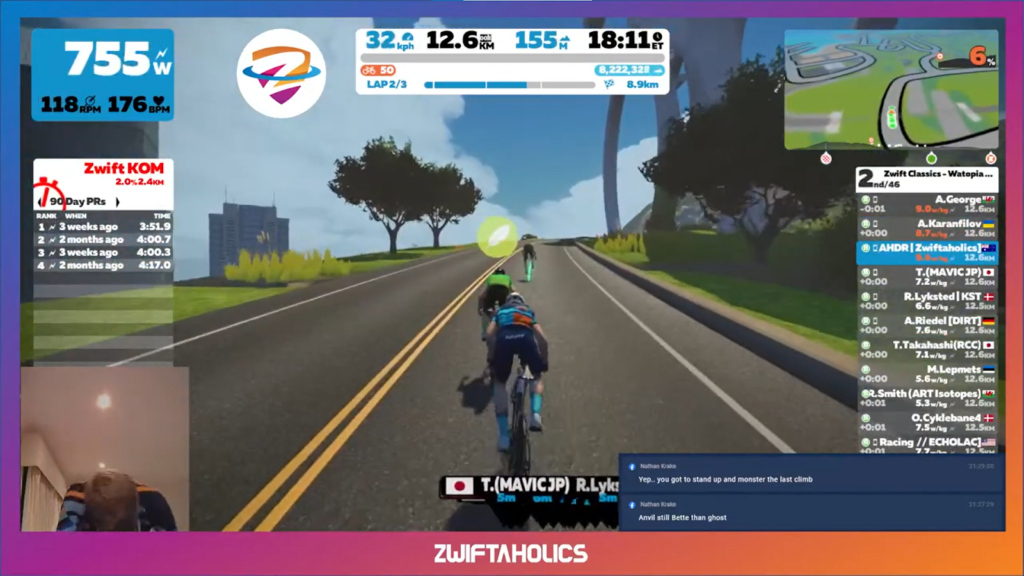 We crested with a three-second gap, but the group behind bunched up nicely and took advantage of the pack dynamics on the descent. 15 riders from the starting group of 46 remained in contention as we got the bell for the final lap.
Here's the video stream, queued up to the fun part so you can catch the final climb and the finish:
We had a lively chat window for the stream and they were all calling for an all-out effort on the KOM. I hit the segment with that plan in mind, but with no sign of last lap's aggression at first I decided I'd sit in and take my chances in a reduced bunch sprint. George had other ideas. He once again lit up the second half of the climb, launching a 10+W/kg attack that only Karanfilov, myself, and a Danish rider called Lyksted could follow. And he got his gap.
We were out of the draft but it wasn't enough of a gap for George to push on solo for the line. At 700m to go he sat up, our group of four holding a slim two-second gap on a fast-closing chasing pack. They wound us in just as we hit 300m to go, but with several riders pushing 5+ W/kg just to close the gap there were some tired legs.
George, Karanfilov and I all had the same idea, launching simultaneously at the second last bridge (seasoned Zwiftaholics viewers would know this is the optimal time to go). There's a sizeable mental component to sprinting, and a "good head" as I heard one pro put it is just as vital as good legs. Putting myself out there with this challenge, having a great group of friends cheering me on via Facebook and YouTube, and knowing the calibre of the riders I was up against definitely had me in the right frame of mind to throw everything I had at these last few seconds.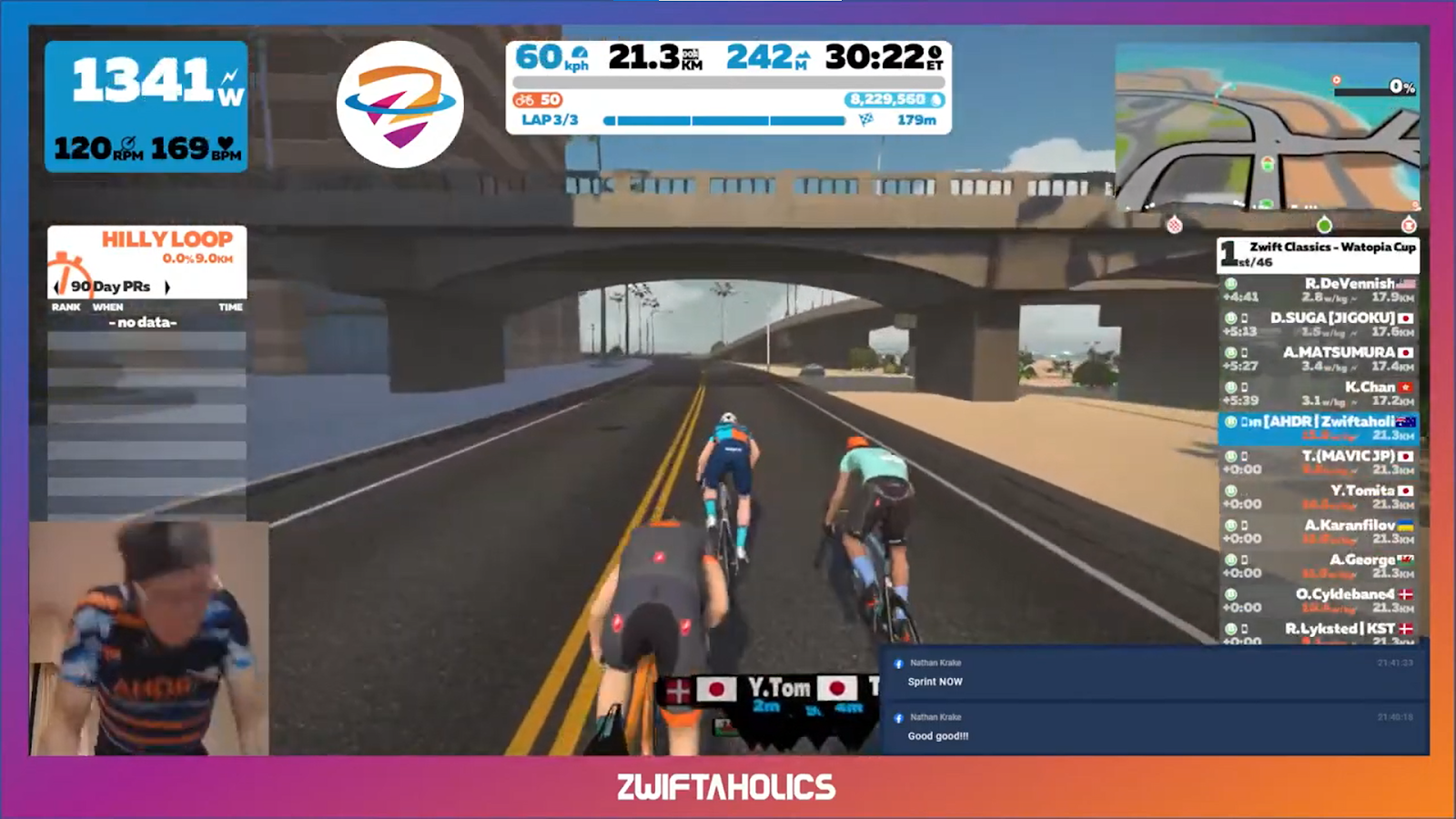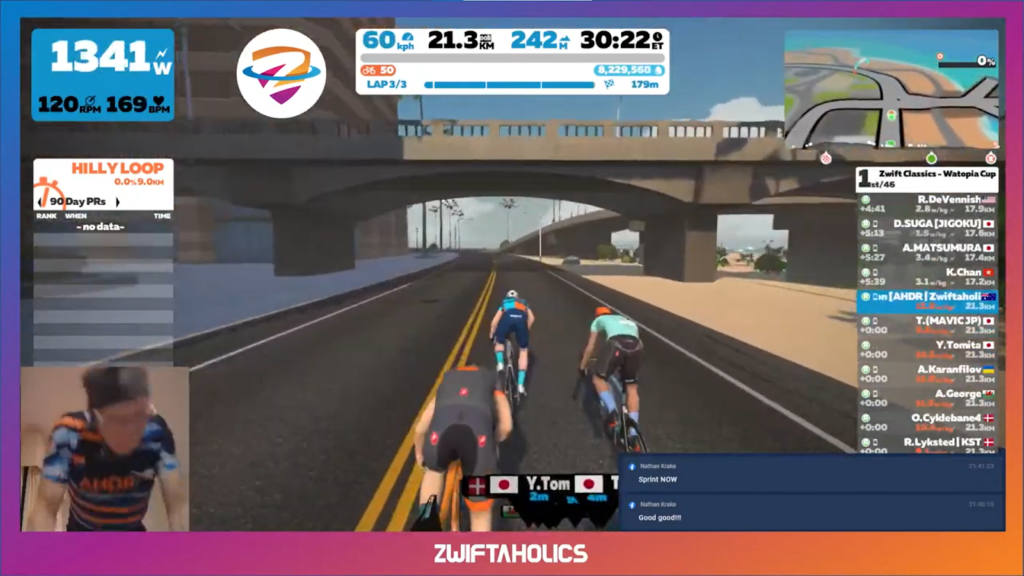 The result? A new power PR on Zwift, my best race-ending 15s sprint in well over a year, and a shiny gold trophy, crossing the line a fraction of a second before George and Karafilov, who were only 0.04s apart themselves. It was a fittingly close finish to an epic battle, and one I am very glad not to have to go back and try again.
Off to France to Watch the Femmes
We're climbing again next week, taking on the Petit KOM around Casse-Pattes. Given that I literally wrote the book on this course (OK fine, not the book, but I did do the blog post) I should have the strategy sorted. To be honest, though, it's quite simple. There aren't enough lumps and bumps to shake out any serious contenders until the race hits the steeper ramps of the KOM. It's anywhere from a hard two to five-minute effort for the Bs, depending on when racers choose to make their move.
I'm unlikely to be the fastest rider up the KOM, so I'll need to hope we can regroup on the descent and reel in any flyers in time for the flat sprint finish through the marina.
And if watching me on YouTube isn't exciting enough, there will of course be the Tour de France Femmes avec Zwift to light up your screens this week! The women's peloton has delivered some incredible racing in 2022 and the stars are certainly lining up for this one. Speaking of which, I might need to channel my own inner Lorena Wiebes at the end of this week's Classic if I hope to keep the streak alive.