During the month of March (Women's History Month), Zwift is dedicating itself to celebrating the power and strength of women everywhere through the "Women's Ride and Run Series" (WRRS).
Women everywhere are invited to join the celebration with fun social events and energetic podcast episodes featuring our community of athletes. As Zwift states themselves: "Zwift is celebrating the strides taken for women's sport equality while recognizing and promoting further gains to be had. Throughout March, Zwift is calling on the community to celebrate, connect and engage in an effort to raise awareness for gender equality in sport."
Events
WRRS group rides and runs are scheduled throughout the month and feature multiple routes, with a dedicated route assigned to specific days of the week. All events are for women only.
Group rides are Category E—for all women—and will be led at a general pace (1.5-2w/kg)
Group runs are paced roughly between 5:30-6:15min/km—or decided by the group in the start pen at the time of the event.
These group events culminate in one big event on March 28th!
Weekly Ride Schedule (all rides 45 minutes long):
Weekly Run Schedule (all runs 30 minutes long):
Main Event: Ven-Top Challenge
WRRS culminates on March 28th with a major event at 8am PST and 8am GMT.  Join the mass participation ride and tackle Ven-Top—Zwift's toughest in-game ascent!
Kit Unlock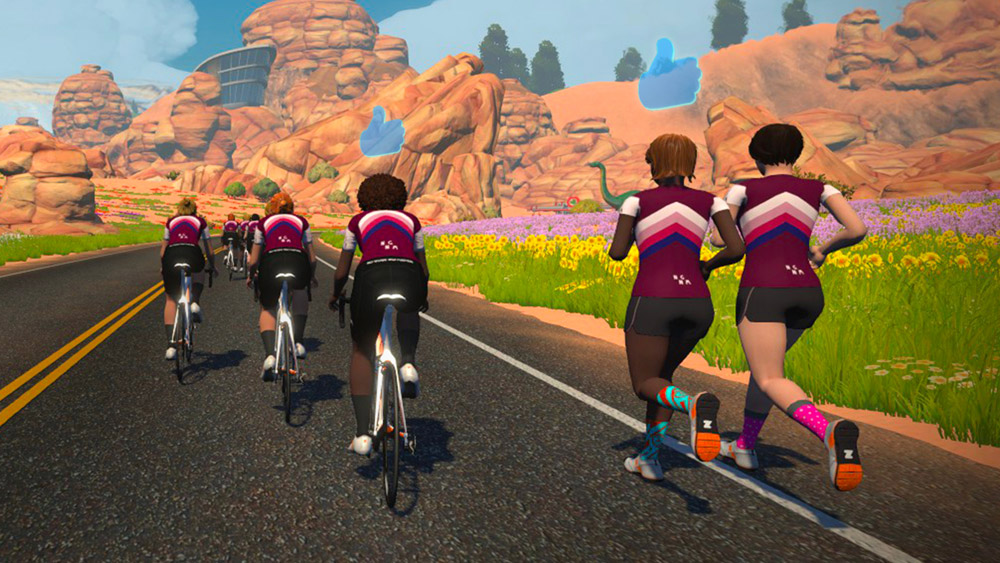 Participants in Women's History Month events will have the opportunity to wear and unlock the official kit in game. Earn the in-game WRRS Ride Kit and Run Top when you complete one group event.
No Gods No Masters (NGNM) is the official apparel partner of WRRS 2021, and they are selling a limited edition NGNM x Zwift Women's Ride + Run Series Cycling Kit and Run Tank Top. 
Podcasts
Zwift has scheduled a series of podcasts which will explore equality in sports, training tips for women, Sika Henry's story of being the first African American triathlete to go pro, and Malindi Elmore's infamous run story.
March 4 – WRRS Special Sika Henry's historic journey. Sika Henry is the 2015 and 2016 One City Marathon Women's Champion as well as an 2019 IRONMAN World Championships finisher.
March 11 – WRRS Special: A discussion on equality in sport with special guests
March 22 – WRRS Special: Women's Training with Dr Stacy Sims and more
March 25 – WRRS Special: Malinidi Elmore on her exceptional Tri and Run Career. Malinidi Elmore is a 6 x Canadian Champion in track & field and former Olympian, representing Canada in the 2004 Olympic Games in Athens. 
Live Panel
On March 18th, 11am PST / 2pm EST / 6pm GMT, hosted on Facebook, there is a live panel which features exercise physiologist and nutrition scientist Dr. Stacey Sims, 3 x Gold Medalist Kirstin Armstrong, sports nutritionist Gemma Sampson, and Olympic runner Gwen Jorgensen.
Charity
Zwift is donating $25,000 to the Women's Sports Foundation (WSF) to support its mission of unlocking the possibilities for every girl and woman through the power of sport.  The WSF was founded by American tennis player Billie Jean King in 1974, and is committed to building a future where every girl and woman can unlock the lifelong benefits of sport participation.