During the month of March (Women's History Month), Zwift is dedicating itself to celebrating the power and strength of women everywhere through the second annual "Women's Ride and Run Series" (WRRS).
"Women's History Month on Zwift presents a great opportunity for women to come together and celebrate the community on Zwift," says Kate Veronneau, Director of Content and Women's Strategy. "We've come so far for equality in sport and 2022 is going to be a fantastic year for women in sport and cycling with the Tour de France Femmes avec Zwift. This series is a chance to stop for a moment and recognise the rulebreakers and trailblazers that have gone before us and pushed the boundaries for women's sport."
See WRRS homepage at zwift.com/wrrs
The series begins with "Power of the Pack" rides and runs today (March 8th, which is International Women's Day). A variety of events are planned throughout the month, offering the women's community on Zwift the opportunity to celebrate and unite through weekly in-game women's-only events. Read on for details!
Event Schedule and Details


WRRS consists of several different types of events. Each event type is scheduled on a particular day of the week, at multiple times. Routes change each week.
WRRS Power of the Pack Rides (see all): kick of WRRS and celebrate IWD with a 30-minute group ride on Makuri Islands Flatland Loop
WRRS Power of the Pack Runs (see all): kick of WRRS and celebrate IWD with a 30-minute group run on Watopia That's Amore
WRRS Podcast Rides: 45-minute rides scheduled every 3 hours each Tuesday, where you'll listen to a podcast episode created just for WRRS to highlight prominent women in the cycling community.
WRRS Workout of the Week (see all): each Wednesday features a fresh workout.
WRRS Saturday Community Rides (see all): each week's group ride features a new challenge!
WRRS Saturday Community Runs (see all): each week's group ride features a different run route!
Kit Unlock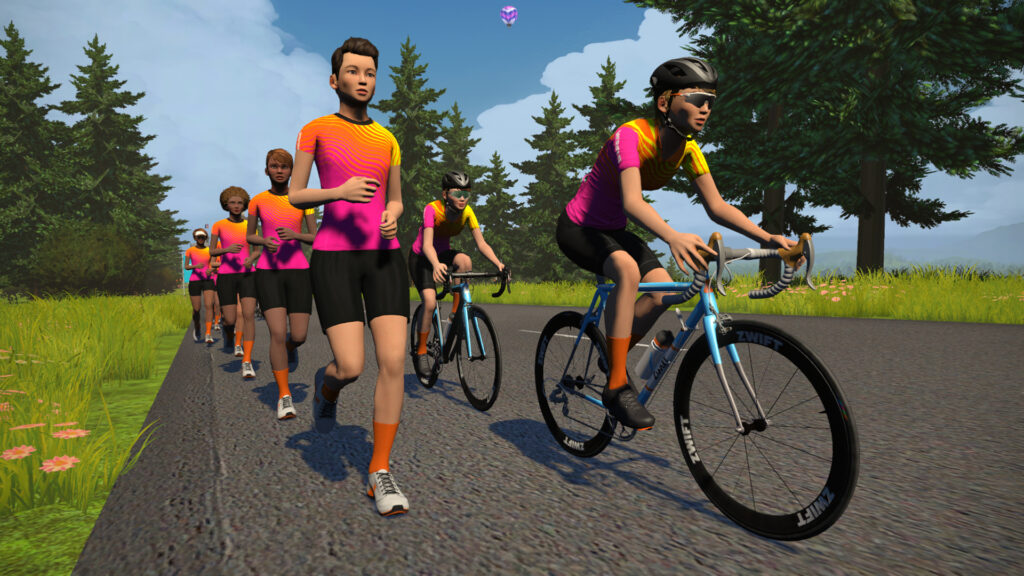 Participants in WRRS events will have the opportunity to wear and unlock the official kit in game. Earn the in-game WRRS Ride Kit and Run Top when you complete any group event!
Got Questions?
Check out Zwift's WRRS FAQ page >
Charity
Zwift has selected two non-profit organizations to support in 2022 in conjunction with WRRS. They will be donating $25,000 to the Women's Sports Foundation (WSF) to support its mission of unlocking the possibilities for every girl and woman through the power of sport, and also donating $25,000 to The Cycle Effect to support its mission to empower young women through mountain biking, create brighter futures, and build stronger communities.
Questions or Comments?
Post below!