As we enter 2023 ZwiftRacing.app hits its first milestone: entering the second season. Each season at ZwiftRacing.app rider rankings are reset. The reset allows any anomalies to be accounted for, ensuring that rank changes stay consistent and accurate for everyone. They also allow ZwiftRacing.app developer Tim Hanson to make significant under-the-hood changes without impacting rankings or platform performance mid-season.
The start of 2023 and ZwiftRacing.app season 2 bring some exciting new things, with much more on the horizon. The reset itself is executed as follows:
Riders with a rating within 200 either side of their Compound Score will start Season 2 with the same rating they finished with in Season 1 (87,427 riders)
Ratings more than 200 above a rider's 5m Compound Score have been reduced to 200 above their CS (1339 riders affected)
Ratings more than 200 less than a rider's 5m Compound Score have been increased to 200 below their CS (6989 affected)
Maximum Rating to start the season set to 3200 (16 affected)
All race histories from Season 1 have been preserved
Alongside the ranking reset, Tim has also been working hard on a complete upgrade to the backend server to support much of the future roadmap. But let's talk about two big changes some users may have noticed: rider profiles and ZwiftRacing.app races.
Rider Profiles
You can now log into ZwiftRacing.app using your Strava credentials. Once you have done this, be sure to search for yourself and claim your profile. Now every time you access the website you will be able to quickly and easily view your profile, along with a list of riders you have added as favorites.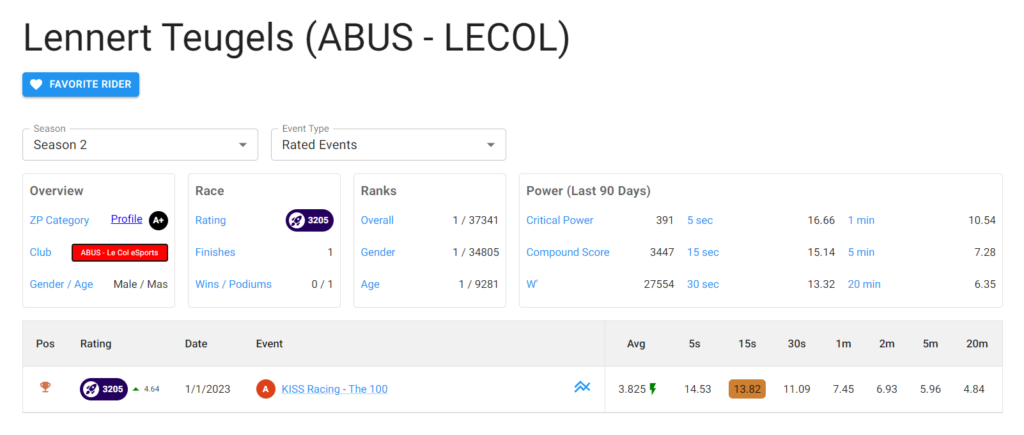 Race Organizer Dashboard
Race organizers can now use the ZwiftRacing.app platform to organize races with completely custom pen boundaries and pen enforcement! The MVP version of the toolkit allows riders to publish an event for signup. After signup closes, The organizer can distribute riders into custom pens, each with a unique event link. They could distribute riders by rank, any of the available power metrics, or any way they see fit. After the event has been finalized, riders can then get access to join the correct Zwift pen.
Future versions of this toolkit will allow organizers to pre-determine the logic to split riders, so that on signup they can get immediate access to the pen. There will also be the option to get pen details emailed to you once a race is finalized.
For more information on how to organize a ZwiftRacing.app event, be sure to join the ZwiftRacing.app Discord server where a member of the community will be able to help get you started.
Weekend Tour

The Weekend Tour is an event hosted by VirtoSlo using rankings over the weekend of January 13-15. The tour consists of 3 stages over 3 days with both team and individual GC classifications, including sprints and KOMs.
The Tour consists of the following events:
Stage 1 – Flat / Sprints (Jan 13th at 19:00 UTC / 20:00 CET)
Course: Douce France
Distance: 2 Laps (48.8 km – 270m)
Stage 2 – Flat / Sprints & KOM (Jan 14th at 16:00 UTC / 17:00 CET)
Course: Watopia 2022 Medio Fondo
Distance: 1 Lap (79.3km – 922m)
Stage 3 – Mountain / KOMs (Sunday January 15th 16:00 UTC / 17:00 CET)
Course: London Surrey Hills
Distance: 1 Lap (44.2 km – 1034 m)
General Classification (GC) – Mixed and Women
Each stage will have a stage winner, but the overall winner in the GC is the rider who has taken the least time to complete all stages. Riders must finish a stage in order to start the next stage.
Team Classification
Team Classification is calculated by adding up the top three riders' times from each team for each stage. The team with the lowest total time is the winner of the classification.
Sprint Classification
The sprint classification is based on the total amount of sprint points earned in all stages. Points can be earned on intermediate sprints and finish sprints (see points distribution).
KOM Classification
The KOM classification is based on the total amount of KOM points earned in all stages. Points can be earned based on the categorization of each climb (see points distribution).
Join the Tour!
To sign up for this tour head over to zwiftracing.app/zr-events and ensure that you are signed in. You will then be able to join.
Questions or Comments?
Share below!