August's Zwift Ride Series is focused on the UCI World Championships in Glasgow, Scotland. This is the first time the UCI has done a "super worlds" where (nearly) all cycling disciplines have their events hosted in the same place, during the same week. It's going to be amazing!
Zwift says, "In honor of the 14 unique cycling disciplines showcased in Glasgow at Worlds, ZRS: Podium Rides will test your mettle on an array of machines from TT and Road Bikes to Mountain Bikes and Handcycles."
Route and Schedule Details
Rides are scheduled five minutes past the top of each hour throughout the week.
Stage 1 (Jul 31-Aug 6) – TT Bikes

Loch Loop – 2 laps (16.1km, 142m)
The Loch Loop has it all—descend through a castle, navigate the mystical roundabout, and conquer the Breakaway Brae KQOM on your speedy TT bike.

Stage 2 (Aug 7-13) – Road Bikes

Rolling Highlands– 2 laps (23km, 182m)
A scenic route from the country paddocks, along the Cliffs, through the mystical roundabout, and up Breakaway Brae, the Rolling Highlands route is a fan favorite.

Stage 3 (Aug 14-20) – Handcycle & Open Bike Selection Options

Glasgow Crit Circuit – 5 laps (15.3km, 165m)
Grab your handcycle and take on this punchy circuit that showcases the streets of Glasgow—the host of the 2023 UCI Cycling World Championships' finishing circuit.

Stage 4 (Aug 21-27) – Mountain Bikes

City and the Sgurr – 2 laps (14.6km, 267m)
Grab your MTB and conquer "The Sgurr" on the City and the Sgurr route. Named after the Gaelic word for "high, sharp-pointed hill," this climb is the highest point on the Scotland map.

Make Up Week (Aug 28-Sep 3)
Missed a stage or two? Make up rides are available all week long!
See all upcoming ZRS: Podium Rides events >

Signing Up
To sign up for the series, click the card at the top of the homescreen and click "Register". You're all done! Clicking the card will now show your progress as you complete each stage.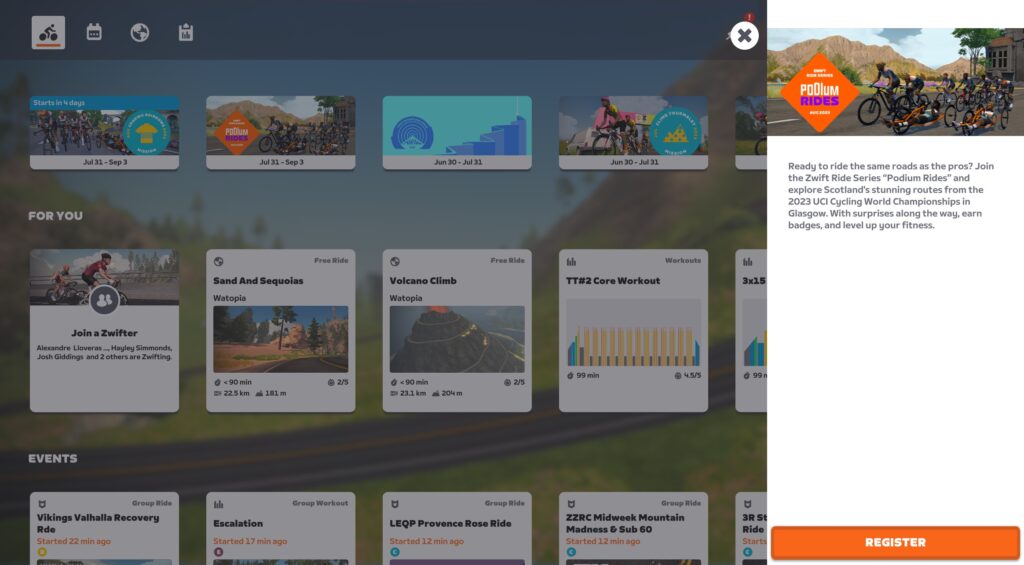 Badge Unlocks
Complete all four stages this month to unlock the Zwift Ride Series: Podium Rides badge!
Kit Unlock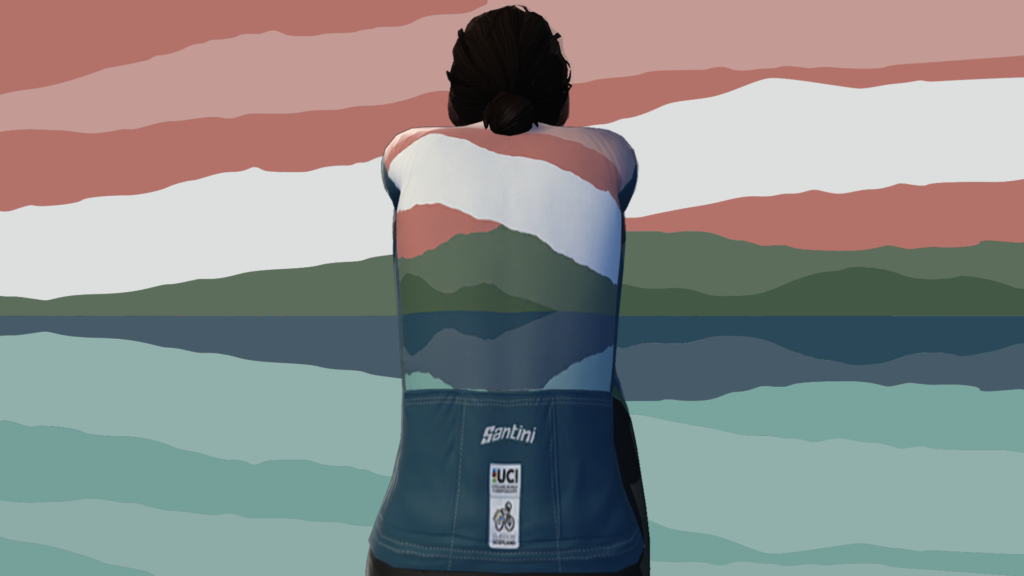 Complete all four stages this month to unlock the new UCI rainbow-stripes-inspired in-game kit.
You can unlock the same kit by finishing all five stages of the "Race the Worlds" Zwift Racing Series.
Questions or Comments?
Share below!