Back on August 30th I completed the first ride of Zwift Academy Road 2021 – the Baseline Ride. Many thousands of riders around the world did the same, then we dove into the ZA Road program – 6 workouts and 2 recovery rides – before arriving at the Finish Line ride.
Today was my day for the Finish Line effort, after taking it easy yesterday to recover from the prior day's big ZRL race. I woke up early, joined the Twenty24 Road to Tokyo group ride for a warmup, then headed to the start pens. It was still dark outside, but I had 200mg of Military Energy Gum caffeine coursing through my veins and PR lotion on the legs, so I was ready to rock.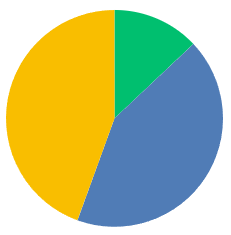 Before I Tell My Story… Tell Me Yours
If you finished ZA Road 2021, please take a minute to fill out this short survey. It only takes about 1 minute to share how your Baseline Ride compared to your Finish Line Ride.
The results will be used in an upcoming Zwift Insider post, and they'll be shared with ZHQ as well.
My Baseline Bests
As we spun our way easy out of the start pen I checked the times and power averages I had set in my Baseline Ride:
VO2 Effort (Titans Grove KOM Reverse): 1:45, 466W average
Sprint Effort (Watopia Sprint): 24.23 seconds, 692W average
Threshold Effort (Volcano KOM): 8:07, 333W average
Knowing those power numbers would give me some rough targets, plus knowing the length of each interval would help me with pacing.
Segment 1: Titans Grove KOM
Yesterday I set up a new rocker plate to test/review, and to be honest, the out of the saddle experience wasn't what I was used to. So I planned to do most of my efforts seated, because I really liked the seated feel with this plate.
As I approached the start banner (very easy to see now that Zwift added big ZA arches at the start lines) I ramped up the watts, then just pushed harder as the road tilted upward. Knowing I had averaged 466W in my first attempt, I was watching my numbers and trying to make sure my power didn't drop below that number. I was surprised to see my wattage staying near 500W. Could I hold this power?
The suffering really set in during the final 30 seconds. And with 10 seconds to go I was on the very limit, with my legs about to explode. But I kept pushing, giving it all I had – and took the KOM when I crossed the line. Hurray!
1:38, 515W average (10.5% power increase)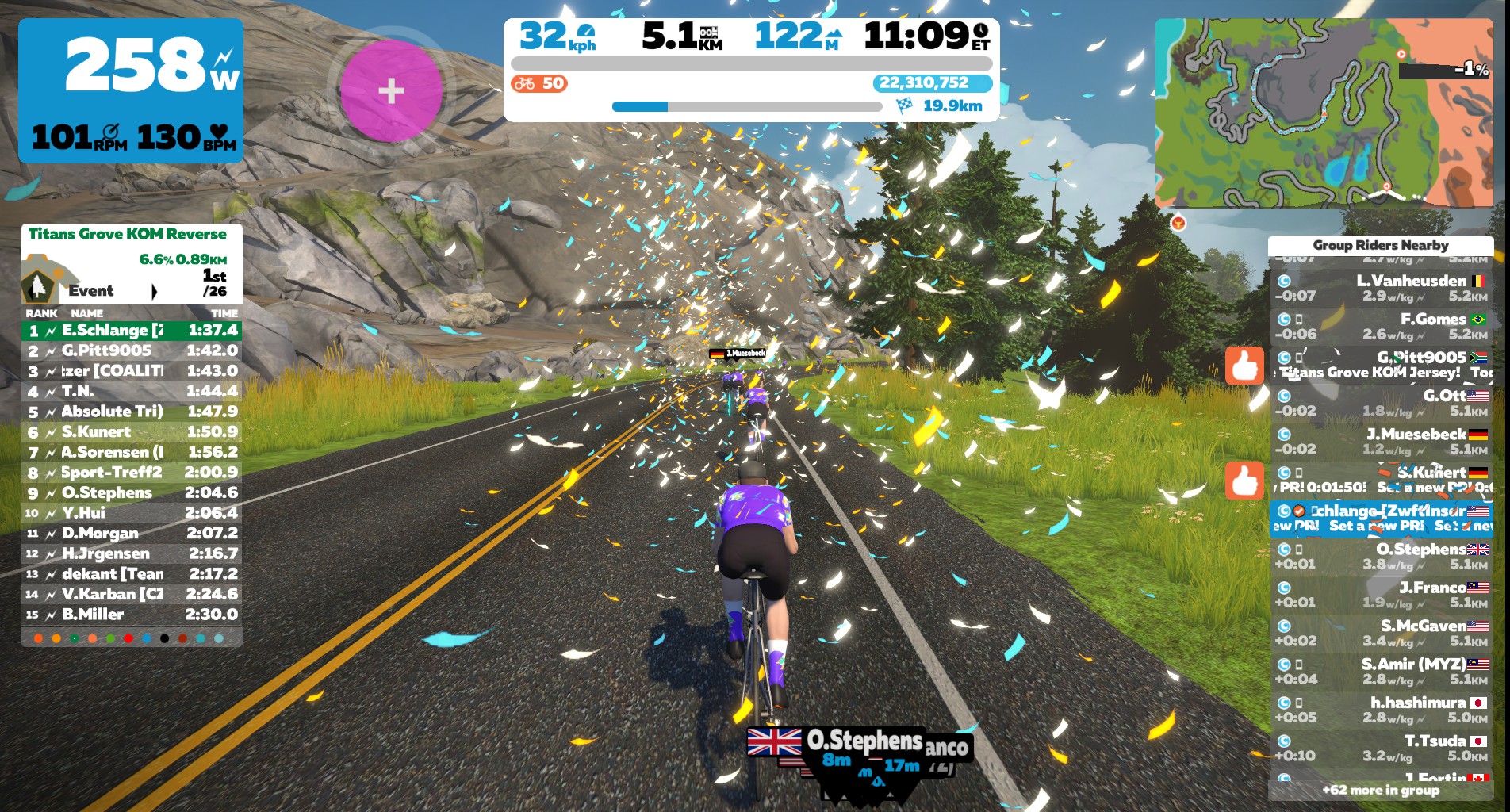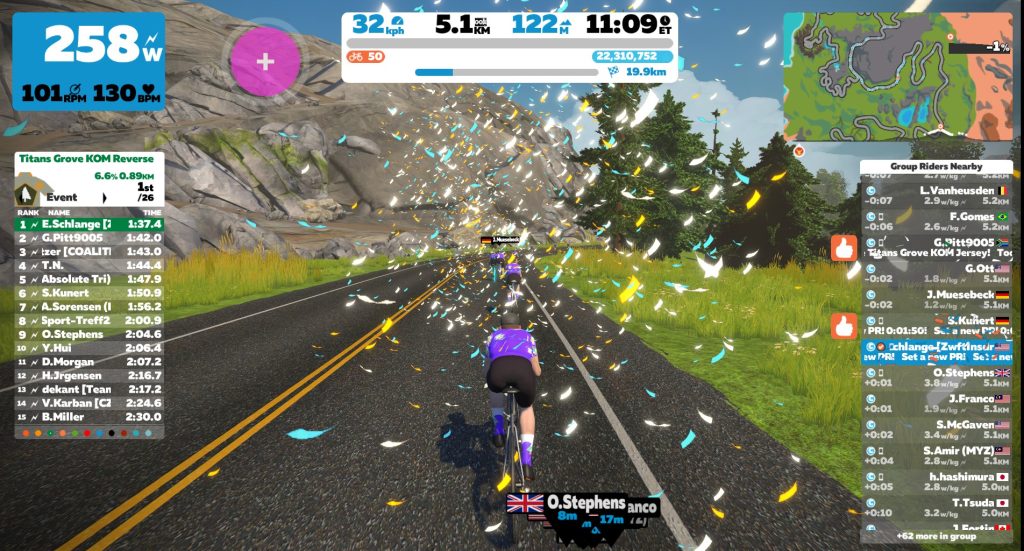 Segment 2: Watopia Sprint Forward
I wasn't sure if I had just dug deeper in the first segment, or if my legs weren't very recovered today – but after the feeling of those final seconds of the Titans Grove KOM, I wasn't sure what I would have left on the other segments. But I wasn't going to give up! So I rode super easy as we made our way down the hill toward the sprint segment.
At this point I was joined by another rider, Ricardo from the Coalition team, who hung with me as we made our way to the Italian Village. He congratulated me on grabbing the KOM (Ricardo had placed third).
As we hit the cobbles of the Italian Village I ramped up my wattage so I would hit the start line at a high speed. Then it was a head-down, all-out high cadence seated sprint to the line. Looking up at the leaderboard as I crossed the line, it had me in 1st place. Woohoo!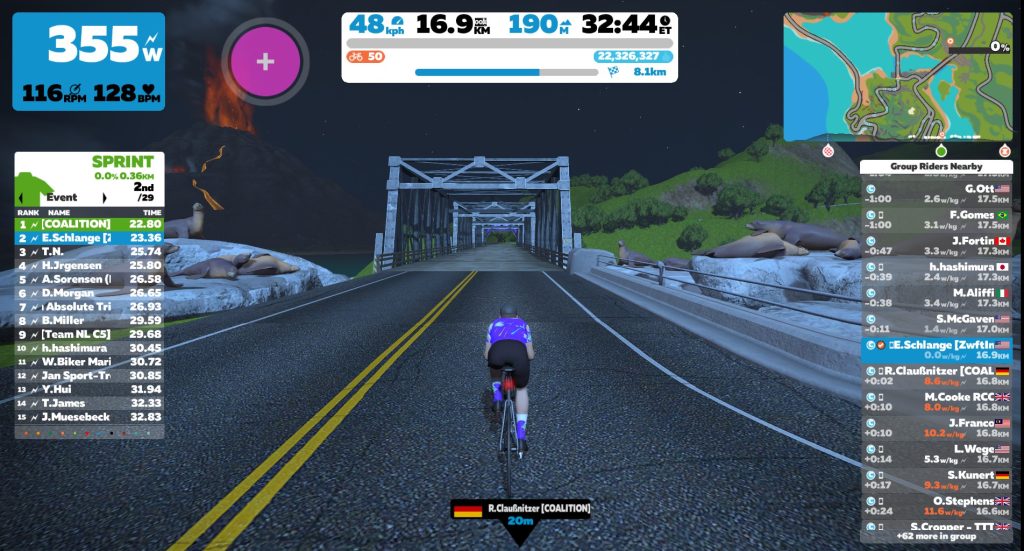 But victory is fleeting. Just a fraction of a second later I got bumped to second place as Ricardo flew across the line, besting my time of 23.36 with his time of 22.8!
Nice work, Ricardo. And I had improved on my Baseline time, which was all that mattered to me.
23.36 seconds, 755W average (9.1% power increase)
Segment 3: Volcano KOM
It seemed as though my legs were strong today, even though I felt like I lacked the stamina for a full-strength effort up the Volcano KOM. I spun super easy, making my way to the Volcano, chatting with Ricardo over The Esses.
I always dread the Volcano KOM, because it's 8 minutes of pain and I've never felt victorious here in races – I always get dropped! But I had a target: 340W+. And my big goal was to finish in under 8 minutes.
Once again I ramped up the watts heading into the start, then tried to keep the effort steady, remaining seated. When the road got steeper I would try to increase my wattage, then I would ease a bit for microrecovery on the downhills and flats. Ricardo was sitting on my wheel, never more than 1 second behind.
I wasn't sure if he was struggling to keep up with me, or just sitting on my wheel and biding his time. But seeing him just behind helped me keep the pressure on the pedals. I envisioned him pushing hard to pass me, and I kept trying to keep my effort high so he couldn't do it.
We hit the flat section halfway up the climb and I was suffering, but not dead yet. So I kept hammering! Then with 400m to go the road tilted up even more, and that's when Ricardo put the hammer down, coming around me at over 8w/kg and dropping me like a hot rock. I pushed with all I had in those final seconds, crossing the line in 3rd overall. Ricardo was in 2nd!
7:51, 349W average (4.8% power increase)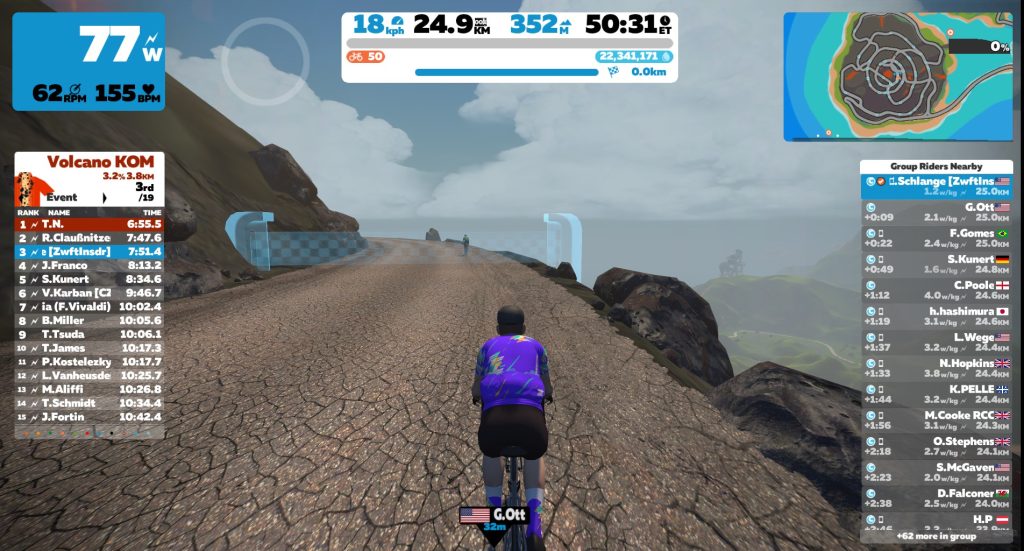 Watch the Ride Recording
I edited the video so it just shows the start plus each of the three segments. Enjoy the silent suffercam footage!
Wrapping Up Zwift Academy Road 2021
This year's Zwift Academy Road was a fun experience for me. The workouts were challenging, but doing them in a group setting pushed me so I never gave up or even touched my FTP bias setting. And the results of my Finish Line ride were pleasantly surprising! I had hoped to improve on at least one of the segments, but improving significantly on all three gives me a big morale boost.
Did I improve because I got stronger during Zwift Academy? Or were my improvements due to other reasons? Hard to say exactly, but I think it's pretty safe to say that for many of us, a second attempt on the same course will yield a better result just because we're more familiar with each segment and our abilities. Still, I feel like I attacked the segments quite well in my Baseline Ride, so I'm confident that at least some of my improvement is due to increased fitness.
What will Zwift do next for ZA Road finishers? They've promised an email to finishers talking about next steps based on your Finish Line results. Will they help me determine my strengths and weaknesses? Give me training tips based on my results?
Like I said in my Baseline Ride article, the Baseline/Finish Line rides idea is a good one. But it has a lot of untapped potential in terms of better metrics (e.g., showing riders their average power for the segments) and personalized training advice (e.g., "VO2 power is your biggest weakness, here's how to train it.") I think we'll see it in coming seasons.
Your Thoughts
How did your Finish Line ride go? Share below, and don't forget to complete our short survey!