While Zwift Racing League 2021/22 Season 3 has officially ended, there are two optional races for all ZRL teams: a Semi-Final on Tuesday (May 17) followed by the Finals on Saturday (May 21). Officially called the "WTRL Racing Finals", these races feature a fresh ranking/grouping format which is full explained in this post.
We've put together a complete race guide including tips for bike choice, powerups, and crucial segments. Ride smarter… ride harder. Let's dig in!
Looking At the Route: Watopia's "Downtown Titans"
This former Rebel Route features a race-friendly mix of punchy climbs, flats, and sprints. All riders will be racing a single lap of the route, which is 24.6 km (15.3 miles) long with 254 m (833') of elevation.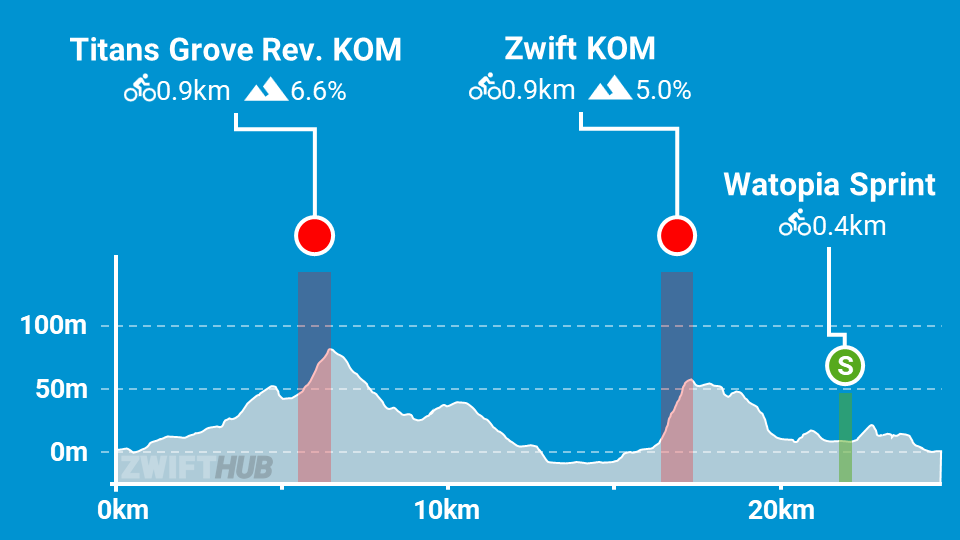 There are four key portions on this course:
Titans Grove Rev KOM (5.7km in): 900m long at 6.6% (Strava segment), this is the longest climb on the route and it awards FTS and FAL points. It's got an uphill lead-in as well, but riders shouldn't be pushing too hard early as they'll want to save their legs for the points on the KOM. Hammer it home, then recover on the descent that follows.
Hilly KOM (16.3km in): 900m long at 5% (Strava segment), this climb will force the second major selection of the race. Come across the top in touch with the front group and you should be able to hang on to the finish. But if you lose the wheel here, and your race is done. Note: there are no FTS points available on this climb!
Sprint (21.5km in): this is a long (400m) flat sprint, so timing and strategy will be important if you're chasing FTS or FAL points. Watch for attacks into the Esses immediately following!
The Finish: this is a trick finish where timing is vital. You'll head into the finish on a slight descent, but watch that you don't jump early! Look for the banners – there is a 300m to go sign, and the finishing arch isn't visible until just before the 200m mark.
Read all about the Downtown Titans route >
PowerUp Notes
No powerups will be given out during this race. Due to a Zwift bug powerups have been unreliable in ZRL (and other) events lately, so WTRL made the wise decision to just disable powerups for everyone until the bug is fixed in the next Zwift update.
Bike Choice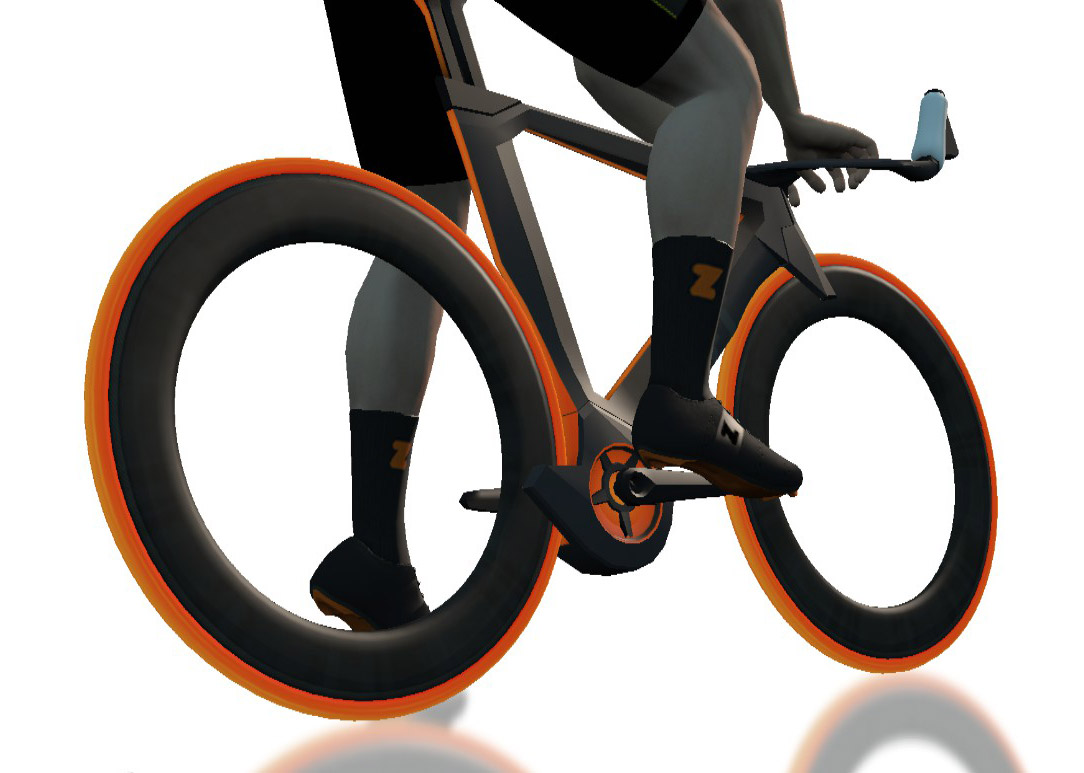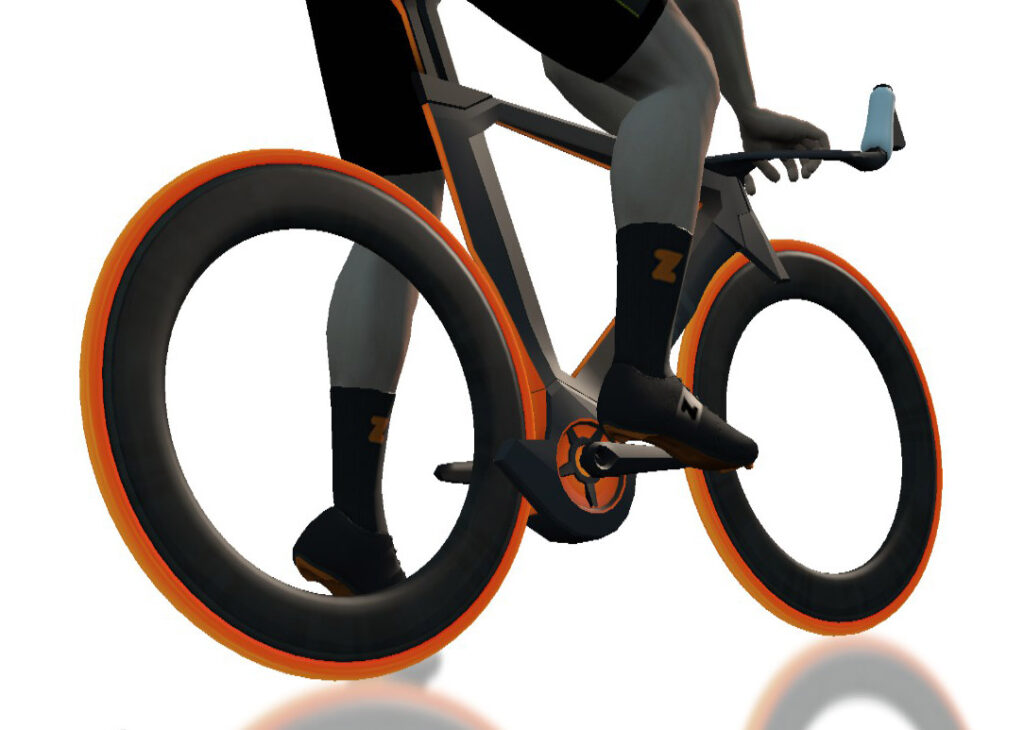 The key selection points on this route are the two KOMs, but they are short and quite draftable, so a pure climbing rig won't benefit you much. We recommend an all-arounder like the Tron bike so you are still very aero for the sprint intermediate and inevitable pack finish.
See our See Tron vs Top Performers Comparison Chart for a helpful comparison of various popular setups.
Alternatively, if you're chasing sprint points and feel confident in your ability to hang with the front pack, you may go with a pure aero setup for maximum sprint and finish speed. See Fastest Bike Frames and Wheels at Each Zwift Level for tips on what to use.
More Route Recons
Many events are now being planned each weekend on the upcoming ZRL route. If you're not familiar with this course, jump into one of these events and do some recon! Here's a list of upcoming Downtown Titans events.
Looking for a video recon, with lovely British commentary to boot? Check out the recons below:
Si Bradeley
Strategic Options
Points Distribution
The maximum points a team of 6 could earn in this race.
As the chart above shows, this route has a nice mix of points for all types. But it's important to note that all the sprint points come after the two climbs, so only those sprinters who survive the KOMs can contest sprint FAL points!
Here are the strategies we predict racers will employ for the semi-finals:
Climbers attack: strong climbers have every incentive to go hard on the KOMs in order to grab points and drop the sprinters.
Sprinters saving: pure sprinters will have to push hard to stay in the front group on the climbs, but if they survive they've got sprint and finish points waiting up the road. Watch for sprinters to sit in with as little effort as possible until the Italian cobbles start to rumble.
Going long: someone always attacks on the ramp into the Esses, just after the sprint. Always. It rarely works, but if you don't fancy your chances in a pack sprint, this may be your best bet.
Your Thoughts
Care to share your thoughts about Tuesday's big race? Comment below!
About This Series
The Giant Tips ZRL series is sponsored by Giant Bicycles and delivers helpful tips for upcoming Zwift Racing League stages so you can unleash your full potential.
Giant is the world's leading brand of high-quality bicycles and cycling gear. Part of the Giant Group founded in 1972, the brand combines craftsmanship, technology, and innovative design to help all riders unleash their full potential. Learn more at giant-bicycles.com, or visit one of their 12,000+ retail stores around the world.