While Zwift Racing League 2021/22 Season 3 has officially ended, there is one Finals race left this Saturday (May 21). (Officially called the "WTRL Racing Finals", these races feature a fresh ranking/grouping format which is full explained in this post.)
We've put together a complete Finals Guide including tips for bike choice, powerups, and maximizing your performance across 12 (yes, 12!) sprints. Ride smarter… ride harder. Let's dig in!
Looking At the Route: Makuri Islands' "Sprinter's Playground"
Featuring in ZRL for the first time, this route may feel like a Playground across one or two laps. But three? Madness. It all adds up to 12 sprint points across 37km of racing with 207m of elevation gain.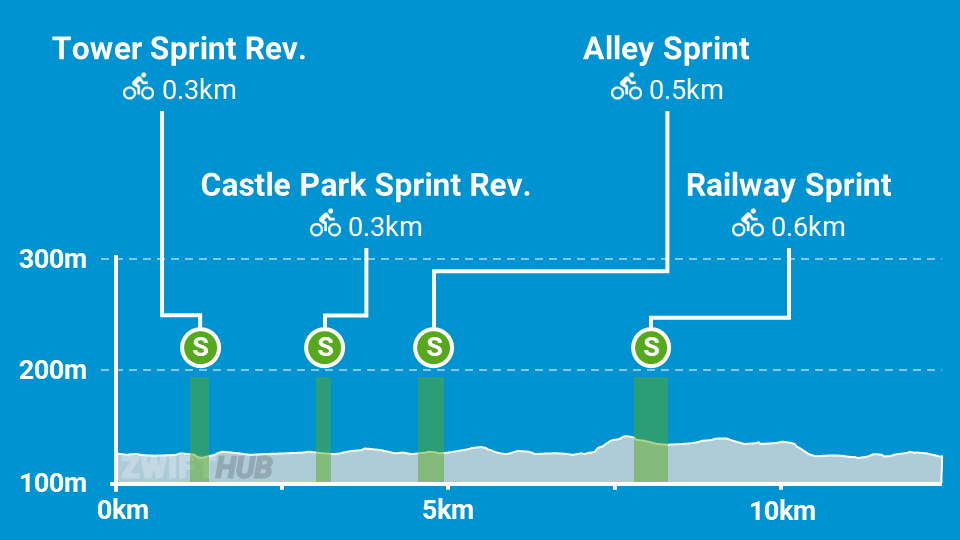 This course has no real climbs, and with 4 sprints per lap most riders won't have the legs to push on the uphills anyway. There is one bump heading into the Railway Sprint which some riders may try to exploit in order to get off the front and stay away – but that's a trick your body won't let you repeat on a course like this.
The best advice we can give you for success on this route is to ride a recon and learn the layout of each sprint. You need to know where each sprint begins and how long it lasts so you can make smart choices about which sprints you'll attack and which sprints you'll surf wheels. With 12 sprint segments across the race, you simply won't be able to go all-in on each one!
Tower Sprint Rev: 300m long and flat, the first sprint of the lap often gives bonus points to riders who know their route and start early, before the start line is visible.
Castle Park Sprint Rev: 300m long and flat, this is one of the shorter sprints on the course, and one whose start line will surprise you if you don't know your route.
Alley Sprint: 410m long and flat (Strava segment), this is the second-longest sprint on course. Coming quickly after two previous sprints, expect many riders' efforts to be blunted. The first sprint on the loop with FTS points, some riders will linger near the back leading into this sprint, then try to power through.
Railway Sprint: 490m long and slightly downhill (Strava segment), this is the longest sprint on course, and it comes just after a bit of an uphill bump. Watch for some riders to go long, while other riders start from the back to chase FTS points.
The finish is a bit tricky here too, since you can't see it until it's too late to react. Pre-ride the route, watch your distance to go once you've left the Arcade, and good luck on timing it well!
Read all about the Sprinter's Playground route >
PowerUp Notes
No powerups will be given out during this race. Due to a Zwift bug powerups have been unreliable in ZRL (and other) events lately, so WTRL made the wise decision to just disable powerups for everyone until the bug is fixed in the next Zwift update.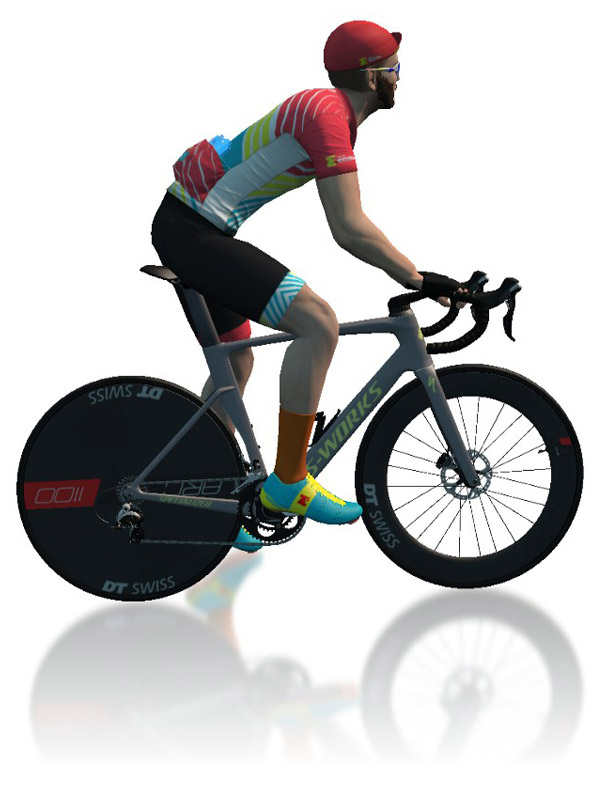 Bike Choice
This is a flat course with no real climbs and only sprint points to be had, so aero is everything.
Grab the fastest frame and wheels out of your garage. You may even consider making a purchase with some of those Drops you've got in the bank!
See Fastest Bike Frames and Wheels at Each Zwift Level for tips on what to use.
More Route Recons
Many events are now being planned each weekend on the upcoming ZRL route. If you're not familiar with this course, jump into one of these events and do some recon! Here's a list of upcoming Sprinter's Playground events.
Looking for a video recon, with lovely British commentary to boot? Check out the recons below:
Si Bradeley
Strategic Options
Points Distribution
The maximum points a team of 6 could earn in this race.
As the chart above shows, this race is all about the sprint points, and in particular those FAL points. Here are the strategies we predict racers will employ for the finals:
Pick and choose: no rider can put in a max effort for 12 sprints, so smart sprinters will be picking their efforts based on their power profile and how the legs are feeling. Are you a 30-second sprinter, or a 15-second? Can you attack and stay off the front for a bit? Make choices that maximize your strengths.
Tag team: teams, with the help of Discord, will do some coordinated efforts on particular sprints. This can be quite effective when attacking off the front for FAL points, as riders can trade pulls and stay away from the hard-charging pack.
3-sprint breakaway: with the first three sprints of each lap happening within a 2.8 km window, a small breakaway (perhaps 2-3 riders from one team) could potentially gap the peloton and grab top FAL points for three sprints. It'll take a big effort to stay away, but the rewards will be rich!
Your Thoughts
Care to share your thoughts about Saturday's Final? Comment below!
About This Series
The Giant Tips ZRL series is sponsored by Giant Bicycles and delivers helpful tips for upcoming Zwift Racing League stages so you can unleash your full potential.
Giant is the world's leading brand of high-quality bicycles and cycling gear. Part of the Giant Group founded in 1972, the brand combines craftsmanship, technology, and innovative design to help all riders unleash their full potential. Learn more at giant-bicycles.com, or visit one of their 12,000+ retail stores around the world.