Zwift has grown significantly in popularity throughout the pandemic as the world's largest indoor cycling platform and community.  The competitive side of Zwift – where racers compete against each other in real-time events – is an important aspect of the platform, with ~20-30% of the user base competing in races (see this look at racing demographics).
Within this racing landscape, there are a number of event organizers, but none more popular than WTRL who, among other events, host the official Zwift Racing League (ZRL) (see here for an overview of the most popular events).
The 2021/22 Season 3 of the ZRL recently concluded, featuring 1,400+ teams competing from across the globe every week.  This puts the ZRL miles ahead of any other competitive gaming/esports league and approaching the size of some of the largest amateur sports leagues in the world.  A truly impressive feat for Martin and his small team that hosts the events every week.  
So what has made this league so incredibly successful?
Team Structure & Communities
Over 60% of teams are part of larger regional and "mega" organizations that each recruit and coordinate 5+ individual teams of 5-10 racers; over 10 distinct organizations fielded 20+ teams last season across hundreds of riders each. DIRT (or "Dads Inside Riding Trainers"), the largest of these, fielded almost 80 teams, though much of the heavy lifting is done by regional sub-teams within the DIRT umbrella.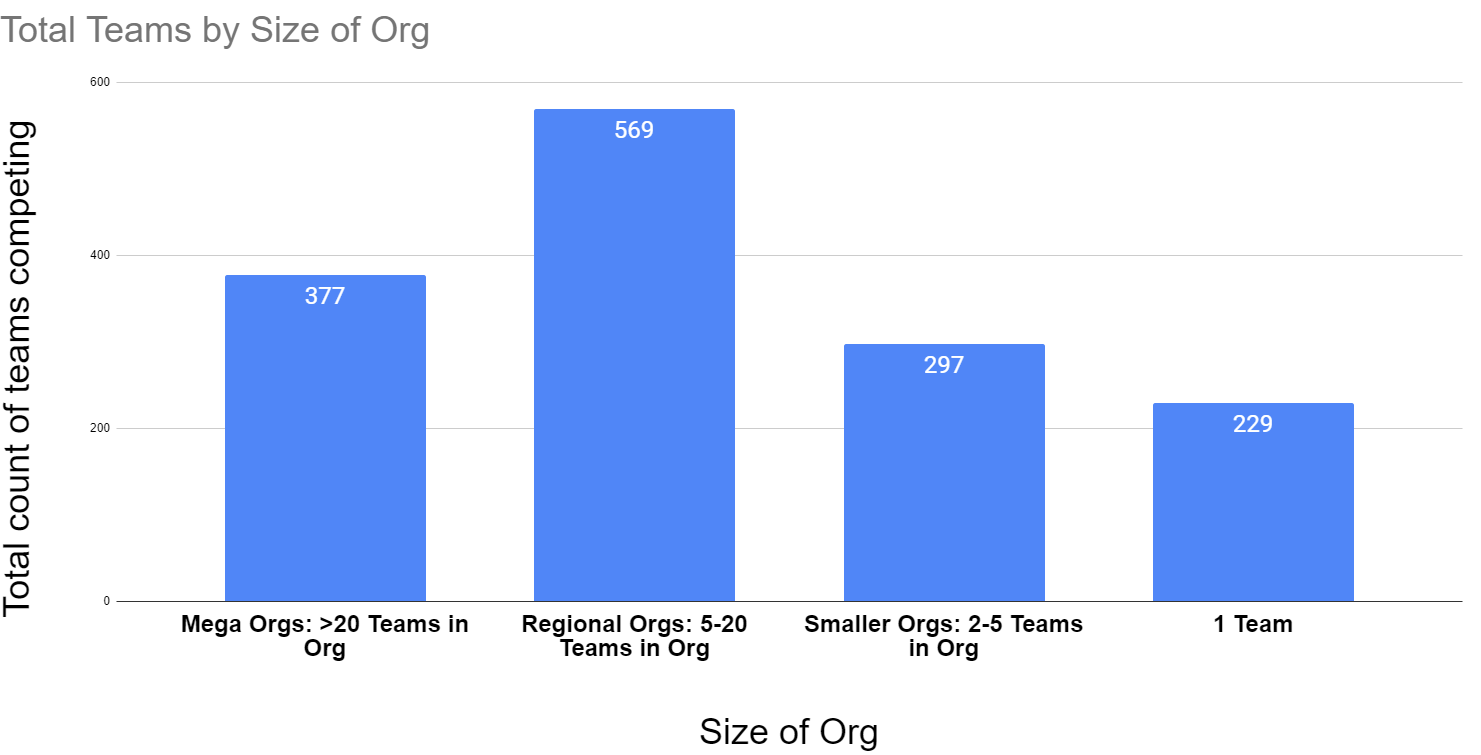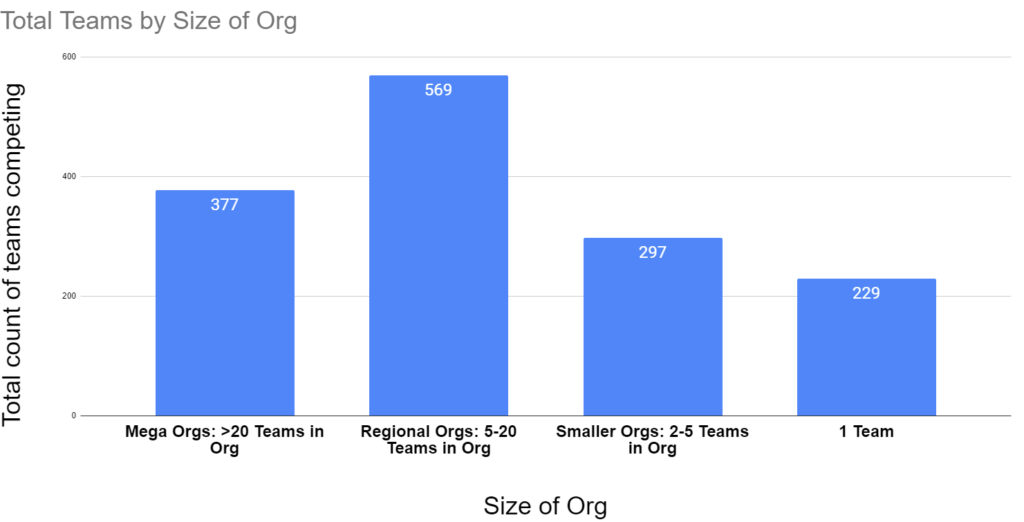 These organizations have been absolutely critical to the success of the ZRL.  Larger organizations allow new riders to quickly find teams within specific timezones/categories, and fielding multiple teams allows significant flexibility for individual riders who might need to back out or become available to race at the last minute. They also provide a sense of community for the riders that keeps them coming back season after season.
These organizations are relatively well-distributed across regions and categories.  For a view of which organizations compete where (and who has been most successful) see the below image (or high-resolution PDF).


Top "Mega" Organizations by number of teams in ZRL 2021/22 Season 3:
| | | |
| --- | --- | --- |
| 1 | DIRT | 79 |
| 2 | Herd | 58 |
| 3 | SISU | 38 |
| 4 | COALITION | 36 |
| 5 | WTRL | 28 |
| 6 | CRYO-GEN | 27 |
| 7 | TFC | 23 |
| 8 | ATP | 22 |
| 8 | SZ | 22 |
| 8 | NL | 22 |
| 8 | Wahoo | 22 |
Interested in joining any of these organizations/teams?  See this guide or head over to WTRL to see a list of teams currently recruiting once signups begin for the next season.
Convenience and Legitimacy
While the communities have been critical to the functioning of the ZRL, the inherent convenience for individuals of the whole setup likely accounts for much of its explosive growth.  Races are at the same time every week across 18(!) different start time options, require racers to show up no more than a minute or two before the start time, and last less than an hour.  In no other arena can such a massive athletic competition take up so little of an athlete's time.  
Lastly, ZRL enjoys a significant boost from the legitimacy bestowed upon it by Zwift.  As the official racing league of the platform, it is the defacto battleground for teams despite a multitude of other community-hosted leagues.  The live-streamed Zwift Premier League, hosted by Zwift and open to the top teams from the ZRL, also adds to its status as the top league.
Conclusion
The ZRL is an impressive organizational feat that attracts tens of thousands of riders who show up every season to compete.  Just as Zwift is on the forefront of defining a new virtual-world paradigm, the ZRL is pushing the boundaries of what organized sports could look like in the next decade.  
Much has been made of the recent acquisition of competitor RGT's acquisition by Wahoo and the launch of more "competition-focused" Zwift competitors.  But for those platforms to replace Zwift as the top competitive league, they have a steep and long hill to climb to replicate the above foundation of community, convenience, and legitimacy that ZRL has built.  It is a climb that has nothing to do with physics or software, but is every bit as important to their future success.
Your Thoughts
Share below!