Today Wahoo announced big news in the indoor cycling space: they have acquired Zwift competitor RGT (now "Wahoo RGT") and are integrating RGT access into a new monthly subscription dubbed "Wahoo X".
Priced at $14.99/month, but with a discounted annual plan, Wahoo X with its RGT component is a clear move from Wahoo to compete head to head with Zwift in the training software space. Let's unpack this news and its implications for indoor cyclists.
Software: RGT vs Zwift
RGT has been Zwift's strongest, most "Zwifty" competitor for quite some time. Sure, there are others out there (Rouvy, VirtuPro, MyWoosh, Bkool, BigRingVR, Fulgaz, and OneLap), but RGT seems to have more participation than any other non-Zwift platform, by far.
A few comparisons between RGT and Zwift:
RGT has, until now, had a small team and budget, while Zwift is the 800-pound gorilla in the indoor cycling space with a large team and hundreds of millions of dollars in VC funding
RGT is based on the Unity engine, while Zwift's engine is proprietary
RGT has built-in routes with basic graphics, but also supports "Magic Roads", an (admittedly clunky) feature that lets users create a course based on a .gpx data file. Zwift has its own curated set of courses with highly detailed artwork.
RGT's physics are generally considered more realistic than Zwift's when it comes to drafting, cornering, and (auto) braking, while Zwift's visuals are more realistic than RGT's.
Both platforms run on AppleTV iOS, Android, Mac, and PC.
Pricing
The new Wahoo X plan has the same monthly USD price as Zwift: $14.99.
But Wahoo, in a move we'll probably see repeated in the coming months, has zeroed in on a pain point for Zwifters – no annual membership discount – and offered a $50 discount for annual Wahoo X memberships.
Wahoo X membership includes access to Wahoo SYSTM, formerly known as Sufferfest, which Wahoo revamped/rebranded after acquiring it back in July 2019.
Hardware
With Wahoo manufacturing the industry-leading KICKR smart trainer line and Zwift working to release their first hardware offerings, things could get interesting with both companies also owning competing virtual cycling software platforms.
Thus far, Zwift has said they intend to stay on good terms with their hardware partners, allowing any standards-compliant smart trainer to be used on the platform. Wahoo, we assume, will do the same. (It's the only smart move when your core market already owns smart trainers after COVID lockdowns forced hundreds of thousands of riders indoors.)
But we would expect to see Zwift offer some Zwift-specific features on their hardware, and we would expect Wahoo to do the same for RGT. These features might include custom lighting, braking, or steering that use proprietary protocols.
One could easily see a future in which the training platform users select is influenced by the hardware they already own. And if that's the case, Wahoo has a huge first-mover advantage.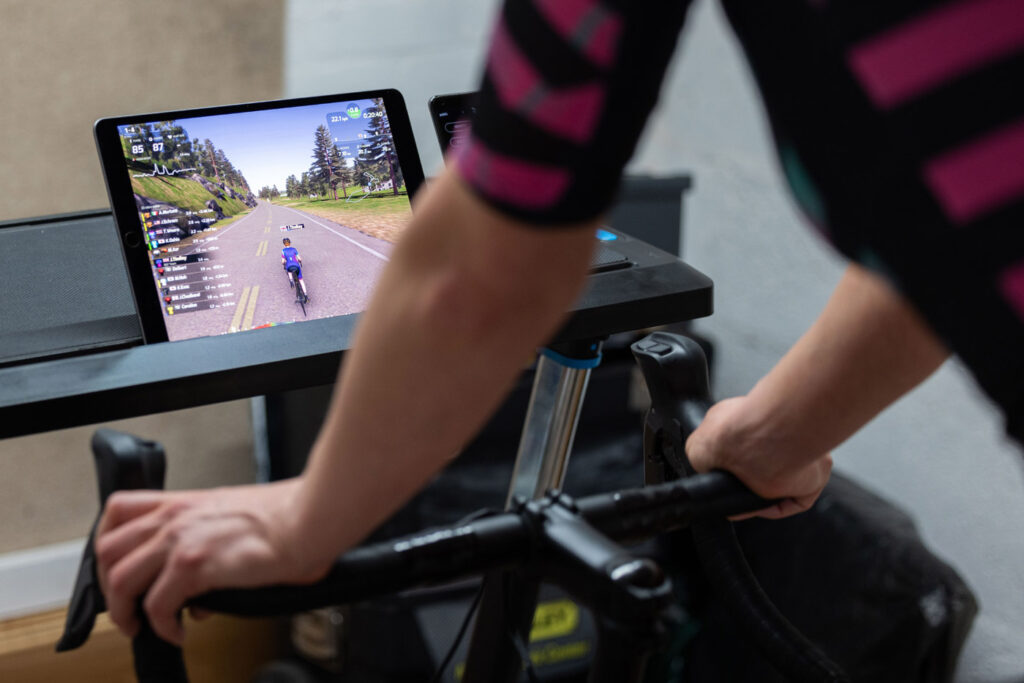 Concluding Thoughts
While Wahoo RGT looks to be Zwift's toughest competitor to date, Wahoo will need to pour plenty of resources into building out and marketing Wahoo X if they want to take on Zwift head-to-head. If anyone can do it, Wahoo can: but they will need to leverage all of their strengths, including their hardware division (and its market penetration), industry-leading UI design, strong marketing chops, and solid relationships with pro teams.
Zwift, for their part, will need to consider implementing long-standing feature requests (level 51!) and taking other steps to keep loyal users on board while continuing to build out their offering with expanded maps and training programs. While Zwift's user base is many times larger than RGT's, users can be fickle. Zwift's vibrant community is its biggest strength, and Zwift will need to fight now, more than ever, to maintain its loyal user base.
Competition in business is like competition in cycling: it forces you to work harder. It also makes you work smarter, giving up certain things so you can pick up other things. Wahoo recently did just that, announcing a pile of job cuts in order to "right-size" its business.
This new level of competition will force both Wahoo and Zwift to think harder about priorities, but in the end, the win goes to us as consumers as we reap the benefits of software and hardware improvements.
Your Thoughts
What does today's news mean for Zwift, Wahoo, and cyclists? Share your thoughts below!