For a year I have been obsessed with the weekly Team Time Trial run by WTRL… so I asked Eric if I could share my obsession with you all, in weekly doses.
Each week I will give you a profile of the upcoming route, guidance on bike choice, and some target times if you want to aim for the Premiere League (top-10 in each coffee class get to be in a special race televised on YouTube).
If you can't ride (or even if you can ride, but want more action!) tune in to the live TV show on Zwift Community Live's YouTube Channel at 6:15 (UK time).
Greater London Flat
Before we look at next week let's review this week's performance in London last week.
| | | | | |
| --- | --- | --- | --- | --- |
| Category | #86 | My prediction | #95 PL | How did I do? |
| Vienna | 41:40 | 41:00 | 41:36 | 4th |
| Doppio | 37:05 | 36:40 | 36:50 | 10th |
| Espresso | 37:39 | 37:20 | 37:05 | 18th |
| Frappe | 38:51 | 38:15 | 38:27 | 7th |
| Latte | 41:35 | 41:15 | 41:02 | 18th |
| Mocha | 46:48 | 46:00 | 45:55 | 12th |
I'm pretty happy with that… remember my goal – predict a time that is closest to (but not above) 11th spot in each category.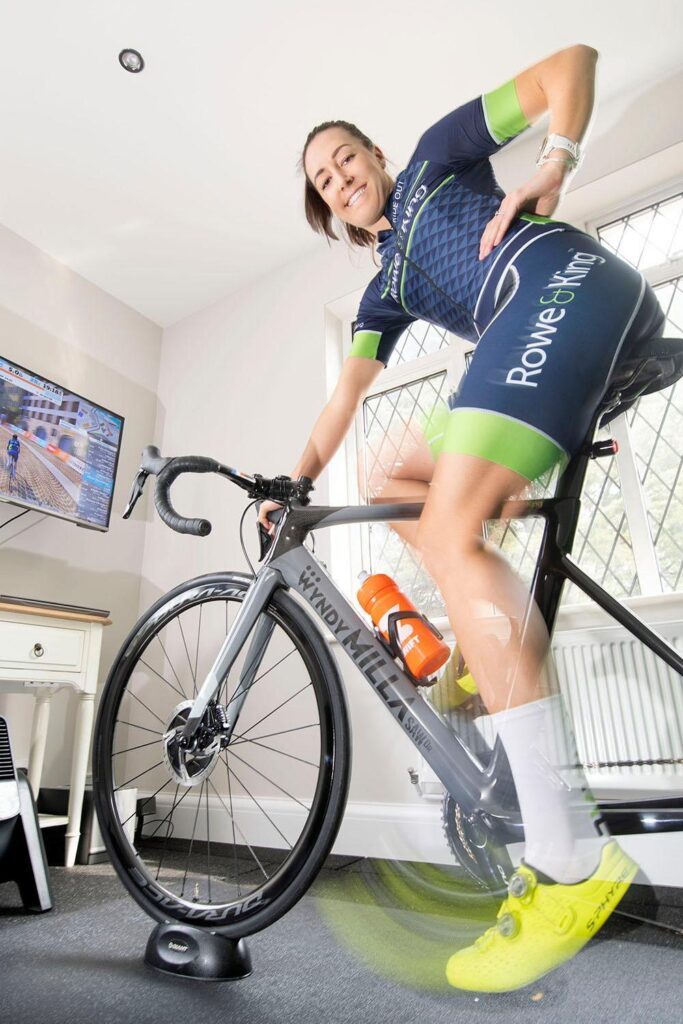 So how did I do in London? Attentive readers will recall that I am currently riding with the Rowe and King (R&K) Vixens Latte team, having moved from one of the other R&K Latte teams, the Hyenas. This week the Vixens were lucky enough to have some proper cycling royalty in the team – World Champion, Olympic Gold winner, and MBE – Dani Rowe (nee King… do we still say nee or is that old fashioned?) joined us.
Dani is one of Rowe and King's top coaches, focusing on coaching female riders and, before I hear cries of sandbagging (I know the Zwift racing audience…), Dani is rebuilding fitness after having a baby, and the weekly WTRL TTT is a perfect place for that.
I have to say I was somewhat overawed to be in the same team as a World Champion, or as Team Captain Trigg put it in his post-race analysis… "At the pre-race sign-on I held back the autograph hunters as our Olympic champion entered the paddock. Sherpa had a selfie with her but he looked crushed when it became apparent that she was unfamiliar with his TTT course reviews. Apart from that, and the return of Gaby, this looked a well balanced team of fit, if ageing, chuggers."
Trigg was right – R&K Vixens had a blinder of a day around London. Despite the dreaded Ghost Bug (basically the team can't see me or draft off me) we delivered a time over a minute faster than our target time, coming in 47th of 403 Latte teams… and I hit 3.2 w/k for the ride… a first for me. We are feeling bullish for the Volcano Flat course, that's for sure!
Thursday 18th February – Watopia Volcano Flat
We are heading to Watopia again this week with three laps of the Volcano Flat course. This course has been run a few times in the past year and is a popular loop for riders, so I'm sure you have all ridden it before. The course is flat, but much longer than last week – overall it's 35.5km with 150 meters of climbing. This is going to be another fast and furious day in the saddle.
Starting in the downtown pens, we head towards Ocean Boulevard and under the sea. Straight ahead at the biosphere T-junction and through the hole in the Jarvis Tree. Pop up above ground, cross the gravel then head up the winding hill, then descend to the Italian Villas. Hard left turn at the fountain, and down the gravel road to the land-bridge which takes you to the Volcano. Take the long way around the Volcano, cross the sky bridge and it's downhill back into Downtown. Then do it two more times.
This isn't a short ride, but it is mostly flat – just a few areas where you will need to pay attention – more on those later.
What to ride?
Like last week, this is all flatness… so despite the two patches of gravel, aero rules. In our tests (by "our" I mean Eric did the science again) the fastest, aeroest bike – Venge/Super 9 is faster than the Tron bike – around 2 seconds a lap.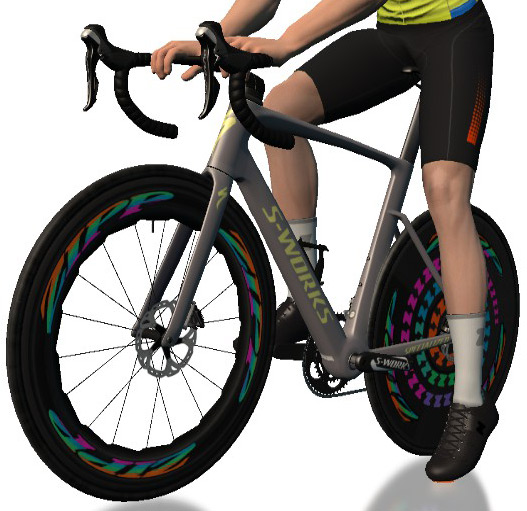 Here are some recommendations on equipment at various levels:
Level 6 Zwift Aero frame and DT Swiss ARC 62 wheels
Level 10 Canyon Aeroad 2021 and DT Swiss ARC 62 wheels
Level 13 Canyon Aeroad 2021 and Zipp 808s
Level 20 Trek Madone with Zipp 808s
Level 25 Cervelo S5 with Zipp 808s
Level 31 Cervelo S5 with ENVE SES 8.9
Level 33 S-Works Venge with ENVE SES 8.9
Level 35 S-Works Venge with Zipp 808/Super 9
Level 45 get those 858/Super 9 wheels and pair them with the S-Works Venge
As always, the ZwiftInsider reports on frames and wheels are superlative so if you want to find the perfect bike and wheel combo for you, check them out.
While the Tron bike is beaten this week – it is still the number 2 bike on the day… and the bike/wheel combo that beats it can't be had until level 45… and it is free (the only cost is your sweat). So I cannot stress highly enough that if you are racing you need to be working on Tron. It'll take a while, but just set the Everest Challenge and forget about it for nine months… like having a baby (just ask Dani).
Route Recon Rides
You have no excuses for surprises on this course… there are pages of Volcano Flat rides on the event listing on zwifthacks.com. It is even one of the makeup rides for Tour de Zwift Stage 1, this weekend.
Race breakdown
You can see from the segment map below… there isn't a single hill worth mentioning…
Downtown 'til you pop out of the ocean
Mostly flat apart from the nice drop under the Ocean cover you for the first 3.5km of each lap. Plenty of time to get into your groove.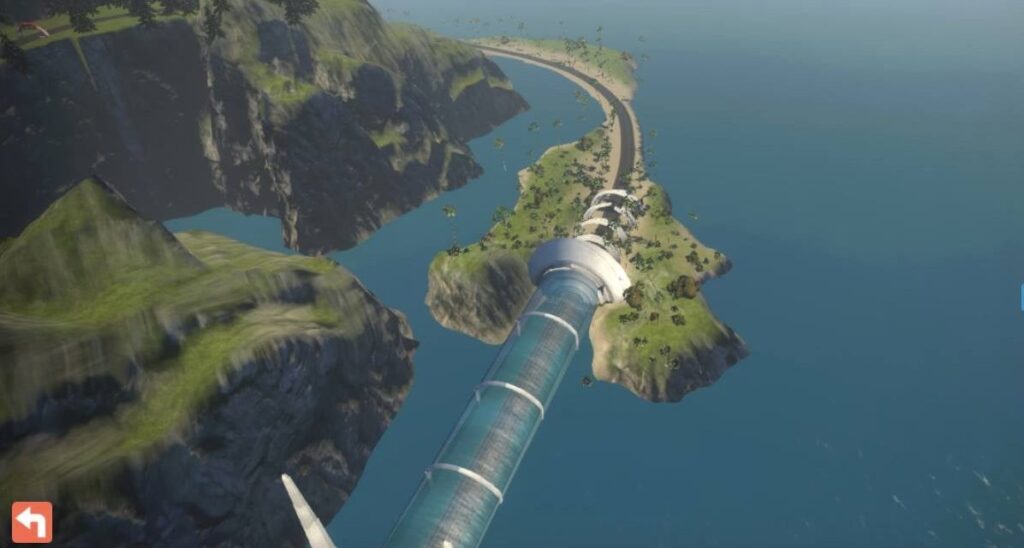 From the tunnels to the land-bridge
The challenge here isn't that this segment is hard – it's not… but the constantly changing terrain can throw off your formation – and trust me – if you are doing this right, you will be on the rivet the entire time.
The rather convoluted segment is tricky. It starts with the bump out of the ocean (200 meters at 3%) then heads into some gravel which will slow you down… from there it's the false flat (1%) up the hill which tightens at the top to 5% for 100M.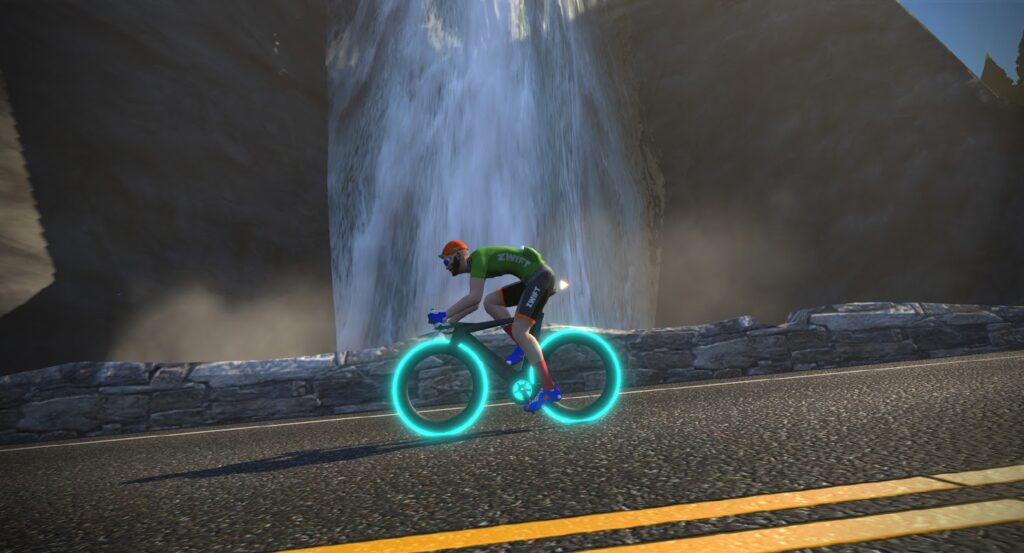 The downhill to Italian Village isn't enough to supertuck, but it's enough to pick up speed before hitting more gravel. Just make sure your heavier riders don't get overzealous and race down the hill away from your lightweights.
As you come to the Italian Village turn sharp left and down the gravel hill. All this gravel… they really need to fix these roads.
Around the volcano…
Take the longer way around the volcano – and here is where you hit the only major bump in the ride. The double-bump that takes up up and into the volcano itself. It isn't long or hard, just 8 meters vertical at 5% – use the teams momentum to get up and over without losing too much momentum… and don't forget the little 3 meter kicker that comes afterwards.
Across the sky bridge and down into town
Down the hill picking up speed as you go. At 8km (and 20.5, 32.5) you will hit some gravel that will slow you down – stay in formation here… then its down into the tunnel under the sea.
Out of the Sea to the start/finish
Once you get out of the undersea tunnel its a straight shot of 1.3km to the start/finish.
Target times
Volcano Flat was a TTT course twice last year – in February (#45), in May (#56), then again in July (#63). Interestingly, the faster teams got slower, while the slower teams faster! I think there is going to be a significant jump in performance this time though…
| | | | |
| --- | --- | --- | --- |
| Class | #56 | #63 | My prediction |
| Vienna | 55:53 | 55:28 | 55:00 |
| Doppio | 47:44 | 48:06 | 47:15 |
| Espresso | 48:48 | 49:54 | 48:25 |
| Frappe | 50:59 | 51:02 | 50:30 |
| Latte | 54:54 | 54:42 | 54:30 |
| Mocha | 1:02:23 | 1:02:00 | 1:01:00 |
As for the Vixens, we are feeling bullish. We have a strong complement of 8 seasoned riders and didn't lose any of our stronger riders to the Cheetahs (strong riders often move up a team, weak riders move down). In London we were only a minute off a PL spot… do we have a chance this week? We will find out on Thursday!
Wrapup
Like last week, this is all about getting in formation and staying there. A fast start without having to wait on someone that forgot to pedal, good strong turns and team discipline will determine whether you make the PL… Pick your aero bike… get into your team kit, and I'll see you in the pens.