About This Series
Since March I have become obsessed with the weekly Team Time Trial… so I asked Eric if I could share my obsession with you all, in weekly doses.
Each week on a Friday I will give you a profile of the upcoming route, guidance on bike choice and some target times if you want to aim for the Premiere League (top-10 in each coffee class get to be in a special race televised on YouTube).
If you can't ride, or even if you can ride, but want more action! Don't forget to tune in to the live TV show on Zwift Community Live's YouTube Channel at 6:15 (UK time).
Review of TTT #82 Tempus Fugit Target Times

| | | | | |
| --- | --- | --- | --- | --- |
| Category | #52 PL | #82 PL | My Prediction | Position |
| Vienna | 55:20 | 51:38 | 52:25 | 14th |
| Espresso | 47:30 | 46:13 | 46:50 | 24th |
| Frappe | 49:19 | 48:41 | 48:40 | 11th |
| Latte | 53:07 | 52:04 | 52:50 | 25th |
| Mocha | 1:00:28 | 58:02 | 58:24 | 17th |
Coming into last week's predictions I said you'd be fast… much faster than last time out on Tempus Fugit. But you blew me away here! Vienna almost 4 minutes faster and everyone else except Frappe were over a minute faster. I was conservative but now I know to increase my expectations of every one of you!
Thursday 19th November – Three Laps of Watopia Hilly

Staying in Watopia, but back on the old familiar mainland… in fact this week it is the oldest route in Zwift if you exclude Jarvis Island! This route hasn't seen a lot of TTT action though – not since December 2019!
We will be doing three laps of Watopia's Hilly Route for a total of 27.4km. Starting at the downtown pens go straight up the original climb, Hilly KOM. Down the long descent into the Italian Villas and through the sprint – then it's across the Esses and back to downtown.
Hilly KOM is the obvious test here – but the Esses always add a piquant flavor to a team event too!
What to ride?
Hilly describes this course well – it's not flat like last week, it's not mountainous… it just isn't at all flat. Use the bike to balance your weaknesses so you can stay with the team. That means if you are weak on the hills, lighten your bike and wheel combo. But if you are strong on hills but struggle to keep with the team on the downhill and flat, go completely aero!
I'm taking the balanced line – I will be on my Tron, which I hope will give me a helping hand over Hilly, while not giving up too much aero on the descents and flats.
Here are some recommendations at various levels:
Level 6 Zwift Aero frame and DT Swiss ARC 62 wheels
Level 13 Canyon Aeroad 2021 and Zipp 808s
Level 18 Specialized Venge with Zipp 808s
Level 25 Cervelo S5 with Zipp 808s
Level 33 S-Works Venge with ENVE SES 8.9
Level 35 S-Works Venge with Zipp 808/Super 9
Level 45 get those 858/Super 9 wheels and pair them with the S-Works Venge
I know I say it every week but it is doubly important this week. Get the Tron! There is no better ride this week.
Route Recon Rides
A few places to go for information – a race-focused recce from Zwift can be found here. Of course, it is focused on profiling the course from an individual racer's perspective, but worth reading anyway.
Last week I suggested instead of doing a recce of the Tempus Fugit route you went out and did some paceline practice. This time you want a decent indication of how you'll perform up Hilly and across the Esses. There are so many ways to recce this route – the simplest being to hop on and select Hilly Route. If you want an organized ride or race follow this link to Zwifthype.
Race Breakdown
Two areas of this route will define your success – up and down Hilly, and then the Esses.
You will climb Hilly KOM with fresh legs at 1km, then again at 10km, and a final time at 19.5km. Each visit will have a different story! Just under a kilometer in length, the climb comes in four distinct parts – how much you feel the distinction will depend on how tired you are.
The first 400m is steep, averaging 7% but up to 10%. It flattens for 50m as you round the bend then tightens back up to 6% again for 300m then eases to 2-3% for the remainder of the climb. Talk about how you will handle this among the team – but make sure you stay together.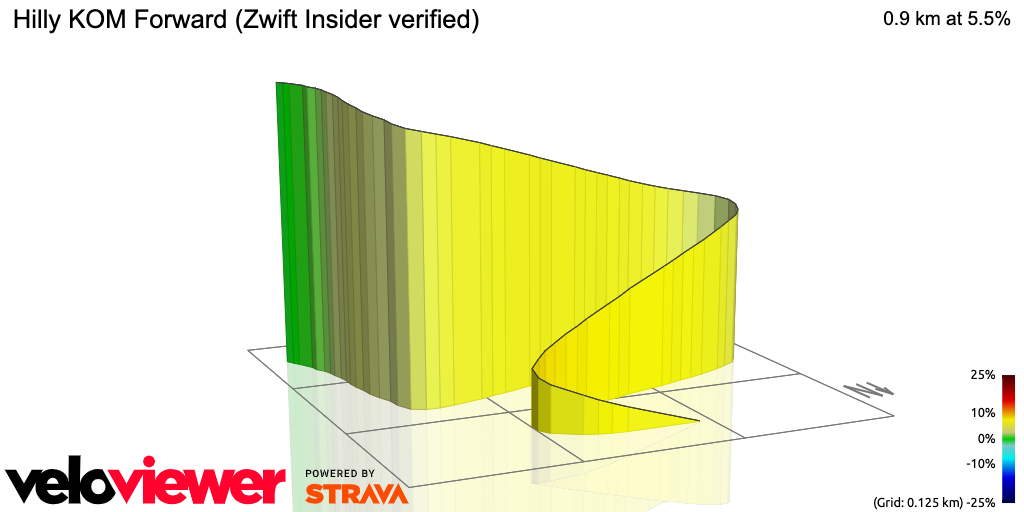 The other area to watch is the Esses. Going in this direction (is this Esses forward, or Esses backward…?) you start with the hill which is 300M long, averaging 4%. I find this harder than it should be, and I'm not sure why. After that, the Esses themselves are a sequence of four bumps – not hard to ride, but the ascents/descents cause some instability in the team with different riders' momentum causing some challenges.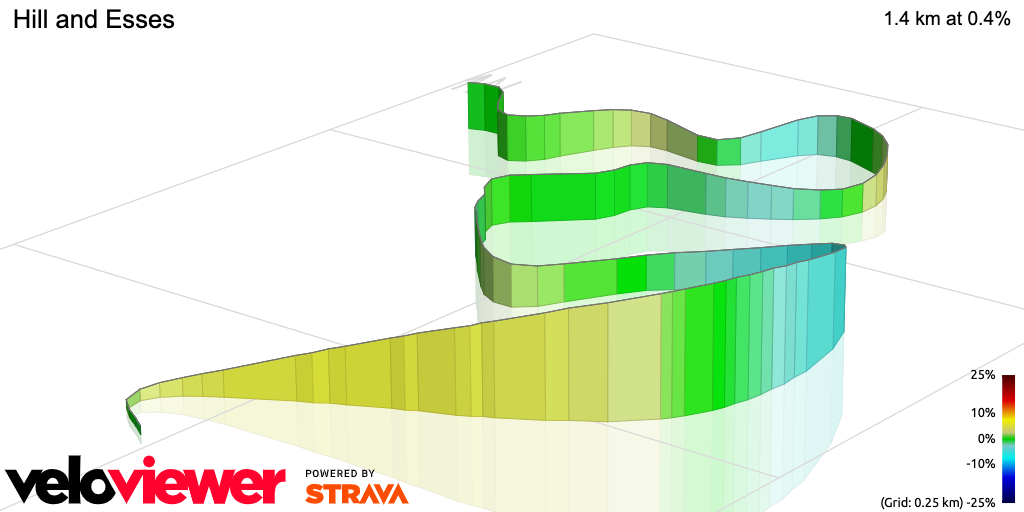 Target times
Hilly Route hasn't been ridden since December – when there were less than 100 teams. Nothing to work with there…
But I'm not going to let that stop me! Here are my target times:
| | |
| --- | --- |
| Category | Finish |
| Vienna | 42:30 |
| Espresso | 36:57 |
| Frappe | 38:45 |
| Latte | 42:00 |
| Mocha | 48:30 |
Wrap up
This race is all about getting the team up the Hilly KOM, and whether you accelerate or break apart through the Esses. It's a short TTT in distance, but technical in nature. As is often the case – quick decision making and good communication will be critical.