Editor's note: Ian Murray is using Zwift to train for the International Triathlon Union Long Course World Championships held in Odense/Fyn, Denmark July 2018. His weekly Zwift Insider series discusses the previous week's training and the plan for the upcoming week.
---
As I stated in the end of the last post, I had to make some changes to my training. Work requirements have added up, creating a competition for time. So, I went back to the plan to make some adjustments. Doesn't do me any good to keep a high volume of work if all of the work is crap due to excess fatigue. Two weeks into the adjustment, I am finally feeling that my body is coming around. Therefore, I will soon set about destroying it again. That's what I do.
Week 10 – Make the Body Feel Right
After cutting short a planned monster week and taking a rest day, I started to feel ok. Really, there was nothing special about the week other than the really good strength workouts. My runs during the week were good but not great. My Saturday run, was good not great. My rides and swims during the week were so-so. The best part of the week was that I really just started to get some decent sensations. By the weekend, I felt that I had gotten over that dead feeling in the legs. Oh, how wrong I was. Despite the relatively light week, in comparison, it just wasn't enough. TSS planned – 707; TSS completed – 703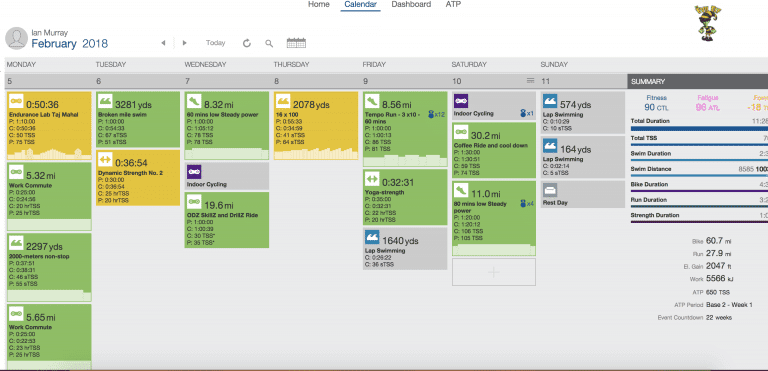 Week 11 – It Ain't Over Yet, Baby
The week started off rough. Well, I should say that the previous week ended rough due to a late dinner with friends. A couple bottles of wine later, and Sunday turned out to be a recovery day in more than one way. Let's just say that I was not quite feeling as rested on Monday as I had hoped. The first ride of the week set the tone for how I would feel by Friday. Fortunately, a work event meant that I could only get in one workout on Tuesday. It was a good swim, not that fast, but good. Wednesday's run was a bit of a struggle. Tuesday was a late night, and Wednesday was an early morning, as I had to take the wife to the airport. The run followed, and two more workouts, including leading the ODZ SkillZ and DrillZ Ride, meant that Wednesday was a late night. On Thursday morning, I just couldn't get up to train. I was zapped. I got my strength workout in at lunch and part of my swim that afternoon before heading to another work event that lasted until almost midnight. Yet again on Friday, I had no gas. I was a bit of a zombie. I bagged it, did the Coaches Corner podcast, and headed to work. That evening, I spent about 45 minutes in my Air Relax boots. The legs started to feel a bit better, so I felt ready for the next day's efforts.
I'm not sure what I was thinking. I planned the Endurance Lab Power Sprints workout and then planned to DS the C/D group for the ODZ Cat & Mouse race. The Power Sprint workout is not a particularly difficult one, except that I am not much of a seated sprinter nor a gear masher. Thus, it did not really suit my abilities. It was fun, though, and I got through it. The DS job was a bit more taxing than planned, as it took some work getting the group under control. While I wasn't working very hard, I did have to put in a few surges to get to the front to control it. Finally, with a few miles remaining in the race, the B group caught us, and I sat up, job done. I finished off with some easy spinning before retiring to the recliner and some Air Relax therapy. In total, I spent about 90 minutes in the boots during the afternoon and evening. It was awesome. I also ate some pizza in preparation for Sunday's race.
After waking up Sunday morning, I wasn't sure how the legs were going to perform. They felt ok but not snappy. I went through my morning pre-race ritual and got ready to run the four miles to the race as warm-up. I sat in a chair to put on my shoes and felt something odd in my left hamstring when I stood up. For a minute, I thought I had pulled or torn something… sitting in a chair. I quickly slapped some icy hot on my hamstring and headed out the door, hoping that it would loosen up. A few minutes down the road, it did. What a relief! I arrived at the race site about ten minutes before race time and finished loosening up. While the hamstring felt better, the legs still felt a little heavy and lacking some snap. Oh well, too late to worry about it. It was time to head to the start line. I lined up at the back of the elites and took off at the sound of the gun.
Unlike the previous year, I didn't go out at quite so hot of a pace. I kept it controlled, ticking off 5:45 miles through the first four. Mile five was a little slower, as we started to hit some incline, but it was not the best place to attack. That came at the right turn as we passed through the 8K point. Yeah, the last two kilometers are an uphill drag race. The pace slowed to just over 6 min/mile, and I pounced, dropping the pace back to the 5:40s. I quickly caught and dropped a group of three runners and continued hammering through the finish, crossing in 35:41. It's not my best time for a 10K, but I'll take it given the fatigue in the legs and no speed work over the last few weeks. I ended the day with an additional easy 10K run back to the house to culminate the week. Overall, I am very pleased with how the week ended, given that I was not feeling great at any point during the week. TSS planned – 827; TSS completed – 712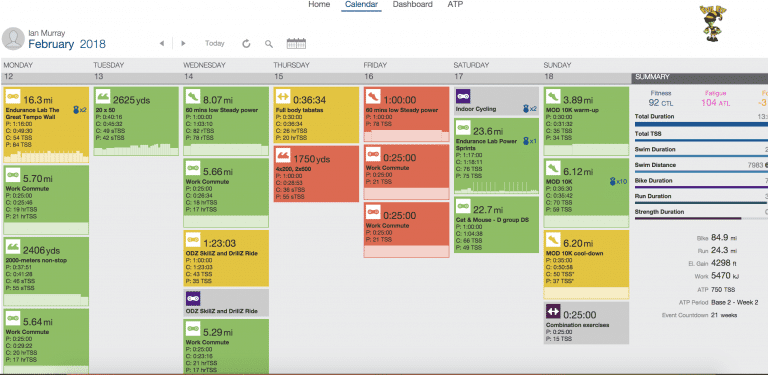 Week 12 – Taking Advantage of a Holiday, Planned TSS – 910
Monday is a holiday. For many that means a third day to sleep in or shopping for a mattress (not sure why that is the case). For me, it means I can do a long workout. In this case, I am going to try to get in 4800 meters. It is a brutal, grueling workout, but I can nap afterward. The rest of the week is pretty straight forward. Some additional swims and some moderate training on the weekend will add up quickly. I may tack on a little extra during the weekend due to the following week being a recovery week, but we'll see how things go.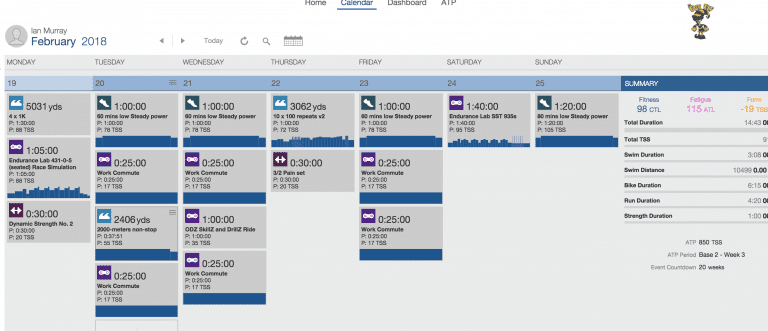 That's it for now. I'll be on Zwift a few times during the week, so join me if you see me. Until then, Ride On!