Editor's note: Ian Murray is using Zwift to train for the International Triathlon Union Long Course World Championships held in Odense/Fyn, Denmark July 2018. His weekly Zwift Insider series discusses the previous week's training and the plan for the upcoming week.
---
It's weird how work and life get in the way of training. I never thought that a government shutdown would have such an impact on anything other than work, but I thought wrong. Shortly after submitting the last installment of the training update, I got word that my trip to San Diego was back on. Two long plane trips, a trip up Mt. Baldy, and trying to recover from the chaos meant that the last two weeks were a bit off, to say the least.
Week 8 – p'alla, p'aca
On Monday of week 9, I flew back home as my work trip was canceled due to the government shut down. Literally 20 minutes after my flight departed, Congress reached a deal. A few hours after arriving back at the house, I got word that I would make the trek to San Diego the following day. So much for the hard week that I had planned. I quickly unpacked my bags, took out what I would need for the trip, and repacked. The best part of the change in the schedule was that I would get to ride with my TeamODZ pals.
On Tuesday morning, I headed into work early to take care of some paperwork from the previous week's travel and answer some critical emails that I had pending. Traffic being the normal bane of my existence here, I did not get to work in time to use the pool, meaning I would have three straight days of no training. Boo! At noon, I headed to the airport for the long trip. I landed in San Diego late and got to my hotel room around 11 PM. Not super happy about the late arrival, but I still set the alarm to get up at 5 AM. My body didn't really like the early hour even though that is my normal wake up time, and it certainly did not like the treadmill setup. No fan and a non user-friendly platform made my run a little less enjoyable than normal. (Yes, I did have Zwift going, but it wasn't the same.)
Thursday turned out to be something different all together. I woke at my normal time and took a look at the weather. Wow, 48 degrees! Yeah, no way was that going to happen. Fortunately, I found some time in the conference schedule where I felt I could break away for my long run. At about 11 that morning, I was out the door and heading toward the ocean. Man, what a great feeling! Where I live, I am more or less stuck on the treadmill or in one or two places that feature a five to seven mile loop. This turned out to be a 17.5-mile loop that took me to Ocean Beach and the laguna near it. I got back to the hotel a bit tired but energized. I haven't felt that good after a roughly two-hour run with no food in a long time.
The next day, I gave the legs a break and headed up to Riverside to meet up with the TeamODZ crew. I ate some great food, Thai for lunch and Mexican for dinner, and set my rental bike up for the next day's epic ride. The bike came with some standard flat pedals, and there was a bit of hilarity, as we could not get one of the pedals off. Finally, with a bit of ingenuity and the upper body strength of two climbers, we got it off, installed my pedals, and finished making a few adjustments to the saddle height. The bike was a bit big for me, but we got it close enough.
The next day turned out to be a leg-burning 56 miles with 7000 feet of climbing, including the legendary Mt. Baldy. Let me tell you, I have a lot more respect for the Tour of California riders after climbing that monster. I am proud to say that I did it within 20 minutes of the KOM holder, but there was definitely no threat to that record. The first seven kilometers weren't all that bad, despite some steep grades and switchbacks. The last kilometer, though, was horrible, straight up and exposed to the wind. I honestly don't know how I remained upright at one point. I was going so slow that I was sure that I was going to simply fall over. Finally, I got to the top and waited for the rest of the group (#humblebrag) to get there. We then began our white-knuckled descent back to town. Check out the video to see some the craziness >
After a quick lunch with the crew, I got my stuff packed up for the long flight back home. I got to LAX at about 8:30 PM on Saturday for a 12:30 AM flight and finally arrived at my door at about 3:30 PM on Sunday. Thankfully, I had the next day off to try to adjust. The week was not originally what I had planned, but I had to make a lot of adjustments on the fly. Despite the lower TSS numbers, it was far from an easy week. TSS planned 550; TSS completed 545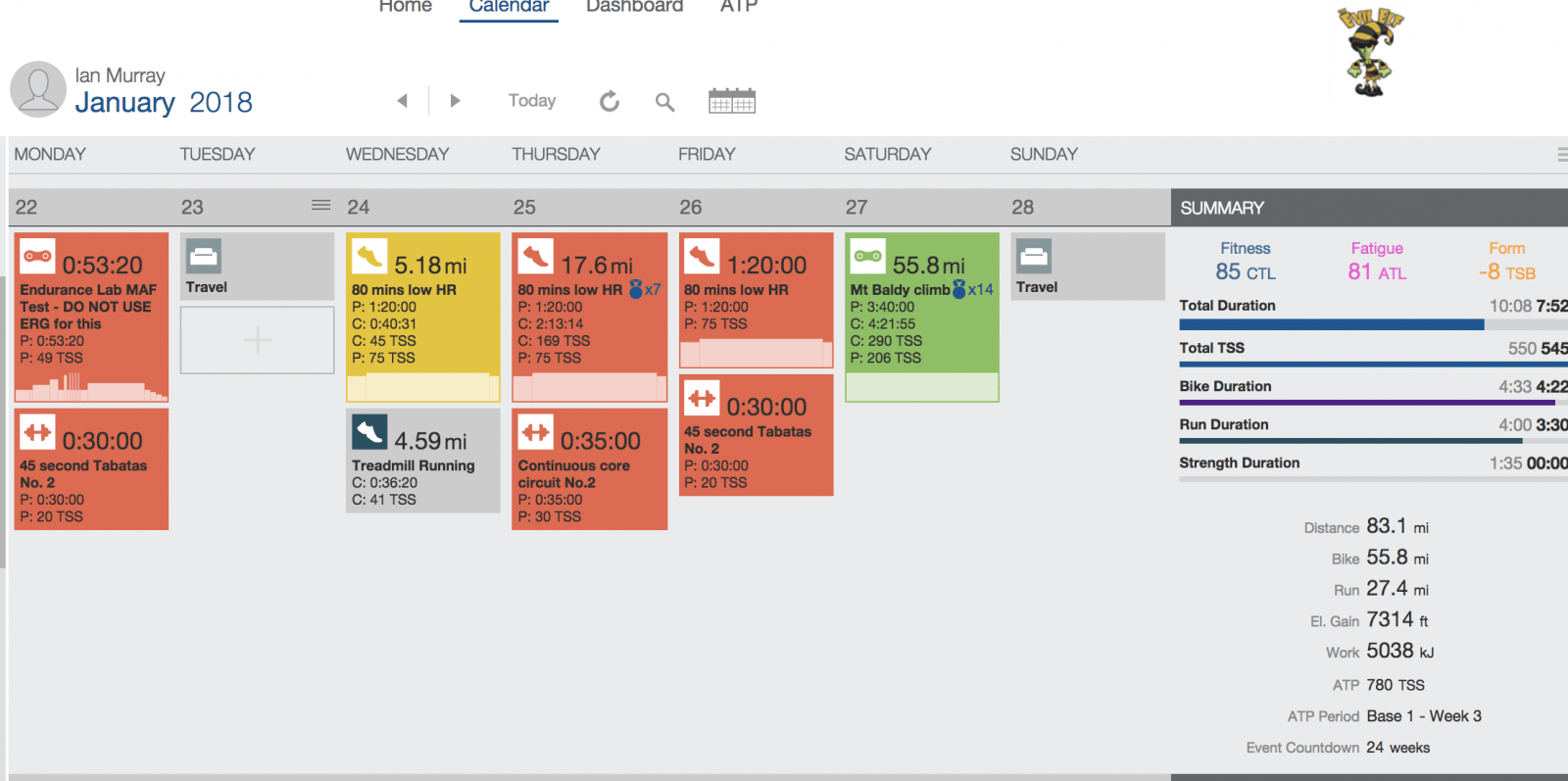 Getting Back into the Flow of Things
Arriving back home and to work, I had a grand vision of jumping right back into hard training. Boy, was I stupid. Apparently, my travels and irregular diet for two weeks took a bigger toll on my body than I expected. I started the week with a so-so MAF test, and the week just never got any better. I felt my legs dragging on every workout but not to the point of feeling overtrained. I was simply tired. The chaotic work week didn't lead to getting my regular seven or eight hours of sleep, and I just couldn't recover enough to have a good training day. Everything was just… meh.
Fortunately, Friday turned out to be a wash, as work commitments kept me from doing any training. I thought that the day off would give me some more pep in the legs, but it really wasn't much of a recovery day. By Saturday, I did start to get some good sensations back, but there certainly were not fresh legs attached to my body. I served as the Director Sportif for the C group during a TeamODZ Goats & Bears Race, holding back except on the climb to the radio tower. I let the peacock fly there (pointless Other Guys reference). During the drop down the mountain to the finish, I sat up and waited for a teammate. We worked together for the remainder of the ride, and I worked to launch him to take an additional scalp along the way.
I rode for another 20 minutes after the end of the race to cool down, but I soon had to get off of the bike because I had something very important to do that day. Oh yeah, it was rib night. Thus, I had to start smoking the ribs for a dinner that night. Yeah… it was awesome. I ended up taking Sunday off to spend some time with the wife, and my legs were pretty pleased with that decision. I had planned a big week, but I just didn't have it in the tank. Planned TSS – 1014; Completed TSS – 738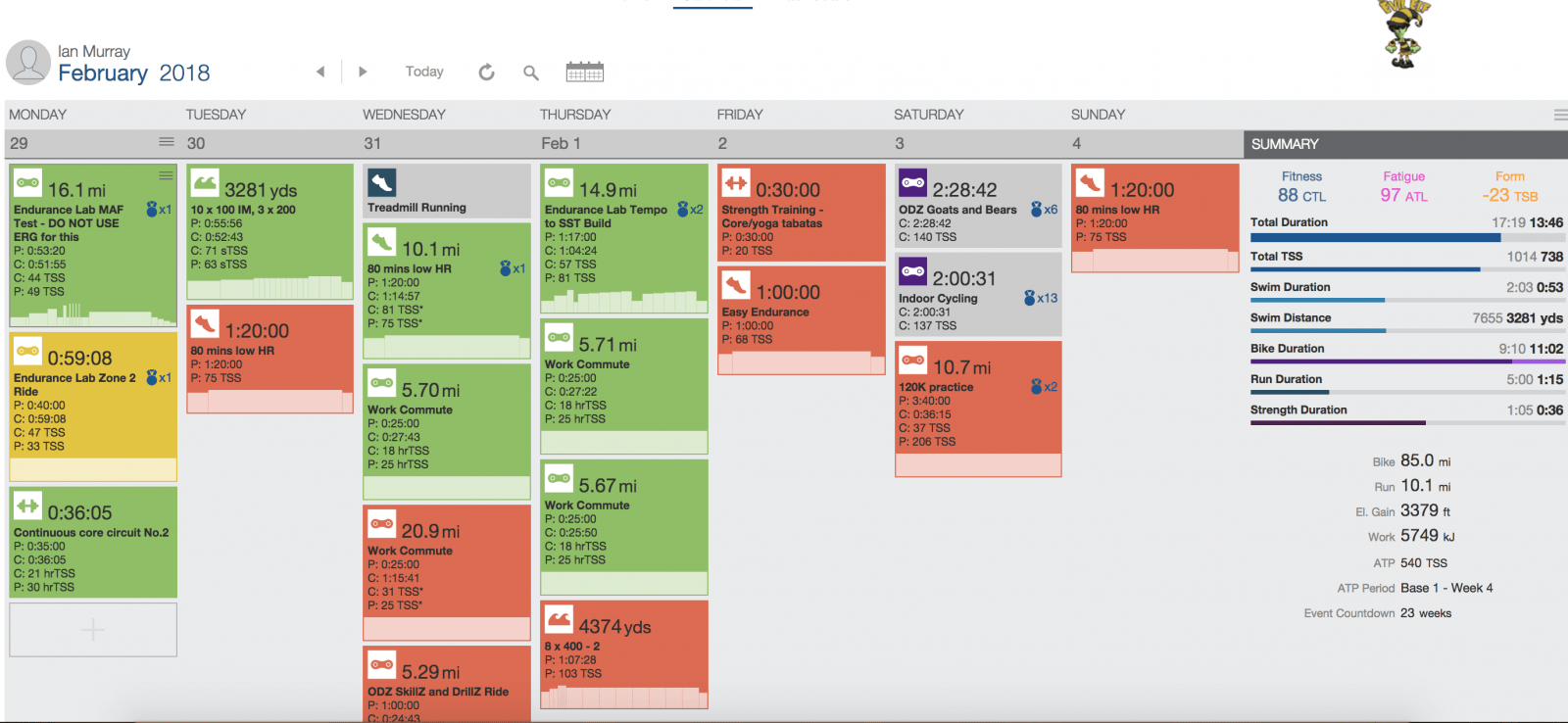 Adjusting My Own Paradigm – Planned TSS – 707
After taking a good look at what I was doing and what I had time for, I realized that I had to back off a bit. Frankly, work has been a bit hectic, and I haven't been able to get the needed rest to maintain a 100+ CTL right now. So, I decided to take a step back and drop the TSS to more human levels. I know that I can handle 700-800 TSS with relative ease, so I figured that I would live in that zone for a little bit. Heck, that will still bring me close to a 100 CTL, and I will have time to spend time with the wife and take care of work. This week is actually an easier week, so I hope to let the body recover a good bit before a harder week the following week. As you can see, the screen shot below is up to date, so I'm trying to stay close to the plan.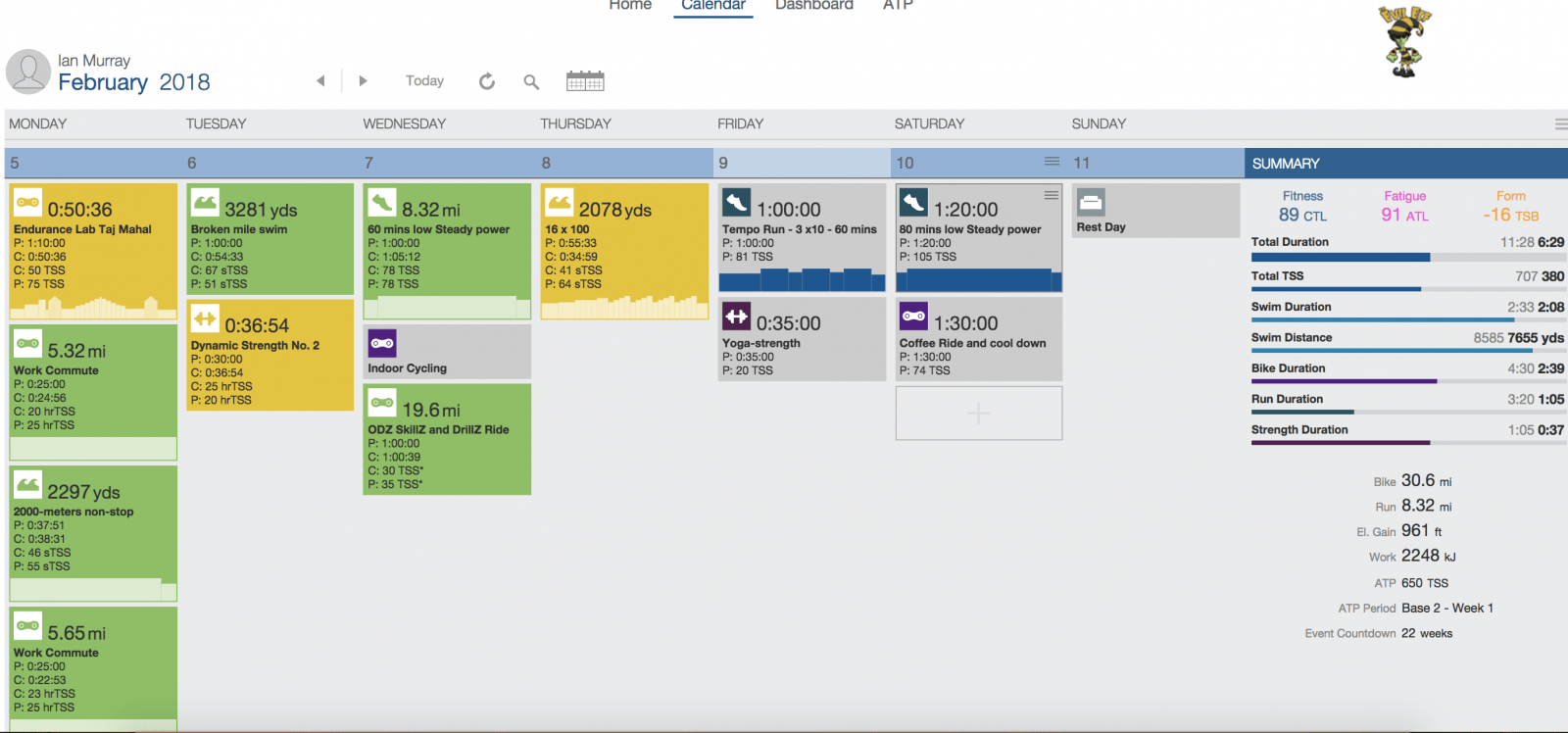 That's it for now, folks. Join me for the ODZ SkillZ and DrillZ Ride on Wednesday night at 6:30 PM Eastern or look for me during the week doing some of my workouts. Twenty-two more weeks until ITU Worlds!