The Wattbike Atom is a fitness product born out of cycling. It's not a bike, it's not a Spin bike, it's a Wattbike.
Integrating the Atom with Zwift is easy. You connect Wattbike to it, and off you go. Simple.
What is a Wattbike?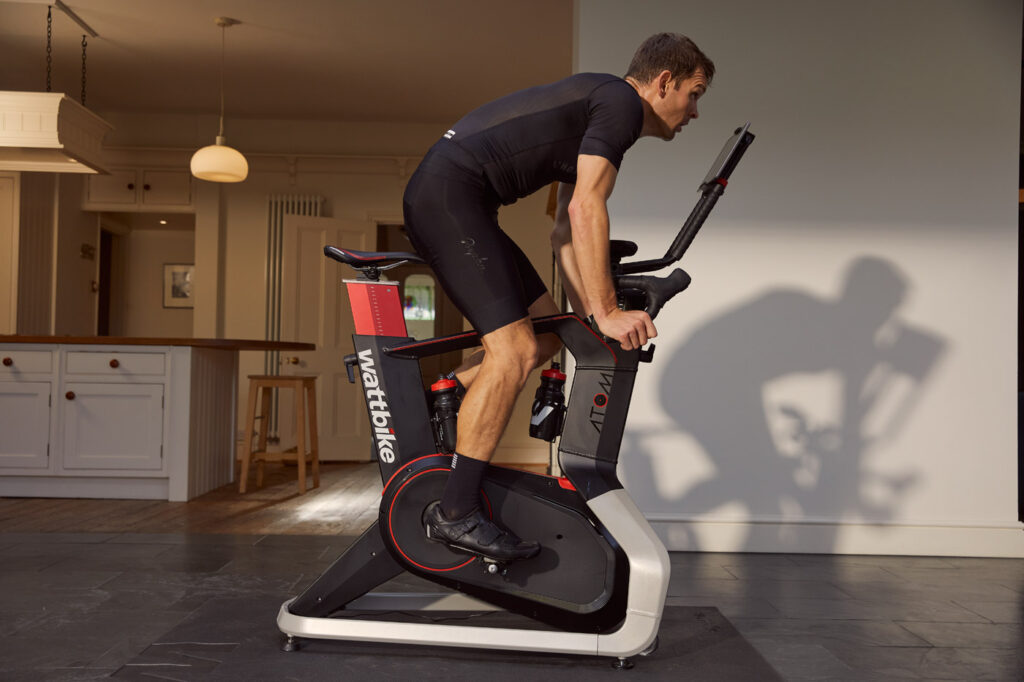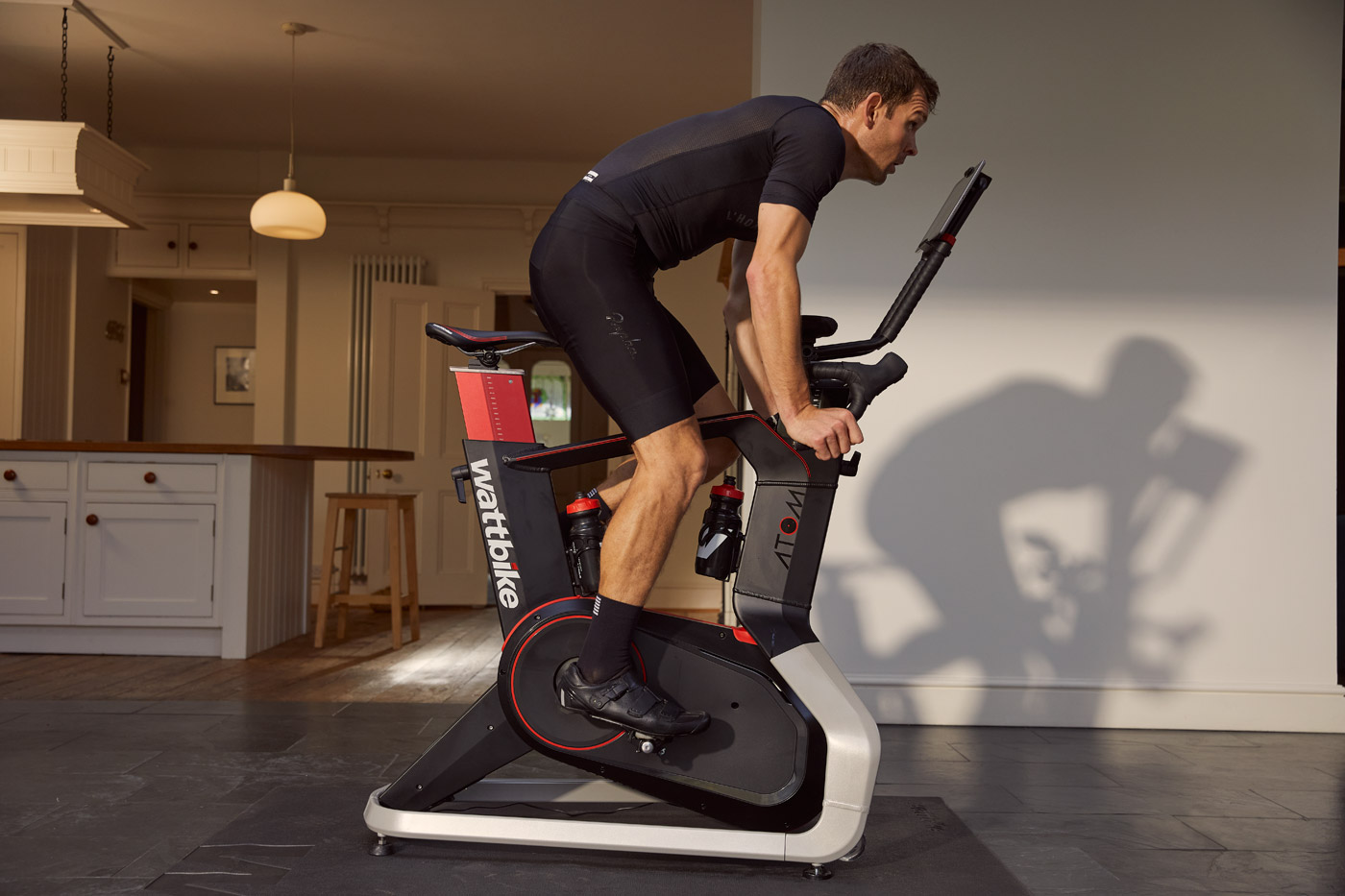 For those who haven't come across the Wattbike Atom, it is a smart bike that measures power output in watts… hence the name. The Atom is the company's "at home" offering to complement their commercial line, and is priced at £1,999.00.
The first Wattbike model has gone through numerous evolutions and in 2020, the "Next Generation" Wattbike Atom was launched with improved power accurac of +/-1% and increased max wattage.
Competitors in this space include the Wahoo KICKR Bike, Tacx NEO Bike, and StagesBike SB20.
Who are Wattbike?
Wattbike are a British manufacturer of exercise bikes since 2008 and are based in Nottingham. Their first Wattbike Pro/Trainer was launched that year at the Track Cycling World Championships and was endorsed by British Cycling. Four years later it was adopted by the UK's leading fitness clubs including Virgin Active, David Lloyd, and Nuffield Health.
In 2021, Wattbike became the official performance bike supplier to the All Blacks and Black Ferns Rugby teams.
Setting Up
The Bike
The bike I tested was previously used and arrived completely assembled. New Wattbikes come boxed and require some self-assembly such as installing pedals and tri-bars. Whether new or used, units still required the adjustment of key components such as the seat, position, and handlebars. This is simple and using the supplied Allen keys/hex wrenches it's easy to make the required adjustments.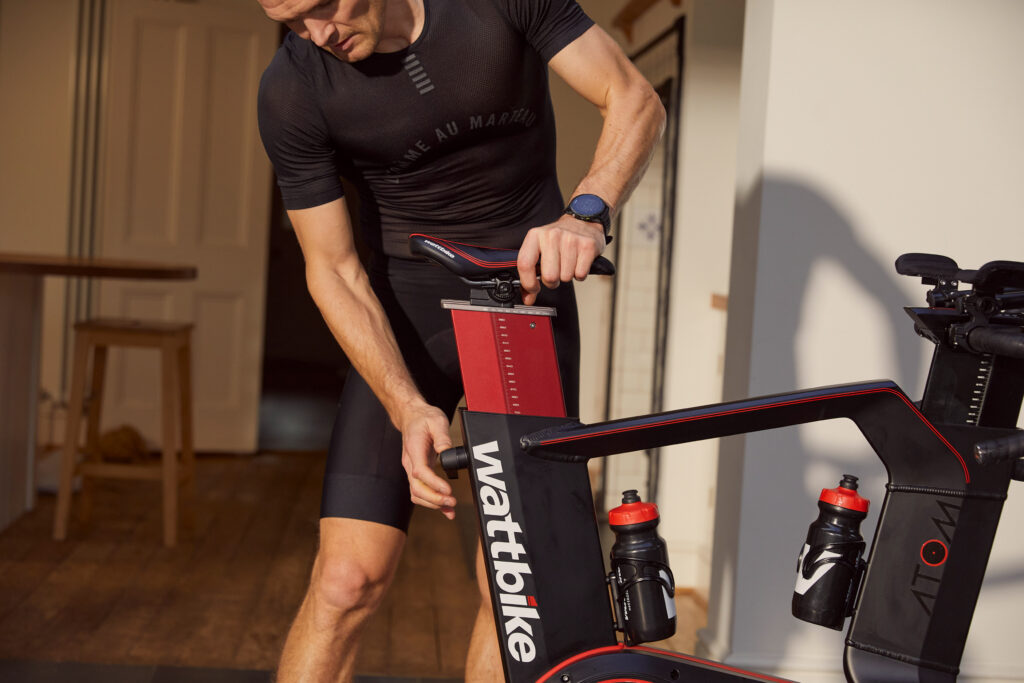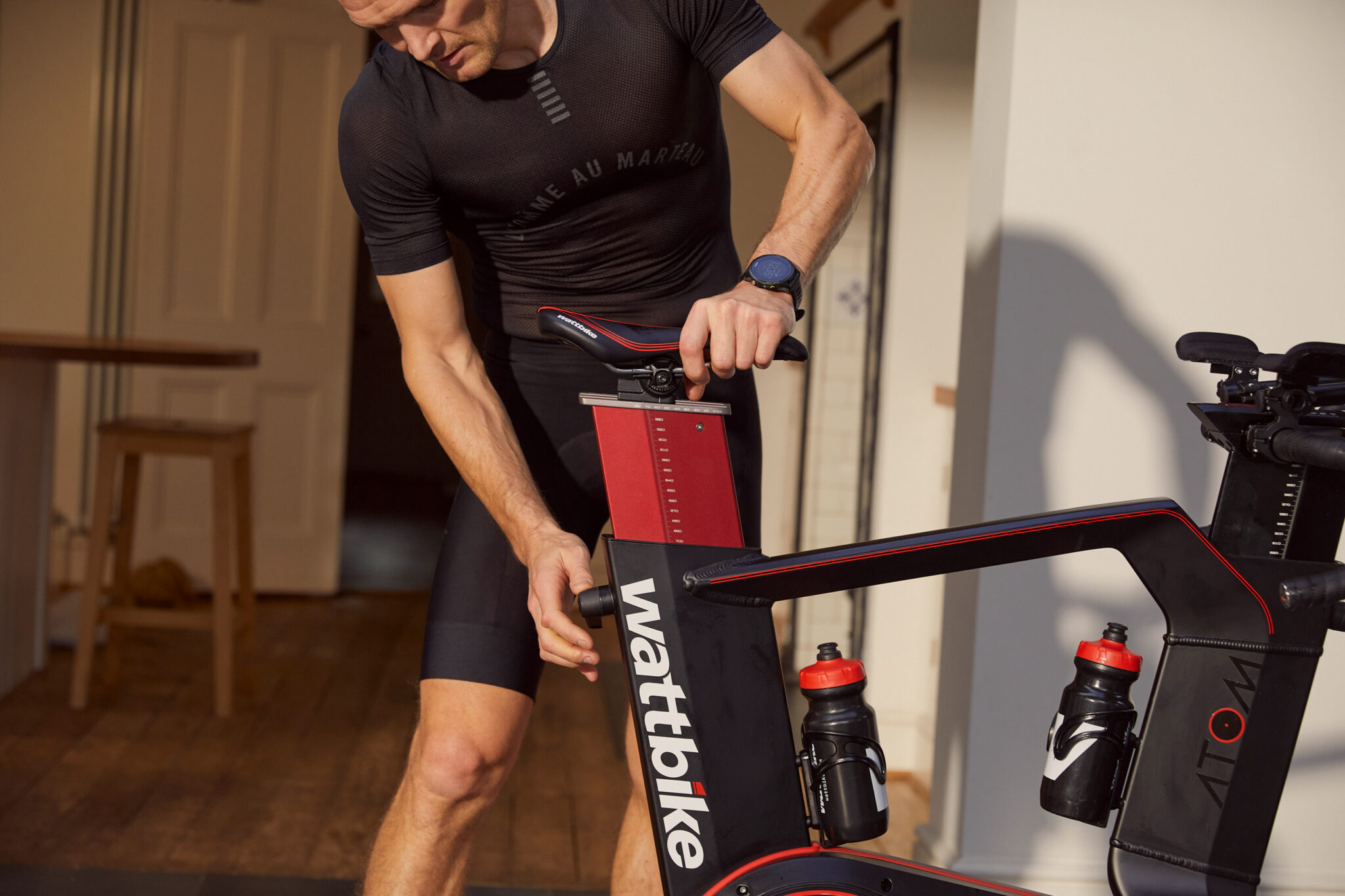 To achieve the correct setup, I took measurements from my road bike and adjusted the seat height, seat position, and handlebar distance in accordance with those measurements. Seat height is adjustable via a handle, making it the easiest aspect to adjust. Just be sure to really tighten it as on my first ride, it slipped down!
To get as a close a fit to your road as possible you can use the Wattbike Bike Fit calculator.
The cranks are 170mm in length in contrast to 172.5mm or 175mm that come as standard on most bikes.
The tri-bars are designed to allows you to insert a tablet, which is then held securely in place.
The bike is heavy (40kg), so you may need help maneuvering it into position. Fortunately it has wheels, so you and tilt the bike onto the wheels and roll it into position as required.
The feet are adjustable, so you can ensure the bike is level if positioned on an uneven surface.
In terms of overall footprint, it is more compact in comparison to having your bike connected to a smart trainer, in part because it doesn't have a front wheel.
The bike is required to be connected to power at all times during use. There is no battery, and there is a power switch under the frame, where the power connects to the bike.
An instructional setup video can be viewed here >
There is a feel of "plug and play" with the bike in the sense that once the ride position has been established, you simply turn on the Wattbike and connect to Zwift and off you go.
The Hub
Wattbike have a free app called the "Hub".
The Hub contains an extensive set of workouts and training plans, and there is even a feature called "Grand Tour Climbs" where you can tackle of number of major IRL climbs, with the app controlling incline feel.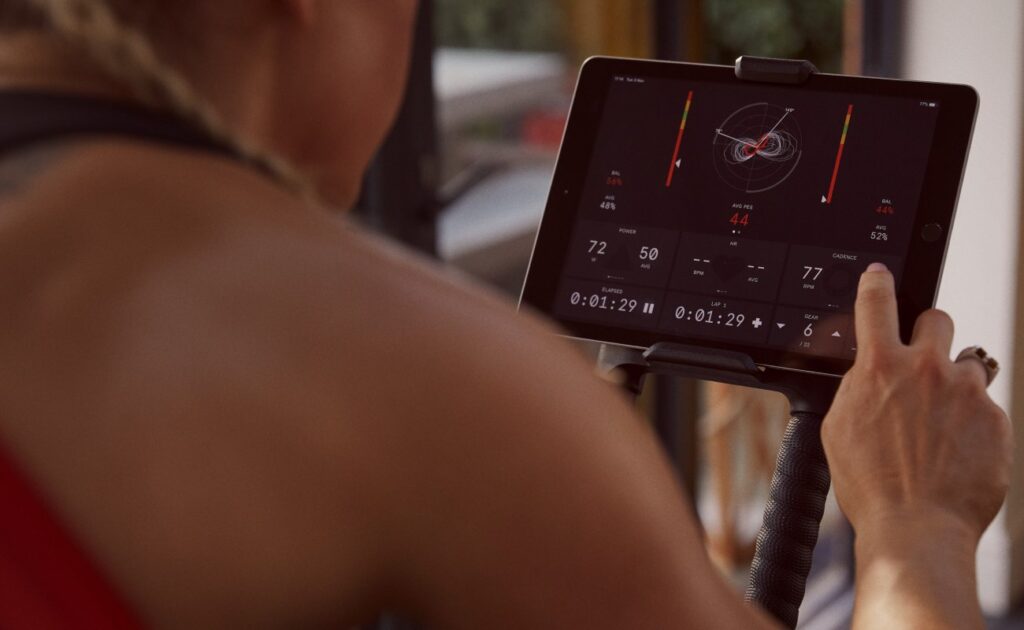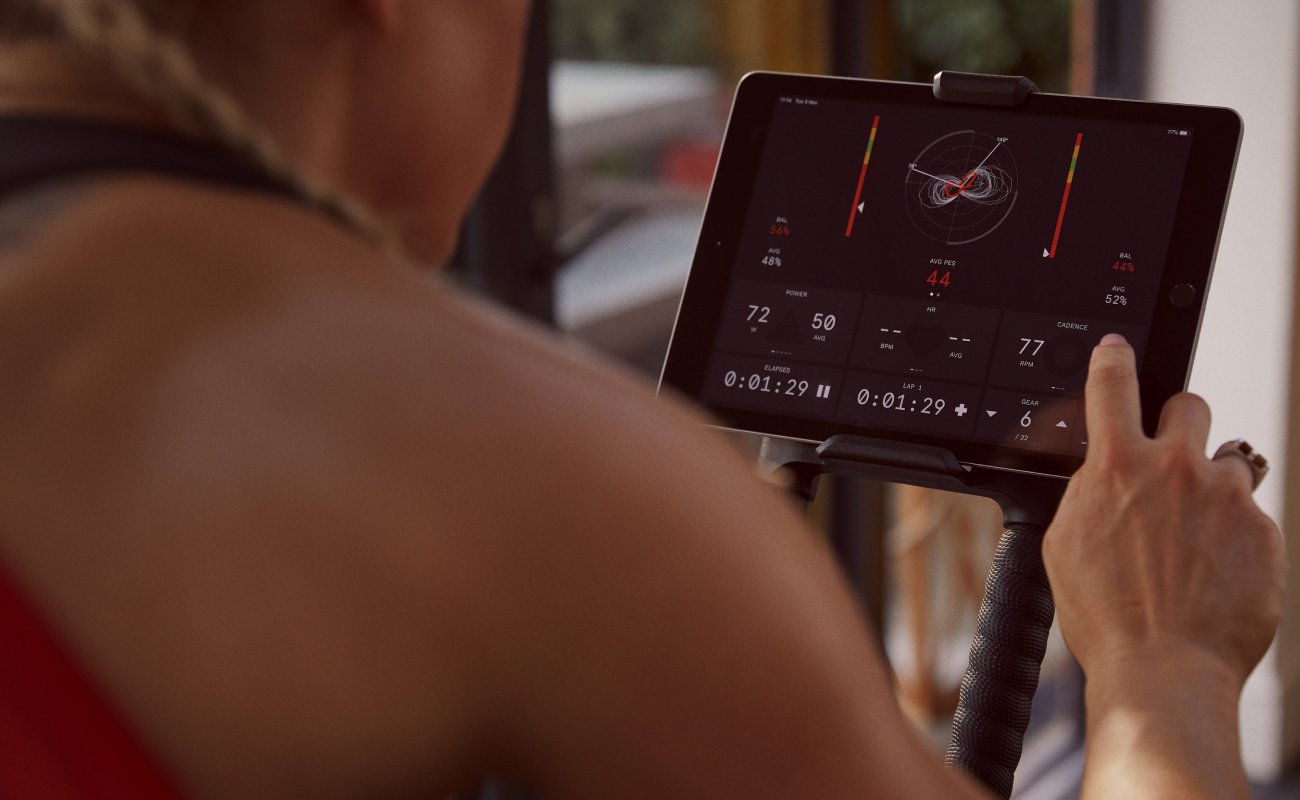 The Hub is easy to use and is required if you want to configure the number of gears that you would like to use… but more on that later.
The Hub app also shows your Pedal Effectiveness Score (PES). This highlights how efficient your pedal stroke is. Do you stamp on the pedals or provide a smooth allocation of power throughout the revolution? You can also see if you are left or ride side dominant and work on becoming a more balanced rider.
The Hub can run alongside Zwift so you can monitor your PES while Zwifting.
Key Features
The bike works via electromagnetic resistance. The electromagnetic resistance only has one moving part within the system. It is simple in mechanical design, allowing for improved reliability throughout. Unique features are as follows:
The braking power of the electromagnetic resistance of the Next Generation Wattbike Atom is 2500w, giving it a power range from 0-2500W. This high tolerance (Wahoo KICKR Bike, for example, is 2200w) means that the bike works for all athletes from cyclists to rugby players.
The electromagnet is a totally programmable resistance mechanism, which allows for changes the feel/behaviour and speed of 'gear' changes. This change actuation cycle also allows for future innovation, and is future-proofed for software and potential new features. Some examples of potential new features include programmable gear sets, differing ERG features, physiology testing (6s, 30s ramp tests etc) and changing ride dynamics.
The electromagnet runs from a core electronics package that controls the system sampling data from the sensors. This gives high accuracy and real time data feedback at 1000x/second, including power, cadence and a few others, meaning the system has the ability to control the ride dynamics to that resolution.
The core mechanism of the electromagnetic is shared with Wattbike's commercially-focussed bike, the AtomX. As this resistance system is certified for commercial use, it is incredibly robust and sturdy. Home users of the Wattbike Atom are riding a gym-grade resistance system, which means an increased lifespan.
Ride Experience
How Does It Feel?
The Atom is very sturdy. And when I say sturdy, I mean it is absolutely stiff and there is no flex when riding. This is in part due to its heavy weight, but also its construction. When I talk about "flex" I mean that when you cycle naturally, there is a slight "give" in the frame. The Atom is very rigid in construction and does not have any flex, making it feel quiet different from riding your bike connected to a smart trainer, or your bike outside.
Due to the lack of flex, it is a hard ride and can be uncomfortable in comparison to riding your bike outside or using other smart trainers. For example, the Tacx NEO 2T has a more natural feel because when you pedal because there is slight left to right movement replicating outside road feel. Similarly, Elite's RIZER, also has this feature of left to right movement, which makes for a comfortable ride.
As a consequence of Wattbike's rigidity, when testing the bike during an all-out effort up the Alpe, by the time I had reached the top of the climb in 42:51 my lower back was hurting. At that point, I had accumulated 1.5 hours in the saddle and I was ready to get off. The next day riding, I lasted only 1.25 hours, as my thighs and knees started to hurt. I wasn't sure if this was my position on the bike or due to lack of flex in the bike. I would recommend spending time making sure you get a good fit on the bike as this might help with the comfort levels.
How Does it Work?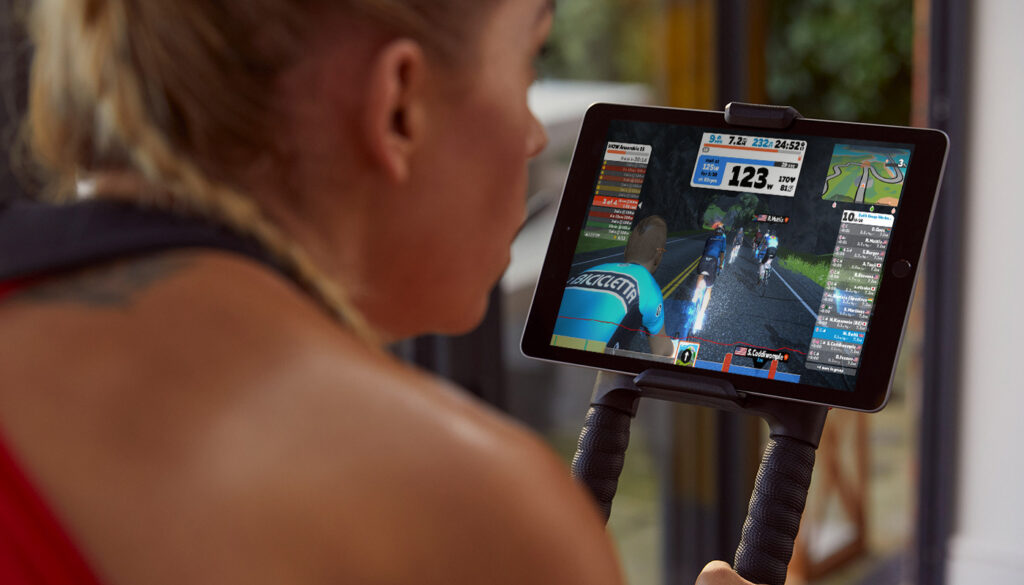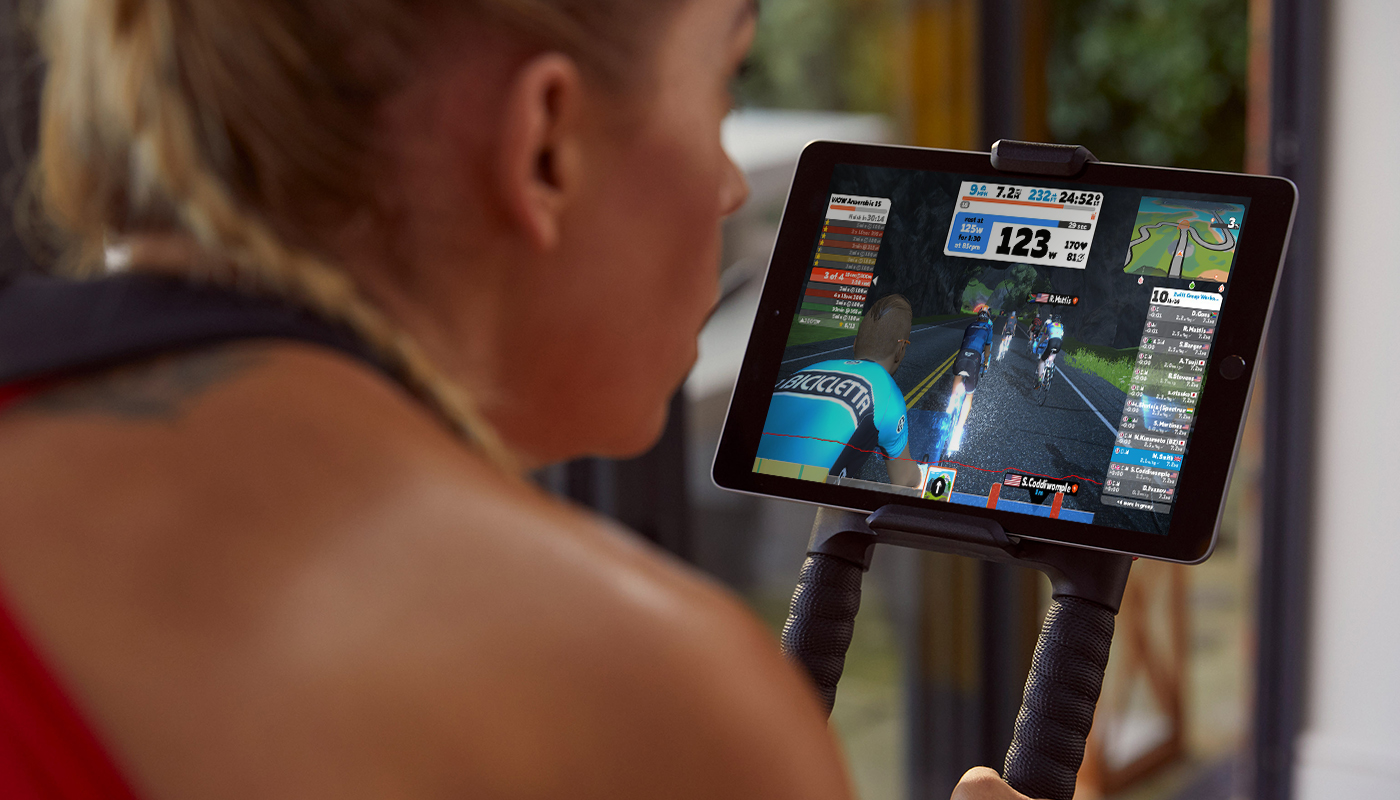 It's very simple to use: you simply get on and pedal. However, the gearing is an entire topic in itself.
Gearing
On each handlebar there are 3 buttons – one on top of the hood and two on the drops. The two on the right-hand drop control the gears. One button increases the gears and the other decreases. They in no way mimic traditional gears found on road bikes, and this is why I struggled initially.
I actually found using the buttons difficult for many reasons. Firstly, particularly when climbing, when you turn a corner and you quickly want to select a gear to give you more resistance, on a regular bike it's easy to flick the paddles and change gears without losing momentum. However, when using the Wattbike's buttons this is difficult because you have to rapidly press them, by which time, you select the incorrect gear and have to press again to get the right one, at which time you have navigated the corner and need to select another gear, which involves more "pressing and guessing." For me, it just felt too slow, too cumbersome.
My second issue with the buttons and the gearing was that when wrestling the bike up the climb, due to the lack of flex I was twisting the grips on the hoods. This meant that when I went to press the button to change gear, I had a problem locating them because the grips had moved! I couldn't feel the button and was desperately pressing anywhere to change gears; not ideal in intense race scenarios.
Regarding the gears, I would recommend getting used to the shifting before entering a race as I am confident that like with anything, you would adapt to it and over time would intuitively know which buttons to press and how to find them… even in stressful race situations.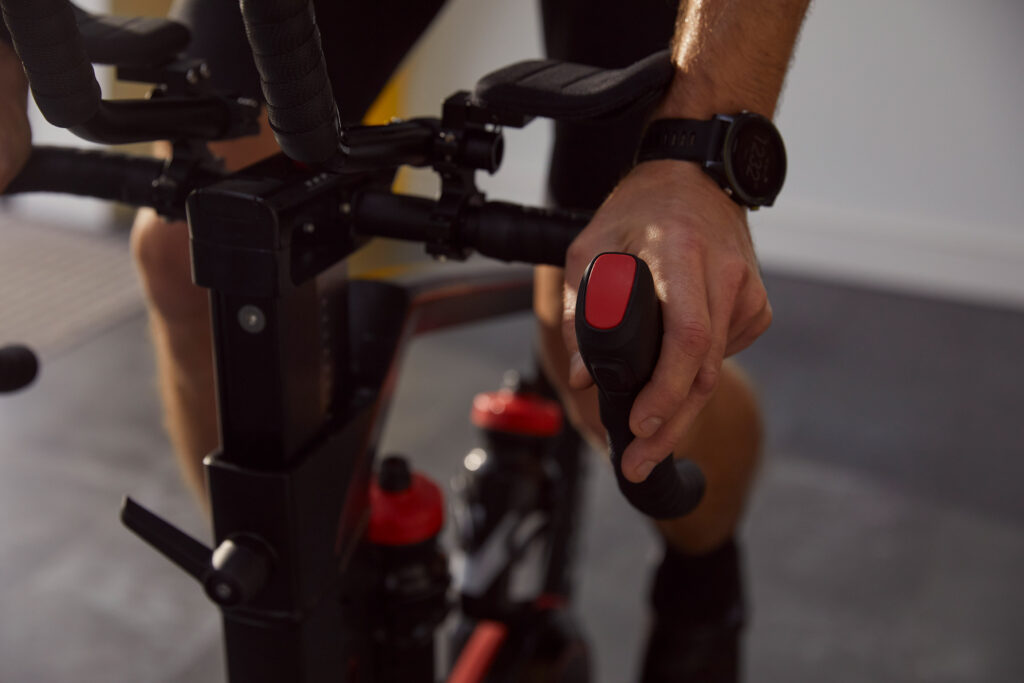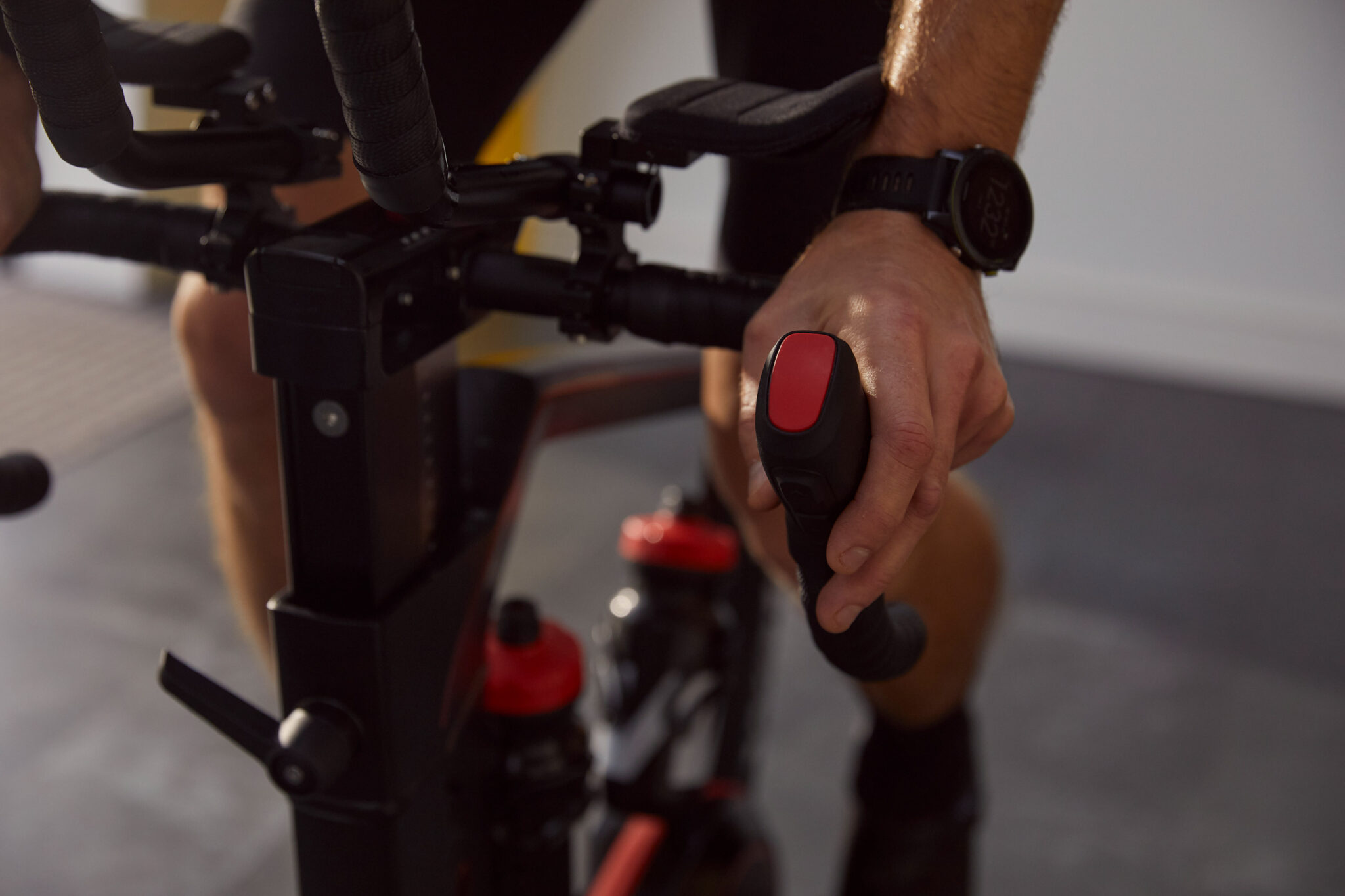 To overcome this issue, I started holding the tri-bars and found myself riding in the most bizarre position.
My third issue with the gearing is the way it operates. For me, the bike arrived set up with 11 gears. On Zwift, the gear you are in is displayed in the top left of the screen: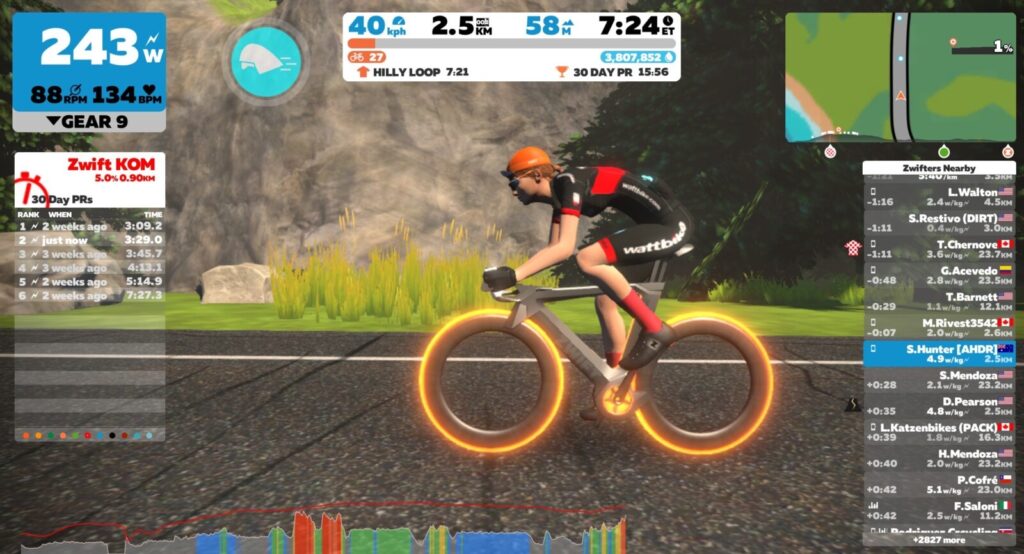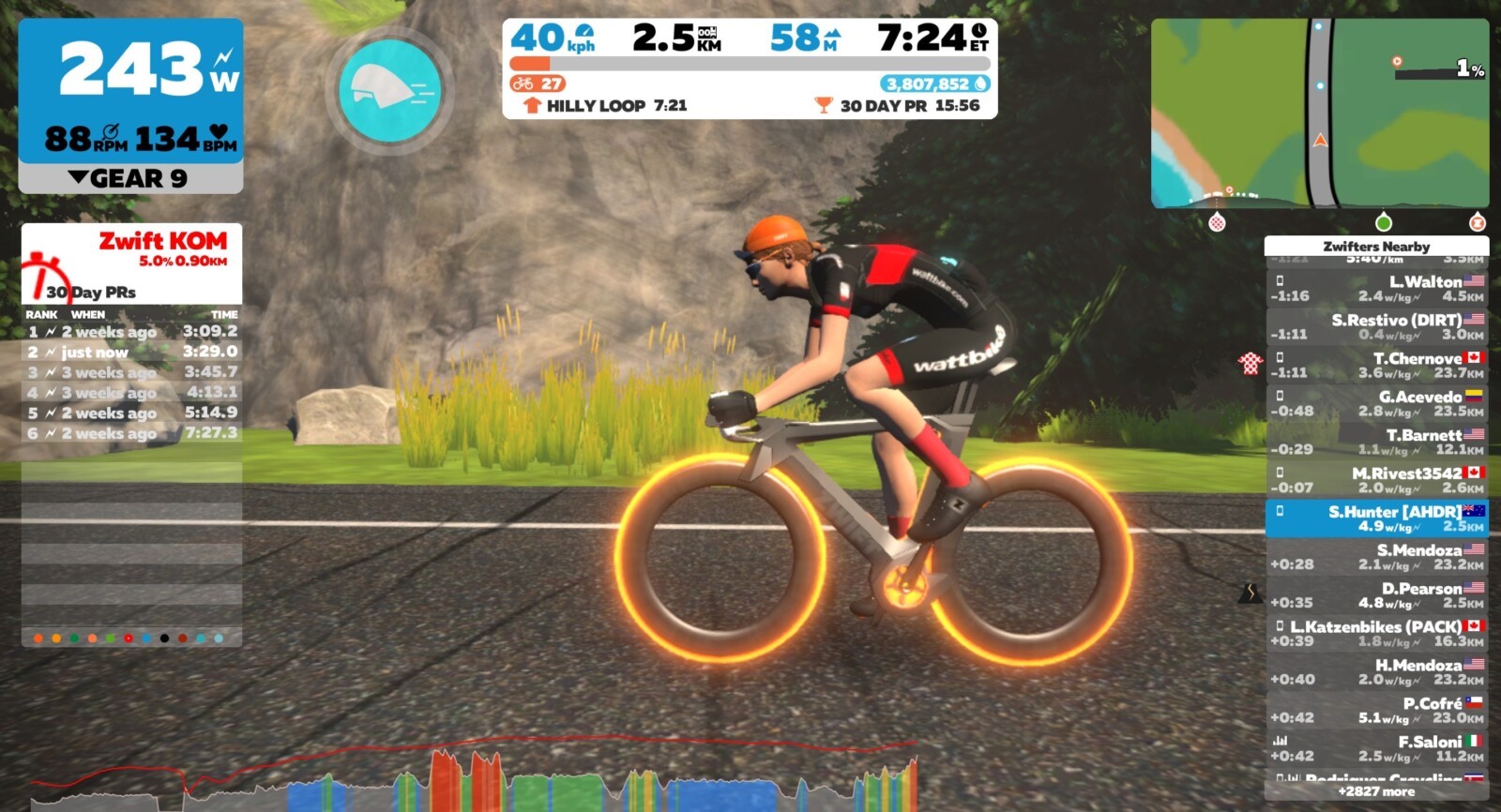 On my first test up the Alpe, I could only manage getting to turn 1 because the gearing was too difficult. After researching the topic, it was clear that I needed to configure the gearing using the Wattbike Hub app and had to change the configuration to 22 gears using the "Settings" function. There is no function for changing the gear ratios. It's either 1 to 11 or 1 to 22.
When I highlighted this to Wattbike, they commented that the 1 to 11 gearing ratio is used predominantly for racing. This I would have to disagree with, as you need a larger range of gearing to cater for the steepest inclines in Zwift. My advice would be that you would benefit from configuring the gearing to suit the course profile of your race, enabling you be as competitive as possible.
This leads me to my fourth and final issue with the gears which is their sequential nature.
Imagine this scenario: you just have crested the Radio Tower climb on the Epic KOM, and as it is a really steep climb, you will probably be in gear 1, the easiest. The Radio Tower climb goes flat and into a steep descent, some people, particularly lighter riders, like to pedal on the descent, to reduce the chances of being dropped. To get to the correct gear for the descent, you will need to be in a higher gear, you will then have to click the button over 10 times to get to something that provides some resistance. This rapid pressing of the button left me feeling like I was playing a PlayStation, but let's examine this for what it was. I was testing this in extreme conditions, very rarely are you changing gears like that during a race.
One thing to note, the gear shifters are powered by battery, which once replaced, will need to be re-paired using the "Settings" function in the Wattbike Hub. Batteries typically last 2 years.
The buttons on the left-hand drop control functionality in the Hub.
Gearing Debate
I discussed my conclusions with Wattbike about the gearing and they explained that "the Wattbike gearing has been designed so that it can be accessible by all." They noted that the paddle shifting gearing that I am accustomed to is very cycling-specific and their product has been designed to appeal to the masses. As a consequence, they decided to simplify the gearing to ensure that anyone could use the product, regardless of their understanding of cycling and the nuances of gearing. Hence the use of buttons which must be pressed once for each gear change.
They went on to explain that in time, I would get accustomed to the use of buttons.
Responsiveness
In my review of Elite's Direto XR-T, I commented that, "Due to the size of the flywheel, the trainer can feel a little hard to get moving." What I observed with the Atom was that it was easy to start cycling but there is a noticeable delay before the watts are registered (at least 3 pedal revolutions) and your avatar starts moving. When I say "delay", it literally is several seconds. When I first started using it, I wasn't used to this and actually thought the system wasn't connected correctly!
Due to this lag, it is vitally important to have your legs spinning before the start of any event, otherwise you will find yourself quite literally left behind. This would make using the Wattbike a challenge in the WTRL Team Time Trial events because it would mean you would be last off the line and would need to chase your teammates from the start.
An engineer from Wattbike investigated this and noted that the delay is most likely the processing of data sent from the Wattbike by the Zwift app and it's something they are going to investigate.
On the positive side, Bluetooth connectivity to my iPad was stable and instant. I did not experience any dropped connections during my time testing.
Noise
The Wattbike is not particularly noisy, nor is it particularly loud. It measured in at approximately 70 decibels at 70 rpm which is basically "noise levels in an office environment."
The key takeaway is that you are not going to disturb anyone as the noise level is acceptable and is on a par with other smart trainers/smart bikes. Using a floor mat will reduce the noise further.
ERG mode
My attempt at using ERG mode with Zwift did not go as expected. One of my strengths is that I am able to hold a set power and if I am fully concentrating, can normally hit the power target for each rep. I was only able to successfully hit the power target 4 times out of 28, when undertaking a workout in ERG mode that lasted an hour.
The challenge I had was that the resistance would engage, then disengage, with the resistance being very inconsistent. It fluctuated a lot, which meant it was nearly impossible to hold any set power.
The engineer investigated this and highlighted that when ERG mode was engaged using the Wattbike Hub, it functioned as required. However, on Zwift, it could not deliver the same results. The ERG mode session that I was using was one from Training Peaks designed by Matt Rowe, and one that I have used successfully in the past with other trainers. A more in-depth investigation is required to understand why this is proving not to operate as intended.
Editor's note: DC Rainmaker noted similar issues in his review of the Wattbike Atom. "In any case, as far as power accuracy goes for the Wattbike ATOM 2020 – overall the actual accuracy of both power and cadence is great. What's not great is its ability to correctly maintain a given wattage in ERG mode for structured workouts. In other words, if you're using it for Zwift and not in a structured workout – life will be perfectly fine. But if you plan to use it for TrainerRoad (or Zwift Structured workouts), I'd wait until they get it to settle down."
Customer Support
Wattbike have a focused approach to customer support. The bikes are delivered to your requested location and advice is on hand should you have any technical challenges. Furthermore, in the event of a fault, an engineer will be dispatched to resolve the issue, as was the case with my colleague who uses Wattbike extensively. The Wattbike Atom comes with a 2-year warranty and 30 day free returns.
Just to clarify the returns policy: you can ride the bike as much as you want for the first 30 days and return it for free if not satisfied. So for example, if you find it too stiff or don't get on with the gearing, you can return it. Wattbike would collect it free of charge too. You would get a full refund on everything except the initial delivery cost. Which I think is excellent, as there is no risk. All this is outlined here.
No Extras
There are no additional features like "road feel" which Tacx offers on the Neo 2T or any glowing lights to indicate the level you are cycling at.
Technical Specs
| | |
| --- | --- |
| Model: | Atom (Next Generation) |
| Height: | Max. 150cm (fully extended tablet holder) |
| Frame width: | 50cm |
| Frame length: | 100cm |
| Footprint: | 124 x 50cm |
| Bike weight: | 40kg |
| Boxed weight: | 50kg |
| Frame: | Aluminium |
| Feet: | Rubber height adjustable |
| Transportation rollers: | Yes |
| Integrated gear shifters: | Yes |
| Gears: | 1-22 |
| Cranks: | 170mm |
| Seat: | Racing seat fitted as standard |
| Pedals (UK): | Flat pedals with toe cage fitted as standard |
| Covers: | Heavy-duty ABS plastic construction |
| Chain: | Industrial 1⁄2″ x 1⁄8″ steel |
| Belt: | T15 Timing belt |
| Seat and handlebar stems: | Aluminium |
| Handlebar height adjustability: | Range 52cm – 76cm |
| Handlebar fore/aft adjustability: | Range 0 – 7.5cm |
| Seat height adjustability: | Range 49cm – 75cm |
| Seat fore/aft adjustability: | Range 0 – 8.8cm |
| Accuracy: | +/-1% |
| Power range: | 0 – 2500w |
| Resistance: | Electromagnetic |
| Third-party connectivity: | ANT+, Bluetooth, FTMS |
| Third-party app smart functionality control: | Any ANT+FEC Bluetooth FTMS enabled app inc Zwift, Sufferfest, TrainerRoad, FulGaz, RGT |
| Gradient: | 0 – 25% |
| Q Factor: | 160mm |
| Max. rider weight: | 135kg |
| Rider height: | 5′–6′ 5″ |
| External power required: | Yes |
Summing Up
Experienced cyclists may find the gearing difficult to adapt to. And because of the hard ride, this product may not appeal to those cyclists who like a more natural cycling feel.
On the whole, I can appreciate that the Wattbike Atom is a good product. It is well built and the design ensures it is accessible to the mass market. The "plug and play" nature means anyone can purchase it and be up and Zwifting within minutes. The Wattbike is designed to have that "real ride feel" without adding complexity to the setup. It's a bike you can set up once and ride as much as you want, with little worry about maintenance.
Questions or Comments?
Share below!