When I received the e-mail from WTRL about Zwift's new ZRacing Chase Races I was intrigued, so I went about learning how it all worked.
To race, I had to log into my WTRL account and sign up via WTRL's website. I was automatically assigned a starting pen – being an A+ rider, I was assigned to pen E, the Elite category. (The first time in my life I have ever been classed as "Elite" so I was immediately liking this event!)
To participate in the ZRacing Chase Races, you need to have a ZwiftPower account attached to your Zwift account. This is because you are assigned a category based on your previous race results. WTRL explains it like this: "your historical race results are analyzed and then used to automatically place you in the appropriate group of racers most similar to you in performance, to ensure you're racing in a fair and fun event. Racers do not get to choose their category."
Having signed up, I headed to the start of the race.
The View from the Back
When I entered the pen, I was assigned a pink jersey, and I was in the starting pen surrounded by people in different jerseys. It was clear that these were the different categories of riders, the colours of the jerseys based on the normal classification such as red for A, yellow for D.
(Charlie Issendorf, Zwift's race director, told us today that the special category-based jerseys will be rolled out for the December 15th races and used each week moving forward.)
Anyway, all groups were in the same pen but they left at different times, with E going last, with a 10-minute disadvantage to make up on the D cat riders.
Full Throttle from the Start
The race was hosted on the Magnificent 8 course, and from the start it was magnificently tough. The Elite had a small team of 15 riders and from the outset, it was full throttle and felt like a larger version of a team time trial. The pace was so rapid that within the first 13 minutes, we had clocked up 10km.
As we approached the first real test, the KOM, I was expecting the group to work together and crest the climb as a blob. But instead I found myself slipping out of the pack and pushing 500 watts to sprint back into the group on the descent.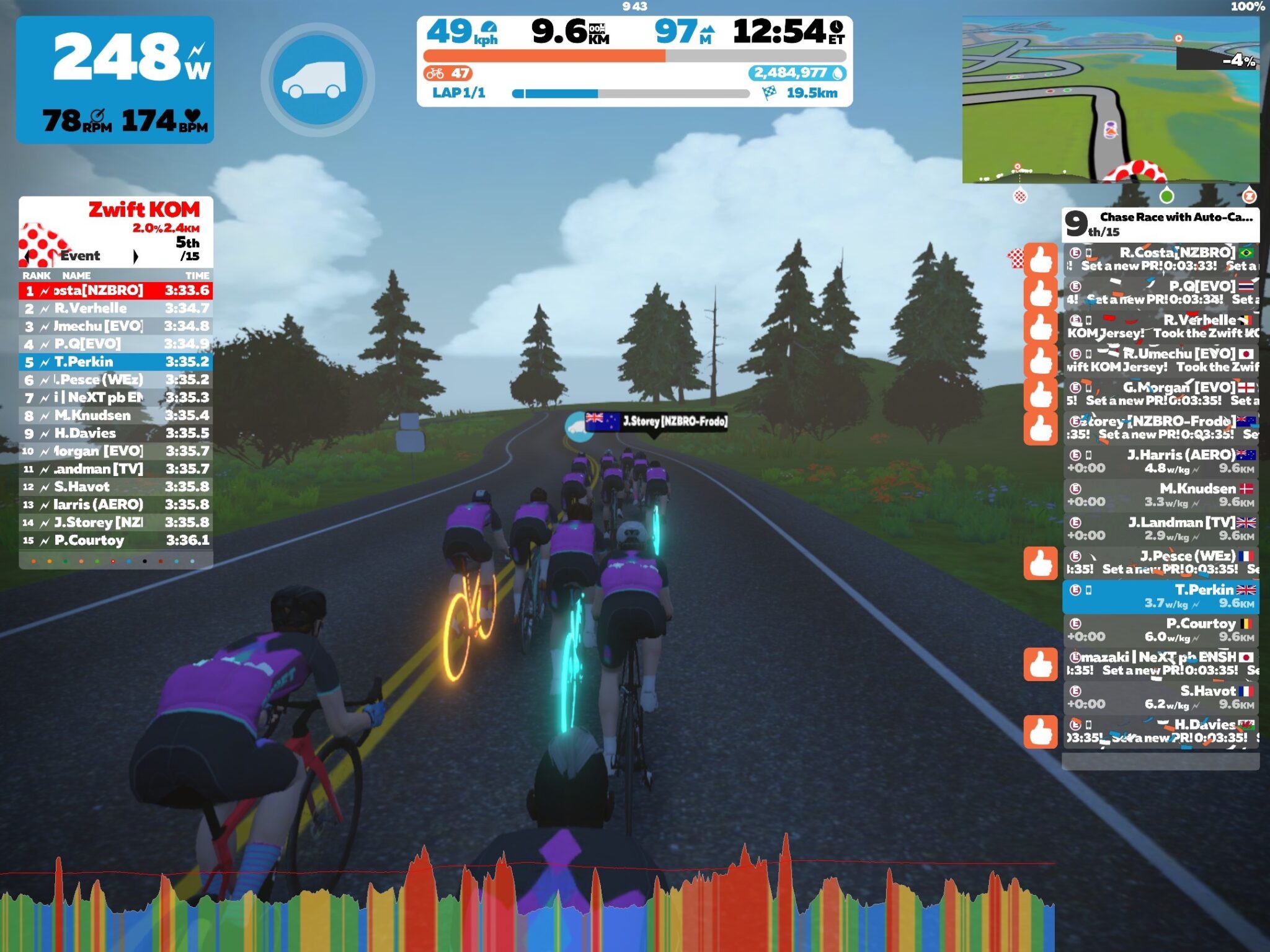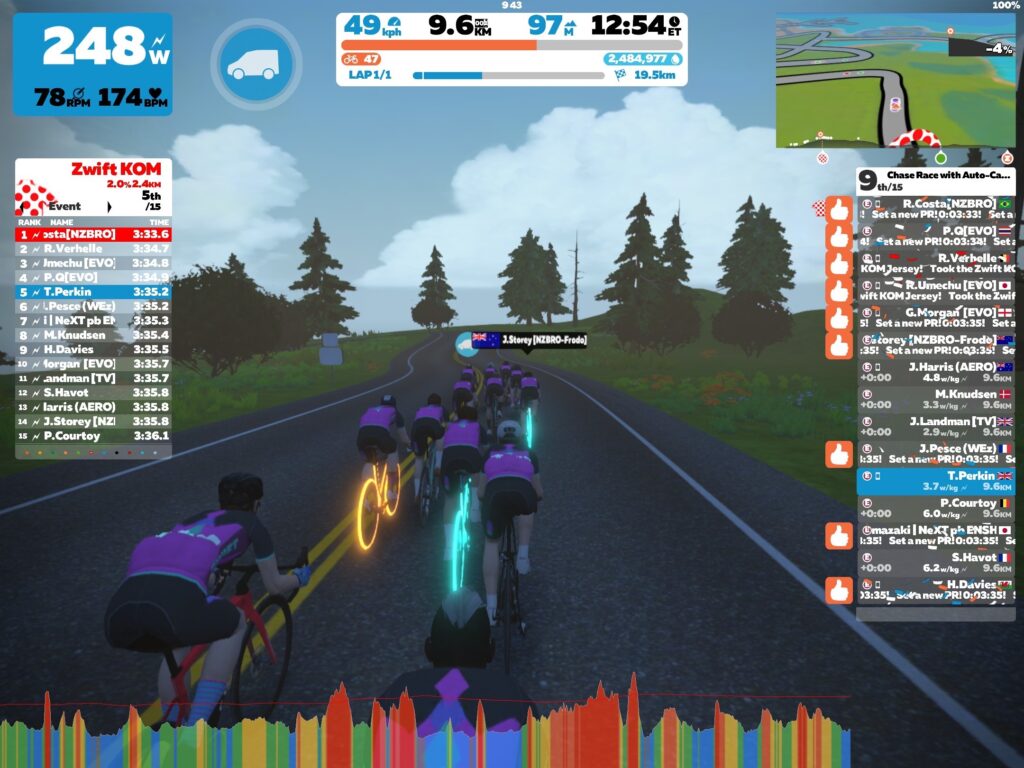 This is where I realised that this wasn't just a race to beat the other categories, but a race just to stay with your own "team" riders (and I use that phrase loosely as I couldn't see much teamwork, more a "survival of the fittest" approach.)
A Glitch In the Matrix
Within 19 minutes we were on Fuego Flats, 15km completed with 14km remaining. This was lightning fast. However, this is where I noticed I had an issue! My avatar was pushing a constant 309 watts. Zwift had glitched and my power had become fixed. This was a problem, of course, because my avatar was now holding a constant power regardless of my actual effort level. I had no other option but to get off the bike and re-pair the trainer. This obviously resulted in me dropping from the group.
I was alone but could see other category riders ahead of me, so I went into time trial mode and started trying to catch the next rider on the road.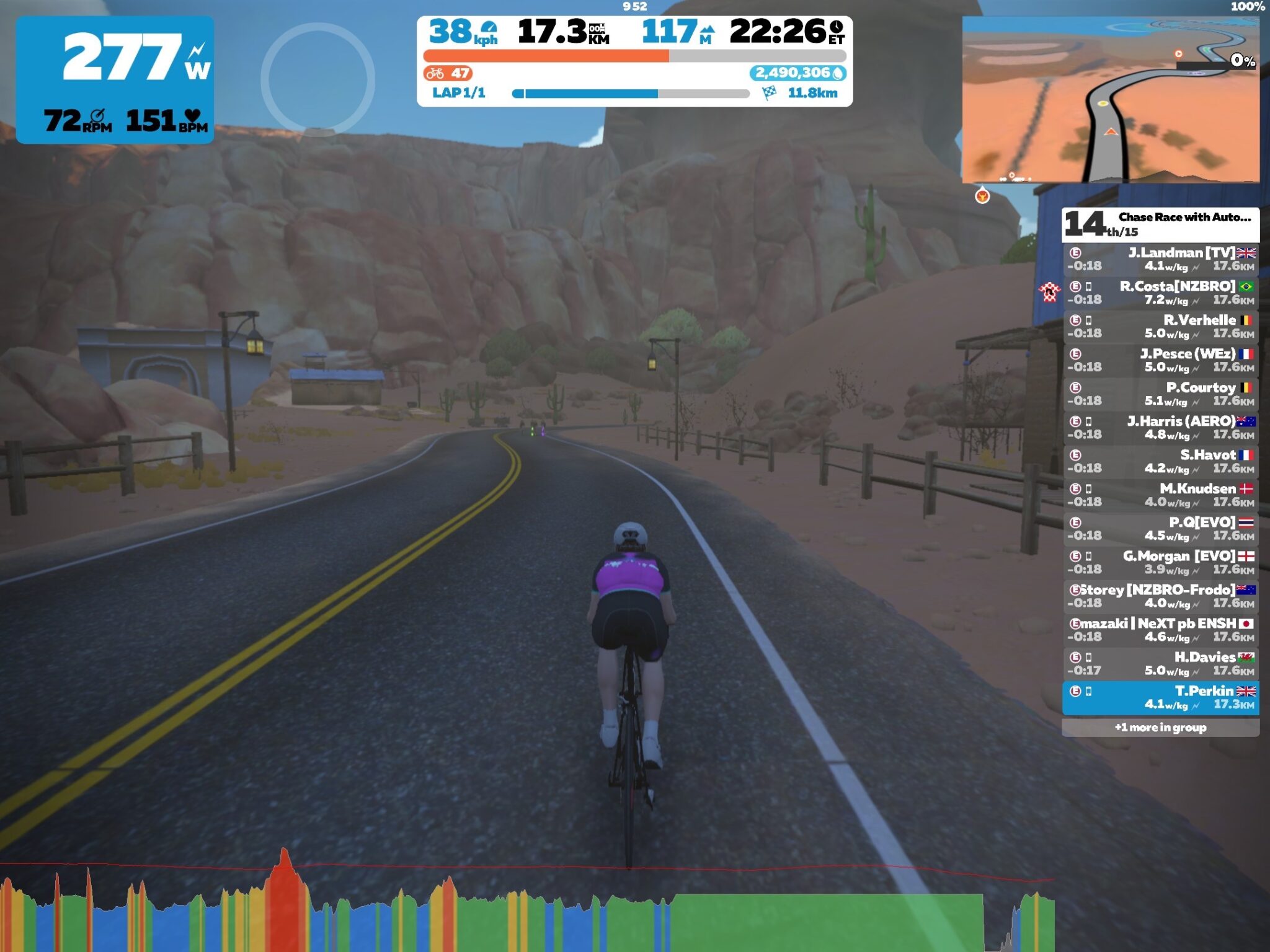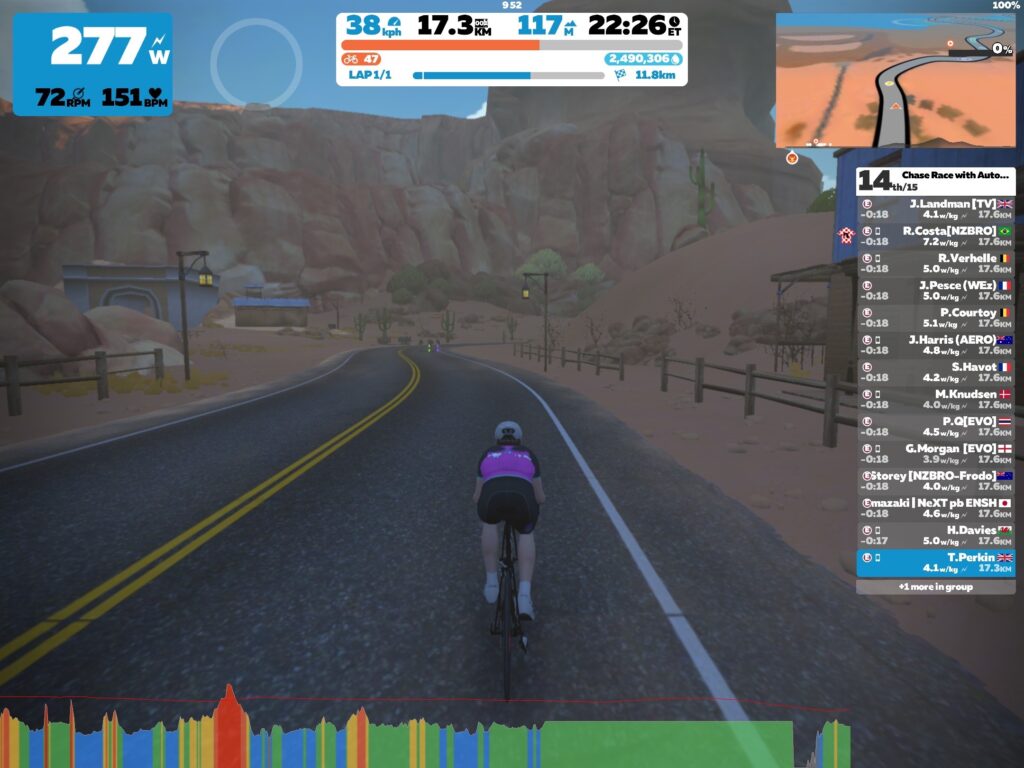 Multiple Races In One
This was refreshingly fun and it basically felt like there were two parts to my race, the first being the battle to stay with the group and now this solo time trial as I attempted to finish the event in as high a place as possible.
Cycling solo, I had time to think. I had the realisation that this event actually was three races in one:
Firstly, there was the race to stay with your own group
Secondly, there was the race to beat the different categories
Thirdly, there was the race to win the event and finish first overall
The Finish
I watched as the Elite group really battled it for the win with numbers red as people unleashed their final sprints.
I obviously finished last in my category, but came 70th overall (see race results on ZwiftPower). Moreover, it was entertaining, and something different. It is an event I will try again.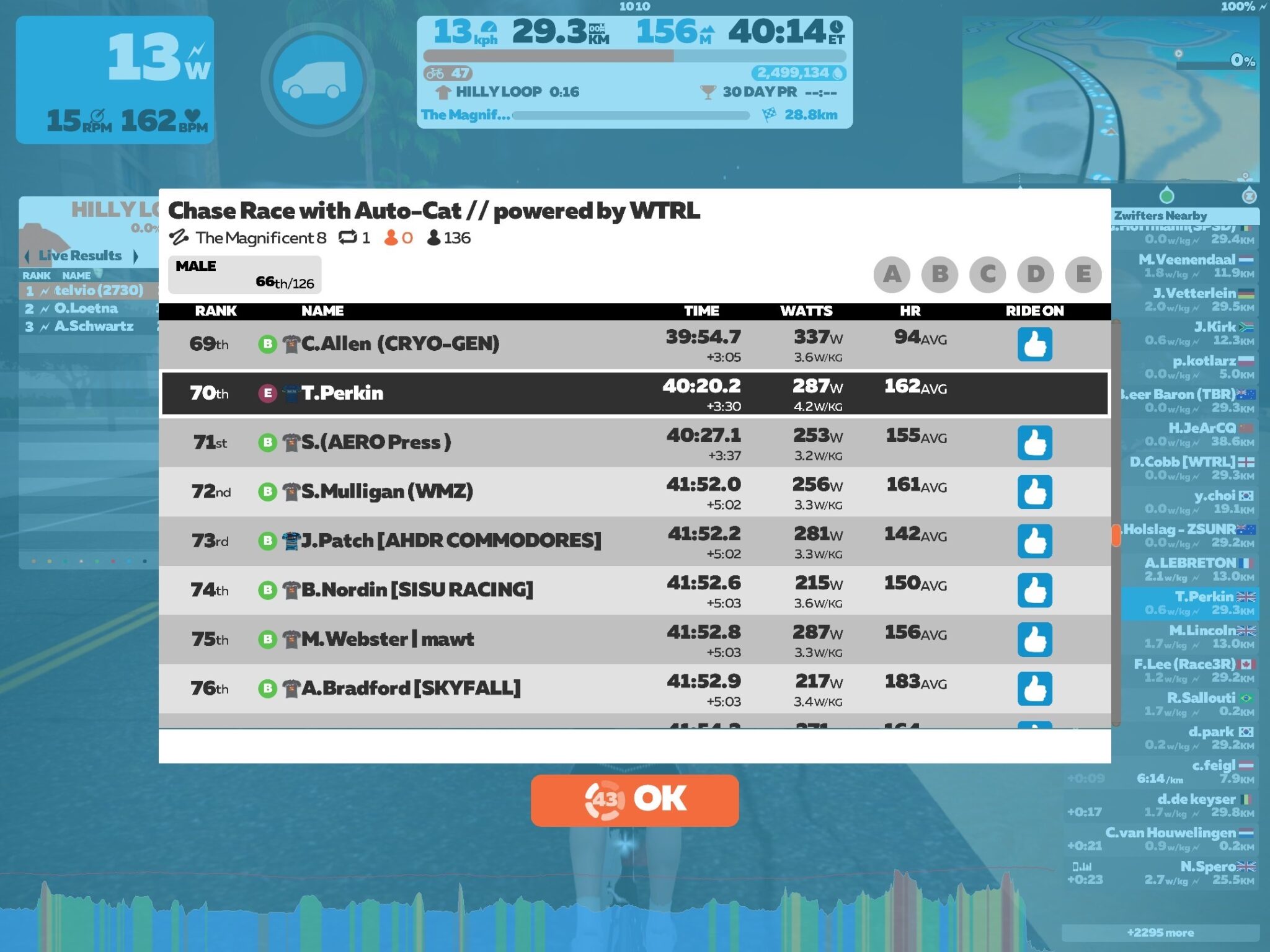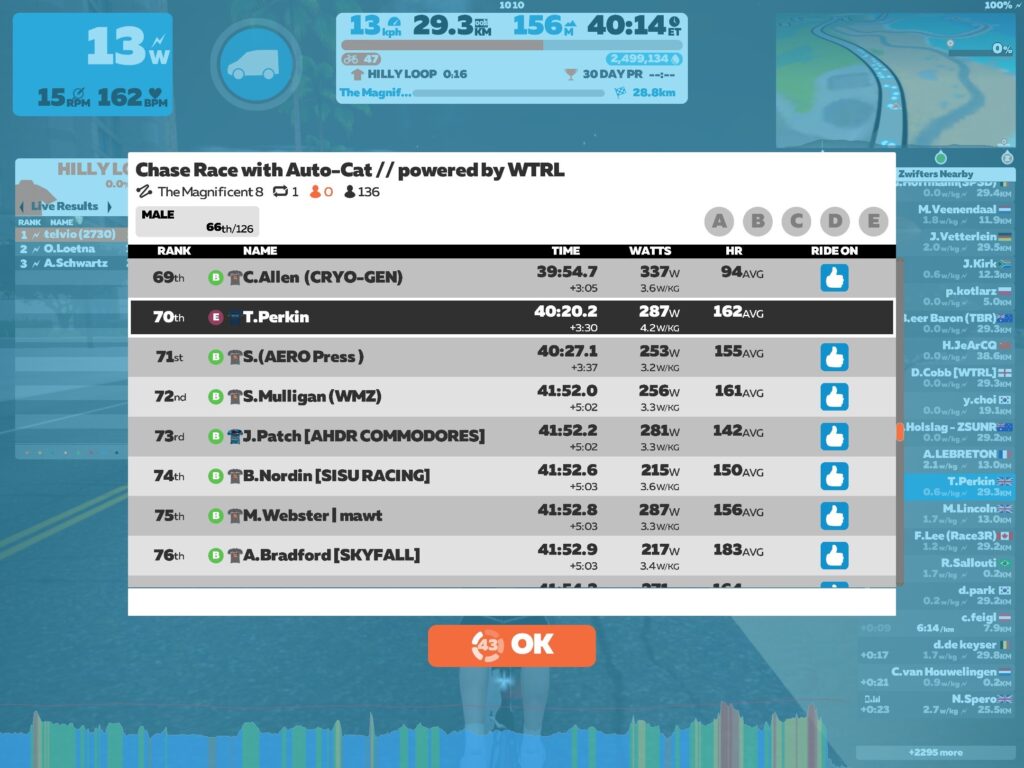 This certainly makes my highlight list because it was well organised and different, with the gaps between groups probably set about right because the Elite riders managed to catch the front group with a few kilometres left. Furthermore, there are several of these events scheduled each Wednesday, so certainly a time slot to suit all.
What About You?
Did you race in this week's kickoff ZRacing Chase Races? How did it go? Comment below…