WTRL has just announced a new series of races which begins today. Dubbed "ZRacing Chase Races", this series is sure to be popular thanks to its format and innovative autocat feature. Let's dig into the details!
Intro to Chase Races: A Fun Format sans Sandbaggers
Chase races (also known as handicap, pursuit, or cat and mouse races) have been held on Zwift for years. In this sort of race, category groups are released with time gaps between each group, with the slowest groups going first.
The goal of the race organizer is to space the categories so each group has to push hard to catch the groups ahead. Ideally, those groups come together near the end of the race for an all-out battle to the line!
Handicapped races are a fun alternative to the standard scratch race format because they offer a unique mix of teamwork and personal strategy while letting racers of all categories compete fairly against each other. Everyone has a chance to win.
But chase racing on Zwift has always had an Achilles' heel: sandbaggers can ruin everything.
Chase races are amazing when organizers set proper time gaps, and groups ride within their prescribed abilities. But just one sandbagger going hard on the front of a group can push that bunch's speed artificially high, causing them to catch slower groups more quickly and not get caught by groups chasing from behind.
Autocat to the Rescue
WTRL's ZRacing Chase Race series aims to remove the "sandbagger flaw" by using their proven "autocat" system to properly categorize racers.
Read more about WTRL's Autocat system >
Whereas Zwift's event signup system lets anyone sign up for any race category, WTRL's autocat system calculates your proper category based on your race history, and only lets you join the correct category. Easy.
How to Sign Up
Signing up is dead simple if you already have WTRL.racing and ZwiftPower.com accounts. Simply visit wtrl.racing/zracing-chase-race/#registration, log in, and click the event you want to join. The Autocat system will detect your category and sign you up for the event.
Here's the signup screen I received: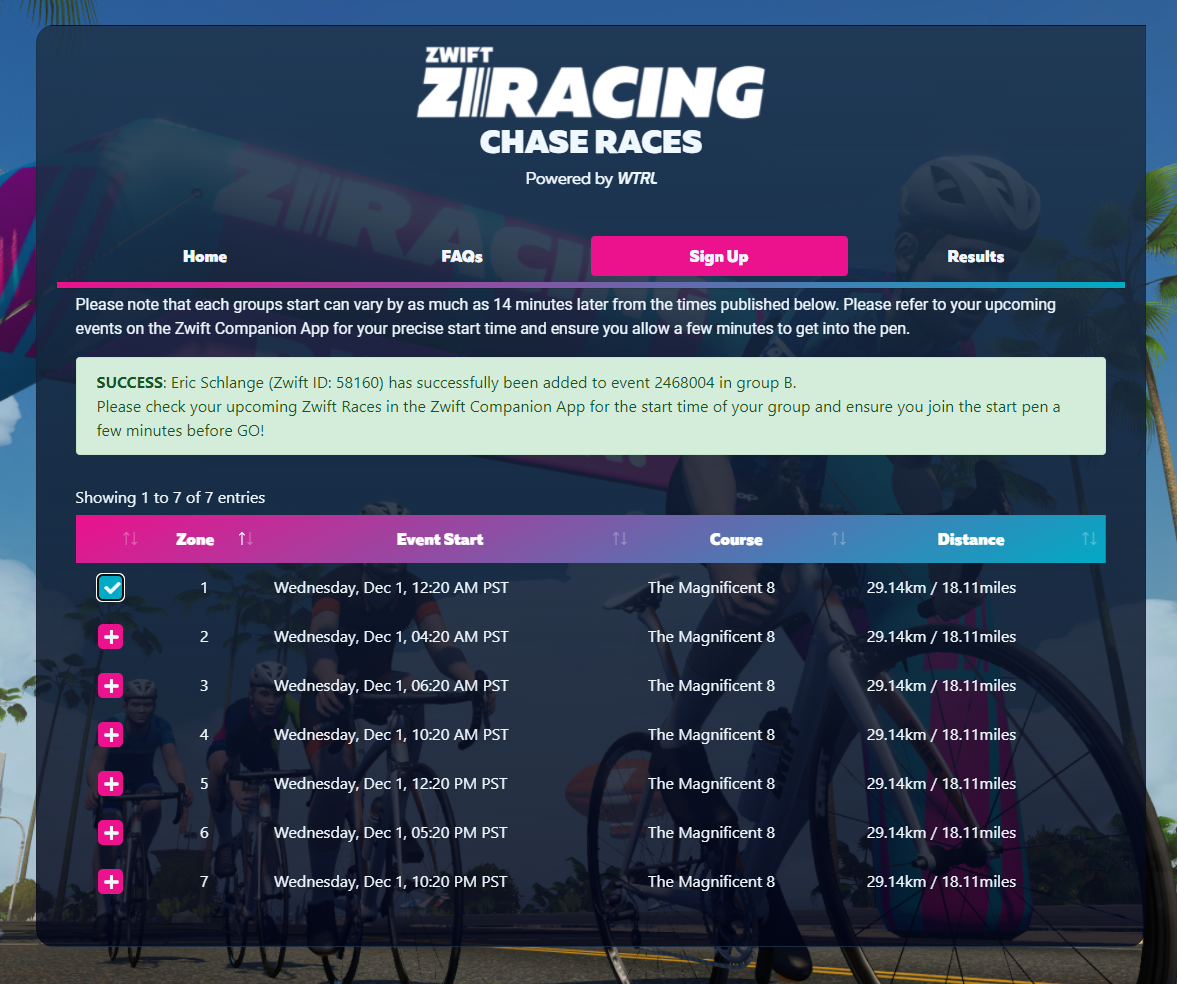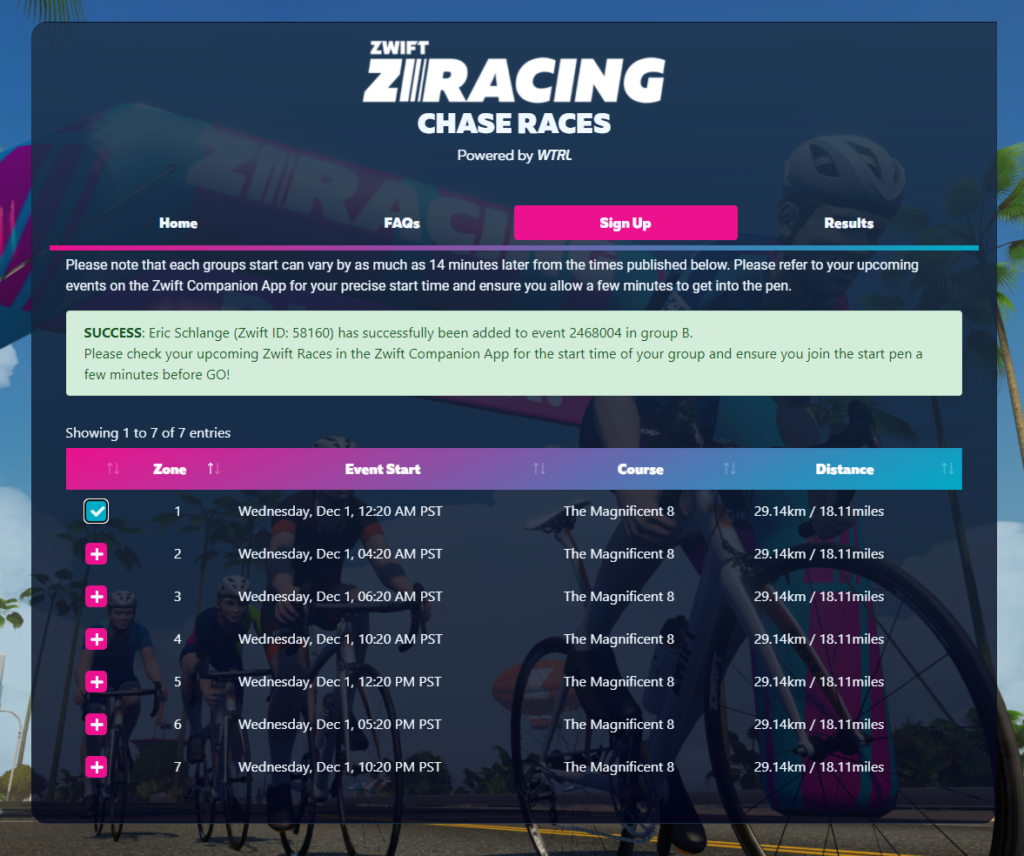 Race Schedule
The ZRacing Chase Race series is an ongoing weekly event held each Wednesday at multiple times. WTRL tells me that event times may change based on participation numbers as the series develops.
Fresh Kits
Created for this series, riders in each category will be wearing matching kits starting December 15. This lets you know who's on your "team" and who isn't!
Note: the "E" category is for "Elite". It is the highest (strongest) category.
Powerups
Three powerups will be given out during the races: aero, feather, and van.
Read more about Zwift powerups >
Race Results
Race results will be processed and made available by WTRL at wtrl.racing/zracing-chase-race/#results.
Questions or Comments?
Check out the FAQ page from WTRL. And you may also post questions or comments below!