The latest Zwift update has been announced and will be released in phases over the next few days. Starting this week, Zwift will be rolling out releases on Tuesdays instead of Wednesdays.
This release doesn't include new features, but makes changes to how Zwift works in areas like rolling resistance, HUD elements, and steering. Let's dive in!
Rolling Resistance Changes


Zwift's release notes say, "Reduced rolling resistance proportionally across road, gravel, and mountain bike wheelsets when riding on dirt road types." There are two additional rolling resistance-related notes as well, and we've included them below along with a note from us:
Reduced rolling resistance for the ENVE G23 wheelsets to match other gravel wheelsets on gravel and dirt road types. This is just a fix for a config error introduced in version v1.51. Now the ENVE wheels match the performance of all other gravel wheels.
Corrected the rolling resistance of the Zwift Mountain bike wheelset on brick road types. Zwift actually adjusted the Crr of the MTB wheels on all hard surfaces, dropping it from .01 to .009. So the MTB will be slightly faster on pavement, brick, wood, cobbles, and sand… but still quite slow compared to road or gravel bikes.
| Surface | Old Road Crr | New Road Crr | Old MTB Crr | New MTB Crr | Old Gravel Crr | New Gravel Crr |
| --- | --- | --- | --- | --- | --- | --- |
| Pavement | .004 | .004 | .01 | .009 | .008 | .008 |
| Sand | .004 | .004 | .01 | .009 | .008 | .008 |
| Brick | .0055 | .0055 | .01 | .009 | .008 | .008 |
| Wood | .0065 | .0065 | .01 | .009 | .008 | .008 |
| Cobbles | .0065 | .0055 | .01 | .009 | .008 | .008 |
| Ice/Snow | .0075 | .0075 | .014 | .014 | .018 | .018 |
| Gravel | .012 | .012 | .009 | .009 | .009 | .009 |
| Dirt | .025 | .016 | .014 | .01 | .016 | .012 |
| Grass | | | .042 | | | |
This is bigger news than the gravel resistance changes in version 1.51, because the dirt surface is used in more places on Zwift, including notable sections like the Mayan Jungle and Makuri Islands' Temple KOM.
How much has rolling resistance changed on Zwift dirt? Quite a lot – especially for road bikes.
| | | | | |
| --- | --- | --- | --- | --- |
| | Old Crr | New Crr | % Crr Reduced | Watt Reduction* |
| Road | .025 | .016 | 36% | 80W |
| MTB | .014 | .01 | 29% | 36W |
| Gravel | .016 | .012 | 25% | 36W |
* "Watt Reduction" represents how much less power riders will need in order to travel at 40kph with the new Crr values. This assumes a 75kg rider on a 7kg bike.
Why the change? We think it's because Zwift has heard many Zwifters saying, "We love the new coastal road, but don't like slogging through the slow Jungle." These Crr changes will speed up the Jungle significantly, especially for road bikes, possibly bringing an end to the Zwifty practice of bike swapping.
Learn more about these changes by reading our followup post, "Fast Dirt: Testing Zwift's Rolling Resistance Changes."
Power Display
We previously noted that Zwift's power numbers were updating rapidly (several times per second) when connected to trainers like the Zwift Hub or Wahoo KICKR which broadcast at higher frequencies (aka 10Hz "race mode").
Today's update reduces the refresh rate to approximately 1Hz if you have power display set to 3 seconds, while preserving the instantaneous updates if you're set to "instant". As it should be.
Watopia Expansion Cleanup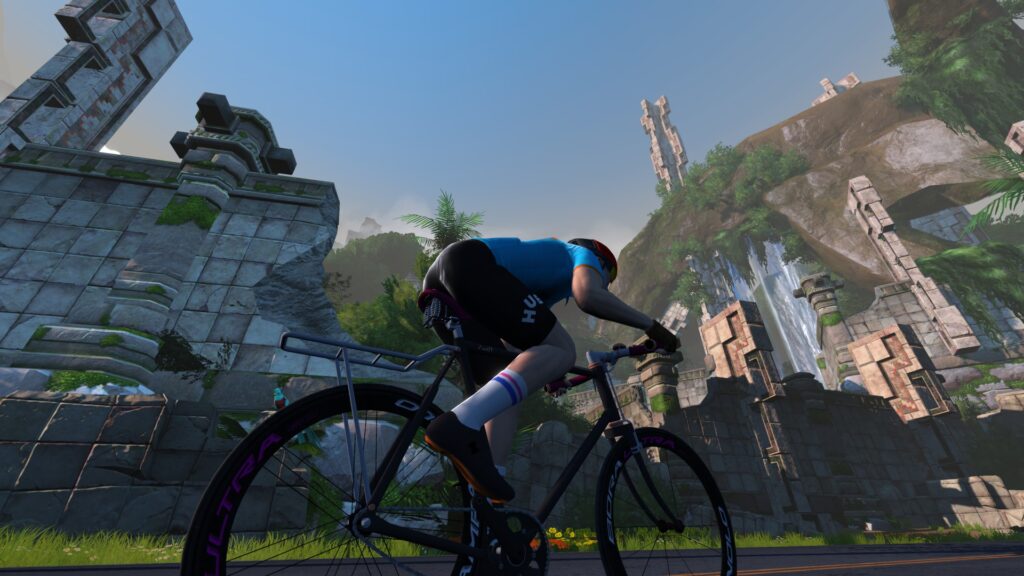 As often happens after a big expansion, Zwift had some cleaning up to do once Zwifters began exploring the new tarmac. Three minor improvements were made on the new southern coast road:
We mowed – and then paved over – the grass that was incorrectly growing on one section of roadway.
Fixed an issue that could cause black squares to appear in some areas.
Improved rendering and reduced frequency of objects and buildings "popping in" on approach.
Steering Improvements
Zwift continues to improve the game's steering functionality, with every update including a note or two about steering changes. Here are the two notes from today's update:
Fixed an issue that could potentially cause Zwifters with steering enabled to get pushed toward the center of the road when drafting a rider to their left.
Zwifters can now filter events based on whether steering is required or not.
Slowing the Band(its)

Zwift says this update, "Improved the behavior of the "Keep Everyone Together" (i.e. rubber-banding) option in group rides to maintain more realistic speeds on routes with high gradients like Alpe du Zwift."
Our guess is this is aimed at rides like Sunday's BanditZ Tronathon, a social banded ride which takes riders up Alpe du Zwift. While Zwift doesn't say whether this change is intended to slow riders down or speed them up, our money is on banded rides being slower up the Alpe.
More Release Notes
Zwift provided notes on additional tweaks and bug fixes in this update:
Zwift Hub: Zwifters who use Play controllers with Zwift Hub updated to firmware 5.2 or newer will now receive an in-game tutorial introducing them to Virtual Shifting and letting them choose whether to have it enabled or disabled by default.
Zwift Hub: For Zwift Hubs that are updated to firmware 5.2 or newer, fixed an issue which could cause the spanner/wrench (i.e. calibration) icon to briefly appear on the Pairing screen after pairing the Hub. Manual calibration is no longer applicable because Auto Calibration is in effect.
Fixed missing shadows from some trees on Alpe du Zwift.
Workout Editor: Fixed an issue that could cause the numbers on the duration timeline to flicker.
Ride leader fences will now be enabled by default.
Fixed a visual issue that could affect the nameplates of Zwifters behind you.
Android:
Fixed a potential crash that could occur when opening the Settings screen.
Fixed a potential crash that could occur when exiting Zwift.
Fixed an issue that could cause the game to momentarily dim after hitting a boost strip on Repack Rush.
Discuss this release on Zwift's forum >
Questions or Comments?
If you spotted any other changes or bugs in the update, please comment below!